Soundproofing your home or workspace is usually simpler than you'd think, and installing acoustic panels is a great place to begin. However, as any concerned building owner, you're likely wondering if acoustic panels are safe. So, let's put your mind at ease and answer your question once and for all.
Acoustic foam panels are generally safe. They're predominantly made of polyurethane foam, which can be used up to seven years after its production. Acoustic foam is flammable and cannot be used in industrial settings, but it's perfectly safe for your home or workspace.
This article will detail the composition of acoustic foam and other acoustic materials and how to use them in a responsible and design-friendly way. Let's get started!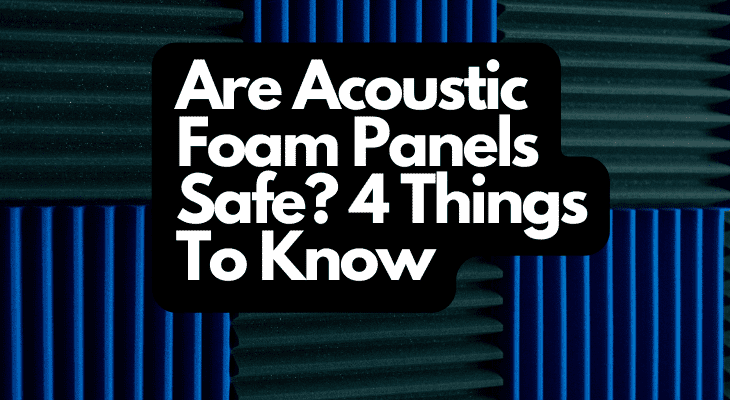 Things To Know When Using Acoustic Panels
We've used acoustic panels in sound absorption for a number of years, and every year since, the soundproofing materials available have become more advanced and well-suited to various settings.
However, everyone should be aware of certain limitations to acoustic paneling before using it. For instance, acoustic panels will degrade over time regardless of material, and neglect will accelerate deterioration.
There are just a few essential things to remember when installing and using acoustic panels.
1. Acoustic Materials Have Expiration Dates
There are several materials used to make acoustic panels. Despite their widely varied physical properties, they all need to be used in the right conditions and before their expiration dates.
Polyurethane foam: Acoustic foam has a shelf life of around 7 years, after which it'll begin to degrade and flake off into particles. It will also lose its ability to absorb or diffuse sound.
Rockwool: Rockwool is inorganic and should last indefinitely if installed correctly.
Wood: Wood is organic, meaning it generally needs treatment before installation. With treatment, it can last decades.
Fiberglass: Fiberglass is made up of plastic and glass, neither of which decompose, so fiberglass has no shelf life or expiration date, regardless of the conditions. However, they should still be maintained and cleaned.
It's crucial to note that once these materials expire, they don't become toxic. They just become more unstable and won't maintain their sound-absorbing integrity.
Fiberglass is highly durable and is perhaps the only exception here. It doesn't naturally degrade like other acoustic materials, and the most considerable risk you run with fiberglass is accidental breakage.
Despite this, it's still crucial to take good care of fiberglass acoustic paneling to make it last as long as possible.
2. Acoustic Panels Aren't Carcinogenic
Many think fiberglass is carcinogenic and can even cause cancer through prolonged exposure. While it's true that fiberglass and other acoustic materials were used as asbestos alternatives in the 1950s, none of them are carcinogenic.
However, if the materials begin to degrade and flake off, they can cause irritation when inhaled. Having said that, they are typically expelled quickly.
Materials like Rockwool and fiberglass only begin to shed if disturbed, so there shouldn't be a problem with shedding as long as you keep your acoustic materials away from wandering hands. Luckily, it's very simple to cover up acoustic paneling.
3. You Can Cover Acoustic Panels
Covering acoustic panels, regardless of their materials, is easy and can integrate acoustic panels into a space in a natural and aesthetically pleasing way. There are a couple of covering options for acoustic panels:
Fabric covers.
Art wrapping.
There are also ways to paint acoustic panels, but this is possibly the worst way to decorate an acoustic material. Paint can compromise the panes' effectiveness.
This applies specifically to foam panels in the sense that polyurethane foam absorbs sound through pores, and when these pores are blocked by a film of paint, the panel can no longer absorb sound waves.
Read this guide

on painting acoustic panels, why you shouldn't do it, and the best course of action if you decide to go for it anyway.
Fabric Covers
Wrapping acoustic panels in a material that's the same color as the walls or ceiling can help to disguise them and provide an extra layer of protection against wear and contact.
Some of the most suitable fabrics for acoustic covering are:
Polyester: Guilford of Maine is polyester made from recycled materials like plastic bottles. This is the industry standard due to its effectiveness and fire-resistant qualities. It comes in a range of colors for maximum integration.
Canvas: Linen canvas is versatile, long-lasting, and comes in various colors and weaves. Unfortunately, canvas offers no fire resistance.
Cotton: It's light and breathable, which is a significant advantage for acoustic paneling, allowing sound to flow freely. There are numerous styles, prints, and colors to choose from. Sadly it's absorbent, flammable, and more expensive than other fabrics.
You can purchase these Jxgzyy Sound Absorption Panels

on Amazon.com. They're polyester acoustic sheets that are flame-resistant, eco-friendly, and corrosion-resistant. They're also long-lasting and fade-resistant.
Last update on 2023-12-08 / Affiliate links / Images from Amazon Product Advertising API
Learn about the other fabric cover options and their physical, aesthetic, and flame-retardant qualities here

.
Art Wrapping
Using dye sublimation, we can cover acoustic panels with a picture or artwork that makes them fit into the space very naturally and can improve the room. This is a popular choice in schools and offices.
Dye sublimation is a technique through which a design is placed onto a substrate and permeates the transparent layer on an acoustic panel.
Heat is applied to the panel, opening the pores and allowing the print vapor to enter. When cooled, the pores close, and the design becomes part of the polymer.
This method is predominantly applied to polymers and polyester, but you can also apply it to cotton and wood. Unfortunately, due to their porous nature, this process doesn't work on polyurethane or melamine foams.
These have no bearing on the panels' effectiveness and successfully integrate them into a space in a way that keeps them preserved.
Dye sublimation leads to stunning results that will disguise your acoustic panels and add more beauty and visual interest to any space. Watch the video below for a brief demonstration of how dye sublimation works on a wooden board.
4. Some Acoustic Materials Are Flammable
Acoustic materials are pretty straightforward to use in studios and homes. Still, there are strict regulations for using acoustic materials in industrial and office settings because many of them are highly flammable or heat-sensitive.
Polyurethane Foam Panels
Open cell polyurethane foam is incredibly flammable and shouldn't be installed in any public venues, such as restaurants, or highly-populated institutions, such as schools and churches.
Polyurethane foam isn't Class-A fire rated. However, melamine foam is Class-A fire rated, and you can tell when panels are made of melamine by observing their white or concrete gray coloration. These panels still shouldn't be installed in high-heat areas where they can suffer from heat damage, lowering their lifespans.
The consequences of placing these panels in the wrong place are dire. Polyurethane foam emits a thick, toxic smoke when burnt, which would be disastrous for anyone stuck in the blaze.
The below video demonstrates the burn rates of regular acoustic foam

vs. foam treated with a fire-retardant substance:
This 12-pack of DEKIRU Acoustic Panels

from Amazon is a stylish and eco-friendly acoustic solution. The pads are convenient, affordable, and simple to install. They come in various colors, including white, and are non-toxic.
Last update on 2023-12-08 / Affiliate links / Images from Amazon Product Advertising API
Wooden Panels
As we know, wood is organic and highly flammable, and acoustic wood panels are no different. However, unlike polyurethane foam, companies that sell these panels can coat them in non-flammable cement, flame-retardant wool, or eco wood rubber.
Without the coating, the wood can catch fire and burn at a significantly accelerated rate and be disastrous in a fire. However, with flame-retardant coatings, the wooden panels can still burn at a very low rate. They also emit very little smoke.
Placing acoustic panels of any kind near a heat source is a terrible idea. Still, wood and foam specifically need to be far removed from any kind of flammable material, even if you're planning to fireproof them.
Heat sources to avoid include:
Open flames, like candles, oil lamps, and fireplaces.
Lamps and ceiling lights.
Electrical outlets that can spark and cause a fire.
You should also ensure that you never apply flammable fluids to acoustic materials to clean them. For example, rubbing alcohol, bleach, and turpentine.
Installing Acoustic Panels
Installing acoustic panels is simple and can hugely benefit the sound quality in a room. The purpose of acoustic treatment

is to reduce the reverberations and echoes in a space, which you need to remember when installing them.
1. Decide Where To Place the Panels
Place the panels where noise most hits in a room, i.e., in the areas to which people project their voices the most. It's ideal to place the panels at eye-level with people, either sitting or standing, on the walls so that sound bounces off before reaching people's ears.
The panels' placement is crucial to maximizing the amount of noise absorbed, so placing them at the bottom of a wall or in an irregular pattern won't be as effective.
Though a regular pattern or organization of these panels is beneficial, covering the walls and ceiling is not necessary. You only need to gather them in the areas where sound is most concentrated.
This guide

to home theater acoustic panels will give you a better idea of how to utilize panels to reduce noise.
2. Placing the Acoustic Panels
The exact method used to place the panels heavily depends on the substrate or wall in question.
Drywall and concrete both work well with spray adhesive, but unfortunately, removing the acoustic panels can damage the wall and the panels themselves. Additionally, spray adhesive doesn't work on abrasive materials like exposed brick.
Command picture hanging adhesive strips are an affordable, accessible, and lightweight alternative that causes far less damage. Unfortunately, this still doesn't solve the issue of how to install panels on exposed brick and other rough surfaces.
These 3M Command Large Picture Hanging Strips

(available on Amazon.com) are perfect for heavier constructions like picture boards. They're secure, versatile, and easy to clean and remove if necessary.
Sale
Command Large Picture Hanging Strips, White, Holds Up to 16 Lbs, 14-Pairs, Easy to Open Packaging

MAXIMUM FRAME SIZE 24 X 36 INCHES: One package includes 14 pairs (28 strips total) of the Command...
WORKS ON A VARIETY OF SMOOTH SURFACES: Wall hanging strips work on a variety of smooth surfaces,...
SURFACE PREP: Clean the desired surface with rubbing alcohol to remove grime and dust to allow the...
Last update on 2023-12-08 / Affiliate links / Images from Amazon Product Advertising API
The only real option is to screw clamps or clips into the brick wall with the clamps facing outwards. Clip the panels onto the wall using these camps. Alternatively, you can attach the panels to a display board and screw this board into the wall.
Read here

for more acoustic mounting advice for different surface types.
3. Maintaining Acoustic Panels
Maintaining your acoustic panels is also relatively simple. Covering them with fabric is a brilliant way to make them more visually exciting and protect them from contact and general degradation.
That said, every acoustic panel needs a wipe-down every now and again, especially those in rooms that accumulate dust quickly.
Dirt build-up on acoustic panels means they'll look less appealing and ruin the space's aesthetic, but it also affects their performance, reducing their susceptibility to sound waves.
You can even give them a light vacuum if they're secured firmly to the wall. In most cases, a gentle wipe with a mixture of warm water and a little detergent or dish soap will do the trick. Never use harsh materials to clean acoustic panels, only soft fabrics.
Avoid using harsh cleaning supplies like bleach; this will ruin the look of the acoustic panels and cause them to deteriorate faster than they would have naturally.
Take a look at these cleaning tips

and reminders to ensure that you maintain acoustic panels to the best of your ability.
Consequences of Neglecting Acoustic Panels
Time is the most common cause of degradation, and every acoustic panel in every kind of material will inevitably be decommissioned someday. However, this process can speed up significantly if the panels are neglected.
Acoustic foam lasts for about five to seven years while actively in use. Due to its absorbent nature, this time is reduced with prolonged exposure to moisture, as water can't fully evaporate from acoustic foam.
Wood and wool can also take major damage from exposure to water and heat. The same goes for fabrics such as cotton, which is especially sensitive to moisture and temperature.
Dust accumulation causes blockages in the foam's pores and renders every other acoustic material (e.g., fiberglass, wool, and wood) quite unappealing and less effective.
Cleaning eradicates bacteria, fungi, and viruses from your acoustic panels; neglecting it means they'll grow and thrive. The material won't work as well, and you could get sick if the contamination gets too severe. 
Final Thoughts
Acoustic panels are safe, and you run no risk of getting sick from installing them in your space. If the panels have degraded and begun to flake off, inhalation can cause irritation but not an illness.
As a general rule of thumb, keep acoustic materials as far from flammable materials, open flames, and heat sources as possible. You could also try applying flame-resistant treatments to your space's acoustic panels for some additional peace of mind.
References
Was this article helpful?
Recent Posts
link to How To Allow QuickTime To Access Microphone 🎙️  
QuickTime is a vital app for many Mac users, and if you've recently bought a new microphone, you might wonder how to use it optimally. QuickTime cannot record audio content if it doesn't have...
link to How Do I Test My Microphone? 🎙️
Every microphone leaves a unique signature on the quality of its output. If you're a podcaster trying to melt your way into your audience's hearts, a muddy, distorted recording won't cut it....