Acoustic foam panels are excellent if you're looking for something to absorb sound and reduce echoing in a room. They're relatively easy to place on the wall, but you need to maintain them to remain clean and visibly pleasing. So, how do you safely wash acoustic foam panels?
To safely wash acoustic foam panels, you should remove loose dirt first. You can do this by dusting the panels or using a vacuum. Then, you can wipe the panels to clean any dirt. Remove stains by using stain removers and gently scrubbing. Dust and wipe your foam panels regularly to keep them clean.
Knowing how to wash your acoustic foam panels safely is essential. This article will discuss each step in great detail, so read on if you're interested.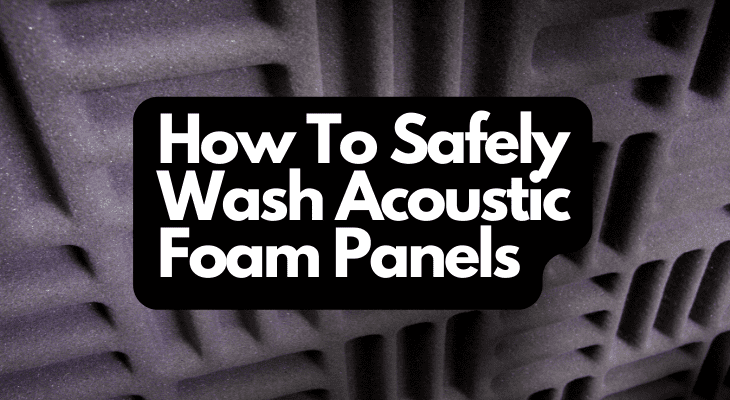 1. Remove Loose Dirt From Your Acoustic Foam Panels
Firstly, you should remove any loose dirt from the acoustic foam panels. If they have been on the wall for a while, there might be a buildup of dust and particles. Although this doesn't necessarily affect the panels' function, it makes them look dirty and untidy.
However, it's best to consider using a hand vacuum. For example, using a feather duster might make the acoustic foam panels look cleaner, but all it does is spread

the dust around the room. On the other hand, a vacuum will suck everything up, ensuring you get rid of it all for good.
I recommend the Eureka RapidClean Cordless Vacuum

from Amazon.com. It's lightweight and cordless, with a hand wand attachment to reach your panels easily. It also has 40 minutes of runtime; you may use it on all your household surfaces—not just your acoustic panels.
Sale
Eureka NEC180 RapidClean Pro Cordless Stick and Handheld Vacuum Cleaner for Hard Floors, Battery-Operated Portable Vacuum Cleaner with Maximum Efficiency Powerful Suction White

Efficient Cordless Cleaning: Powered by the latest motor technology the Rapid Clean makes cleaning...
40 Minutes Long Lasting Runtime: Up to 40 min of fade-free runtime. Easily switch to MAX power on...
Easy Rest Feature: Need to take a break. The specially designed Easy Rest nook allows you to safely...
Last update on 2023-09-25 / Affiliate links / Images from Amazon Product Advertising API
Once you've successfully removed all the loose dust and dirt from the acoustic foam panels, you can move to the next step.
2. Wipe the Foam Panels With a Gentle Soap
One of the best ways to clean acoustic foam panels is to wipe them clean using a fresh cloth with warm water. If the panels are particularly dirty, you may also use soap. If you want to use soap, ensure it's not too harsh because you want to avoid degrading or damaging your acoustic foam panels.
An example of a gentle soap you can use to clean acoustic foam panels (and many other things, including your skin) is this Whole Naturals Pure Castile Soap

, available now on Amazon. This liquid soap can clean your foam panels without causing damage because it comprises all organic plant-based ingredients; not only that, but you can use it to clean almost anything in your home!
WHOLENATURALS Pure Castile Soap Liquid, EWG Verified & Certified Palm Oil Free Unscented, Natural Soap, Mild & Gentle Non-gmo & Vegan - Organic Body Wash, Laundry, and Baby Soap (64 Fl Oz (Pack of 1))
EWG VERIFIED PRODUCTS, USA MANUFACTURED & THE ONLY CERTIFIED PALM OIL FREE PURE CASTILE LIQUID SOAP...
CERTIFIED ORGANIC. Our original Nature's Gold Castile is made with Organic plant-based ingredients....
ORGANIC BLEND OF PRICKLY PEAR, ARGAN, JOJOBA, ORGANIC COCONUT OIL, OLIVE OIL CASTILE, ALMOND & HEMP...
Last update on 2023-09-25 / Affiliate links / Images from Amazon Product Advertising API
As well as making sure the soap is gentle, it would be best to use a non-abrasive, soft cloth. Anything too rough can damage the surface, which you want to avoid at all costs. Microfiber cloths are a good choice because they're gentle and excellent cleaning tools.
Here is an essential guide on how to wipe your acoustic foam panels:
Grab your materials. These necessary items include a gentle cloth, warm water, and soap (if required).
Dilute the soap in the water. If you're not using soap, dip the cloth in warm water, wring it out, and wipe the acoustic foam panels.
Place your cloth in the soapy water and wring it out. You want to wring the fabric out enough so that it's not dripping wet, but not too much that it's almost dry.
Wipe the foam panels with your damp cloth. Wipe across the acoustic foam panels using gentle circular motions.
Rinse the cloth. Next, you want to rinse all the soap from the cleaning material so that you can remove the soap from the panels.
Use your wet cloth to remove the soapy residue. Keep wiping the acoustic foam panels until the soapy residue is completely gone.
3. Clean Stains From the Foam Panels if Necessary
In the last section, I discussed how to clean acoustic foam panels, but I didn't talk about focusing on stain removal. Your panels may develop stains from time to time, which can be a pain to remove. Although stains don't necessarily cause any harm to your acoustic foam panels, they make them look dirty.
Remove any stains as best as possible to keep your panels looking fresh and new. You can use stain removers or rubbing alcohol to remove stains on acoustic foam panels. It's best to avoid using highly harsh chemicals (like bleach) because they might degrade the panels over time and cause them to fade in color.
An example of a stain remover you can use on your acoustic foam panels is the Shout Advanced Stain Remover

, available on Amazon. Although this stain remover suits clothes washing—it works well with other products. It gently penetrates the stain, so you don't have to worry about damaging your foam panels.
Sale
Shout Advanced Stain Remover for Clothes with Scrubber Brush, 8.7 oz

One bottle of Shout Advanced Ultra Concentrated Stain Remover Gel concentrates stain-lifting power...
Super-concentrated thick laundry stain remover gel made specifically to treat some of your toughest...
This clothing stain remover is tough on stains but gentle on fabric, available in a convenient...
Last update on 2023-09-25 / Affiliate links / Images from Amazon Product Advertising API
You may need to use a brush and scrub to remove tough stains. However, it would be best always to aim to be as gentle as possible to avoid degrading the material.
As I already mentioned, you can also use rubbing alcohol, which works well as a stain remover. To use it, all you need to do is rub it around the stain and allow it to sit for a few minutes so it can seep in and get the job done. Rubbing alcohol

can eliminate ink and permanent marker stains on your acoustic foam panels.
So if you have some lying around at home, you might consider using it on any stains on your acoustic foam panels.
4. Allow the Foam Panels To Dry Properly
After cleaning your acoustic foam panels and removing any stains, you want to allow them to dry. In most cases, you can let the panels dry naturally by leaving them be. They should dry thoroughly within a few hours unless your cleaning cloth is too wet—in that case, it could take longer.
To speed up the process, you could apply cold air to the panels using a hair dryer or fan. Once the acoustic foam panels are dry, you've completed the cleaning process!
5. Maintain Your Acoustic Panels by Dusting Regularly
Although daily cleaning is unnecessary, you should maintain them regularly to keep them in the best condition. For example, if you notice your foam panels getting dusty quickly, you might want to dust or vacuum them every other day.
It would be best to clean the foam panels and remove stains as soon as you notice them; this will keep your acoustic foam panels in good condition and make cleaning them more manageable. Allowing them to get dirtier over time will increase their chance of being permanently stained.
Keeping Your Foam Panels Clean Daily
You can do some things to keep your foam panels from getting dirty. One of the main things is to clean dust and clean them regularly. However, you should consider some of the things I will discuss below if you want to keep your foam panels as clean as possible:
Keep Out of Reach of Children
If you want to keep anything clean and out of harm's way, it's best to keep it out of reach of children. Children often have things like dirt and grease on their hands, so you don't want them to be able to touch the panels. The dirt and grease can build up over time, making the panels dirty and aesthetically unappealing.
Try to place the acoustic foam panels high on the wall so young children cannot access them.
If you have guests frequently, you may also want to keep the panels away from anyone's reach (including adults).
Avoid Putting Them in Places They're Likely To Get Dirty
Another helpful tip is to avoid keeping the panels where they're more likely to get dirty, including a kitchen or dining area. An arts and crafts room is another area you should avoid putting a foam panel because it may get stained and dirty more quickly.
If you have no choice, clean the foam panel regularly and even cover it if you think it might get dirty at certain times. Your foam panels are more likely to get dirty in any place in your home that's a high-traffic area, so avoid putting them in these places as much as possible.
Avoid Touching the Panels Unnecessarily
If you have foam panels on your walls, ensure you only touch them when installing, cleaning, or removing them. There's no need to meddle with the panels at any other time—and doing so will increase the risk of you transferring dirt onto them.
If you consistently touch the acoustic foam panels unnecessarily, you'll wear them away more, and they're more likely to become stained. You should also ensure others won't touch the panels, especially if their hands are dirty.
Can You Bleach Acoustic Foam Panels?
You can bleach acoustic foam panels, but it will discolor them if they're not white. It's unnecessary to clean acoustic foam panels with something as corrosive as bleach, so you should try other products first. Things like soaps and rubbing alcohol are suitable for washing acoustic foam panels and won't discolor them the way bleach will.
However, bleach is a good option if you have white panels and want to make them cleaner and brighter. If you want to bleach your acoustic foam panels, be sure to water the bleach down so that it's not too corrosive.
Generally, it's best to avoid white acoustic foam panels altogether because they will show dirt more quickly than black or other dark colors. Sticking with dark colors will make your life much easier in the long run!
Are Acoustic Foam Panels Still Effective When Dirty?
Acoustic foam panels are still effective when dirty unless the dirt becomes corrosive. Chemicals can also damage your panels—so avoid leaving traces of damaging chemicals on the acoustic foam panels.
Examples

of corrosive chemicals include:
Hydrogen peroxide
Glycolic acid
Sulfuric acid
Avoid using any of these chemicals around your panels to avoid damage.
But generally, dirt and grease won't damage acoustic foam panels, so they should work fine if you allow general dirt to build up. However, dirty panels don't look pleasant and can ruin a room's entire look, so you should always keep them clean.
Can You Wash Acoustic Foam Panels in the Washing Machine?
You can wash acoustic foam panels in the washing machine, but you usually shouldn't because it will cause damage, especially if you do it consistently. Washing machines aren't gentle, so the foam is more likely to get ripped and degraded.
Also, putting foam panels in the washing machine might cause the colors to fade. Instead, you should wipe the foam clean to avoid severe damage.
However, if you want to use a washing machine, you should place the foam panels in a protective bag or pillowcase to avoid damage (if they're small enough). 
Additionally, you might want to use the gentle setting. Even though this method can work well, some foam panels might fall apart. Avoid placing an already degraded foam panel in the washing machine to prevent it from falling apart.
Heat Will Make Your Foam Panels Fade Quickly
If you wash your foam panels in the washing machine in warm or hot settings, you'll notice the colors fading more quickly. That's because heat

makes fabric colors fade quicker than without heat, so you should be prepared for color loss if you use a washing machine.
Conclusion
Keeping your panels dirt-free is easy if you don't allow them to get too dirty over time. Here are some of the things you can do to wash them:
Remove loose dirt by dusting or using a vacuum.
Wipe the panels using a damp cloth and soap if necessary.
Clean stains by scrubbing and using a stain remover. You can also use rubbing alcohol on tougher stains.
Removing dust and regularly wiping your acoustic foam panels to maintain them would be best. There's generally no need to use a washing machine or bleach.
References
Was this article helpful?
Recent Posts
link to How To Allow QuickTime To Access Microphone 🎙️  
QuickTime is a vital app for many Mac users, and if you've recently bought a new microphone, you might wonder how to use it optimally. QuickTime cannot record audio content if it doesn't have...
link to How Do I Test My Microphone? 🎙️
Every microphone leaves a unique signature on the quality of its output. If you're a podcaster trying to melt your way into your audience's hearts, a muddy, distorted recording won't cut it....