The quick answer to the comparison is – Focusrite 18i20 is better than Behringer UMC 1820, and you must have expected it from the difference in their price range. But, if you are on a tight budget, Behringer should be the one you should go with.
Both of them have their own Pros and Cons. So, let's discuss how they differ and how we arrive at that conclusion after comparing some of the two audio interfaces' different aspects.
These aspects will be included:
Build
Design
Sound Quality
Monitoring
Features
Price
Reputation
Pros and Cons
And after we have completed all that, we will move on to the final verdict. Now, let's get started.
1. Build Quality
Having a good build quality will help the product last for years. It would be best if you always bought an audio interface with this; otherwise, you will have to buy another after light use. Both these interfaces should last a decent amount of time. The Focusrite has a reputation for lasting long, and the Behringer is more a short term product. However, it would help if you still got a few years out of it.
The Focusrite feels sturdy. The outer shell is black aluminum, which is eye-catching and adds to the premium look. The Focusrite is also heavy at 3.2kg (This is 0.1kg than the 2nd Gen), which means it stays on the table if a cable is pulled by mistake, and it is relatively portable to take in a backpack.
The heavyweight also makes the Focusrite feel premium. Everything about the Focusrite oozes premium and excellent build quality. Underneath the black aluminum, the Focusrite's core is made from high-quality plastic, which is built to last and does look very good! Just from picking up the Focusrite, it is easy to say that it feels expensive.
Last update on 2022-05-24 / Affiliate links / Images from Amazon Product Advertising API
The Behringer Is fairly sturdy because of its all-plastic body; however, it does not have that premium look and feels that the Scarlett does, but that is expected due to the different price points. The Behringer is about 1.6kg, which is not far off half the weight of the Focusrite.
I think when you look at the Focusrite, you can tell its premium, but when you look at the Behringer, it's unimpressive and rather dull. However, the unit as a whole is robust and will last in good condition for hopefully a few years.
Last update on 2022-05-24 / Affiliate links / Images from Amazon Product Advertising API
2. Design
To stand out, different companies will use different colors or shapes to help them become recognizable. Design is not necessary; it is more about the sound. However, it can make a product stand out to the crowd!
The Focusrite is designed very well, It is sleek looking with curved edges, and it uses the recognizable red color of Focusrite round the edges on the front panel. The front panel is glossy and makes the Focusrite look very stylish. It definitely will look like a fresh piece of equipment in any studio.
The Focusrite has a straightforward and easy layout for all the buttons and knobs. Each button Is laid with enough space around it so you can confidently click a button without accidentally hitting another one. Overall I would say. It is effortless and straightforward to use. They haven't tried to cramp too many buttons or inputs into a small space; they have made it user-friendly.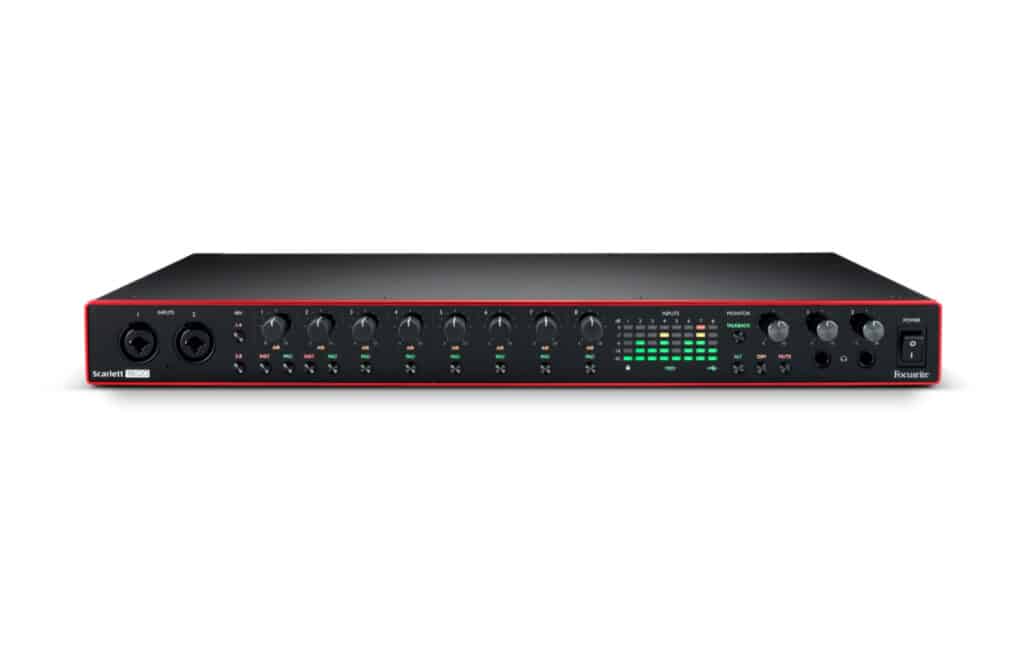 The Behringer is more industrial looking. It has less character than the sleek looking Focusrite. The unit looks similar in form and shape, but it is visible that the quality and the design is not as good. It will still do the job, and I think you cannot complain about the price point. However, it just doesn't have the looks of the Focusrite.
3. Sound Quality
Sound quality is imperative to have a good recording. Even if you have expensive mics or instruments, the audio interfaces determine how good the recording will sound.
BEHRINGER  The Behringer has preamps designed by MIDAS. MIDAS is known for creating amazing top end preamps; however, the ones they designed for the Behringer are made from a cheaper price point.
I genuinely believe the Behringer sounds pretty good. It records at 96khz/24bit, which is half the cycle rate of the Focusrite. So it's not top quality as expected, but it's decent, and it makes your recordings sound good for the amateur to semi-pro recordings.
The Focusrite does sound fantastic. The Scarlett preamps are very well designed and make your recordings sound crisp and clear. The Focusrite records at a higher Khz than the Behringer. The Focusrite records at 192khz/24bit, which is more than ample for professional recordings.
4. Monitoring
Monitoring is when the person recording can listen to what they are playing. Companies all try and get zero latency or close enough to that. The interface takes the signal and puts it through your headphones or other outputs as quickly as possible to give you the product's sound.
The Focusrite, in their latest update, switched to USB. They say that this has given them lower latency when monitoring because USB C is such a quick port that it has made it unnoticeable.
The Behringer also has low latency but not as low as the Focusrite. This is because of the USB A – B cable. It is not as powerful as USB C.
5. Features
Rack-mountable
Both of the audio interfaces can mount by the rack to make it easy to have an expanding studio with many different preamps.
Input Levels
The Focusrite has an input levels screen for all 8 of its standard combo inputs. This helps you see if you are distorting easier and makes it super easy so you can adjust quickly on the spot. The Behringer, on the other hand, does not have this.
Simple New Design
The Focusrite has recently been updated with a simpler design than ever before; The last version never had knobs laid out as natural; they were all zig-zagged, whereas this version has them in a straight line. Unfortunately, the Behringer has yet to be updated, but hopefully, Behringer will be announcing a new facelifted version in the next coming years.
ADAT  ADAT
It is a way for you to extend the inputs on your audio interface. Both of these interfaces have this compatibility. You can buy Focusrite's Octo Pre Amp or Behringer's Ultragain Pro Digital to expand your interface by 8 inputs.
Talkback
The Focusrite has recently incorporated the talkback feature, which is used in studios for the person mixing or controlling the levels t be able to talk to the musician in the sound booth or another area. It's also known as an intercom system.
48V – Both the Focusrite and the Behringer have controls to turn phantom power on and off. However, they are both grouped in channels of 4. So from channel 1-4 is your first button, and from channel 5-8, it's your second button. This could be a drawback, depending on what you are doing. In a real studio, you would have control over each channel individually.
Power
The Behringer uses DC IN to be powered.
The Focusrite uses a kettle lead (AC Power).
Softwares
The Focusrite comes with a free app, "Focusrite Control," that helps you handle different output controls such as headphones level or monitors.
Unfortunately, Behringer does not have any free software; however, you should watch out for bundle deals where you may get free plugins or free recording software for both interfaces. So keep your eye out!
6. Price
The Focusrite is known to be cheap for professional equipment. You get a portable studio with that at a fraction of the price. However, the Behringer is even cheaper at more than half the price.
So where do you stand if you want the Focusrite quality, but you can't afford it? There is always the option to go for the 2nd generation version, currently still available online.
So have a lookout, which will be in the middle price point between the 3rd Gen Focusrite 18i20 and the Behringer UMC1820.
And you can also look at Some of the Best Audio Interfaces that we picked.
7. Reputation
Focusrite
Focusrite has a solid reputation for creating quality recording equipment at the top end of studio hardware for amateurs and all the way to even professionals.
They have always been known for their fantastic sound quality at a reasonable price. The way Focusrite work is that they put high-quality materials and technology so that anyone can have a professional sound. Still, they somehow manage to keep the price so much lower than professional studio gear.
If you need proper quality equipment for your home studio that is reliable and built to last to then, Focusrite is for you. However, you will still need to fork out a bit of money as the quality comes at a price.
Behringer
Behringer, on the other hand, is just known for being cheap. Their products will do the job, but they will never do it as well as the Focusrite's could.
They have a reputation for being the cheapest, and arguably a tad unreliable, but their price is excellent but never expect your product to last more than a few years. It's more about getting great value for money with Behringer.  If you have a tight budget or are an amateur and need essential studio equipment, then are Behringer is for you.
PROS
 Pro Sound Quality
Eye-Catching Design
Sturdy and Durable Materials
CONS
Heavy and bulky
Expensive
USB C is not on every computer yet
Last update on 2022-05-24 / Affiliate links / Images from Amazon Product Advertising API
PROS
Cheap Price
Very light and easy to carry around
USB A-B is very accessible to most buyers
CONS
Materials feel cheap and nasty
Sound quality is not the greatest
Outdated LookFinal Recount
Last update on 2022-05-24 / Affiliate links / Images from Amazon Product Advertising API
Final Verdict
So my winner is the Focusrite. However, after reading this comparison, it's more about what is the right product for you. So I will leave you with one bit of advice.
Suppose you want quality and can afford the Focusrite. I recommend you go straight ahead and buy it. However, if you're buying decision based on purely a tight budget, then it's a no-brainer that you should go for the Behringer as it's crazy cheap for the features it has. If you are somewhere in between then, the Focusrite 18i20 3rd Gen is for you!
The Focusrite Scarlett 18i8 is a good alternative. Check out how Focusrite Scarlett 18i8 1st gen and 2nd gen compare here!