Whether you are a producer on the lookout for some equipment for professional use, or you are a more casual organ or a piano player looking to boost the sound and quality of your music, then an organ VST could be what you need.
Virtual Studio Technology (VST) plugins are audio enhancement tools that are utilized by both amateur and professional recording engineers and musicians.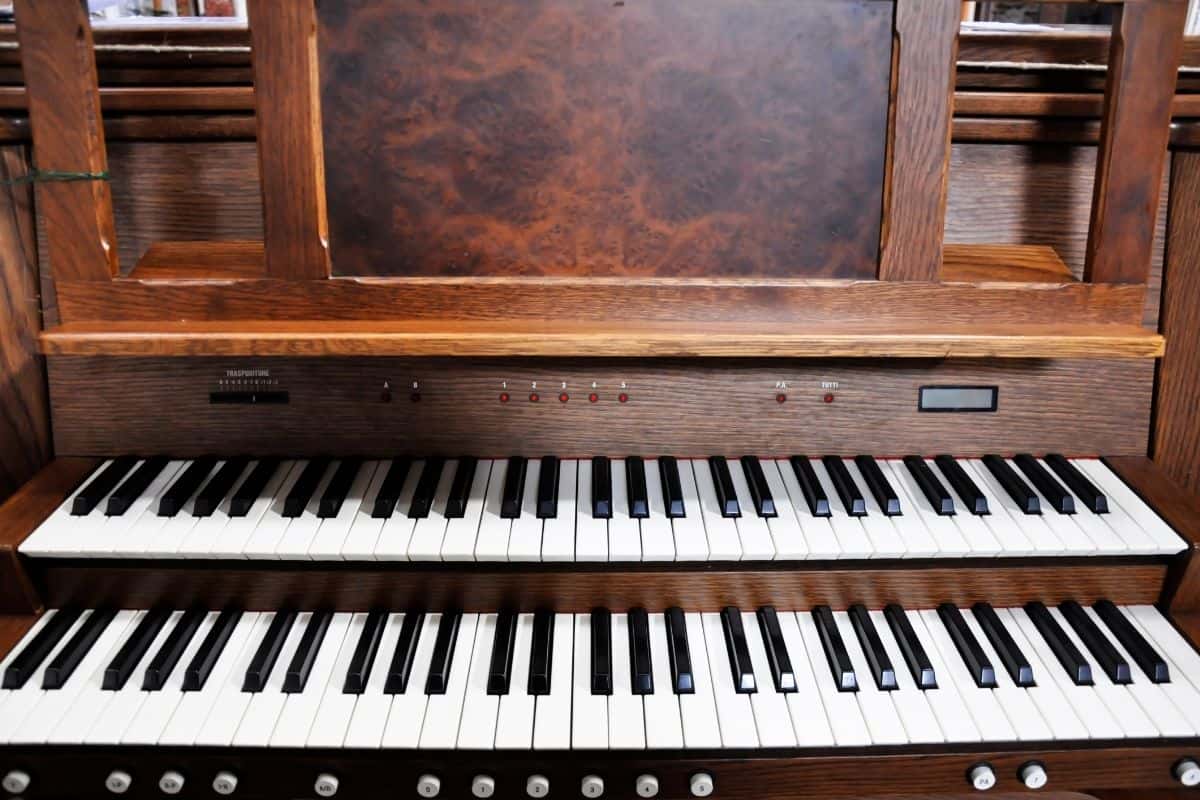 A piece of software known as a plugin is one that is designed to function within another type of program. You connect it to another device so that it works together rather than alone.
In the case of VST plugins, they are intended to operate within the framework of the digital audio workstation (DAW) software, which are the kinds of programs that are utilized to create music in both home and commercial recording studios.
Although all VST plugins are intended for use with digital audio workstations (DAWs), individual VST plugin categories serve a variety of functions.
With the help of VST instrument plugins, you can add a number of different virtual instruments to an audio recording even if you do not have access to the physical versions of those instruments.
Additionally, with the help of VST effect plugins, you can modify sounds in innovative and interesting ways.
When combined, the many various kinds of VST plugins provide you with the ability to make a final product that is more engaging.
In order to achieve effects such as compression and reverb using the first way of recording and mixing, one needed physical instruments and physical gear. The machinery that is essential for carrying out this kind of job is both prohibitively expensive and extremely space-consuming.
The creation of Virtual Studio Technology was motivated by the need to either supplant or supplement the use of physical equipment.
You may save money by using VST plugins that perform the same duties as instruments, synthesizers, effects devices, and other pricey gear rather than investing in that equipment.
Using virtual studio technology (VST) plugins and the digital audio workstation (DAW) of your choosing, it is possible to compose an entire song from scratch without ever having to make contact with a real instrument.
Here are the very best organ VSTs you should try to use next time you want to create a beautiful piece of music on the organ or piano.
Arturia is a well-known and trustworthy business that provides an extensive selection of analog and vintage gear on its online store. The Arturia B-3 V accurately imitates the sound that the original organ would create.
Because it comes with 86 factory settings, it was clearly designed with a great deal of care and attention to detail.
Arturia B-3 V is not a sampled instrument; rather, it was constructed using a Physical Modeling Engine. This indicates that every sound that may be made with this instrument was designed artificially.
Arturia B-3 V is regarded as one of the greatest Hammond organ VST instruments available despite this though. This paves the way for surgically precise sound reproduction as well as meticulous customization, which is a benefit for any pro.
In addition to the controls found on a traditional Hammond organ, the B-3 V features a number of additional slots for guitar-style pedals. This is comparable to how classic B-3 players performed in the past. You have access to a wah-wah, a flanger, a delay, and a few extra commonly used effects.
In the highly unlikely event that you grow unsatisfied with the Arturia B-3 V's classic sound, you have access to a range of LFO waveforms and a step sequencer. These capabilities enable the instrument to be transformed into an analog synthesizer.
The sounds it makes are incredibly realistic. If you were specifically searching for a Hammond virtual instrument (VST), you probably don't need to go any further.
In addition to the standard factory presets, you may build and save your own custom presets, which you can then use at any time. The best aspect is that the LFOs may be used at any moment to completely lose your mind.
Pros
Free demo – if you are not sure that this will be right for you, give it a try first
Standalone – you won't need to buy or add any other equipment to this
Stompbox pedals – these are included and are perfect for adding a little something extra to your music
Cons
Not for beginners – this is a very complicated device, so will be too overwhelming for beginners.
Also Available At
Sweetwater.com

Toontrack is well-known in the business of virtual instruments for its high-quality drums. We believe that their EZDrummer is one of the most outstanding instances of a virtual drum set that can be found.
So, it should not be surprising that the quality of their EZKeys is one of the best VSTs currently available.
To build the EZKeys Pipe Organ, the Toontrack team recorded the sounds of a 13th-century Swedish church organ. Even while technically it does not have an ancient sound, it has a very real and royal tone.
It is not a faithful copy of any particular church organ but rather feels more like a combination of all of the older great ones
You will have access to twelve organ stops that are often used to shape the tonal characteristics of a church pipe organ.
However, the EZKeys brand is more than just a collection of well-tuned samples. The fact that anybody can play the EZKeys Pipe Organ with relative ease, regardless of their expertise with church organs or keyboard skills, is the instrument's defining attribute.
It comes with a library of preset MIDI sequences and phrases created by professional musicians and composers. You are allowed to transpose any component and combine it with any other piece to create a personalized composition.
Because it also has MIDI drag-and-drop capabilities, you may import the supplied parts directly into your digital audio workstation (DAW) and edit them as you see fit without the need for additional MIDI input.
The EZKeys Organ is widely recognized as one of the most effective church organ VSTs and is a potent virtual instrument. It has a huge variety of settings, all of which may be tweaked to a greater extent if desired.
Even though the given MIDI sequences are very superb, experienced keyboard players and professional composers are unlikely to find them useful.
This capability was designed to make it easier for songwriters and maybe solo musicians to generate quick arrangements. Because Toontrack EZKeys Pipe Organ still supports MIDI input, it may be used as a typical virtual instrument. And rather good, if we may say so.
The EZKeys Pipe Organ is an excellent virtual instrument that requires only 750 MB of disk space. If you are a songwriter looking for an easier way to construct arrangements for your songs, or if you want to create a quick jam track, then this one is unquestionably for you.
However, because it has a realistic sound and is reasonably simple to play, it may also be of interest to those who compose music for movies and orchestras.
Pros
Standalone – you don't need anything else apart from this VST
Very realistic sound – this application produces some of the most realistic organ and piano sounds that you can get
MIDI parts included – this is very useful as it saves you money and the hassle of getting these yourself
Cons
Perhaps too many features? – this may sound silly, but given how many features are on this VST, some may be useless to you. For pros, for example, the various MIDI features may not be needed
Also Available At
Toontrack.com

If you use Pro Tools, you've probably heard of AiR Music, as this company is responsible for generating all of the virtual instruments that come with Pro Tools. Therefore, there is no doubt that the products created by this developer are of the best quality.
German engineering at its finest, the AiR Music DB-33 is widely considered the best B-3 VST available.
The AiR Music DB-33's sonic delicacy is almost apparent, and it never fails to amaze. When you play this virtual instrument with your eyes closed, it almost seems like you're playing a genuine Hammond organ, but there are a few changes in how it feels to play.
Genuine organs are often not particularly dynamically sensitive, but virtual instruments are typically more so. So, the only thing that would convince you that you are not playing a real organ would be a MIDI keyboard with many velocity levels.
Other than that, the music produced by the AiR Music DB-33 will blow your mind. The artists at AiR Music devoted a substantial amount of time and energy to imitating what appears to be every imaginable Hammond B-3 nuance.
And if that weren't enough, they also included a simulation of a revolving speaker cabinet, which was one of the most often used cabinets for the B-3 in the 1960s and 1970s.
There is no assurance that virtual instruments will sound good when used in conjunction with their real counterparts. The fact that the AiR Music DB-33 fits well is sufficient motivation for acquiring one of these on its own.
It has 120 established presets, each of which may be tweaked further, making it suited for even the most challenging mixing settings.
They provided a powerful and accurate simulation of tube overdrive

just in case that wasn't enough for you. In addition, the revolving speaker cabinet may work as a solo effect if used alone.
The AiR Music DB-33 is a wonderful prospective investment for your music production company since it is available at a price that is both extremely fair and surprisingly practical.
We can only think of one potential drawback, which is that you could find it a little too realistic. Virtual instrument sound quality is frequently as refined and mix-ready as possible.
This one sounds identical to how the original electric organ would sound regardless of the mix. Because of this, you may realize that further equalization and compression are required, exactly like you would do with a genuine instrument.
Pros
Hyper-realistic – close your eyes and it will sound like you are playing a real organ
120+ presents – you really will be spoilt for choice with all of these options
Rotary speaker addition – this is the more standout feature, as it is not very common on VSTs
Cons
Need AiR Creative Collection to get some features – the AAX for example is only available if you buy this addition
Also Available At
Airmusictech.com

It may not be immediately apparent, but church pipe organs are far more versatile than you might expect.
If you use the ideal hands and technique, you may make it seem rather delicate and romantic; if you use the incorrect hands and approach, you can make it sound exceedingly aggressive and even terrifying.
Lakeside Pipe Organ's greatest strength is its ability to recreate the emotional range of a genuine church pipe organ. Its user interface is reminiscent of the Victorian era, and it gives a staggering number of options for making the optimal and most suitable sound for a pipe organ.
You may make it seem like the fantasy of a 19th-century composer, or you can generate rather modern and edgy cinematic pads with it. This instrument's versatility is truly astounding. Regarding sound generation, it looks like you will have as much freedom as your imagination will allow.
Avast variety of presets are available, and further customization is possible. It has standard pipe organ controls as well as an FX rack with 18 selectable effects. As predicted, there are reverbs and delays, but there are also amp simulators and tape saturation, which is a fascinating combo.
The presence of LFOs that could generate a range of waveforms and a step sequencer is both really handy and a nice surprise. There is a particular fascination with synthesizers that depend on organic samples rather than the more typical soundwaves.
Changing something that was once a standard pipe organ into a revolving synth pad might be a really enjoyable experience. It is also fitted with an arpeggiator, which is an additional feature.
Due to its inexpensive price and great level of realism, Lakeside Pipe Organ is considered one of the most effective virtual instruments for simulating a church organ. In addition, it may be turned at any moment into a synthesizer.
Pros
Very realistic – if you want your music to sound as real as possible, this is a great option for you
Customizable – make this VST into the ideal one for you by customizing it to your needs
Cons
Must have complete NI Kontakt – you need to have the complete version of this in order to run the VST
Also Available At
Soundiron.com

Buyers Guide
Here are some things that you need to know about organ and piano VSTs.
Equipment
You must ensure that you have the following equipment to run the VST.
MIDI Keyboard/Digital Piano
You need a digital piano or MIDI keyboard with a USB Type B port or an older-style MIDI port, as found on many older keyboards.
Digital Audio Workstation
A DAW, such as Logic Pro X or Pro Tools 12 is needed. In many cases, you'll be able to use your VST as a standalone, although a DAW is preferred for additional functionality.
Laptop/Computer
It is recommended that you use one that has more than 10 percent storage space remaining and at least 16GB RAM. This space allows you to download samples that may require a significant amount of storage space, and the RAM enables you to work without latency in your DAW.
Speakers/Headphones
How else would you hear your music?
Internal SSD
An internal SSD to replace your computer's hard drive is an option but very useful. This gives you a higher CPU performance and fewer PC crashes and is also useful for sample storage.
If you can only afford one SSD (since SSDs may be pricey), invest in an external SSD for sample storage and to reduce CPU consumption.
For The Pros
You may also choose to utilize a 'slave' computer, which is often a high-end desktop PC or Mac Pro from which sample libraries may be executed without consuming the CPU of your primary PC.
Additionally, you may include an audio interface in your system.
You will be able to record other instruments and microphones with an audio interface, so you are not limited to utilizing a piano as your DAW's controller.
By converting an analog signal to a digital one, you will be able to record the audio of a variety of instruments and no longer be limited to MIDI.
References
Was this article helpful?
Recent Posts
link to How To Allow QuickTime To Access Microphone 🎙️  
QuickTime is a vital app for many Mac users, and if you've recently bought a new microphone, you might wonder how to use it optimally. QuickTime cannot record audio content if it doesn't have...
link to How Do I Test My Microphone? 🎙️
Every microphone leaves a unique signature on the quality of its output. If you're a podcaster trying to melt your way into your audience's hearts, a muddy, distorted recording won't cut it....