Rhodes VSTis a tool that has become incredibly popular over time because of its unique sound quality.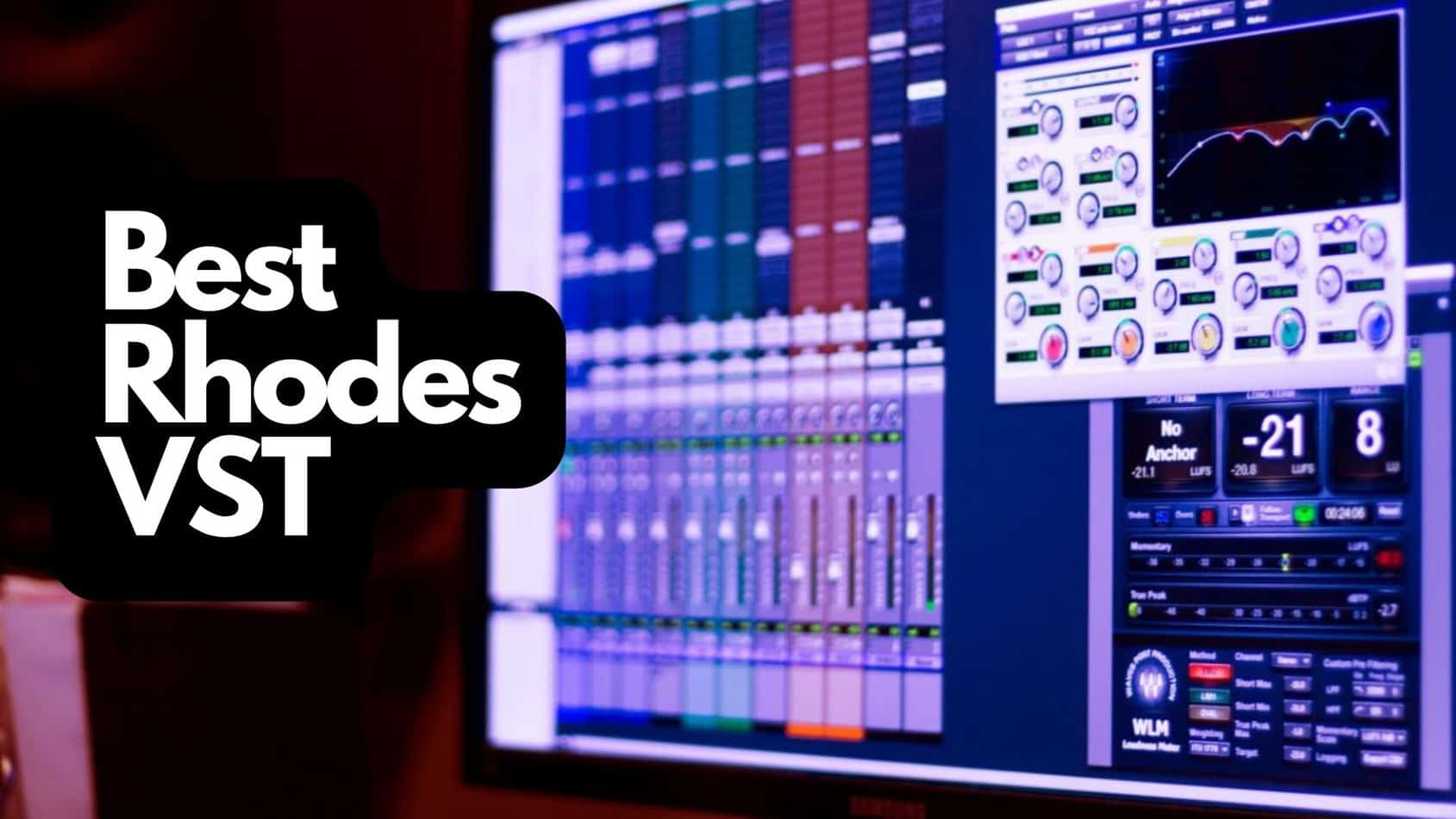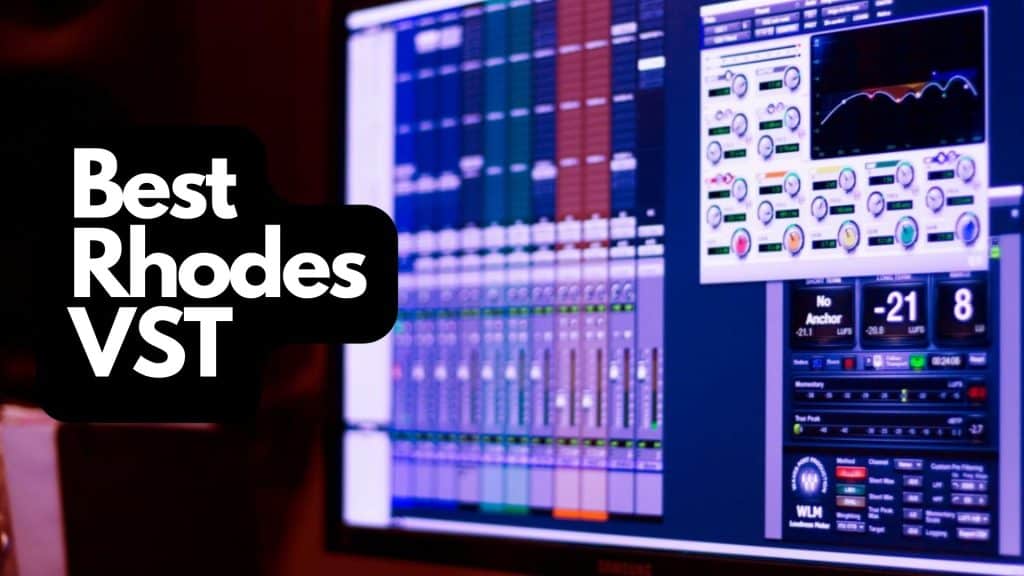 This tool allows you to play any type of music using only a keyboard or MIDI controller and can be played on both PC and Mac to allow you to create incredible sounds at the touch of a button.
One of the main issues is that there are a huge number of Rhodes VST options on the market, and knowing which is the best to choose can be a real challenge.
Fortunately for you, we have put together in this article all the top 10 Rhodes VSTs available today, so you can make an informed choice when it comes to purchasing your next Rhodes VST plugin.
If you are looking for a Rhodes plugin that allows you full compatibility with the most popular DAWs on the market, this is the perfect option for you, as it is fully compatible with top options such as Ableton, Logic, Cubase, and Pro Tools.
This is an ideal option for anyone looking for a truly authentic sound and helps to emulate the sound and overall vibe of a Fender Rhodes in no time, and your songs will sound super realistic, as well as the ability to make the most of a range of analog features such as tube compression, rotating speakers and authentic, vintage microphones.
As an added bonus, this is a VST that can be used as a standalone instrument as well as a plug-in for total flexibility, and adds the option to include a host of features and extras such as an amp, effects, compressor, and mix section to allow you to enjoy a truly authentic sound every time while avoiding the risk of sounding too digital or modern.
Overall, this is a sound that moves away from the need for clean, sterile perfection, and which offers a chance to enjoy something a little more "worn" and genuine.
Pros
Offers an authentic, vintage sound
Can be used as a standalone instrument as well as an addition
Huge range of extra effects to bring your sound to life
Great range of options to customize the final sound to your exact preferences
Non-linear sampling aims to maximize the realism of the sound
Cons
Can be a little costly if not on sale
Another super popular option for music fans is the Applied Acoustics Systems Lounge Lizard, and this is a favorite of many professional musicians – this is a testament to the high quality that you can expect to receive with this plug-in.
The unit is packed with an impressive 240 presets for you to choose from, and this means that you can enjoy sounds from the basic, beginner tunes right up to something a little more experimental and unusual – some of the most popular ready-to-play options include electronica, reed-based, time-based and pain-organs, as well as a host of custom sounds and instruments.
In addition to having plenty of choices when it comes to your sound, you can also enjoy maximum customization thanks to the ability to play the piano through a range of microphones, recorder signal paths, and pre-amps, and you have total control over the position of the pickup, as well as the forks and hammers.
The result is a super realistic sound, and there are a host of effects including EQ, Chorus, Delay, Distortion, Flanger, Hall, and Phaser.
This is a plug-in that is also perfect for beginners and newbies to this type of tech; the interface is easy to use thanks to a clear, straightforward, and intuitive design, and it comes with over an hour of tutorials that are perfect for helping you to find your feet and get started.
Pros
Enjoy total control with a range of customization options
Perfect for beginners as tutorials are included
Easy-to-use interface
Over 240 preset options
Huge range of built-in effects
Cons
Very pricey compared to other options
Third place on our list goes to the AIR Music technology Velvet 2, and this is incredible for those who want to bring a vintage sound into the modern world.
This is a plug-in based on the Fender Rhodes MK I and II Stage Pianos, the Fender Rhodes Suitcase, the Hohner Pianet T, and the Wurlitzer 200A, and is perfect for recreating five quality electric pianos to bring the sounds of the 60s and 70s to life before your very eyes – or ears.
With over 350 presets, this is a super versatile option that also offers you the chance to create your own presets whenever you desire – with the Air Music Velvet 2, you are really in control of your own creativity.
Adjust and alter the dynamic response, the velocity, and the timbre, and play with a huge range of effects that vary from amplifying effects to delay, reverb effects to modulation, and play with room and spring settings, as well as enjoy some incredible vintage distortion for that truly authentic sound.
As an added bonus, the Velvet 2 is super easy to use, and the controls can be mapped to MIDi controllers quickly and easily – the interface also has an authentic vintage feel for that extra layer of authenticity, and you will be able to get started with high-quality sound in no time.
Pros
Incredible emulation of sound quality
Chance to really pick up and enjoy the nuances of each piano
Impressive five electric piano models to choose from
Huge range of presets, with the option to create your own presets
Good variety of effects already included
Rent-to-own option available, allowing you to get comfortable with the kit before investing in a purchase.
Cons
Less control over the character of the piano than other options
For unique features and an easy-to-use design, this ToonTrack EZKeys Classic Electric is a perfect choice, and one of the key elements that help this plug-in to stand out from the crowd is a truly impressive MIDI library which includes everything you could need to let your creativity run wild.
Complete songs are played by professionals for the ultimate in quality, and this is perfect for inspiration, as well as discovering the right tone for each tune.
Piano patterns and chord progressions are also included, and users can also benefit from an impressive 14 pre-mixed presets that mean you can get started in no time, even if you are a total beginner.
The suitability for beginners is enhanced by the intuitive interface and easy use; easily access everything you need in a single package with zero fuss, and you will be a whizz at the controls in no time.
The Rhodes MK I and Wurlitzer 200A can be easily replicated with the push of a button and the end result is a realistic, crisp and clear sound that emulates the real thing perfectly.
You can also enjoy the advantage of a good range of onboard effects, and drag and drop MIDI support puts you firmly in the driver's seat with every use.
Pros
Integrated timeline arranger included
Easy to change the sound with a good range of onboard effects
Extensive MIDI library for plenty of inspiration
Easy to use and understand, even for beginners
Comes with piano patterns and chord presets – perfect for learners
Cons
A little less choice when it comes to customization when compared to other models and options
If you are on the hunt for a perfect plug-in but lack the advantage of plenty of spare cash to hand, then the NoiseAsh Sweetcase may be the answer to your problems – it has the huge bonus of being totally free, while still remaining packed with features and must-try elements.
This is a plug-in that can also work with other VSTs and DAWs, and so can be easily used alongside a host of your favorite programs without having to worry about interference or interruptions.
NoiseAsh has the added bonus of being super flexible, and is totally beginner-friendly; you can experiment and play with a host of options and effects without having to worry about a steep learning curve.
In addition to being fast and easy to learn and use, this is a plug-in that offers plenty of built-in effects to customize and create your perfect sound, as well as a host of ready-to-mix sounds to let you get started quickly and easily.
Features such as built-in reverb, parametric EQ, and bass boost knob all add more power to your tracks, and you will be creating professional quality tunes using the authentic sound of a Fender Rhodes piano in no time.
Pros
Free to download, meaning that there is no risk or worry associated with trying it out
Samples are very high quality and recorded by professionals
Very easy-to-use features
Modern, easy-to-use interface
Great for beginners thanks to the ease of use
Cons
Users have a little less control over the instrument character when compared to other options and products
Check out: Best Organ VST

Best Rhodes VST Buyers Guide
With so many quality Rhodes VST options on the market, you may be wondering how you go about choosing the best option for your needs.
Before we take a closer look, it is important to understand just what a Rhodes VST does.
What Is A Rhodes VST?
A Rhodes VST (Virtual Studio Technology) is a software application that simulates the sounds of a real Rhodes electric piano.
It was first released in 1993, and since then, it has become one of the most popular choices amongst musicians and producers alike.
The reason why it became so popular is that it provides users with a realistic alternative to the expensive Roland pianos that were previously used to produce electronic music.
The Rhodes VST is not just limited to being used for recording purposes; it can be used for live performances too.
You can even use it to play along with pre-recorded tracks, as well as record your own tracks.
How Does A Rhodes VST Work?
To understand how a Rhodes VST works, we need to start by understanding how a traditional acoustic piano works.
When a musician presses a key on a regular piano, they are actually pressing down on a string that is attached to the hammer.
This causes the hammer to strike the strings, thus causing the sound to travel through the air.
As this happens, the hammers are moved up and down by the strings, which creates vibrations that are transmitted into the body of the instrument.
In turn, these vibrations cause the keys to move, which makes the notes ring out.
Now let's compare this process to what happens when a user plays a song on a computer keyboard.
Instead of moving the hammers manually, a MIDI controller sends signals to the computer, telling it to press certain keys.
Once the keys are pressed, they send a signal to the computer, which tells it to release the keys.
This means that the keys don't have to physically move, and instead, simply vibrate at different frequencies depending on the note that is played.
This is exactly how a Rhodes VST operates. Instead of having physical keys, it uses virtual keys, which are controlled by the software.
These virtual keys are mapped onto the actual keys on the real piano, and once they are pressed, they trigger the same sequence of events as if they were connected to an actual piano.
Choosing A Rhodes VST
There are a number of elements to consider, and these include:
Price
Sound quality
User-friendliness
Customizability
Compatibility
Availability
All of these factors should be taken into consideration before making any purchase decision, and we have put together some helpful information below to help you make the right choice.
Price
The price of a product is always going to play a big role in your buying decisions, and if you are looking for something relatively inexpensive, then the Applied Acoustics Systems Lounge Lizardis probably not going to cut it.
However, if you want a great-sounding, affordable plug-in that is ideal for beginners, then the NoiseAsh version might just be what you are after.
It's a fantastic value for money, and the fact that it is completely free means that you don't have to worry about spending any extra cash on it.
Sound Quality
The first thing that you need to look at when purchasing a plug-in is whether or not it sounds good.
You obviously don't want to spend lots of money on a plug-in that doesn't sound good, and you won't find yourself wanting to buy one of them again either.
If you are looking for a plug-in that sounds like a real Rhodes, then play around with the various options on the market; are you looking for a more authentic, vintage sound, or do you prefer the crisp, clear lines of a more digital audio?
By trying a range of options, you will be able to find the sound that is the best fit for your needs and preferences.
User Friendliness
If you are new to music production, then you are going to want to ensure that you choose a user-friendly plug-in.
A lot of people think that they know everything about music production, and therefore believe that they know exactly what they need from their plug-ins.
In reality, though, you are likely to find that you need to spend quite a bit of time playing around with different settings and tweaking things until you get the sound that you want.
Look for a plug-in that comes with a simple, yet effective interface, which makes it incredibly easy to use – this will enhance your overall experience, and make sure that you enjoy the process of music-making without getting frustrated or disheartened.
Customizability
If you are looking for a versatile plug-in, then you are going to have to take a closer look at the Rhodes VSTs that are available.
Some of them offer a lot of customizability, while others are much simpler than that.
For instance, the NoiseAsh Sweetcase has an extremely intuitive interface but is only capable of producing a single note per keypress.
On the other hand, the Rhodes VSTs by Applied Acoustics are very customizable, allowing you to change parameters such as volume, panning, pitch bend, modulation depth, etc., all without having to leave the program.
This can really come in handy if you are working on multiple projects at once, as you won't have to constantly switch between programs to tweak your settings.
Features
When choosing a plug-in, you should also consider how many features it offers.
There are some plug-ins out there that offer a huge amount of functionality, but these tend to cost a small fortune.
Therefore, you need to carefully weigh up the pros and cons before deciding on which ones to purchase.
Do you need a plug-in that allows you to create complex arrangements, or would you rather stick to using preset loops and samples?
Are you looking for plug-ins that offer a wide variety of effects, or would you rather keep things simple and focus on creating a quality track?
These are questions that you need to ask yourself before making a decision so that you can get the most out of your investment.
In conclusion, when selecting a Rhodes VST, you need to make sure that you consider each of the above points before buying.
Remember that no matter which plug-in you decide to go for, you will still need to practice and learn how to use it properly, so that you can achieve the results that you desire.
Was this article helpful?
Recent Posts
link to How To Allow QuickTime To Access Microphone 🎙️  
QuickTime is a vital app for many Mac users, and if you've recently bought a new microphone, you might wonder how to use it optimally. QuickTime cannot record audio content if it doesn't have...
link to How Do I Test My Microphone? 🎙️
Every microphone leaves a unique signature on the quality of its output. If you're a podcaster trying to melt your way into your audience's hearts, a muddy, distorted recording won't cut it....