You know what?
Some vocoder plugins are just plain rubbish, and they fail to disguise your voice at all. And some are even worse – they may disguise your voice ok, and make you sound robotic, but this comes at the expense of clarity and being able to make the words out.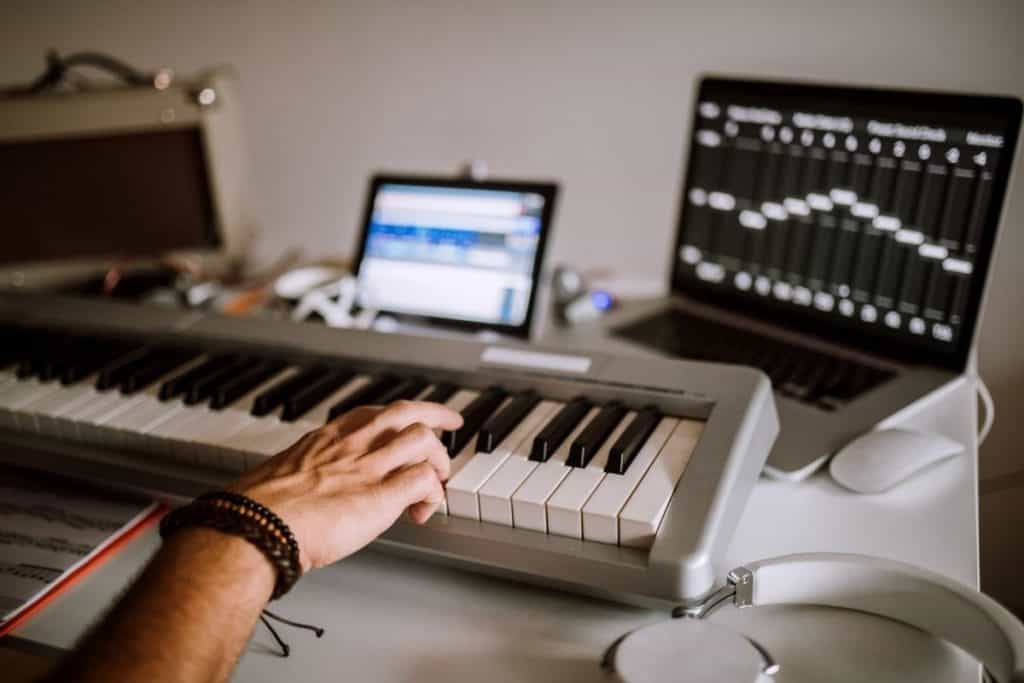 And what's the point in slaving over lyrics if no-one can make them out?
I'm pleased to report however that there's an easy solution, which is to invest in a good quality vocoder plugin. In this article, I'm going to be sharing my reviews of 5 of the best vocoder plugins on the market at the moment. My reviews are 100% honest, and I've tried them all out for myself.
What's more, I'm also going to throw in a handy buying guide for you, complete with answers to your most frequently asked questions on the subject.
Let's get straight to it!
This vocoder is one of the most talked about on the net at the moment. And sadly, it's also relatively expensive. However, most customers seem to feel it's absolutely worth it…
For example, on the manufacturer's website the 4- and 5-star ratings by far outweigh the rest, with twice as much giving it a full 5-star rating as a 4-star rating.
But if it's within your budget, you might want to consider getting it as a bundle deal, which includes a whopping 15 plugins. Not that you'll need them however…
What I love the most about this vocoder plugin is that it is not just a vocoder – it's also a compuvox, a talkbox, a Polyvox, and a Biovox – not bad hey?
What's more, all of these vocal effects are perfectly blendable. And there are seven stompbox effects besides.
It's quite the vocal processing powerhouse, giving you rich vocal harmonies, and the ability to carry out auto-pitch correction in real time. There are 5 different digital algorithms to work with, and a voice synthesizer which is modeled on the human vocal tract.
It's compatible with both Macs and Windows PCs, and it will even work on Windows 7.
My experience using it: This is hands down one of the most versatile vocal plugins that I've ever had the pleasure of using. The sound was first class, and I wouldn't hesitate to recommend it to anyone.
Pros
One of the most popular vocal plugins around
Incredibly versatile with a tonne of great features
It has an innovative user interface which is fun to use
Cons
Premium product at a premium price
Not designed for the Linux operating system
Requires high CPU usage
Also available to buy on Amazon via this link.
You know what? I just love the user interface for this plug in – it's like something out of a 1970s TV show about life on a spaceship. Super old school and vintage with all its differently colored dials, sliders and such.
And perhaps it's because of this set up that I found it so easy to use, which I would argue is a key thing to look for in a vocoder. That said, I'm sure more advanced veterans would enjoy it just as much as beginners.
But if you are a beginner, I totally recommend checking out the manufacturer's product page, because it explains all the different modules perfectly.
I also loved how you can use it to process other instruments besides the voice, such as percussion and guitars. But not as much as I loved the pure clarity of the sound, which was exactly what I was looking for.
It has a virtual keyboard that you can save your favorite presets to, and an automatic Voice/UnVoice detector.
It has some really nice advanced features too, such as being able to use multiple bands, different filter types and filter emphasis. Not to mention more Slew rates, Freeze mods, and Oscillator Waveforms.
This vocoder plugin is significantly cheaper than the iZOPTOPE I reviewed earlier, and is very reasonably priced, pretty much what you'd typically expect to pay.
My experience using it: I really appreciated just how easy and intuitive the user interface was with this vocoder plugin. It really helped to make the mixing more straightforward. I found the automatic Voice/UnVoice detector super handy.
Pros
Excellent, unencumbered clarity of sound
Excellent, super retro user interface
It's very reasonably priced, and significantly cheaper than the Izotope
It's compatible with both Macs and Windows PCs
Cons
Requires high CPU usage, coming in at 2 GHz
Despite requiring significant PC specs, it produces only analog sound
This 100 frequency band stereo vocoder features a rich effects section on the right hand side, combined with a handy synthesizer section on the left. And this neat little layout really helps for its ease of use.
The synthesis filter bank is one of my favorite features – making cowboy John Wayne sound more like a chipmunk in pain, lol! And you can get people really scratching their heads trying to judge the original gender of a vocal output.
I also like the whitening filter – it strips all the spectral coloration from the input signal, like a kinda bleaching prior to coloration.
There are two oscillators present with all your favorite waveforms, and there's both FM and ring modulation available to really enrich the vocoder's signal with various effects.
You can also use a range of different effects to refine the vocoder signals, such as hard clipping, which I love, and even a six-voice chorus, which is really worth listening to.
I'm also a big fan of the synchronizable stereo delay, and realistic reverb.
It will work on 32 bit DAWs, and it doesn't need anywhere near as much RAM as the IXLS 5000. It's also compatible with both Macs and Windows PCs.
My experience using it: You know what? I had great fun playing around with this vocoder plugin, making all kinds of sounds and trying out different effects, especially when you start shaping external sound sources, too. It's pretty straightforward to use, but there are some aspects to it that might take some getting used to, especially if you're new to all this and are a beginner.
Pros
It's compatible with both Macs and Windows PCs
It's very reasonably priced, on a par with the IXLS 5000
Boasts a deep feature set and outstanding sound quality
Incredibly versatile, and great fun to work with
Uses a minimal amount of your PCs resources
Cons
Some people find the user interface a little complex, but as I said earlier, it just takes a little getting used to, that's all
Also available at buy on Amazon via this link.
After extensive experimenting, I also decided that the Image Line Vocadex vocoder plugin was also worthy of a spot on my shortlist of top 5 vocoder plugins.
Its star feature has to be its 100 variable-width multi-parameter vocoder bands, covering the entire audio spectrum. And it accepts external inputs for both the carrier signal and the modulator, making it an outstandingly powerful plugin.
It's quite a comprehensive piece of kit, which is superb for manipulating human voices to achieve all kinds of fun and interesting effects. There's speech enhancement modules, reverb capabilities, voice doubling, and more.
Also, I feel like the user interface looks really slick, and is somewhat stripped back, so it won't be too off-putting to newbies and beginners. Despite also being advanced enough for veteran music producers.
In fact, it's a really great vocoder plugin for beginners in particular because there are loads of great video tutorials for it online from the FL Studio 20 Reference Manual.
It's also one of the more affordable vocoder plugins out there, costing well under $100, making it very competitively priced.
The only real drawback is that there's no MAC version, and it's only compatible with Windows operating systems.
It requires about half a GB of RAM, a CPU that runs at a frequency of at least 2 GHz, and you'll also need 130 Mb of on-board storage, so it won't put too much of a strain on your PC's resources
My experience using it: I thought the user interface was really streamlined and nice, and I found the tutorials for this plugin on the FL Studio website really easy to follow and understand, but with so much to it, I'm sure I didn't get anywhere near experiencing what it's fully capable of.
Pros
Uses a minimal amount of your PCs resources
Competitively priced, one of the more affordable vocoder plugins out there
Great for beginners, thanks to the online tutorials & streamlined user interface
Cons
It's not compatible with Macs, you're gonna need a Windows PC for this beauty
Be prepared to learn a lot about vocoder operation if you want to make the most of this plugin
Did you know that you can download a good quality vocoder plugin for FREE? Bet you're glad I told you – if it suits your needs, you could be saving yourself up to a whopping $200.
It's compatible with not only Windows and Macs, but it's also compatible with Linux to boot. There are two different versions. Version 2 is the best one, but it requires a 64-bit PC, so if you're still on a 32-bit, you'll have to make do with Version 1.
It offers 11 frequency bands altogether, which is more than some of the other vocoder plugins that made my shortlist. And the really fun part is that they emulate all those cool, funky dance sounds of the 1980's – really retro (I won't tell you if I'm old enough to remember them, lol!)
It features a good mix of both analog modeled components combined with fancy digital algorithms.
It works a little differently to regular vocoder plugins because it includes an envelope follower for the different brands rather than making a direct convolution of the modulation signal and the carrier.
And as I mentioned in the introduction, you're gonna want the sounds to be perfectly clear, which this plugin achieves perfectly thanks to features such as an algorithm for consonants to make words more intelligible.
It has 4 different vocoder oscillators on board to try out, and the range of the plugin can be expanded across the octaves
As you may imagine, a free plugin like this one isn't going to have as much tech and versatility as a paid one.
But, if you're thinking of just trying out a vocoder plug in rather than investing in one for multiple long-term projects, then it could be just what you're looking for. All the fun, without dipping into your pocket (or breaking the bank).
My experience using it: It's got a nice, clean user interface that I really like, just like the old hardware style ones.
Pros
It features a whopping 11 frequency band engine
There are 4 different vocoder oscillators on board to have a good play around with
You can musically go back in time & replicate all those great sounds of the 1980s
It's completely free to download, & therefore excellent value for money, lol!
It's compatible with Windows, MacOS & Linux operating systems (and even 32-bit ones)
Cons
It only works on stereo channels
Buying Guide
As promised, here's your buying guide. Let's walk you through some of the key points to consider before you buy.
Paid Vs Free
If you've been paying close attention so far, you will have noticed that you can download certain vocoder plugins free of charge. And this is perfect if you just want to trial the vocoder effects out without having to part with any money.
But as you may already suspect, such plugins simply do not have the same level of versatility and functionality as some of the more expensive options available.
Compatibility
The first thing to consider is compatibility. Some vocoders will only work with certain DAWs, some will only work with Macs, and some will only work on Windows operating systems. So this is something you have to check before you buy.
And if you're working with a Linux operating system, you may have difficulty finding a compatible one that you're happy with.
Specs
In order to be able to run the vocoder software, you have to ensure that 1) your PC has enough processing power on its CPU, and 2) that your PC has enough RAM to handle it.
Artist Emulation
If you want to have the vocals sound like a particular artist, why not research what vocoder was used in their pieces? Want to sound like Daft Punk? Or The Beastie Boys? Go right ahead!
Number Of Effects
There's nothing worse than investing a big sum of money in a vocoder plugin only to find that it doesn't have all the effects that you want. Or, getting bored with what your vocoder can do, only to find that you just don't have the budget to invest in a new one that has all the bells and whistles.
Easy To Use
You have enough to worry about running an entire home studio without having to panic over how to use a vocoder plugin, so the easier it is to use, the better.
Personally, I prefer a minimalist user interface that's really streamlined and stripped back, rather than some of the more complex and intimidating ones.
Brand
There's a lot to be said for going for a well known, well respected brand. Especially when it comes to home studio gear. Big brands have a strong reputation to live up to and won't let you down.
Value For Money
Everyone knows that any home studio gear is notoriously expensive, and vocoder plugins are no exception, so whenever you have the chance to save some money on it, go for it.
I don't put prices in my product reviews in case the prices change, but I recommend that you check prices as you go along. That way, you can see what features your money can buy you, so you can make a good, well-informed decision about how much your budget should be.
Answers To Your Most Frequently Asked Questions
Is A Vocoder Like Auto-Tune?
So, both vocoder plugins and auto-tune effects can be used to create a robotic sounding voice, but they are not the same thing…
A vocoder is basically a vocal-encoder, designed to encode and encrypt speech. In contrast, auto-tune effects are designed to correct pitch, helping singers sound more "in tune" throughout the performance.
Is Tal-Vocoder Free?
So many home studio enthusiasts find it hard to believe that a vocoder plugin as good as the Tal-Vocoder is actually free, that this has become one of the most frequently asked questions on the subject on Google.
However, the good news is, and I'm very pleased to confirm it, that Tal-vocoder is free to download and there's no subscription fee to worry about either, so you can go ahead and use it without losing a dime!