Smaller than a postage stamp yet capable of holding extraordinary amounts of data, Micro SD Cards are just one way to record your photographs. But does their small size limit their performance, and can you use them in a digital camera?
You can use MicroSD Cards in your digital camera if they're compatible. MicroSD cards store tremendous amounts of data. Ensure yours has fast read and write speeds for quick, sufficient transfer. Prioritize write speed, memory size, and compatibility for optimum performance when buying a new MicroSD.
In this article, we look at what Micro SD cards are, the requirements you'll need to use one in your camera, and detail the factors you must prioritize. Read on to discover the fastest performing Micro SD cards for your camera.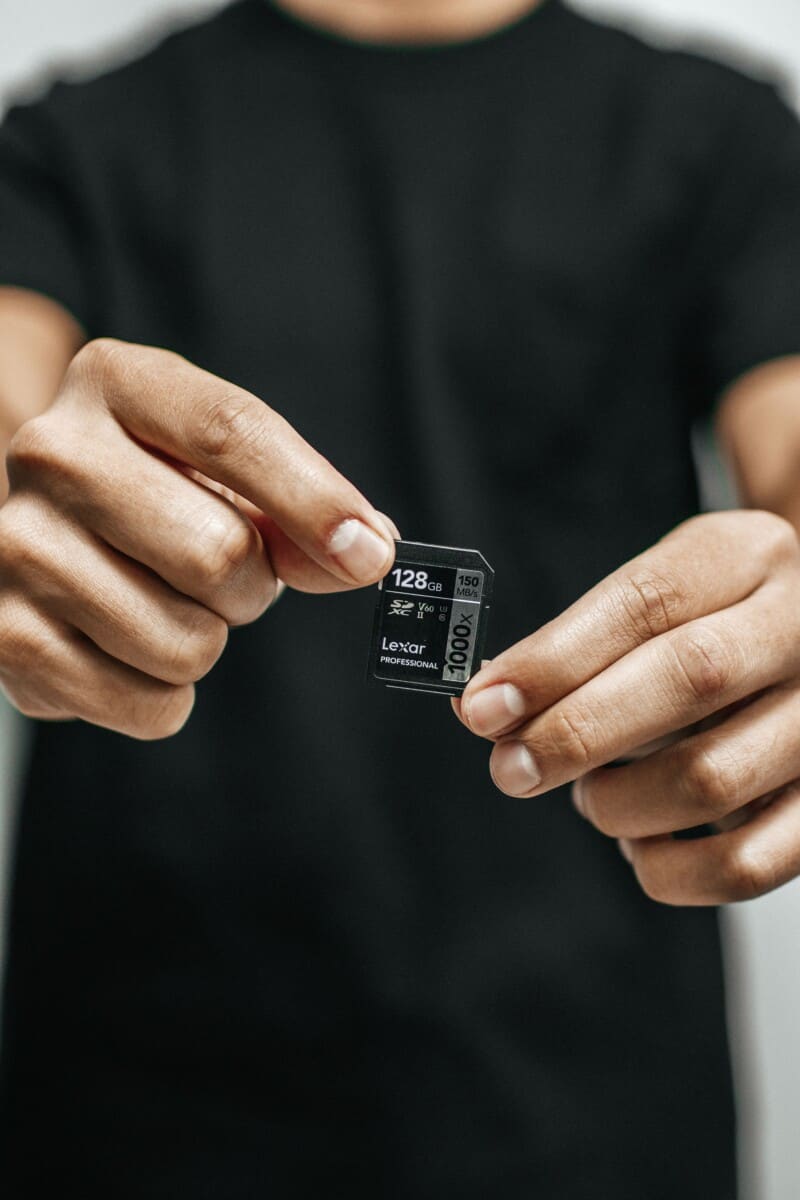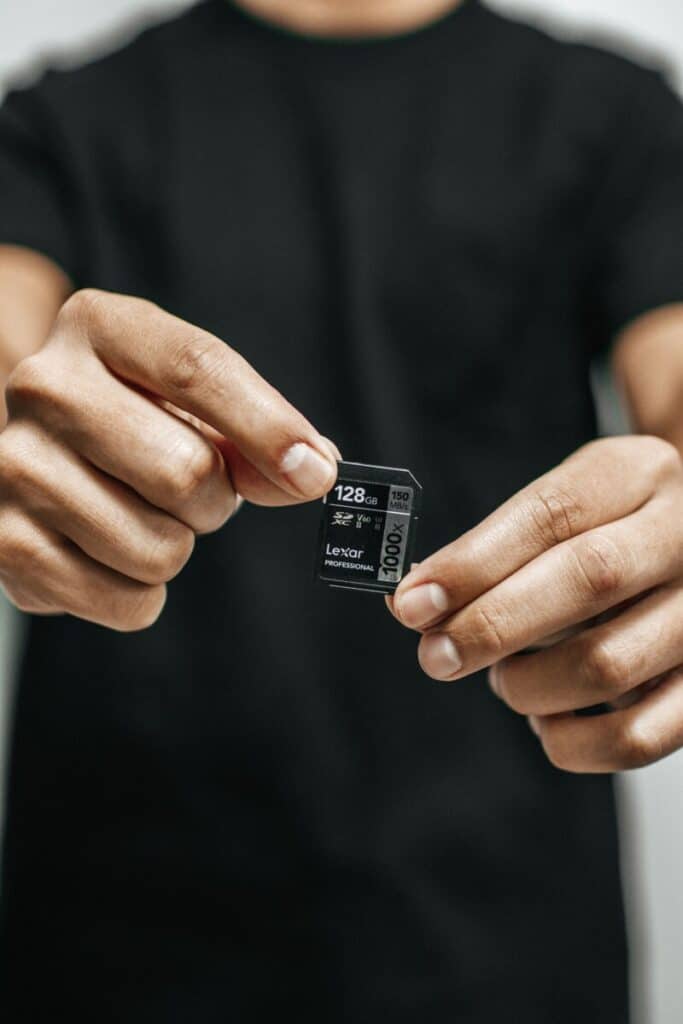 MicroSD Cards: What Are They?
Whether it's standard-size or micro, an SD card is a secure way of recording and storing data that you can remove from or place into a device. In case you were wondering, SD stands for Secure Digital. You'll find them in cameras, tablets, smartphones, and PCs, as a means of storing different types of files, be it video, photograph, audio, etc.
There are different types of SD cards. Before we dive into Micro SD cards, let's establish the two most common types of Micro SD, namely SDHC and SDXC. So, what's the difference?
SDHC vs. SDXC: An Overview
| | |
| --- | --- |
| SDHC | SDXC |
| Compatible with SDHC and SDXC equipment | Incompatible with SDHC, limited to only SDXC equipment |
| Less memory capacity than SDXC | Greater storage capacity than SDHC, starts at 64GB |
| Transfer rates start around 10MBps. | Higher data transfer rates, up to 300MBps. |
| | Best for video or sports photography with rapid bursts |
SD cards, both SDHC and SDXC, have four classes of transfer speed: Class 2, 4, 6, and 10. Class 2 is limited to a transfer speed of up to 2 MBps. The remaining classes go up to 10 MBps. The lower classes should satisfy most cameras and shoots, but if you're working with high definition, opt for Class 4 or 6 to ensure your card is capable of coping with the transfer rate required by hi-def.
Now we've outlined the essential aspects of SD cards (and, by the way, Micro SD cards match the capacity of standard SD cards, they just happen to be smaller), there is one component you may require: a Micro SD adapter.
Micro SD Adapter: Something Else to Think About
You may be reading this article because your camera or video camera has a MicroSD slot. If it so happens that your camera is equipped to take standard SD cards, not Micro SD, you will require a Micro SD card adapter

. It's a simple device that often comes with the Micro SD you purchase. 
So now you've got the tools you need and the basic understanding of Micro SD cards, which leaves us with the question, how do you know which card to choose?
Which Memory Card Is for You?
There are questions you need to answer to help you decide which memory card is right for you. They are as follows:
What do you plan on shooting?
Will you be shooting hundreds of photographs rapidly in quick succession? (i.e., sports photography or video)
Will you shoot only a few shots per photographic session?
How regularly do you intend to download your photographs or videos?
Say you're a regular sports photographer who likes to shoot continuously in rapid bursts and capture dozens of images in one go. You will want a Micro SD card—most likely a Micro SDXC—that's capable of fast transfer speeds.
If you're a photographer who rarely downloads their images and/or plans on shooting large high-definition photos or videos, you'll need to prioritize memory size.
An additional pro-tip is always to carry emergency back-up memory cards. Occasionally, cards have a way of playing up. Data won't write to the card, and rather than jeopardize your shoot; an extra card will save you from a sticky situation.
Factors to Consider When Selecting Your Card
Here are the four factors you'll want to take into account when purchasing your MicroSD:
Memory – larger memory sizes enable you to contain larger files, and this additional storage is useful if you won't have access to download the images between shoots.
File size – what size files will you generate? Videos and high-resolution images or RAW takes up more memory. To ensure your card can store a full day's photographic work, select a memory size capable of holding the kind of files you'll create.
Write speed – sacrificing writing speed to save a few cents will cost you. Speed of transfer rate is vital when you're shooting action, continuous bursts, or video. Without a transfer rate that keeps up with your shooting speeds, you jeopardize your images. Videos may drop frames, and you'll run into pixelated photos.
Read speed – counts when you're transferring files from your Micro SD to another device. This factor comes into its own when you're moving significant amounts of data. For more routine data quantities, you need not prioritize read speed.
With this outline of Micro SD Cards near complete, we wanted to share the optimum Micro SD Cards and tips to extend their life so you can reap their benefits.
Three Best Rated Micro SD Cards
As you have gathered by now, not every Micro SD Card is as good as another. We've taken the time to source the best Micro SD cards available today.
SanDisk Extreme Pro MicroSDXC UHS-I U3 A2 V30 64GB + Adapter

Ideal for Android Smartphones and tablets, and action cameras, and drones
Up to 170MB/s read and 90MB/s write speeds for fast shooting and transfers
Rated A2 for faster loading and in-app performance
Last update on 2023-09-26 / Affiliate links / Images from Amazon Product Advertising API
Topping the list is the SanDisk 64GB Extreme Pro MicroSDXC, which clocks up outstanding reviews and statistics for its performance. Capable of writing 86 megabytes per second, this is one card that will ensure you're not waiting for your data to write to file. In tests, it handled 4K videos and rapid-fire RAW images.
It comes with either 64, 128, 256, or a whopping 400 GB of storage, and if you're a photographer who works in extreme environments where you require robust equipment, the SanDisk 64GB Extreme Pro is water, temperature, shock, and X-ray proof. An additional boost to its credentials is the limited lifetime warranty that accompanies your purchase. You'll notice, too, that it comes with an adaptor, as well.
Lexar Professional 1800x 128GB MicroSDXC UHS-II Card (LSDMI128CBNA1800A)

Transfer content up to 9x faster over traditional action camera, USB cables with included USB 3.0...
Great for 4K recording in aerial and action cameras
High-speed performance - Leverages UHS-II technology (U3) for a read transfer speed up to 1800x...
Last update on 2023-09-26 / Affiliate links / Images from Amazon Product Advertising API
For photographers or videographers who regularly undertake projects that require speed, the Lexar Professional 1800x 64GB MicroSDXC UHS-II possesses a maximum write speed of 125MBps. With a rate like this, you won't be left waiting for files to get stored. It makes RAW rapid-burst shooting and 4K video a cinch.
There are downsides to this Ultra-High-Speed card, and one of those is its price. It would help if you considered compatibility to make the most of its rapid speeds. As a side-note, the full-size version of the card performs even faster in tests, but at 125MBps, this card will have your needs well and truly met.
Last update on 2023-09-26 / Affiliate links / Images from Amazon Product Advertising API
The Samsung 32GB EVO Select MicroSDHC is an affordable MicroSDHC card that comes in a range of sizes, including 32, 64, 128, 256, and 512 GB. If you're a photographer who likes to store up data on their cards, the massive memory sizes will come in useful. It is also a robust card, capable of withstanding adverse weather and impact.
It has a write speed of 35MBps. True, you won't write home about its agility, but this writing speed will be sufficient for many photographers' needs. However, if you're shooting RAW or video, take it easy on rapid-burst shots as your camera will require extra time to commit that data to memory.
Final Thoughts
MicroSD cards deliver read, write, and storage capacity the same as standard SD cards. All you need is an adaptor to make it suit your device. Be sure to get an SD card that's compatible with your camera, and prioritize write speed and memory size if you're shooting vast quantities of RAW images or video. 
Sources
Was this article helpful?
Recent Posts
link to How To Allow QuickTime To Access Microphone 🎙️  
QuickTime is a vital app for many Mac users, and if you've recently bought a new microphone, you might wonder how to use it optimally. QuickTime cannot record audio content if it doesn't have...
link to How Do I Test My Microphone? 🎙️
Every microphone leaves a unique signature on the quality of its output. If you're a podcaster trying to melt your way into your audience's hearts, a muddy, distorted recording won't cut it....