It costs money to make money; yet, having a photographic studio can put your business on the map. One way to avoid getting into lengthy and costly rental agreements for your new photographic studio is to set up in a storage unit. But can you create a photography studio inside a 10'x10' storage unit?
You can use a storage unit as a photography studio. Doing so comes with benefits, like safe and secure storage for your equipment. But suppose you're welcoming clients to your facilities. In that case, you'll need to conform to rules and regulations, so it's wise to rent a commercial storage unit.
This article shows you what to factor into your decision about setting up a studio inside a storage unit. It also covers the challenges you could face and shows you how to turn your storage unit into a photographic empire.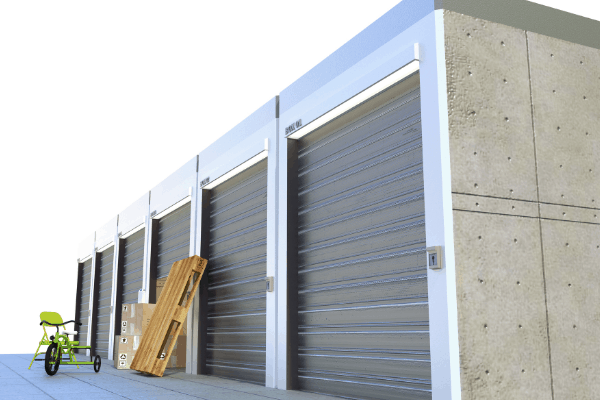 Size
Size matters, specifically if your photographic business relies upon group portrait sessions and bulky photographic equipment. In an ideal world, your photography studio is where people want to spend time and feel comfortable. Imagine a new-born or maternity shoot inside a cramped metal box. No, thank you. So when you're selecting a storage unit, consider who'll be entering.
The size of the storage unit impacts the number and type of lights you can set up for a shoot. It sets a limit to the number of people you can shoot at a given time. Since you're building this studio to develop your business, your premises must be able to match your potential growth. It must also store your equipment safely.
Depending upon which company you rent with

, you can rent a 10 x 10 storage space for under $150. A 10 x 10 space is about the size of a child's bedroom

, while a 10 x 20 is comparable to a single car garage, according to Sparefoot.com

. At a minimum, you'll want a ten-by-ten size storage unit.
Storing Your Equipment
A significant benefit of setting up a photographic studio with a self-storage unit is that these units are temperature controlled, secure units with insurance. Setting up inside a storage unit ensures your equipment is within a temperature-controlled, secure environment that guarantees its preservation.
Challenges
Setting up a small business within a storage unit comes with challenges. Here are some you'll have to consider:
The number of people. Before you pin down the cheapest available storage space, consider how many feet will come through those doors. When your business rests upon group portraits or entertaining clients, you need space to accommodate them. Can your storage unit comfortably entertain you, your equipment, and your clients?
Lights and heat. Many storage units moderate temperatures, but once you have studio lights burning and bodies before your lens, temperatures start to rise. Do you have the means to control your unit's temperature so that models will be comfortable throughout your shoot?
Backgrounds. As with many rented properties, you agree not to alter the original setting, yet you need various portraits or product photography backgrounds. You will have to consider means to adapt your storage unit to accommodate a range of backdrops.
Rules and regulations. A standard note from storage companies is that commercial clients must follow the rules and regulations. Sometimes those regulations pertain to not receiving clients. Before you enter into a legally binding contract, whatever you do, establish the rules that impact you.
Commercial rules apply. Putting aside the laws and regulations, the fact that you're establishing a photographic studio means you are creating a commercial enterprise. Therefore, you are highly likely to be obliged to rent a commercial storage unit rather than a regular storage unit. Be sure to disclose this fact to your preferred storage provider before you commit.
Pros and Cons
Here's a summary of the advantages and disadvantages of placing your photographic studio inside a storage unit:
| | |
| --- | --- |
| Pros | Cons |
| More affordable than renting a commercial property | Space is limited |
| On-site security | Need to follow rules and regulations of the storage company |
| Dedicated temperature-controlled space to store your photographic equipment | You'll need some basic DIY skills to adjust your storage unit for backdrops |
| Commercial rental units have additional facilities such as refreshment areas | Must be a commercial storage unit if you will be meeting clients at the studio |
Assuming you've worked through the challenges that could limit your success, you're ready to move to the next stage.
Check out to see if the Sony a6000 is good for portrait photography here!

Establishing a Photographic Studio in a Storage Unit
Follow these steps to set up a photographic studio within a self-storage unit, and you'll soon enjoy the benefits of your own creative space.
Source Your New Photographic Studio's Location
Location is imperative when establishing a business, particularly when its success rests upon clients visiting your premises. Check out desirable locations and try to see it through your clients' eyes. Does it make a good first impression? Is it welcoming and easy to access?
Check the Storage Unit's Policies
You can love the location but not the intrinsic paperwork. Look into whether your preferred storage supplier supports local business. Ask them about requirements and what's expected of you. For some storage units, the benefit of hosting an on-going enterprise means they'll welcome you.
While familiarizing yourself with the company's rules, look into whether there is a constant electricity source. This will be imperative; otherwise, you'll need to address an alternative.
Once you have the significant preliminaries out of the way and you've secured your storage unit, it's time to transform it so that it's ready to receive your clients.
Transforming Your Unit Into a Desirable Photographic Studio
What does your photographic studio have that others don't? Storage units are not renowned for their aesthetic appeal. Walls are often made of metal, and the floors are basic. At the other end of the scale, photographic studios often facilitate a client's experience through comfort and facilities. In its most basic form, your studio must accommodate different backdrops so that you can vary your shots. What's more, you need to think about how to store bulky equipment.
Create the Perfect Backdrop
Source cheap materials such as MDF that you can attach to the storage unit walls. If the unit's walls are metal, magnets attached to neutral color boards will be sufficient temporary panels to create an ambient feel to your unit. Use these panels to affix backdrops without violating the agreement with the storage company.
There are portable backdrops that suit photographic studios and portrait photography, such as this Neewer Collapsible Backdrop

. If you're not a master of DIY and prefer to keep things mobile and versatile, these are an excellent option. 
Sale
NEEWER 6x9 feet/1.8x2.8m Photo Studio 100% Pure Polyester Collapsible Backdrop Background for Photography, Video and Television (Backdrop Only) - Black

1.8 x 2.8M/ 5.9 x9.2ft Background, perfect for television, video production and digital...

Rod pocket on each top edge allows to be draped or hung.
Finished along all edges to prevent tears.
Last update on 2023-05-30 / Affiliate links / Images from Amazon Product Advertising API
Check out the 4 best fabrics for photography back drops here

!
Cater to Your Clients' Needs
There is every possibility you will host client meetings. There's nothing better than a quiet, comfortable area within your private studio where you can prospect clients. You may need to think about seating options, even a simple sofa, where you can meet to show clients your portfolio.
Remember, you can take any investment that you put into your photographic studio with you to your next premises. Get seats your clients will want to spend time sitting upon.
Market Your Premises
With a photographic studio to be proud of, it's time to get clients clamoring, which requires a dedicated marketing plan. Settling on premises, creating its look, and the steps you take to complete your studio are Instagram-worthy opportunities.
Use these occasions to your advantage. Promote your story as you adapt your storage space to a sleek studio. At the same time, use social media to build an online presence and gain clients.
Final Thoughts
Establishing a viable photographic studio within a self-storage unit is an affordable means of growing your business. Ensure you select the right location and service provider that's capable of assisting small business start-ups.
Once you're happy with the location, transform your unit to match your clients' expectations, and you will be well on the way to developing your photographic enterprise.
Sources
Was this article helpful?
Recent Posts
link to How To Allow QuickTime To Access Microphone 🎙️  
QuickTime is a vital app for many Mac users, and if you've recently bought a new microphone, you might wonder how to use it optimally. QuickTime cannot record audio content if it doesn't have...
link to How Do I Test My Microphone? 🎙️
Every microphone leaves a unique signature on the quality of its output. If you're a podcaster trying to melt your way into your audience's hearts, a muddy, distorted recording won't cut it....