Getting the best backdrop for a photo can make or break the final image. You have to consider a lot of things, like lighting, color, and texture. And luckily, different fabrics can help you achieve the perfect backdrop for your next photo shoot.
The best fabrics for photo backdrops include canvas and muslin. Canvas is good for adding texture and muslin is lighter. A cotton-polyester blend or a fleece-like matte fabric can also work well. Cotton-polyester combinations are very flexible, and fleece-like matte fabrics make good green screens.
Whether you're a photography beginner or want to expand your knowledge, you should use fabrics for your photo backdrops. That way, you can control the look of your photos without having to find the perfect location. Keep reading to learn more about what fabrics to use.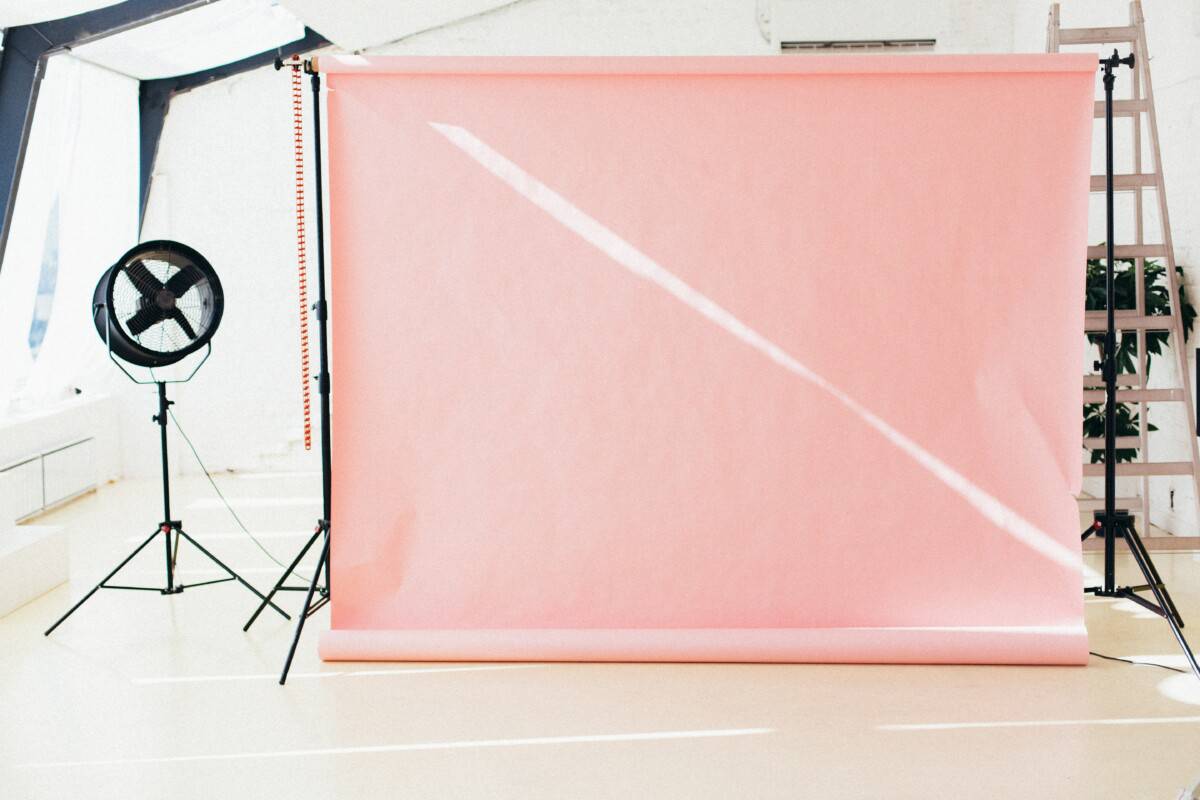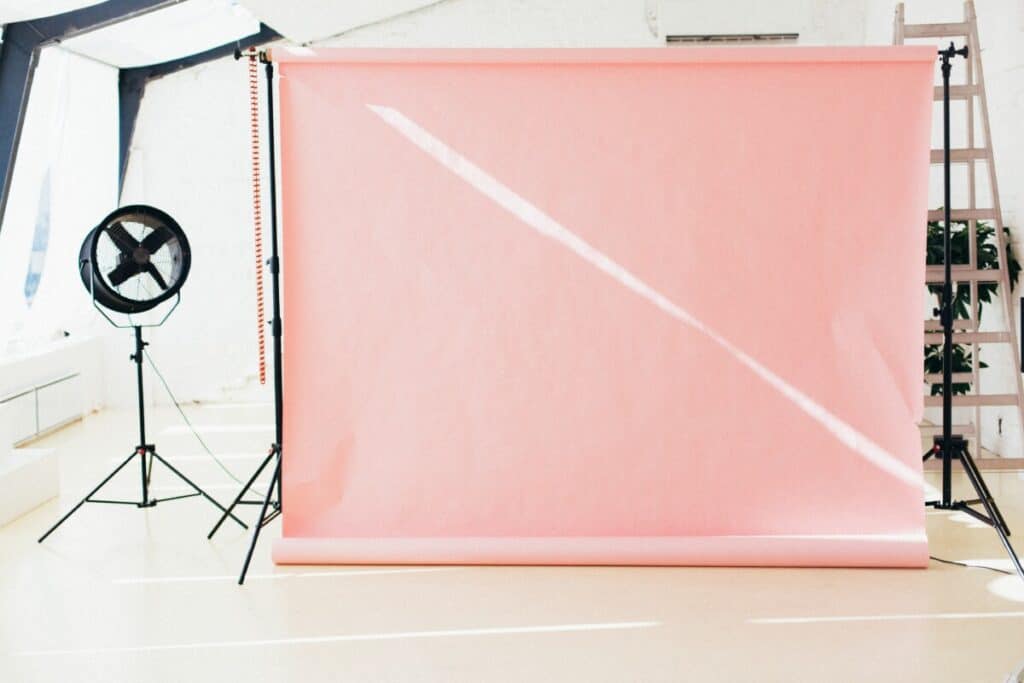 Canvas
Canvas is an excellent fabric

for photo backdrops. You can use it for many different photo shoots, so you don't have to buy tons of it. It's also relatively easy to set up and takedown, making it great for photoshoots in different locations.
You can find canvas backdrops

in various colors and sizes so that you can get the perfect canvas background for you. It's easy to fold up when you aren't using it, and you can unfold it and attach it to a stand to prop it up.
If you like getting crafty, you can even make your canvas backdrop. Then, you can have complete control over the color and size.
Kate 5x7ft/1.5m(W) x2.2m(H) Blue Green Backdrop Dark Texture Professional Portrait Photography Backdrops Abstract Background Photography Studio Props

Size:5x7ft/1.5m(W)x2.2m(H), items are sent by folding, and easy to carry (The backdrop can be...
Material: Microfiber. Compared with other materials, Microfiber is soft,easy to keep clean.
Feature: Non-reflective, shallow wrinkles, seamless,easy to fold and carry, with pocket.
Last update on 2023-03-28 / Affiliate links / Images from Amazon Product Advertising API
Muslin
Muslin backdrops

use cotton, so they're lighter than canvas ones. That makes muslin fantastic material if you travel a lot for your photography. You don't have to worry about carrying a heavy bag or box for your muslin backgrounds.
And since the fabric is light, you can have a couple of different sizes or colors. However, you don't have to take muslin on the go. If you want to set up a studio and use it for every shoot, muslin works well for that.
Either way, muslin is a popular choice for photography backdrops. It's easy to move and use, and you can find it in a bunch of colors.
Julius Studio 9 x 13 Ft. Photo Studio Chromakey Background Muslin Backdrop Bundle Kit, Black, White, Green Premium Quality Fabric Material, Wrinkle Resistant, Photo Video Studio, PROMO05_AM1

⭐ [1 x] Black Photo Background Muslin, [1 x] White Photo Background Muslin, [1 x] Green Chromakey...
⭐ Size: 9 x 13 FT. Lightweight fabric.
⭐ Pre-stitched Loop to Hang on the Crossbar. Reflective and None Gloss surface.
Last update on 2023-03-28 / Affiliate links / Images from Amazon Product Advertising API
Cotton-Polyester Blend
Next, consider a cotton-polyester blend photo backdrop. The blend is super lightweight and flexible, so you can maneuver it how you like. You can use it in your main photography studio or at various photoshoot locations.
Whether you want a solid color or a fun pattern, cotton-polyester blends are great for your photos. They're easy to fold up for storage or transportation, and they can work with various settings.
You can even look for a washable backdrop since cotton and polyester are easy to clean. That way, you can put the backdrop in the washing machine so that it comes out looking like new.
Fleece-Like Matte
If you want to get creative with your photography, consider getting a fleece-like matte backdrop. The material is popular among green screens, so you can edit the background to be whatever you want.
A green screen

is super useful if you're on a budget and can only afford one backdrop. As an amateur photographer, you don't have to use the same color or material for every visual background. If you're a professional, you can use a green screen to give your clients more choices for their photos.
Of course, matte backdrops come in the color green. But you can find them in other colors to suit your needs. Then, you can still get a solid color background even if you don't edit it for the final image.
Sale
Yesker 6X 9.5 ft Green Screen for Photography, Chromakey Muslin Backdrop Background for Photo Video Studio, Zoom, YouTube,Online Meetings (Stand NOT Included)

6 X 9.5ft Green Screen Backdrop - Yesker green screen background meet the requirements of various...
Efficient Shooting and Editing - The green screen backdrop is made of muslin opaque material which...
2x Durable spring clamps-Large 4.4 inches spring lamps max opening 2.2 inches with high strength...
Last update on 2023-03-28 / Affiliate links / Images from Amazon Product Advertising API
What Else to Consider
No matter what fabric you choose for your photo backdrops, you should consider a few other elements. A lot more goes into getting the perfect shot than the background fabric. In some cases, the fabric can stand out and make a huge difference.
But other times, it hardly affects the photo. Instead, things like the lighting and color have more of an impact. In any case, you should consider how your photo backdrop will fit in future shoots before you buy it. Here are a few factors to think about before getting a backdrop.
Environment
First, you should consider if you will primarily work out of a studio, or in other indoor locations, or outside. When you use a studio, you don't have to worry as much about portability or size. You can get your backdrop, set it up, and never think about it.
If you shoot at different inside locations, you will need to consider moving and setting up your backdrop. You should look for something easy to set up and takedown. That way, you don't have to spend a lot of time before and after the shoot on your backdrop.
And if you do a lot of outdoor shoots, you should look for a fabric that's easy to clean. You don't always know if you'll need to set up on a rough surface, and people may get dirt on the fabric. So make sure you can wipe that off or throw the fabric in the wash.
Lighting
In photography, lighting is essential

. Whatever backdrop you use has to look good with your camera lighting so that it doesn't wash out your photo subject. You may need to consider how the lighting can affect other elements of your photo as well.
For example, if you want to photograph apples, you should avoid a red background. It may look okay, but if the lighting isn't quite right, the apples could disappear.
Make sure that the backdrop you use contrasts whatever is in front of it. It doesn't matter if you photograph people or objects; there should be a clear difference between the elements of your photo.
For more information, check out this article about how to light a green screen in a small room.

Transportation
When shooting in different locations, you need your backdrop to be easy to set up, take down, and move. Even if you shoot at your main studio a lot, you never know when you may need to put your backdrop in storage.
Consider how thick you need the material to be, and try not to go too much thicker. That way, you can get a background that's large enough without being too heavy or bulky. When you need to transport your backdrop, it will be a lot easier to move.
Many fabrics are somewhat light, so this isn't a huge issue. But it can become a bigger deal if you need a larger background that reaches from the floor to the ceiling.
Shot Size
Think about the type of photos you take or want to take. If they're mostly head and shoulder portraits, you don't need a huge photo backdrop. You can get a small piece of fabric that just barely extends past the edge of the photo frame.
But if you want to photograph full-body poses or larger groups, you need more fabric for your backdrop. Some materials can be harder or easier to find in certain sizes, so you may need to compromise on the material to cover the full shot.
Check out: How To Use a Shoot-Through Umbrella (Beginner's Guide)

Color
You should also consider what color or colors to get. If you just want one backdrop, you can't go wrong with white or black. The one exception will be if your subjects wear one of those colors since they can blend in.
A green screen is a good option since you can edit the background in an editing program. But if you don't want to deal with that, then consider if you can afford a couple of backdrops. That way, you have something that can work with almost any photoshoot.
Check out my article on best wall paint color for photography

Final Thoughts
The best fabric for a photo backdrop can make the photo pop, making it easy to edit the photo. Consider everything from where you film to what you film so that you can choose the right fabric for your next backdrop.
Have you thought about whether you can use a storage unit as a photography studio? Read more here!

Sources
Was this article helpful?
Recent Posts
link to How To Allow QuickTime To Access Microphone 🎙️  
QuickTime is a vital app for many Mac users, and if you've recently bought a new microphone, you might wonder how to use it optimally. QuickTime cannot record audio content if it doesn't have...
link to How Do I Test My Microphone? 🎙️
Every microphone leaves a unique signature on the quality of its output. If you're a podcaster trying to melt your way into your audience's hearts, a muddy, distorted recording won't cut it....