Traditionally, green screens were used in large film productions to create a background without having to find a suitable physical location. With current digital technology, however, green and blue screens are being used by everyone, from YouTubers to hobbyists. Choosing between them will ultimately depend on what you're filming and what background you want for your video.
Green screens are better than blue screens for studios because green provides higher contrast and greater luminosity than blue. They also create higher-quality videos overall. However, green screens have more color spill, so they need more space between them and the object in the foreground.
In the rest of this article, I will discuss the differences between a green screen and a blue screen when editing the background of a video. I will also explain chroma-keying and provide considerations important for buying a green screen.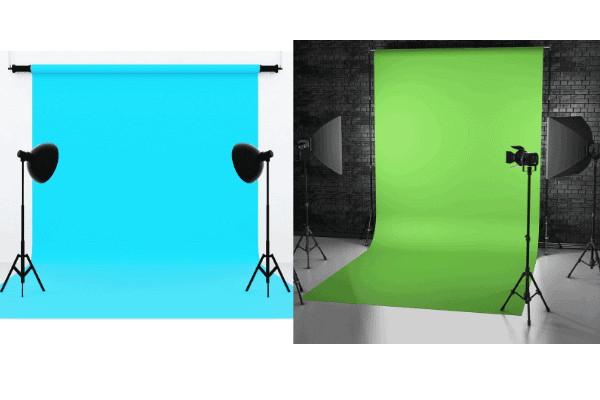 Why Green Screens Are Better Than Blue Screens
Green screens are better than blue screens because they provide higher contrast from the subject matter that needs to remain in the video. And when replacing a background, it is crucial that the video software can distinguish the background

from the foreground.
Video editing software (VES) assigns a color to each pixel to remove the background. The color is called the red-green-blue (RGB) value.
The VES then deletes pixels identified as the same color as the background. It replaces the pixels with a corresponding new color from a new background. If a pixel in the foreground matches the background, then it will be erroneously replaced.
Green Is Less Commonly Found in the Foreground
VES identifies the RGB value of every pixel on a scale of 0 to 255 for each of red, blue, and green. For example, the RGB value of a green screen is:
0 for red
177 for green
64 for blue
The software will remove any pixel within a certain number of the green screen RGB value.
It is less likely a foreground pixel will be in the same range as the green screen RGB value than the RGB value for blue, which is 0, 71, 187. This is because blue occurs more often than green, and it is more likely the shades of blue in the foreground are too similar to the blue screen RGB.
Skin tones are primarily red in RGB value, and the next most common value is blue. On the other hand, the least common value found in skin tones is green. Thus, green screens are less likely to overlap with RGB values found in skin tones.
Since people are often in the foreground, it is easier for video editing software to identify the background versus foreground correctly.
Green Screens Create Higher-Quality Images
Green screens have more luminosity than blue screens resulting in higher-quality digital video. It also needs less lighting, which reduces filming costs.
Higher quality means the RGB values of the pixels are more accurate and easier for the video editing software to identify.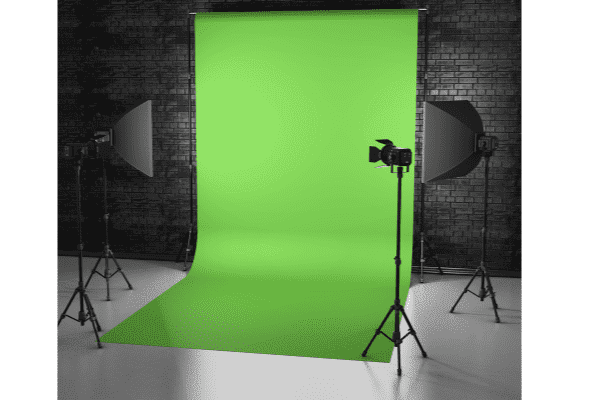 Green Screens Provide Better Contrast for Video Editing Software
Filmographers initially chose blue screens for the background because it was easier to remove by hand. However, now that video editing software automatically replaces the background in the video, the contrast requirements are different.
When video editors removed the background by hand, the outline of the subjects needed to be clearly defined in every frame. If the shape moved by even a millimeter when the background was replaced, that shift is noticeable when viewing the video.
Blue screens outline objects in the foreground clearer, so the shift was less likely to happen. But that's less important when using VES.
Now, it is more critical that each pixel has sufficient contrast from the background color. Green screens provide better contrast than blue screens, meaning less work for studios in the long run.
Green Screens Require Less Lighting
One of the most significant benefits a studio can gain from using green screens over blue is that they require far fewer lights to get the shot. Since green is so reflective and luminous, you can light the scene with just a few studio lights.
In contrast, blue absorbs light, which means you will need to spend a lot more time and money setting up extra lights to make the shot bright enough to film.
Green Screens and Keying
Keying

is the term used to describe the removal of the background. Once keyed, the background will simply be transparent and ready for the new set to be added.
Chroma keying, also called chroma key compositing

, is the process of layering the now empty background with a new image or video.
To do this, a video editor labels one video in the foreground and one or more other videos and still-shots as the background. The subjects in the foreground are identified by marking each pixel as different from the background color. Then, the scene around these objects is replaced with the other video(s) or still-shot(s).
Modern video production software

can perform chroma keying in live-action, as seen in weather forecasts or on YouTube.
Unfortunately, it's not as easy as pushing a button, and when using a green screen, there is always the possibility of a color spill.
Actors and objects in the foreground are not smooth figures but instead will have all kinds of shapes and jagged edges. Not only that, but they may be shiny or sweaty, which can reflect off the green screen – which is far brighter than blue – causing parts of them to be blurred out by the VES.
In addition, if you have blond actors or have a character wearing green, it's often best to use blue screens instead to avoid any issues.
Pros of Using Blue Screens
Big studios use green screens on all kinds of blockbuster projects these days, but they're not always the right choice.
There are plenty of instances where a green screen would be ineffective in your studio. The most obvious case would be when an actor or prop in the foreground is wearing green, such as in a war movie where the actors wear camouflage.
Green is used in place of red, blue, or orange because it has high contrast and is the least likely to mix with skin tones. However, if you put your lead actor in a green dress, they would blend into the screen, and it would be nearly impossible to remove the backdrop cleanly.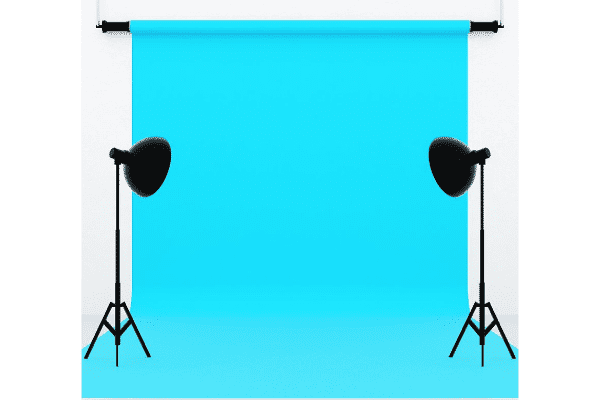 Blue Screens Are Better for Outdoor and Low Light Shoots
Due to its reflective nature, using a green screen outdoors would make post-production very difficult.
When filming outdoors, it's almost impossible to predict how bright the sun may be, which could cause significant glare. Not only that, but in most areas, there will be plants and trees. The natural greenery would be a challenge to work around when using a green screen as there would be little to no contrast.
Similarly, a blue screen won't reflect as much light on the foreground subjects with night shoots.
Blue Screens Help To Prevent Spillovers
Green screens can cause spillovers

due to the fact they are so reflective. This might be seen as green streaks across the foreground or around the edges of a character or prop.
This typically happens when the actor or set in the foreground is bright or reflective, such as with blond characters or people wearing armor.
To prevent color spill, the people and objects in the foreground should not stand too close to the green screen. This allows space for the reflected green light to dissipate and not show up on film.
However, this may not be ideal for smaller studios where there isn't sufficient space.
Instead, since blue absorbs more light than it gives out, it can reduce the amount of light bouncing off the foreground.
Considerations for Buying a Green Screen
An essential consideration for buying a green screen is the size needed for filming.
Some examples include:
Weather forecasters often need quite large screens that are taller than them.
Studios may prefer to set up multiple green screens so that the filming produces consistent results.
YouTubers tend to have a dedicated filming studio with wall-sized or chair-mounted green screens, like the BOYXCO Gen2 Collapsible Portable Webcam Background (available on Amazon.com), which folds for easy transportation and is perfect for office or gaming chairs.
On-location filming tends to need smaller screens or screens more easily set up.
Sale
BOYXCO Gen2 Collapsible Portable Webcam Background Chroma Key Greenfor Video Chats, Zoom, Skype, Backdrop Video Calls, Chromakey (58in×58in)

✔【coverage】In special times, we often participate in various video conferences at home,How...
✔【Easy to operate】Backdrop Pockets are very flexible,, so it fits most chairs。he design is...
✔【Collapsible and portable】The curtains are very thin and light, weighing only 0.8...
Last update on 2023-09-26 / Affiliate links / Images from Amazon Product Advertising API
Buy Non-Reflective Fabric That Won't Wrinkle
Another important consideration for buying a green screen is the screen's fabric. If it reflects the lighting, then that part of the background may vary too much from the RGB value of the green screen.
This Emart 5x7ft Green Screen Backdrop

is polyester. It is ideal green screen material because it does not wrinkle as much. Plus, it's durable and long-lasting.
Emart 5x7ft Green Screen Backdrop, Polyester Wrinkle-Resistant Curtain Fabric, Chroma-Key greenscreen Cloth Sheet for Zoom, Including 2 Spring Clamps Suitable for Photoshoot, Interview, Live Stream

Kit include: [1 x ] 5 x 7 ft Green Polyester Backdrop, [2 x ] Backdrop Clamps.
Firm and durable wrinkle resistant Polyester Backdrop. High strength and elastic recovery ability...
This soft Polyester Backdrop is very practical for produce photography, video backdrops and...
Last update on 2023-09-26 / Affiliate links / Images from Amazon Product Advertising API
Cotton is the worst option because it wrinkles and fades unevenly.
If a reflection is not identified as within the range of the background RGB, then it will not be removed by the video editing software. Instead, the unremoved background will require more effort by the video editor to correct.
So, mount the green screen in a way that allows for adjustments to correct these issues.
Buy a Mount That Will Hold the Screen Firm and Steady
Finally, consider the way the green screen is mounted. If you plan to film outdoors or in varying locations, you will want a stable frame that does not allow the green screen to move.
Still, filming in a studio also needs a sturdy frame that will not allow the green screen to move.
If the green screen moves while filming, such as from fans or air conditioning in the studio, shadows could appear in the video. Like with reflections, the shadows will not be removed when the background is eliminated.
Many frames are collapsible for easy transport, which will help if you film in various locations or if you have a large studio in which you'll move the screen around.
Alternatively, it may be easier to have multiple screens, so you do not have to adjust for shadows and other issues as often.
In a studio with a single screen backdrop, a heavy-duty stand will be more than enough.
Best Studio Lighting for Use With Green Screens
You should pick high-quality lights for use with your green screen when filming videos. The best lights will prevent shadows and inconsistent color.
The size of the studio and green screen affects how many lights to set up. Most lighting packages include at least two lights. More professional studios often have over a dozen lights

spread throughout the studio. The lights are usually evenly spread out for the most even coverage.
The best lights for filming with a green screen are adjustable, including white balance, brightness, and color temperature. They should also adjust for height.
Moreover, the lights should be made of sturdy material, such as aluminum alloy. A strong metal will withstand the weight of the lights and last longer. In addition, lighter materials make moving the set-up to new locations easier.
Here are a few great choices from Amazon.com:
Neewer 2 Pieces Lighting Set Up – This is specifically made for use with a green screen and is adjustable and sturdy. The lights are made of aluminum alloy, and reviewers appreciate the customizability of the lights because they can optimize the lighting setup for their studio space.
NEEWER 2 Pack Bi Color 660 LED Video Light and Stand Kit: (2) 3200-5600K CRI 96+ Dimmable Light with U Bracket and Barndoor, (2) 75 inches Light Stand for Studio Photography, Video Recording (Black)

【Bi Color Dimmable LED Studio Light】 With 330 warm white and 330 cool white LEDs, this 660 40W...
【Premium Metal Design】 The rugged aluminum design allows the heat to dissipate effectively...
【Dual Power Options & LCD Screen】 Power the lights with an AC power adapter or enjoy cable free...
Last update on 2023-09-26 / Affiliate links / Images from Amazon Product Advertising API
Fancierstudio Lighting Kit – This kit comes with three lights, one of which is taller and meant to light from above to reduce more shadows than a two-light setup. The lights are softbox style and are significantly less expensive compared to the Neewer set of lights.
Fancierstudio Lighting Kit 2400 Watt Professional Video Lighting Kit with Three Softbox Lights, Boom Arm Hairlight Softbox, Lighting Kit for Studio Photography and Continuous Lighting (9004SB2)

Professional Photography Equipment: photo studio lighting with two 16-Inch x 24-Inch and One...
Complete lighting kit: softbox lights with 3 x light stands 6' tall (one boom arm with sandbag)
Photo and video studio lighting: includes 3 x light heads able to hold 4 bulbs each
Last update on 2023-09-26 / Affiliate links / Images from Amazon Product Advertising API
Lincostore Studio Light Kit – This collection provides a complete studio setup, including black, white, and green screens, a frame for the screen, and multiple lighting options. The lights and frame are polyamide and are the best option for new studios that do not have any equipment.
Sale
LINCO Lincostore Photo Video Studio Light Kit AM169 - Including 3 Color Backdrops (Black/White/Green) Background Screen

(2) x UMBRELLA-STYLE SOFTBOX REFLECTOR 24 X 24 inch softbox with white square diffuser for...
(2) x PHOTOGRAPHY WHITE PREMIUM PHOTO SOFT UMBRELLA 33 inch premium quality nylon cloth diffuse...
(4) x PRETTY SMOOTH SHAPE LAMP HOLDER photographic light head has better shape for holding when...
Last update on 2023-09-26 / Affiliate links / Images from Amazon Product Advertising API
Video Editing Software for Use with Green Screens
Filmographers have several options for video editing software. Some provide easier-to-use features, whereas others offer more complex editing capabilities.
Important features for video editing software include color correction and exposure adjustment. Inconsistent lighting can cause incorrect color and exposure in videos. Therefore, video editing software must be able to correct bad lighting conditions.
Many videographers reorder the sequence of scenes in the video. They prefer video editing software that makes resequencing easier by selecting a series of scenes and moving to the correct point in the video.
Filmographers often complain about video editing software as too slow when rendering the video after it is edited. If this is a necessary consideration for you, check reviews before purchasing video editing software.
If you plan to film with a green screen, find video editing software that specializes in removing the backgrounds of videos filmed in front of a green screen, such as the following from Amazon.com:
Cyberlink PowerDirector 19 Ultra – PowerDirector provides templates to use as the background. In addition, it specializes in a chroma key engine and multi-key color sampling for use with a green screen.
Cyberlink PowerDirector 19 Ultra

Express projects - pick from a huge range of ready-made templates complete with effects, titles and...
Produce amazing videos - create professional looking videos for YouTube with Customizeable vector...
Instant creation without the learning curve - easily edit your footage with the action Camera Center...
Last update on 2023-09-26 / Affiliate links / Images from Amazon Product Advertising API
Adobe After Effects – It's a monthly subscription video editor. Users find this editor easy to use, including all of the features amateurs need.
Adobe After Effects | Visual Effects and Motion Graphics Software | 12-Month Subscription with Auto-Renewal, Billed Monthly, PC/Mac

Existing subscribers must first complete current membership term before linking new subscription...
There's nothing you can't create with After Effects - Animators, designers, and compositors use...
Roll credits. Spin words. Twirl titles - Create animated titles, credits, and lower thirds. Start...
Last update on 2023-09-26 / Affiliate links / Images from Amazon Product Advertising API
Movavi Video Editor Plus 2021 – It has many features needed for editing digital filmography. These features include background removal, color grading, and audio editing.
Sony Vegas Pro Suite – It provides extensive video editing capabilities. In addition, this software allows for compositing and professional chroma keys to change the background of videos.
Sony Vegas Pro Suite [Download]

End-to-end professional content creation environment
Intuitive multi-format video editing in Vegas Pro 12, with powerful multi-track audio recording and...
Advanced visual effects creation and compositing with HitFilm 2 Ultimate
Last update on 2023-09-26 / Affiliate links / Images from Amazon Product Advertising API
Camtasia – It is a higher-end, more expensive video editing program. In addition to background editing, Camtasia provides video and audio editing, adding special effects and adding titles or annotations.
Final Thoughts
Green screens are better than blue screens when using modern video editing software to remove a background. This is due to the added contrast they provide and the fact that green is an underused color, so not as likely to appear in the foreground.
When buying a green screen, choose the correct size for your filming needs and always ensure the fabric does not reflect bright lights common in filming. Lastly, buy a frame for the green screen that is stable and transportable if you plan to film in many locations.
Sources
Was this article helpful?
Recent Posts
link to How To Allow QuickTime To Access Microphone 🎙️  
QuickTime is a vital app for many Mac users, and if you've recently bought a new microphone, you might wonder how to use it optimally. QuickTime cannot record audio content if it doesn't have...
link to How Do I Test My Microphone? 🎙️
Every microphone leaves a unique signature on the quality of its output. If you're a podcaster trying to melt your way into your audience's hearts, a muddy, distorted recording won't cut it....