Recording studio cables not only look ugly and messy if not stored neatly, but they can also be a tripping or fire hazard. Fortunately, there are some easy ways to keep everything organized.
Keep your recording studio safe and looking neat with one of the following cable storage methods:
Install a cable storage hanger or rack.
Use a cable box or container.
Store cables with extension cord organizers.
Use a budget-friendly storage method.
Cover cables with a thick area rug.
Hide them away with cable management sleeves.
Build a customized shelf.
Install cable ducting along your studio's edges.
Use a cable tray system.
Install a cable support system.
This article will discuss the most effective cable storage methods for you to consider.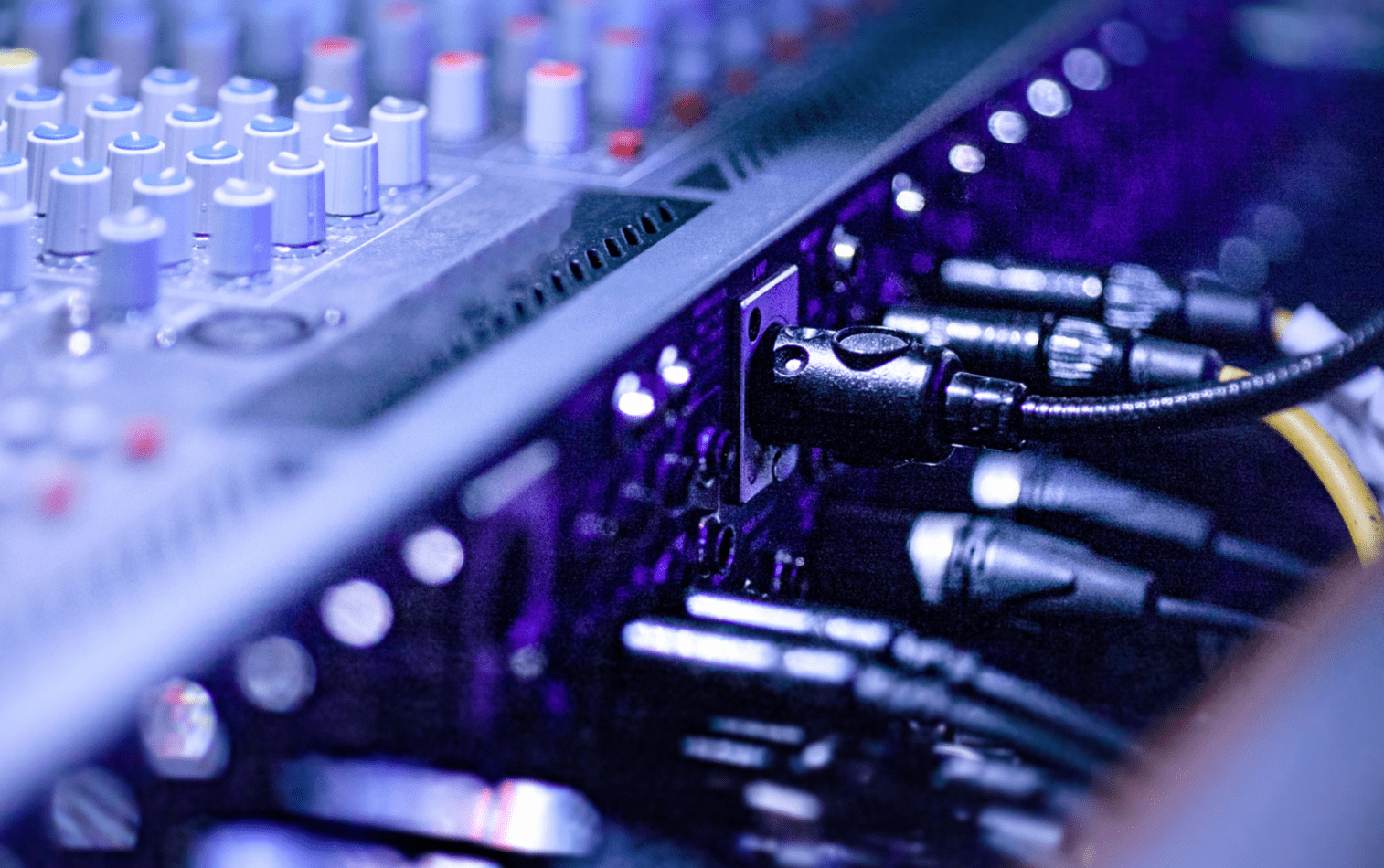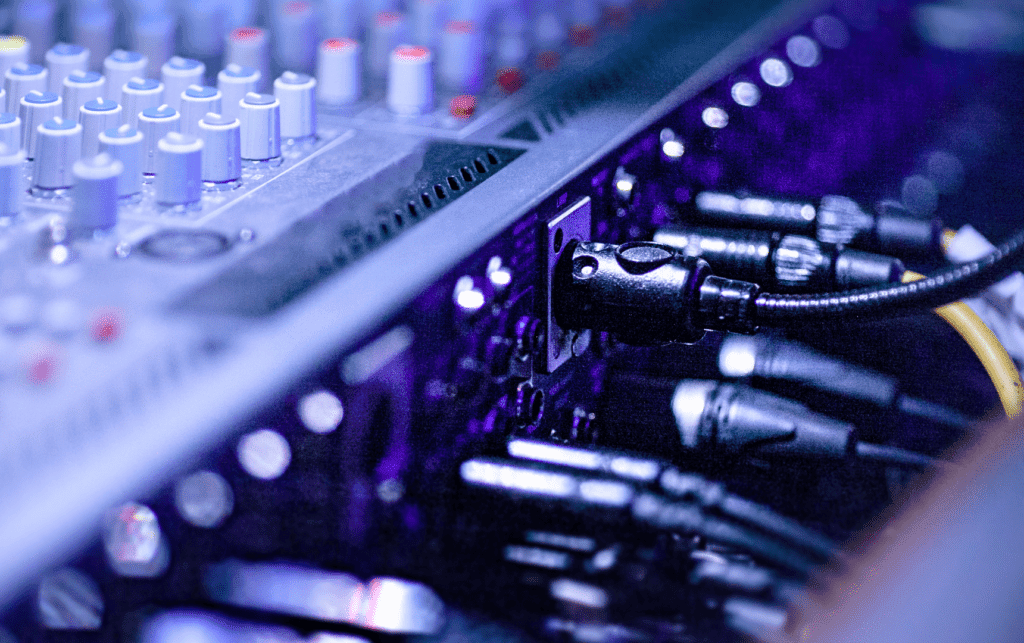 Install a Cable Storage Hanger or Rack
Cable wall hangers are metal cable organizers with a series of long prongs to separate the cables. They do an excellent job of protecting your cables and preventing coils and kinks, but they do not protect against dust.
Cable hangers or racks won't conceal cables, but they will keep them looking neat.
Most cable hangers have around 20 slots for cables with various-sized slots to accommodate small and large diameter cables.
You can buy cable hangers from DIY stores and some music equipment stores, and you'll need to ensure that you have a drill to fix it to your studio wall (most cable hangers come with a small pack of screws).
Cable hangers should be mounted close to your recording equipment to maximize their effectiveness and prevent the cables from bunching up.
The average cost of a cable hanger is $25, making it a cost-effective consideration.
Use a Cable Box or Container
Cable boxes (like this Cable Management Box

from Amazon.com) store your studio cables in one central place and come in various sizes.
Large cable boxes typically come with a set of self-adhesive hooks

that can be attached to the inner walls for separating and hanging cables. The remaining space in the container is enough to hold any cable slack and store surge protectors

and other essential equipment.
When the container is closed, you can access your cables via the holes on the sides of the lid.
Of course, you don't need to use a container that's been specifically designed to store cables. Any plastic trash can do the job just as effectively and might cost you less. If you decide to use a generic plastic container, choose one with around a 10 gallon (37.85 liters) capacity.
You will need to drill a few holes in the generic plastic container to allow the cables to enter.
The main advantage of using a cable box or container is that it accommodates most of your cable slack to keep your studio looking minimalist and tidy.
2 Sets Large Cable Management Box Cable Cord Organizer Hider for TV Computer Wire Hiding with Wire Organizing Accessories, Black Color

Package Includes: This black color cable management boxes set comes with two different sizes. The...
Perfect for Hiding Cord for TV Computer Desk: These large and medium-size black cable management...
Premium Material: The material of these two sizes cable organizer boxes are much more durable,...
Last update on 2023-09-25 / Affiliate links / Images from Amazon Product Advertising API
Store Cables With Extension Cord Organizers
When considering a suitable method for storing your studio cables, it's always better to think about your personal preferences.
Some professionals find that even though extension cord organizers are not intended for recording studio cables, they work well for them.
You might consider using a series of extension cord organizers if you have a small studio with extra-long cables.
The resulting cable slack from this scenario can look unsightly, not to mention a safety hazard.
Extension cord holders or organizers are durable nylon loops through which you can wind the excess cable around several times. They come with a hole on top, making them easy to hang on a nail in the wall or on a hook.
You can buy a pack of nine extension cord loops for just under $15, proving that this is a cost-effective cable storage solution.
Use a Budget-Friendly Storage Method
If you have just started your own recording studio or are on a budget, the good news is that there are various cost-effective cable storage solutions available.
The following methods shouldn't cost you more than $20 and can be purchased in bulk from most big box, craft, or DIY stores:
Velcro ties. Velcro ties are long and slender strips of velcro that can gather cables together neatly. They come in a wide range of colors, and you may need at least ten to neaten up your recording studio cables.
OneLeaf 80PCS Reusable Cable Ties, Black Adjustable 6-Inch Cord Organizer Ties, Multi-purpose Hook Loop Cable Management Wire Ties for Organizing Home, Office, Data Centers

WIRE ORGANIZER SELF FASTENING TIES - Get cord organized fast with these simple to use,...
CABLE MANAGEMENT - These reusable cable ties are ideal tools for cord organization, wire management,...
DURABLE AND NO PEEL OFF - Strong, trusted and used by thousands of customers across the globe....
Last update on 2023-09-25 / Affiliate links / Images from Amazon Product Advertising API
Zip ties. You can buy packs of zip ties at dollar stores, big box stores, and online in various sizes. Most only come in black or white, and you may need to trim the ends after using them to gather up your cables. If you decide to use zip ties and cut one off a cable bundle, remember to be careful not to nick the underlying cables.
Sale
HMROPE 100pcs Cable Zip Ties Heavy Duty 12 Inch, Premium Plastic Wire Ties with 50 Pounds Tensile Strength, Self-Locking Black Nylon Zip Ties for Indoor and Outdoor

【Heavy Duty】 : Strength tensile is decided by width-- Hmrope wire ties 0.14inch / 3.5mm wider...
【Premium Quality Material】 : Plastic ties made of industrial strength nylon 6/6 material, and...
【Self-Locking】 : Zip ties 12 inch with self-locking Fastener Design, strong durable powerful...
Last update on 2023-09-25 / Affiliate links / Images from Amazon Product Advertising API
Pipe cleaners. If you have a kid or craft lover in your household, chances are you already have some pipe cleaners. Pipe cleaners are stiff and flexible and consist of lengths of wire covered by soft chenille fabric. You can buy them from most craft stores, and they come in almost every color.
Sale
ZEN Bundles Zen Pipe Cleaners Hard Bristle, 132 Count (Pack of 3),Yellow

Zen the name you know & can trust for all your cleaning needs & 420 help
Clean & repair old antique tube radios, t.V.'S, ham radios / receivers (especially from 1918-1965)
Such as philco, rca, admiral, Zenith, hall crafters, sears, Brewster, crossly, firestone, plus...
Last update on 2023-09-25 / Affiliate links / Images from Amazon Product Advertising API
Shoelaces, yarn, elastic, or string. Have some old shoelaces or string lying around? Use them to tie your recording studio cables together! A benefit to using this method is that you can cut to size and not waste.
Electrical tape. You can buy a roll of electrical tape cheaply from a dollar or DIY store, and it will likely be enough for organizing all your studio cables. The only downside is that tape can leave a residue when you remove it.
Last update on 2023-09-25 / Affiliate links / Images from Amazon Product Advertising API
Rubber cable ties. Many electrical or cable storage stores sell rubber cable ties that have been specially designed to group cables together. While they are inexpensive, they are more expensive than regular cable ties.
Ringke Cable Tie Silicone (15 Pack) Colorful Reusable Holder Strap Organizer Management for Fastening Cable Cords and Wires

Comes in 5 modern and bright colors. You will receive 3 of each color.
Soft and flexible premium silicone materials are long-lasting and reusable.
12 cm length wraps around cords easily and can be stored away without problems.
Last update on 2023-09-25 / Affiliate links / Images from Amazon Product Advertising API
Cover Cables With a Thick Area Rug
Thinking about managing your recording studio's cables can often feel overwhelming. If you're not ready to tackle the problem head-on just yet, a solution could be to cover them with a thick area rug.
Covering them with a thick rug requires minimal effort, and you might already have one at home.
There are two main benefits to using this easy method.
The first is protecting the cables and prevent them from being a tripping hazard. The second benefit is that thick carpet is a highly effective sound absorber.
The thicker the rug is, the better. Long and thick carpet fibers protect the cables better and act as more effective sound absorbers.
Hide Them Away With Cable Management Sleeves
A cable management sleeve is a fabric sleeve to contain your cables neatly.
They have a long and tubular shape to accommodate around 8 to 10 studio cables per sleeve.
Some cable management sleeves close with velcro, while others can be zipped up.
An advantage to using cable sleeves is that you won't need to install or drill anything. You simply place your cables neatly inside and zip it up.
They come in a wide range of lengths and diameters, and you can select one that works for your amount of cables.
Most cable sleeves are made from neoprene

, a soft fabric. However, if you'd like to customize your cable sleeve, a plastic one may be ideal. Some plastic cable sleeves can be cut according to size, making them an excellent option for tight spaces.
If you are worried about tripping over your cable management sleeve, you could consider a similar product: a carpet cable cover. Unlike regular cable management sleeves, which are loose, carpet cable covers attach to your studio

carpet with filament hooks. 
This helps prevent carpet damage and tripping.
Build a Customized Shelf
Cable storage hangers and racks come in a limited range of sizes and may not suit your studio's unique cabling organization needs.
If you're struggling to find the perfect shelf, you may consider making one yourself out of wood.
Here is an easy tutorial on how to build a tailor-made cable shelf for your studio:
Determine the amount and diameters of your studio cables.
Consider how many slots you would like on your cable shelf and the most suitable size.
Buy the relevant quantity of wood for your shelf or use wood that you already have.
Cut the wood so that you have two identical planks: one piece to be vertically attached to the wall and a perpendicular piece that will house the cables.
Attach the two wood pieces perpendicular. You can use either wood glue or nails.
Cut out suitably-sized grooves in the horizontal piece to accommodate your cables.
Varnish or paint the shelf as needed and attach it to your studio wall.

Install Cable Ducting Along Your Studio's Edges
Ducting

along your studio's edges stores your cables neatly and seamlessly away. You can buy a cable ducting system for installation, or you can make one yourself.
Cable ducting protects your expensive cables from damage and helps prevent dust formation.
Either way, you'll need to set at least a few hours aside for the installation as it can be time-consuming. You will also need to be comfortable with attaching the ducting to your studio with nails or screws.
Below are two excellent cable ducting options:
DIY Cable Ducting
DIY cable ducting involves buying a few lengths of wood for installation along the bottom of your studio walls.
You don't need to be a carpentry expert to create cable ducting, but you need to know the correct technique for sawing wood, installing hinges, and painting wood neatly.
Before making your cable ducting, you'll need to measure the diameter of your studio cables when they're gathered together. Allow around a few finger widths of space around the cables, and you will have the correct measurements for your ducting.
Your studio's skirting boards may need to be removed before installing the ducting for a seamless finish, and you will need to create a hinged lid along the top for easy cable placement and removal.
Once installed, consider painting the ducting in a color that suits your studio.
Ready-Made Cable Ducting
You can buy good-quality cable ducting from specialist music equipment stores or companies specializing in cable storage.
Ready-made cable ducting is typically metal or plastic with a snap-on cover for easy use and often has several slots. It comes in many different lengths, and you can attach it to your studio wall or leave it lying flush against the studio edges.
Use a Cable Tray System
Cable trays consist of stainless steel wire mesh. They are typically attached to studio walls, out of the way of recording equipment.
Standard cable trays are entirely open at the top, allowing for easy cable placement and removal.
Lockable cable trays for added neatness and compactness are also available, while heavy-duty or single cable trays should also be considered.
Cable trays are a simple yet effective cable storage solution, but if you don't want to buy a set, you could consider purchasing some used wire mesh office trays, which work just as well.
Sale
Last update on 2023-09-25 / Affiliate links / Images from Amazon Product Advertising API
Install a Cable Support System
Many recording artists believe that there is no "one-size-fits-all" approach to studio cable storage and that a personalized system is best.
If this sounds like you, a customized cable support system may be the most suitable option.
Using a combination of or only bridle rings, j-hooks

, PVC-coated cable rings

, and rooftop conduit supports, you can organize your cables throughout the studio.
After buying your cable support system items, you'll need to dedicate a lot of time deciding where they should be placed and then installing them individually.
You can typically not find these products at big box stores, but many DIY and electrical stores stock them.
Conclusion
Neatly storing your recording studio's cables helps make your space look better and reduces the risk of tripping or fire.
For those on a budget, using an area rug, zip ties, shoelaces, velcro ties, electrical tape, or pipe cleaners can be a cost-effective solution.
Cable boxes and sleeves hide your cables tidily away without any installation.
Using a cable tray or support system, extension cord organizers, cable shelf, rack, or tray requires installation on the walls, and you need to be comfortable drilling into your studio walls.
Sources
Was this article helpful?
Recent Posts
link to How To Allow QuickTime To Access Microphone 🎙️  
QuickTime is a vital app for many Mac users, and if you've recently bought a new microphone, you might wonder how to use it optimally. QuickTime cannot record audio content if it doesn't have...
link to How Do I Test My Microphone? 🎙️
Every microphone leaves a unique signature on the quality of its output. If you're a podcaster trying to melt your way into your audience's hearts, a muddy, distorted recording won't cut it....