Are you an aspiring voice-over artist and would like to build your first DIY voice-over studio? If you are, then you are in the right place as I'll break down what you need to consider and how you should go about it to get the best results possible.
Here are the steps you need to follow to build a voice-over studio:
Choose a quiet and comfortable voice-over studio.
Soundproof the studio using fabric and furniture.
Assemble your voice-over equipment.
In the rest of this article, I'll delve deeper into each of the steps above and explain exactly how you can build your voice-over studio. I'll also give you answers to some frequently asked questions concerning setting up your studio. Let's dive right in.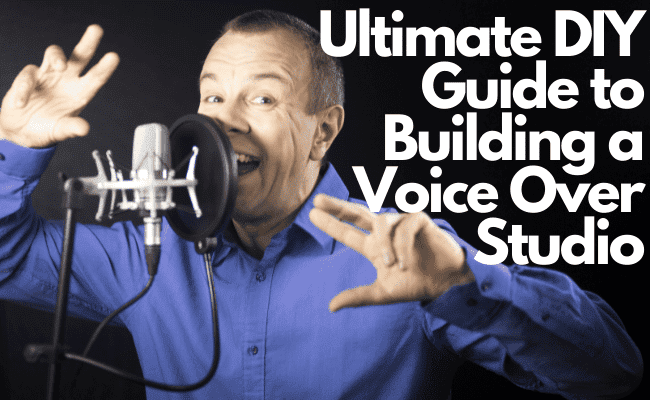 1. Choose a Quiet and Comfortable Voice-Over Studio
Choosing the best space is one of the most important things to do when setting up a DIY voice-over studio. If you are a new voice-over artist or it's your first DIY voice-over studio, you need to consider two things: a quiet area and your comfort in that area.
A Quiet Room
A quiet room ensures that you get clear and professional recordings that all top-notch voice-over clients require. Therefore, when it comes to a voice recording studio, one cannot overstate the need for a near-silent room or space.
You basically want a place where you won't experience any interference within the room or from outside. If putting up your studio at home, here are a few things to factor in to ensure your space is ideal for recording:
Avoid heavy traffic areas. Stay clear of rooms that have lots of foot traffic, such as a kitchen, a bathroom or toilet, laundry room, or a room adjacent to a major road, etcetera.
Avoid rooms that share walls with external premises. You have little to no control over what your neighbor does inside his premises. So avoid putting up a studio against such surfaces.
Stay away from windows and hard surfaces. Windows and heavy doors are notorious for reflecting sound that may cause echoes or reverberation, which degrade your audio quality. A room with plenty of curtains, soft furniture like fabric sofas, and a carpeted floor make for good areas as they absorb noises.
If you still have a problem getting a quiet room, you can convert your bedroom closet into your new studio space. The walk-in closet option is popular with many voice-over artists on a budget. Take care to avoid rustling clothes while recording in this convenient space, as this will introduce noise and affect the quality of your recording.
If you don't have enough space in your closet, consider soundproofing a room. I shall cover that in more detail later in this article.
Comfort
A comfortable space ensures you remain relaxed during recording, allowing you to move around and get into character with ease. Your comfort is also required during editing; the process can take minutes to several hours, depending on the complexity of the task. So, it's crucial to look for a room or space you can comfortably spend any amount of time in.
2. Soundproof the Studio Using Fabric and Furniture
Once you've picked a great space, the next task is to sound treat and proof the area.
Soundproofing involves taking measures to keep both external noises out and internal sounds in. How do you do this? Check every surface of your desired room for any gaps, cracks, or holes. Then, fill any gaps between doors and walls or the floor.
Soundproofing also deals with eliminating vibrations that may filter through the walls of your desired studio.
Contrary to belief, soundproofing doesn't involve taking measures to improve the quality inside the studio during a recording; acoustic treatment does. Acoustic treatment deals with harmful reflections caused by surfaces such as windows, hard furniture, and walls.
An acoustically treated voice-over studio produces clear, well-toned sounds.
Sounds complicated? Well, here are a few simple tips you can use to treat and proof your DIY studio:
Cover reflective surfaces like windows with acoustic foam like Audiosoul Acoustic Panels (available on Amazon.com). These panels keep any noise out and absorb sounds that can degrade the quality of your recording.
52 Pack Acoustic Panels 1 X 12 X 12 Inches - Acoustic Foam - High Density- Soundproof Studio Wedges - Charcoal

★ Professional Sound Absorbing Properties - Acoustic foams are installed to reduce noise pollution...
★ Quality - Our Acoustic Foam Panels are made with flexible, professional grade acoustic foam,...
★ More Comfort/Less Stress - The most common problem in large rooms with high ceilings is that of...
Last update on 2023-12-07 / Affiliate links / Images from Amazon Product Advertising API
Place a carpet on hard surfaces like floors. Thicker carpets absorb sound better so, select the thickest you can find. To cut on cost, you can ask your local carpet store for miscuts. You can also attach carpets to walls and other surfaces in place of the acoustic foams.
Put a thick blanket or quilt over any desks you decide to use when recording while seated. The blanket will absorb any vibrations generated as you unconsciously make slight movements while recording. Place it on the surface as you would with a tablecloth.
Hang a heavy fabric on walls and the ceiling to absorb reflections. This will effectively reduce echos and make your recording more audible.
Add soft furniture such as couches to your room to absorb reflected sounds. Place these strategically in your voice studio or space.
Cover your microphone with a blanket to reduce background noise if you can't afford a microphone isolation shield like the Moukey Microphone Isolation Shield (available on Amazon.com). Remember to prop the blanket so that it doesn't fall during recording. You'll need to do this every time you record, as this solution isn't permanent.
Sale
Last update on 2023-12-08 / Affiliate links / Images from Amazon Product Advertising API
After doing the necessary sound treatment and proofing, carry out a simple sound test to see if the measures taken are sufficient. You can do a simple clap test and listen for any echoes. Talking out loud can also serve as an audio test.
If you hear any echoes, you still have some work to do. Recheck all surfaces to establish if you've insulated all surfaces, cracks, and gaps, including electrical sockets. If you don't hear any echoes, then your DIY voice-over studio is good to go.
3. Assemble Your Voice Over Equipment
Now that you have the best space and can produce a consistent and reliable, clear voice-over recording, let's look into the essential voice-over equipment to make your DIY studio complete.
For a beginner voice-over artist, you'll need the following devices:
Microphone
Microphone Stand
Pop Filter
Audio Interface
Recording and Editing Software
Laptop
Headphones
Get a microphone kit such as the TONOR Professional Cardioid Studio Kit

from Amazon.com if you're new to all this and want value for money. It comes with a microphone, microphone cover, a shock mount to absorb vibrations and prevent the microphone from moving while recording, a pop filter, and a suspension boom stand that you can clamp to a desk. It also features an XLR condenser interface cable to connect to your audio interface.
Sale
TONOR XLR Condenser Microphone, Professional Cardioid Studio Mic Kit with T20 Boom Arm, Shock Mount, Pop Filter for Recording, Podcasting, Voice Over, Streaming, Home Studio, YouTube (TC20)

External Power Source Required: Note: Condenser microphones have active electronics that need an...
Professional Sound: The upgraded mic capsule with low-noise FET preamplifier, high SPL handling, and...
Cardioid Pattern: TC20 adopts a cardioid polar pattern with excellent off-axis sound suppression...
Last update on 2023-12-08 / Affiliate links / Images from Amazon Product Advertising API
As I've pointed out, these are the essential tools you need, though you can also add a stand to hold your scripts and a backup hard drive to store your audio files. You should work towards getting the backup drive, though you can also use cloud-based storage for all your recordings.
High-Quality Microphone Makes Your Recording Sound Professional
Choosing the best microphone is just as vital as proofing your studio. The type of microphone you get can greatly impact the quality of voice recording because some microphones are more sensitive to surrounding sounds which may ruin your recording.
As a voice-over artist, you should set your eyes on a cardioid microphone like the FIFINE Metal Microphone

(available on Amazon.com). Cardioid microphones, unlike others, pick the sound directly and don't pick as much sound from the immediate surrounding environment. This means you'll get a smooth and crispy clear recording.
Sale
FIFINE USB Microphone, Metal Condenser Recording Microphone for Laptop MAC or Windows Cardioid Studio Recording Vocals, Voice Overs,Streaming Broadcast and YouTube Videos-K669B

[Convenient Setup] Plug and play recording USB microphone for PC, with 5.9-Foot USB cable included...
[Durable Metal Design] Solid sturdy metal construction design, the computer microphone for Zoom...
[Volume Knob] Gaming USB mic for PS4 with additional volume knob itself has a louder or quieter...
Last update on 2023-12-08 / Affiliate links / Images from Amazon Product Advertising API
It's best to use your chosen microphone with a stand-up microphone stand. The desktop stand will likely expose your microphone to more vibrations than you would experience with a taller floor microphone stand.
Pop Filter Helps Reduce Recording Noises
A pop filter is a meshy device that filters out the naturally produced sounds of a voice-over actor speaking the letters P, B, and S on a microphone. You've probably heard the irritating pop-like sound produced when anyone says letter p and b directly into a microphone. And, you must have also heard a hissing sound when someone says a word with a strong "s" in it.
Basically, the pop filter reduces these noises making your recording more professional sounding.
Pop filters come in many sizes, shapes, and mounts. Your microphone's filter size will depend on the microphone's size. In terms of design, the filters come as flat or curved. The flat kind is affordable, but you have to speak more in the center of the mesh. On the other hand, curved filters give you the freedom to speak from all angles but cost more money.
You should also consider that your pop filters mount should be long enough to fit correctly in front of the microphone. If you've chosen to use a microphone kit instead of buying individual pieces, your kit will come with one.
Choosing the Best Voice Recording and Editing Software
Every aspiring and experienced voice-over actor requires voice recording and editing software. With this software, you can take your recording to another level by editing sections you do not wish your client to hear. They also allow you to add all manner of sound effects.
You can find several options for any of your budgetary needs- yes, even free ones. If you're looking for free software, you can use Audac

ity

. It's compatible with Mac and Windows. If you're not strained for cash and want software suitable for professionals, consider Adobe Audition

.
What Is an Audio Interface?
An audio interface is a piece of hardware that links your microphone to your computer. It converts sound from the microphone into a digital format via the XLR cable. An audio interface can also boost sound if it comes with a microphone preamp.
As an aspiring voice-over actor, you may be tempted to do away with this device. However, I strongly advise you not to, as laptops' sound cards don't cut it for professional productions. So, if you want balanced and audible recordings that meet professional voice-over standards, you need an audio interface.
Frequently Asked Questions
Do I Need a Studio for My Voice-Over Recordings?
You need a studio for your voice-over recordings if you want to become a professional voice-over actor and commit your time and energy to the field. However, if you're still testing the waters as a voice-over artist and haven't decided to go all in, then you may not need a studio.
How Much Does It Cost To Set Up a DIY Voice Studio?
A DIY voice-over studio can cost anything between $100 and several thousand dollars. The variation in cost depends on your budget and choice of materials plus equipment.
As a beginner, you don't have to be too extravagant as you're still learning the ropes, but you can always upgrade to premium equipment with time.
All in all, if money isn't an issue, you can get the premium items from the get-go.
What Is the Advantage of Owning a Voice Over Studio?
The advantage of owning a voice studio is that it allows you to produce excellent quality recordings at any time of day. This means you won't miss opportunities, as you have a reliable setup to get the job done. You also get to save a buck or two since you're not renting studio space and time.
What Is the Downside of Building a DIY Voice Over Studio?
Troubleshooting problems that may arise in the studio is the downside of building a DIY voice over studio. Be prepared to know that you may not get it right the first time around. But all DIY projects involve trials and errors, so don't let challenges stop you from having a voice over studio.
Summary
Building a DIY voice-over studio can be a time-consuming but rewarding adventure, especially if you're determined to make it as a voice-over actor. It certainly is worth owning a recording studio as you can quickly jump on any opportunities that come your way.
However, consider that since it's a DIY project, after all, there may be some trial and error, especially for achieving a high-quality sound.
In summary, to build a great voice-over studio, find a quiet and comfortable space, soundproof the space, and get the necessary equipment for your studio.
Sources
Was this article helpful?
Recent Posts
link to How To Allow QuickTime To Access Microphone 🎙️  
QuickTime is a vital app for many Mac users, and if you've recently bought a new microphone, you might wonder how to use it optimally. QuickTime cannot record audio content if it doesn't have...
link to How Do I Test My Microphone? 🎙️
Every microphone leaves a unique signature on the quality of its output. If you're a podcaster trying to melt your way into your audience's hearts, a muddy, distorted recording won't cut it....