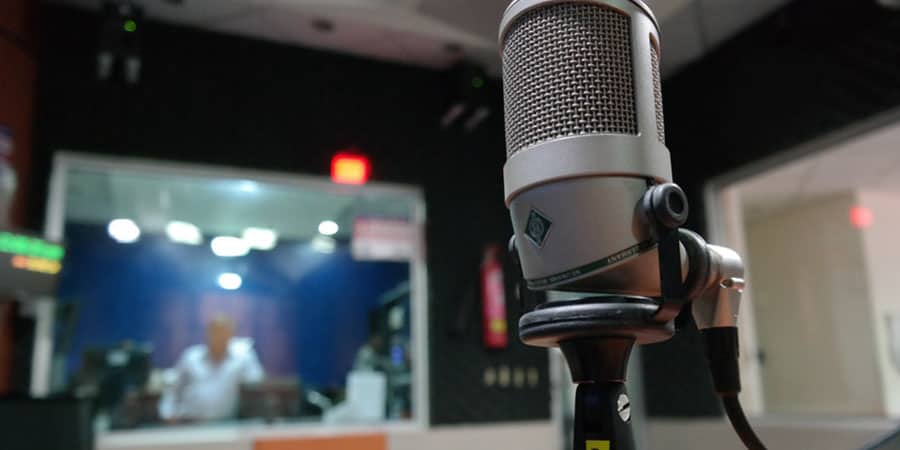 "What is the best microphone to record vocals?!"  Boy if I had a dollar for every time I've either been asked this question or read it being posted on an internet forum about home audio recording! 😀
It's my intention with this article to clear up some of the misconceptions about the "best" microphone to use to record vocals, to provide some good choices to fit a range of different budgets, and to also provide some good tips to use that will help you get great recordings from ANY mic you choose.
And here is a quick rundown of some of the best microphone choices that we are going to talk about:
But before we dive in deeper on each of the mics here is the truth about choosing the best-suited mic for your purpose.
The Truth on "Which is the Best Microphone?"
"It depends". That's the truth, right there. 
Sadly, there is NO solution that will fit EVERY scenario, every need, every budget.  That's really true of ANYTHING in the recording realm.
Think about it; if there was ONE right answer, then there wouldn't be DOZENS of different choices of microphones, right?
The same is true about anything really.  It's not like there is ONE "right" car, or brand of golf clubs, or laptop computer, right?  A lot of it is going to come down to personal needs and preferences.  What do YOU need to get out of whatever it is you're buying?
Choice is good.  But ultimately TOO MANY choices can be confusing and overwhelming.  I totally understand that if you're new to the game, it's VERY difficult to just wade in. Luckily, we're here to help!
And if you want to learn more on different mics have a look at this: Guide to Microphones
So there are a ton of choices.  But how do you make the right one for YOU?  Really, just about anything on the market today is going to be capable of delivering solid results.  The key is figuring out what needs you have so that you can make an informed decision.
Since this article is aimed at people new to the world of recording audio, and since budget is ALWAYS a consideration (even at the highest level recording world-renowned artists for major record labels), I'm going to take that as our primary motivator in choosing the right microphone.  SO, let's get on with our list…
BEST BUDGET MICROPHONE CHOICES

(UNDER $300)
1. Shure SM-57 (

recommended for the low budget

)
Shure SM-57 Cardioid Dynamic Instrument Microphone
Consumer Alert: Most users do not need a license to operate this wireless microphone system. Nevertheless, operating this microphone system without a license is subject to certain restrictions: the system may not cause harmful interference; it must operate at a low power level (not in excess of 50 milliwatts); and it has no protection from interference received from any other device.
Why we Choose it
The Shure SM-57 is the "Swiss Army knife" of any recording studio, from the modest home hobby studios to the best facilities in the world.
Quite simply, you NEED at least one of these mics if you're serious about recording music, and at under hundred bucks, it's really a no-brainer.  Plus, you get the benefit of using it not just on vocals, but on instruments t00.  More value-added right there!
What We Don't Like
Not a single thing.  There's nothing not to like about this mic.  If you can only afford ONE mic to start your studio, make it a Shure SM-57.
Why we Choose it
This is the cheapest (read: least expensive) condenser microphone you're going to find in the new market.
The cardioid polar pattern means that you can capture a nice recording from the front of the mic, while the sides and rear of the mic reject unwanted noise like from air conditioners or people walking around in other parts of your house.
You can check the current price here !
What We Don't Like
This microphone typically doesn't come with a shock mount or pop screen, but at under a hundred bucks, you really can't expect the moon, can you?
Sale
Why We Choose it
At a VERY reasonable price, this mic package really provides a wonderful tool for capturing not only vocals but instruments as well.
It bills itself as being one of the "world's quietest microphones", and it does indeed feature a very low noise floor.  It can handle a whopping 137db SPL, which means you can scream away and you won't blow the thing out.
PLUS it DOES come with a shock mount with a built-in pop filter, an XLR cable, and a handy carrying bag.
You can check the current price here!
What We Don't Like
I've used this mic a lot on my own recordings, and it really does do a terrific job, but on certain sources (like some male vocals) I've found it has a somewhat bright presence bump that can get annoying.
Some EQ will take care of that, but why bother if you don't have to?
Roswell Pro Audio Mini K47
The original Mini K47! Genuine 34mm gold and brass large-diaphragm capsule.
Excellent midrange detail without high-frequency hype or harshness.
"Best mic under $500" according to numerous reviewers.
Why We Choose it
Roswell Pro Audio makes some REALLY nice microphones, at MUCH higher prices (see their Delphos and Colares models) than this little guy.
This is a REALLY great buy, and sounds SO, SO good!  It's modeled after a "vintage microphone" (hint: it's a Neumann U47 FET, which costs THOUSANDS of dollars), and delivers a nice warm vintage tone, without the expensive upkeep of the old one, or even a tube.  It's warm, balanced, and doesn't have any harshness in the high frequencies.
Check the current price here!
What We Don't Like
It only has one polar pattern, and it lacks a -20db pad switch or any kind of low shelving, which can be very handy features.
BEST MID-PRICED MICROPHONE CHOICES

($300-$999)
Sale
Shure SM7B Vocal Microphone
ONE MICROPHONE FOR EVERYTHING - Studio Recording, Home Recording, Podcasting & Streaming. The SM7B Is Trusted By The Worlds Leading Vocalists, Podcasters & Streamers.
STUDIO VOCAL RECORDING - The SM7B's Dynamic Cartridge With Smooth, Flat, Wide-range Frequency Response Produces Exceptionally Clean & Natural Reproduction Of Both Music & Speech.
PODCAST & BROADCAST - Found In The Top Podcasting Studios Around The World, The SM7B Air Suspension Shock Isolation & Pop Filter Eliminate Both Mechanical Noise And Breathiness. So Words Get Through And The Rest Stays Out Of The Mix.
Why We Choose it
The Shure SM7B is probably going to end up being the most expensive dynamic microphone in your mic locker, but it's an industry standard for a reason.
It's a workhorse and can handle anything from voiceover and radio work to screaming metal vocals.  It has a much lower sensitivity than most other mics, even other dynamics like the SM-57, but that allows it to really take a beating.
A lot of hard rock and metal vocals are done through the SM7B, and apparently Michael Jackson's vocals on "Beat It" were done on one!  Can't really find fault with that, if the King of Pop can use one, then so can you.
Check the current price on here!
What We Don't Like
This guy can be heavy and a little unwieldy on a mic stand and its low sensitivity also means you have to either crank the gain on your stock preamp in your interface (meaning more noise), use a more expensive high-gain external preamp, or something like a CloudLifter to boost the signal.  None of those are deal-breakers, but they are definitely extra things you need to consider.
Why We Choose it
The Rode NTK is the first example of a tube condenser microphone on our list.  Typically tube mics (tubes are called "valves" in the UK) provide a "warmer" more "vintage" tone than a non-tube (typically called a "solid-state") mic, with kind of muddier high end, but with added and pleasing harmonics and subtle distortion (a good thing).
It all depends on what source you're recording and what genre of music you're producing, but a good tube mic can be a great thing.  Most of these are pretty expensive, but the Rode NTK is a good way to break into that type of mic without breaking the bank.
What We Don't Like
As with any tube mic, a separate power supply and special cable are included to power the mic.  It's not like it's an extra expense, but it's one more component to worry about and take care of.  Also, tube mics, in general, require very delicate handling and care and need to be powered on a warmed up for several minutes before using.
Warm Audio WA-87 Vintage-Style Condenser Microphone Nickel
Audio Analog or digital: Analog Frequency response: 20Hz to 20kHz Max SPL: 125 dB Connectivity: XLR Pattern and type Capsule: Condenser Polar pattern: Multi-pattern Type: Mounted Applications: Studio Diaphragm size: Large Switches: High-pass, -10 dB pad Phantom power required: Yes Size and weight Width: Info not available Height: Info not available Weight: Info not available Included access
The classic '87 is arguably the most widely-used large diaphragm condenser microphone in pop recording history
Rather than base our WA-87 circuit on current incarnations of this mic, we decided to closely follow the early circuit designs that date back nearly half a century
Why We Choose it
I LOVE this mic.  This is a "re-creation" of a studio classic (later on our list!), at like 20% of the price.  Warm Audio as a company has found a niche making really nice "copies" (not the right word but you get the idea) of very expensive gear for a very reasonable price, and their gear really does hold up.
I've seen audio shoot-outs between the WA-87 and the Neumann U-87Ai that prove it's very difficult indeed to hear the difference.  It's a quality mic that will become the mainstay of your vocal recording duties.
What We Don't Like
I mean, it doesn't sound EXACTLY like vintage U-87.  But then again, nothing does.  If you want that, you'll probably have to pay for it.
I suppose for me the only other "negative" is that the mic housing is a bit "shiny" and to me looks kind of naff… but that's totally a cosmetic issue and has no bearing on the sound whatsoever, so it really doesn't matter.
Why We Choose it
An actual Neumann at this price is a total deal!  This is simply a great mic, built by one of the most respected names in the industry.
While this mic features a mostly-flat response, it does have a slight presence boost built-in that serves to "sweeten" a vocal recording a bit.  It also has a really smooth sound that will fit in nicely in any mix.
This thing is really a powerhouse and is certainly a lot less expensive than pretty much any other Neumann (check the price here ). Plus it comes in nickel or black!  Cool!
What We Don't Like
It doesn't come with a shock mount or a storage case.  Boo.  I really do feel like it should, since many other mics do.  If you're going to spend this much… you should get one.
GOOD UPPER-RANGE MICROPHONE CHOICES (from 999$)
With any of those microphones, you are really going to be in the pie-in-the-sky territory.  These models are featured in every top-level studio in the world, and if you're lucky enough to have the two most expensive ones on our list, then you are certainly better off than most from an economic perspective.
Do you NEED any of these three mics?  Absolutely not.  Great recordings can be had with any of the other mics I've already mentioned, for a fraction of the price.  But hey, sometimes it's nice to see how the other half lives!
Without further ado…
AKG Pro Audio C414 XLII Vocal Condenser Microphone, Multipattern
Sonic character of the famous AKG C12 delivers astounding sound quality for lead vocals and solo instruments
Nine selectable polar patterns for the perfect setting for every application
Three attenuation levels (-6/-12/-18dB) for close-up recording or high-output sources of up to 158dB SPL
Why We Choose it
The C414 XLII is certainly the most reasonable choice out of the three from this category.  Like the SM-57, this is really a studio stalwart that can do just about anything, from vocals to guitar cabinets to piano and more. If you can afford one, definitely give it a look.
You can even see the excellent reviews. Check it yourself. 😀
This particular model of the C414 line is an update of a modern classic and features no fewer than FIVE different polar patterns to choose from, including cardioid, narrow cardioid, wide cardioid, Omni and figure 8, which will cover ALL of your capture needs.  It has improved technical specs over the vintage models and will last you years and years.
What We Don't Like
While not a specific SOUNDING mic, it is a nice overall value that will provide a good option for a lot of different voices and sources.  A good general choice without being too specific or colored.
Why We Choose it
This is the industry standard, and frankly, if you have one of these, you're probably not a beginner!  haha!  Featured on countless professional recordings, it's been a favored choice of engineers, producers, and clients since the 1970s.
This mic is really THE sound of modern vocal recording, no matter what preamp it's paired with.  It has three polar patterns to choose from and a low-frequency roll-off switch to take some of the natural mud out of a recording before you even get into your DAW and have to reach for your favorite EQ plugin.
But, get ready to be blown away by the price!
What We Don't Like
At this price range, I don't like that I'm probably never going to be able to afford one.
3. TELEFUNKEN C12
Why We Choose it
HA!  This thing makes the U87 look like a USB mic from Best Buy, at least price-wise.  The C12 has been around since the dawn of recording and features a classic high-fidelity sound; it's pretty much THE prototypical example of what a tube mic sound is like.  It's coveted, to say the least.
What We Don't Like
That people have nicer toys than me! 😀
Our Overall "WINNER"
Like I've stated a few times, you really will get great results with the proper use of ANY of these mics.  It's not the tool, it's the carpenter, as the saying goes.  Still, lists like these are way more fun if there's a victor, so!
If I had to choose ONE of these microphones to use (not counting the two super-expensive ones, that were really provided just so you can see the Rolls Royces of the recording world and understand how much these things can cost), I would go with the…
Warm Audio WA-87 Vintage-Style Condenser Microphone Nickel
Audio Analog or digital: Analog Frequency response: 20Hz to 20kHz Max SPL: 125 dB Connectivity: XLR Pattern and type Capsule: Condenser Polar pattern: Multi-pattern Type: Mounted Applications: Studio Diaphragm size: Large Switches: High-pass, -10 dB pad Phantom power required: Yes Size and weight Width: Info not available Height: Info not available Weight: Info not available Included access
The classic '87 is arguably the most widely-used large diaphragm condenser microphone in pop recording history
Rather than base our WA-87 circuit on current incarnations of this mic, we decided to closely follow the early circuit designs that date back nearly half a century
As with most things, you're going to find the best value for your money, the best bang for your buck, somewhere in the middle of the pile.  The same is true here, and to be honest I really don't know what I'd do without my WA-87.
When I got it, it quickly became my go-to standard choice for vocal recordings, and it just sounds so so good on so many different voices that at this point I don't know why I'd choose any of my other mics!  Winner winner chicken dinner!
A Few Tips For Making Good Vocal Recordings
 Very quickly, I just want to point out a few things that will help you make better vocal recordings, with ANY mic.
It, of course, all starts at the source.  The best songs feature a good performer, performing a good part, captured well.  You can't polish a turd, as they say.
1. Ambiance is key.  It's not conducive to good performance to try it with a bad vibe.  You need (or you need the person you're recording) to be relaxed and comfortable.  Set up some candles.  Dim the lights.  Give your recording space an atmosphere that will help the vocalist get into the part and forget about their surroundings.  It will come through in your recordings.
2. You need some sort of sound-dampening.  Even if you have no budget to record in a professional vocal isolation booth, hang some blankets on mic stand behind the singer.  Sing in a corner that's been covered with Auralex acoustic tile.  Put a cheap rug down.  You don't want to record in a huge cavernous space covered with drywall or concrete—those reflections are going to be present in your recordings and will sound bad.  Take some time to deaden your room a bit to get a more dry recording.  You can always add reverb later when you mix.
3. Take your time getting your mic position right, and use a pop filter.  Don't be TOO close to the mic, and don't be too far away.  I like to shoot for 6-8 inches.  Maybe as much as 10-12, depending on how powerful a singer I'm working with.  Too close and you'll suffer from too much of what's called the proximity effect, which will increase the bass response in your recording.  Too far away and you'll sound weak and "roomy".  A pop filter will not only keep you from hitting the mic with too many "plosive" hard P and B sounds, but it'll also be a great way to keep you in the right place in front of the mic.
4. Get your levels right, before doing a proper take.  Have the singer (or you) do a warm-up take and pay attention to your levels in your DAW.  Shoot for the meter going about halfway up the scale.  This way you won't clip (VERY bad, and makes a good take totally worthless), and you'll still have enough gain to capture a solid recording.
5. Don't over-edit.  It's always best to capture as much of an entire performance in one take, or at least a long stretch as possible.  If you punch in and out too much or rely on too much editing to comp together a final take, the end results can sound artificial and weird to the listener.  This is why warming up and vibe are key.  If you can get it right at the mic, you'll rely on fewer tricks to make things sound better than they really do.
Keep these tips in mind, and your vocal recordings will sound great and will help justify the expense you put into your microphone!  Good luck, and happy recording!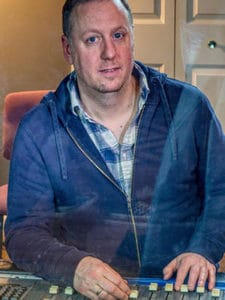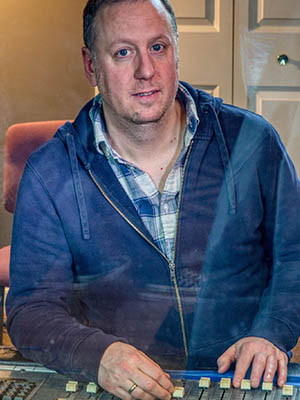 Author: Adam Coolong has been playing with his band Wild Colonial Bhoys full-time for over fifteen years and has recorded dozens of albums through his studio business, Varsity Audio Recording Services.
Last update on 2021-10-04 / Affiliate links / Images from Amazon Product Advertising API