XLR produces professional-grade sound. So, many people are concerned with the loss of quality when converting XLR to USB, but is there any loss?
Converting XLR to USB can reduce sound quality. Anytime you are converting audio through different formats, there is a chance of audio quality loss. Moreover, XLR microphones are usually more powerful and provide higher quality than USB. Therefore, the conversion is likely to lead to quality loss.
Let's take a closer look at the process of converting XLR to USB and how it affects sound quality.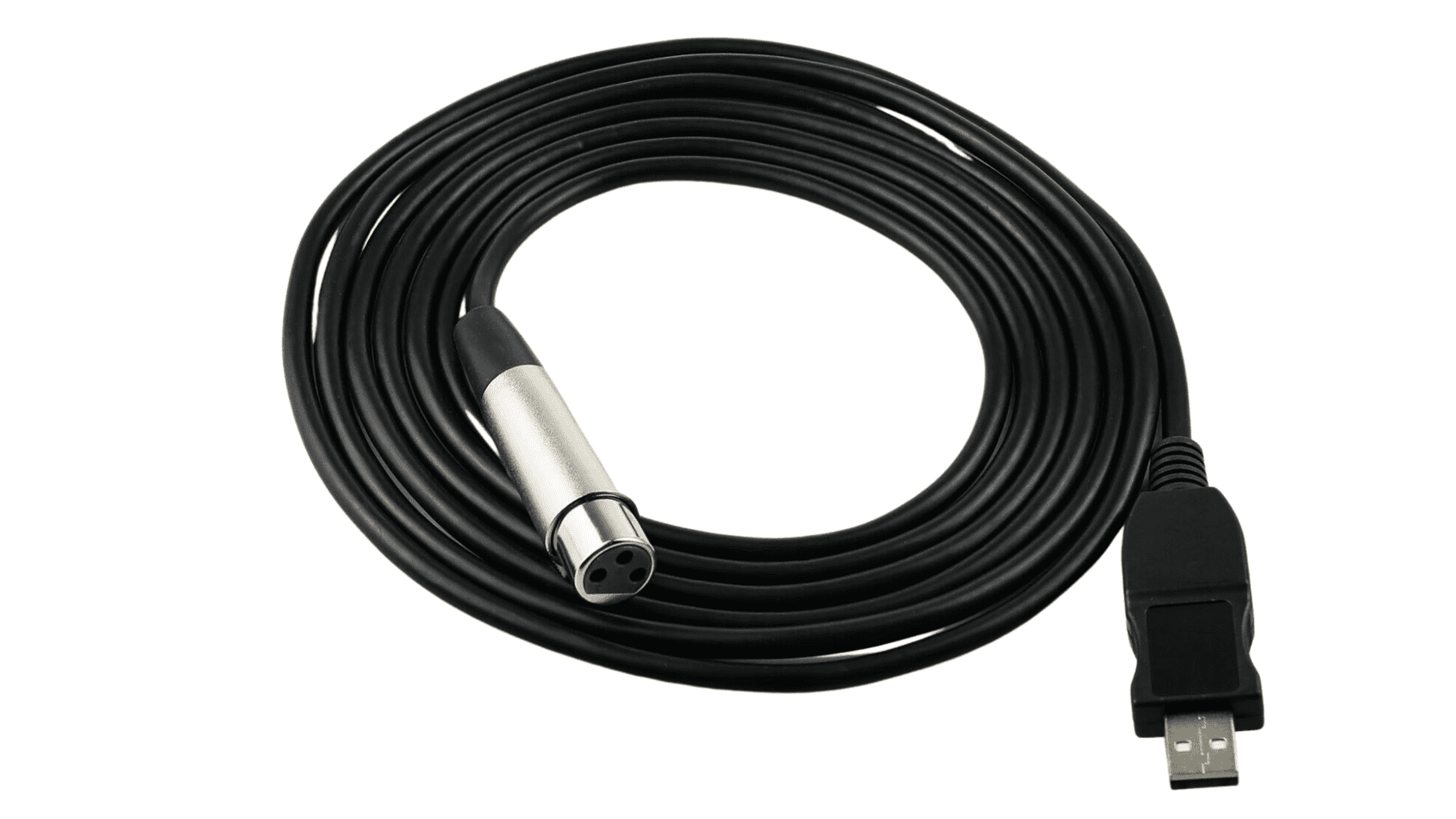 Why Does Converting XLR to USB Reduce Sound Quality?
Converting XLR to USB reduces sound quality because you are transferring audio from one format to another. XLR is analog, while USB is digital. So, to convert audio from one format to another, it must be broken down and reconfigured. During this process, it is common for some quality to be lost.
Many people prefer to use XLR microphones to record music or sounds. Because it isn't possible to just plug your XLR microphone into a computer, the audio needs to be converted to a type of media that your computer can read.
Transferring audio to digital is what allows it to be shared everywhere, from CDs to your phone or iPod. So, converting audio is necessary for it to be heard and shared on digital platforms. But many people still prefer to record on an XLR mic because they prefer the quality.
Think of converting sound like translating a book. Depending on who translates the text and how well they understand the languages, the translation could be poor. This is the same for converting sound. The quality of the materials you use will determine whether the sound quality is poor or not.
You can have a great microphone, but the sound quality may still suffer if your cable is not great quality. As the sound travels through the cable to be converted, a cheaper cable could make it lose quality. Your cable may be compromising the quality of sound as it travels through the cable and is converted to digital.
There are significant differences between XLR and USB sound:
XLR is analog, while USB is digital.
XLR audio is balanced. This means that the sound is clearer and clean.
XLR audio is noise-canceling, so you don't have to worry about outside interference.
USB sound is unbalanced. This means it is not as crisp as XLR, and it is more susceptible to outside noises. So, during the conversion process, your audio will be more vulnerable to interference from nearby frequencies. So, the better the converting cable, the better quality you will get once the audio is converted.
Check out my article about the differences between XLR vs Mini XLR.

How Do I Find a Quality Adapter for My XLR Mic?
Finding the best adapter to convert your XLR microphone audio to USB depends on your microphone and the quality of the cable. If you have a dynamic microphone, then a cable is all you need. However, condenser microphones need a preamp to provide phantom power. Quality is vital for whichever method you use to convert.
XLR to USB Microphone Audio Converter Cable
For dynamic microphones, all you need is a cable to convert your XLR audio to USB. The quality of the cable is crucial because it is where sound will travel through to be converted. The conversion process is essential, and a lot of quality can be lost along the way.
There are cheaper and more expensive versions depending on what your budget is like, but it is important to be aware that a good quality cable is not going to make up for poor quality audio equipment. So, even the best cable won't help sound quality if you have cheaper equipment.
For a quality, inexpensive option, consider the Behringer Mic 2 USB Interface Cable

available on Amazon. This simple yet sturdy cable can undoubtedly get the job done when trying to convert your audio.
Behringer MIC 2 USB Microphone to USB Interface Cable

Microphone to USB interface cable
XLR input connector
Ideal for recording vocals and speech with dynamic microphones
Last update on 2023-09-27 / Affiliate links / Images from Amazon Product Advertising API
This is an excellent choice for an inexpensive option that can still get the job done with as little sound reduction possible. But if you have a condenser microphone, then there is more you need.
For more information, check out which is better for streaming: XLR vs USB.

Condenser Microphones Need an Adapter
Condenser mics need phantom power to handle electric currents running through them. Phantom power is the process of delivering direct current

. It is not required in dynamic microphones because they power themselves. Condenser mics need phantom power to work.
Cables like the one above do not include phantom power. So, your condenser microphone will need an adapter that contains phantom power. Thankfully they are pretty easy to get, but they are generally more expensive than a converter cable because they do more work.
If you are looking for a suitable adapter that can provide phantom power to your condenser microphone, then check out the Shure X2u XLR-to-USB Signal Adapter

available on Amazon. This adapter features phantom power to power your microphone and plug-and-play connectivity for easy use.
Shure X2u XLR-to-USB Signal Adapter with Headphone Jack, Integrated Pre-amp with Mic Gain Control, Zero-Latency Monitoring, +48V Phantom Power for Condenser Microphones, 3m USB Cable and Storage Pouch

Plug and Play USB Connectivity allows the convenience of digital recording
Provides +48V Phantom power for use with condenser microphones
Includes Padded, zippered pouch and USB cable (3m / 9.8ft)
Last update on 2023-09-27 / Affiliate links / Images from Amazon Product Advertising API
For more information, check out whether XLR cable length matters

here.
Why Do People Still Use XLR Over USB?
People still use XLR despite needing to convert their audio to digital format because it produces a clean sound without much interference. Also, when using XLR, you don't need to be connected to a computer. It allows you the freedom to work on the go rather than being powered by a cable connected to a computer.
Reading about the loss of sound quality when converting audio can make you wonder why people still use XLR rather than just recording digitally. There are many reasons that people still choose to use this method:
Unlike USB mics, XLR allows you to connect multiple microphones at one time. This makes interviews and groups easier to manage as each person can be comfortable with their own microphone.
USB does allow more than one mic to be connected, but all mics need to be connected to a computer. So, it may be uncomfortable for guests because they can't talk to you from a reasonable distance. XLR does not require that connection to work.
Overall, the quality of XLR is something that people don't want to sacrifice. While there is a chance that audio quality will be reduced when converting it to digital, people still choose to use XLR because it is of better quality.
For more information, check out which is better for recording studios: XLR vs. TRS.

Final Thoughts
Converting XLR to USB does reduce sound quality. However, many people still choose to use XLR because of the quality of the audio.
Converting to USB is a relatively simple process. With a dynamic XLR microphone, all you need is a converter cable, but with condenser mics, you need an adapter.
Try out the converters above for good quality converting if you want the best possible sound. The better the converter, the fewer audio quality issues you will have. So, even though the sound quality may suffer, there are ways to help.
Sources
Was this article helpful?
Recent Posts
link to How To Allow QuickTime To Access Microphone 🎙️  
QuickTime is a vital app for many Mac users, and if you've recently bought a new microphone, you might wonder how to use it optimally. QuickTime cannot record audio content if it doesn't have...
link to How Do I Test My Microphone? 🎙️
Every microphone leaves a unique signature on the quality of its output. If you're a podcaster trying to melt your way into your audience's hearts, a muddy, distorted recording won't cut it....