Choosing the right place is one of the most important aspects of opening a photography studio. If you don't have enough room for various types of equipment, the studio will be cramped and unappealing to potential clients. So, how big should a photography studio be?
A photography studio should be at least 625 square feet (58.06 sq m). However, this will significantly depend on the studio's size, the equipment needed, what photoshoots the studio typically does, and the amount of walking space desired. Ideally, around 1,250 square feet (16.13 sq m) is preferred.
The rest of this article will discuss the essential equipment a photography studio needs, the amount of space each piece of equipment typically requires, and various photoshoots that require different spacing. We'll also go over the ideal space that will be the most beneficial to a studio.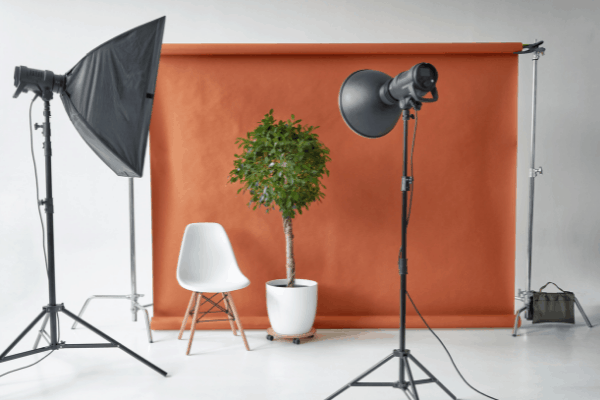 What's the Ideal Size of a Photography Studio?
While a photography studio should at least be 625 square feet (58.06 sq m), it's not the ideal amount of space. It'll get you by, but the more room a studio has, the better it'll be.
The ideal size for a photography studio is 1,250 square feet (16.13 sq m), which is double the least amount that's required. This is because not only do you have the room and storage needed for all the equipment, but there's room for several different setups. In addition, it'll make the studio easier to manage, especially if multiple shoots scheduled in a day differ entirely from each other.
There will also be plenty of room to walk around. It'll look open and appealing for any clients who go inside, giving the studio a good reputation. The bigger the area, the more room there is to offer various types of photoshoots.
What Type of Equipment Is Essential in a Photography Studio?
A photography studio needs various types of equipment to operate smoothly and offer different types of photos. Some equipment might not be necessary, depending on the types of shots the studio is primarily doing. However, most studios typically have the following essential equipment:
Backdrops and Backdrop Stands
Backdrops are essential no matter what type of photography a studio produces. Every kind of photoshoot will require a backdrop and a backdrop stand to hold the background in place. Unfortunately, this equipment can take up quite a lot of space, especially if a studio needs multiple backdrops (which most probably will).
There are various size options when it comes to backdrops and backdrop stands. So, the size will depend on the specific studio's needs. However, here are just a few standard size options for backdrops:
5-foot (1.52 m): Best for headshots and portraits
7-foot (2.13 m): Best for headshots and portraits
12-foot (3.66 m): Great for full-body portraits and for the use of props
20-foot (6.1 m): Great for photographing large families or groups as well as video shoots
While these aren't the only options available, they each are used for specific purposes and take up space. So, if the photography studio only specializes in headshots or portraits, a smaller space is acceptable. Group photoshoots, however, will require more space in the studio.
Backdrop stands are what's going to take up most of the room. As these are necessary to hold the backdrop, a photography studio will have multiple on hand. The average size for a backdrop stand ranges from 6.5 ft to 10 ft (1.98 m to 3.05 m); however, some can be bigger or smaller.
If you want to save as much room as possible in your photography studio, I recommend the Mountdog Backdrop Support Stand

from Amazon.com. This backdrop stand is adjustable, comes in three different sizes, and is foldable. A travel bag is included, which makes for more accessible storage.
Last update on 2023-09-27 / Affiliate links / Images from Amazon Product Advertising API
Lighting Equipment
Lighting equipment is also essential when it comes to photography studios. Every studio will have some type of lighting equipment, and again, the specific photoshoot will determine what kind of lighting is needed, and therefore how much space the equipment requires. Here are some standard lighting equipment used:
Overhead lighting: This lighting doesn't take up a lot of space on the ground because it's attached to the ceiling. However, the ceilings should be tall enough to accommodate the lighting. At least 12 feet (3.66 m) tall is the average height needed.
Umbrella lighting: Umbrella lights come in various sizes ranging from 20 inches (50.8 cm) to over 7 feet (2.13 m). The more miniature umbrellas are great for smaller shoots, while the larger ones are best for group shots.
Softbox lighting: This lighting is helpful in many photography studios. Generally, the size of the softbox should be about the same size as the subject. Therefore, a studio might need multiple softboxes in the photography studio.
For more information, check out my other articles:
Cameras and Lenses
A good photography studio will have various cameras and lenses to get the perfect shot. Having multiple cameras and lenses won't take up as much room as backdrops or lighting equipment. However, having the space for these is just as important.
A photography studio might need multiple lenses or various cameras for some shoots and set them up simultaneously. Tripods

are also a standard piece of equipment in studio photography and are favored to use during portrait photoshoots. The average size of a tripod ranges from 40-63 inches (101.6-160.02 cm) tall, with some being taller or shorter.
If you need a tripod for your photography studio, I recommend the Regetek Camera Tripod

from Amazon.com. It's a travel tripod that's compatible with DSLR

and GoPro devices. However, the adjustable stand and lightweight aspects make it a must-have for photography studios, especially those with limited space.
Last update on 2023-09-27 / Affiliate links / Images from Amazon Product Advertising API
Does a Photoshoot Need a Lot of Space?
The amount of space you'll need depends on the photoshoot in question. Several factors contribute to photoshoots, including how many people the studio is photographing and the number of props required for the shoot.
What Photoshoots Require the Most Space?
The photoshoots that require the most space will have multiple people or include more oversized props—the more space provided for the person having their photo taken, the better. While technically a smaller space might be acceptable, being cramped can make people uncomfortable and won't look good for the studio.
Some bigger photoshoots might include:
Group photoshoots: This photoshoot will consist of three or more people and require a more extensive area and backdrop depending on the amount in the group.
Family photoshoots: This photoshoot can have any number of people and may include children. Therefore, space is a necessity.
Photoshoots including props: Any bigger props, such as chairs, archways, or big number signs, will need extra room.
What Photoshoots Require the Least Space?
Many photoshoots that don't include people will require less space, simply because the studio doesn't have to consider other people's comfort. However, some photoshoots of people will also require less space depending on the type of photo taken.
Some smaller photoshoots might include:
Newborn photoshoots: This photoshoot usually only requires a small space unless more oversized props are requested.
Product photoshoots: Photoshoots that focus on product pictures won't take up a lot of space. The studio will usually photograph the product on a small table during the shoot.
Headshots: Headshots only focus on the person from the shoulders up. Therefore, a significant amount of space isn't needed.
Final Thoughts
There are many things to consider when deciding on a size for a photography studio. The amount of equipment needed for the studio and the types of photoshoots that the studio specializes in are the most important things to consider before deciding the size of a photography studio.
A photography studio that is 1,250 square feet (16.13 sq m) or more is preferable in most cases. However, 625 square feet (58.06 sq m) will do the job and might be best if the studio typically does smaller photoshoots.
Sources
Was this article helpful?
Recent Posts
link to How To Allow QuickTime To Access Microphone 🎙️  
QuickTime is a vital app for many Mac users, and if you've recently bought a new microphone, you might wonder how to use it optimally. QuickTime cannot record audio content if it doesn't have...
link to How Do I Test My Microphone? 🎙️
Every microphone leaves a unique signature on the quality of its output. If you're a podcaster trying to melt your way into your audience's hearts, a muddy, distorted recording won't cut it....