For producers and music fans alike, the Recording Studio is the place where the magic happens. One major impediment to music production is having wires scattered throughout the recording studio. Not only are they unsightly, but they also pose something of a health and safety hazard.
Here are ten tips on how to hide cables in a Recording Studio:
Label both ends of your cables.
Run your cables through a Wire Frame Tray.
Run your cables across a Cable Shelf.
Clump a group of cables together using a Cable Sleeve.
Improve aesthetics by investing in a CableBox.
Organize your cables using a Cable Management Rack.
Remove messy clumps of cables by using a CableBin.
Measure the distance between pieces of studio equipment.
Incorporate cable ducting into your studio design.
Leave any spare cabling in place.
If messy and chaotic cabling is the bane of your existence, I would strongly advise you to read the remainder of this article. I'll be discussing all of these tips in greater detail, allowing you to declutter your studio (and mind).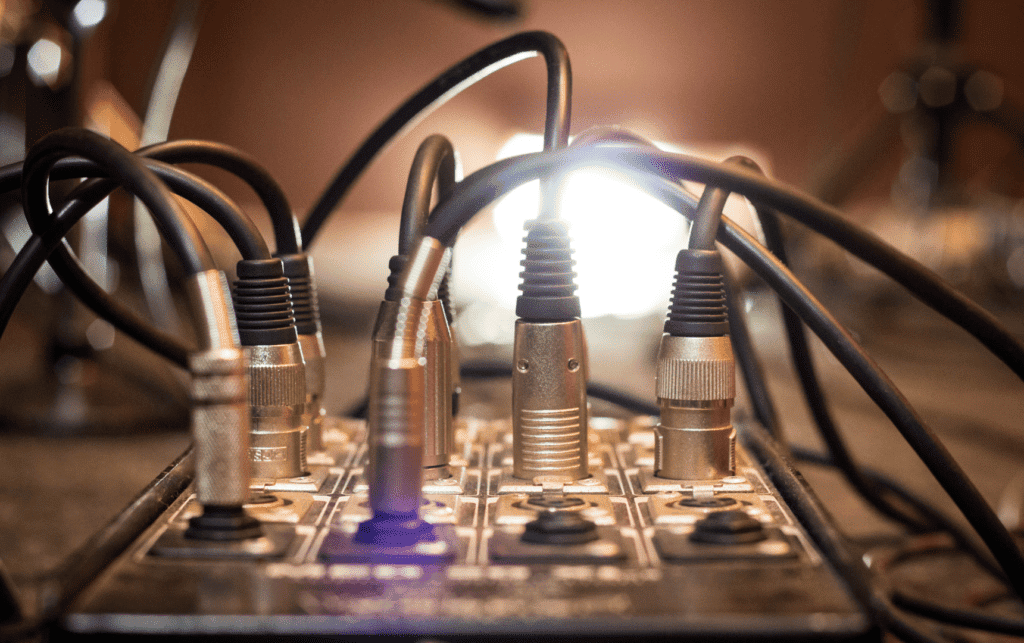 1. Label Both Ends of Your Cables
As equipment is continually added to your studio, the volume of cables will inevitably keep increasing. Unfortunately, more often than not, things get out of control very quickly, and producers usually end up with a clump of wires that seems impossible to sort through.
Labelling both ends of your cables is a simple yet highly effective way of making sense of your cable clutter. By knowing which cable corresponds to a given pair of connectors, you will be able to move that cable out of sight without the fear of disturbing your audio equipment.
2. Run Your Cables Through a Wire Frame Tray
A key component of concealing your mess of wires within your studio is making a conscious effort to organize them neatly. When it comes to organization, this is where a Wire Frame Tray proves to be very effective.
By running your lengths of cable through a Wire Frame Tray, you are confining them to a designated portion of your studio. This means that the cables are run through a section of the studio where they don't create any visual or practical disturbances.
Thankfully, these Wire Frame Trays are not unsightly in their own right. They're rather unassuming, so it certainly will not be a case of replacing one eyesore with another.
There are various configurations and sizes available, ensuring that there will almost certainly be a Wire Frame Tray available that suits your requirements.
To fit them into your desired location, they are fixed in position on one side using 3-inch screws. Therefore, they can swing freely.
You can find a wide variety of Wire Frame Trays like this Under Desk Cable Management Tray (available on Amazon.com) online.
Sale
Under Desk Cable Management Tray, Cord Organizer for Desk, Cable Organizer, Wire Organizer, Cord Management, Cable Management Under Desk, Wire Holders for Desk - Black Cable Tray - Set of 2X 16"
Join more than 100,000 satisfied customers who have already untangled their cable mess with Scandinavian Hub cable trays. Our under table cable management kit is made out of steel, giving it sturdy construction and is the Strongest Kit on Amazon. These under desk wire organizers are fully welded and powder coated for long life.
Easily Mounted: The under desk cord organizer tray installs to the bottom of any wood, MDF, or particleboard desk. You can even mount it on the wall and use it as a cable management wall unit. Not suitable for installation on paper honeycomb-filled desks like some IKEA office desks - Linnmon and Skarsta. We will also email the Installation Guide after your order.
Endless Length Options: The under desk cable tray set contains 10 screws, 2 straps and 2 wire trays, 15.9" (40,5cm) each, giving you a total of 31.8" (81cm) of wire management under desk. Compatible with CubiCubi and Mr Ironstone desks thicker than ¾".
Last update on 2022-12-07 / Affiliate links / Images from Amazon Product Advertising API
3. Run Your Cables Across a Cable Shelf
Cable Shelves are another relatively painless method for decluttering your recording studio. Typically, the use of a Cable Shelf is employed to take cabling away from the floor and bring them up onto the level of the recording equipment, removing a potential hazard in the process.
Cable Shelves are more about organizing your existing arrangement of cables rather than reconfiguring your current cable layout. They can serve as a bridge of sorts, where a large amalgamation of wires are clamped into place. Whilst Cable Shelves may not always necessarily conceal your arrangement of cables. They almost certainly improve the aesthetics of how the cables sit in position.
A Cable Shelf is a straightforward piece of equipment, and there's no need to invest in something overly expensive. The only thing that you should be wary of is that it needs to carry the weight of the cabling. If you want to veer on the side of caution, it could be an idea to reinforce the shelf by running something underneath it (e.g. a plank of wood). 
4. Clump a Group of Cables Together Using a Cable Sleeve
If you find yourself stepping near or over cables every time you set foot in the recording studio, then you should seriously consider investing in a Cable Sleeve. The product is nothing more than what it claims to be, a sleeve through which you run your cables. Nevertheless, often in life, the most simple solutions can prove to be the most effective.
Cable Sleeves serve as another method by which your cables can be grouped together, minimizing the space they occupy either on your studio floor or your workspace. In addition, a Cable Sleeve will protect the cables themselves, but it will remove a legitimate tripping hazard if the cables are run along the studio floor.
They are an extremely convenient solution because they don't have to be fitted or bolted into any part of the studio. They're also cheap as chips, so there are virtually no drawbacks to the humble Cable Sleeve
5. Improve Aesthetics by Investing in a CableBox
If the sight of excessive cables, even neat ones, in your studio drives you insane, then I would highly recommend that you invest in a CableBox. Once again, the name gives the product away, as it is fundamentally a box into which you place your cables.
2 Sets Large Cable Management Box Cable Cord Organizer Hider for TV Computer Wire Hiding with Wire Organizing Accessories, Black Color
Package Includes: This black color cable management boxes set comes with two different sizes. The cord hiding cable boxes have one large and one medium size. The package also includes 100 reusable wire ties that would help you organize the cables and or wires better.
Perfect for Hiding Cord for TV Computer Desk: These large and medium-size black cable management boxes are ideal for storing power strips, cables, and surge protectors in a convenient place. The two different sizes of the power cable management boxes allow you to put larger cable extensions to the smaller scale of cables/wires set up.
Premium Material: The material of these two sizes cable organizer boxes are much more durable, stronger, and more impact-resistant than other plastic ones you will find. The large cable management boxes set is tough enough to manage any sorts of outlets. It safeguards manageable. The cables, wire, and or cords will be effortless to clean
Last update on 2022-12-07 / Affiliate links / Images from Amazon Product Advertising API
Nevertheless, it's a convenient item to have in your recording studio. The CableBox is anything but flimsy, as the construction incorporates a surprisingly solid and resilient material. The box's lid can sit into place, a feature that is surprisingly uncommon for the other cable containers on the market.
The CableBox itself is a rather pleasant-looking item. Of course, let's not get carried away, as it is just a box, but you certainly won't be replacing one ugly feature with another.
In addition, the manufacturers of the CableBox had an impressive attention to detail. The rubber feet at the bottom of the box will ensure that the only thing slipping and sliding in your studio will be the jockey wheels.
You can throw the mess of cables into the CableBox exactly as they are so that your studio will require no reconfiguration.
6. Organize Your Cables Using a Cable Management Rack
A Cable Management Rack can be thought of as a heavy-duty version of a Cable Shelf. If there is a part of your studio where you could be forgiven for thinking you had walked into one of Amazon's Server Farms, then a Cable Management Rack could come in quite handy.
On the topic of server farms, it's worth acknowledging that these racks are actually designed for use in industrial IT applications. Therefore, you certainly won't have to worry about the rigidity or quality of the product.
Thankfully, it's a somewhat generic product, meaning that there are many different shapes, sizes, and colors available. A vast selection of Cable Management Racks is only a click away.
7. Remove Messy Clumps of Cables by Using a CableBin.
The way I would describe a CableBin like Bluelounge CableBin (available on Amazon.com) is something akin to a CableBox on steroids. The beauty of this product is intrinsically linked to its simplicity of the product. It's a bin into which you place your hideous mess of tangled cables, and hey presto, you no longer have to look at them or navigate your way past them.
Last update on 2022-12-07 / Affiliate links / Images from Amazon Product Advertising API
Once again, this product comes with a lid that can be fixed into place, meaning that it's not just sitting there waiting to fall over at a moment's notice.
Within the CableBin itself, there are a plethora of different hooks and struts onto which you can hang your cables and extension cords. Therefore, it's not just a case of throwing all of your essential cables into a holding container, as they can be separated out in whatever way you feel is appropriate.
A helpful but hopefully unnecessary feature of the CableBin is that it's constructed from a variety of plastic that is fireproof. If a disaster did occur, the contents of the CableBin should remain safe. Cynics might suggest that cables would be the least of your worries after a studio fire, but I digress.
8. Measure the Distance Between Pieces of Studio Equipment
You might be relieved to hear that not every piece of advice contained within this article will require you to spend your hard-earned money. Sometimes, a bit of a studio reconfiguration can be more than sufficient to minimize the pain of unruly cabling.
There is nothing particularly ground-breaking about the assertion that moving some of your audio equipment around could help tackle your cable problem. Having said that, you mustn't just blindly move things about in the hope that the cables will fall into place exactly as you would like them to.
What we're looking for is the cabling to lie flat onto whatever surface they run along. The simplest way to do this is to stretch them as much as possible without actually hurting them. So, when you are planning a reshuffle of your audio equipment, the distance between the pieces of equipment should be only a little more than the length of the cable connecting the two. 
Of course, this approach will require some elbow grease, but it will be worth it when your cables become nothing more than an afterthought.
9. Incorporate Cable Ducting Into Your Studio Design
Suffice to say, this advice may not be applicable to many people reading, as it can only be used by people who are either reconstructing their studio or constructing a brand new one. But for those readers who fall into these categories, this is a fantastic long-term solution that will ensure cables never pose an issue for your music production.
One of the most common ways to incorporate cable ducting into the design of your studio is to have a skirting board with a removable lid. Your cables could be run through the hollow of the skirting board, and they would subsequently remain out of sight unless you made a point of removing the lid.
Of course, this is one of many solutions that are on offer. Cable ducting is now a reasonably common consideration in studio design. There is undoubtedly lots of inspiration on hand to anyone who chooses to explore the worldwide web.
10. Leave Any Spare Cabling in Place
For many producers and DJs, the studio is far from a static entity. Pieces of equipment may be continuously being added and removed for various reasons.
Perhaps your cabling may have been neat and ornate when you first put each piece of equipment into its place, but chances are that this is no longer the case if pieces of equipment are continually being removed and reinstalled.
However, planning ahead can be your friend once again, as it will save a lot of stress down the line. What I'm advising you to do is to leave your cabling in place when temporarily moving your pieces of equipment around. You can also check out this video for tips on how to clean up your home studio to improve your studio workflow.
This strategy may require you to invest in some additional cabling to bring with you on the road, but even so, I would suggest that this is a very simple and practical solution that can ensure that your studio doesn't have to suffer every time you move something around. 
Final Thoughts
Unruly cables can be an absolute nightmare for various reasons, detracting from the studio experience and the creative process. However, there are multiple products that can be bought or strategies that can be implemented to remedy the issue.
Cables can be guided more elegantly through the studio, fixed into place in a number of different ways, or even removed from sight altogether by placing them in a specialized container.
All of the products recommended throughout this article are readily available online and should not cost an absolute fortune.
Sources