Streaming is one of the best ways to connect with your audience. However, getting the setup right can prove a challenge, especially when you want to keep certain gear, such as your microphone, away from the camera. Streaming doesn't allow room for post-production tricks, so what should you do?
Here are seven ways to hide your microphone from a stream camera:
Zoom in to exclude the microphone from the frame.
Use a lavalier microphone.
Use an overhead boom microphone.
Use pressure zone microphones.
Hide the microphone in a prop.
Position the microphone behind other gear.
Go live with a smartphone.
The rest of the article will go into detail on each of these approaches. Choose the option that best applies in your situation for the perfect result.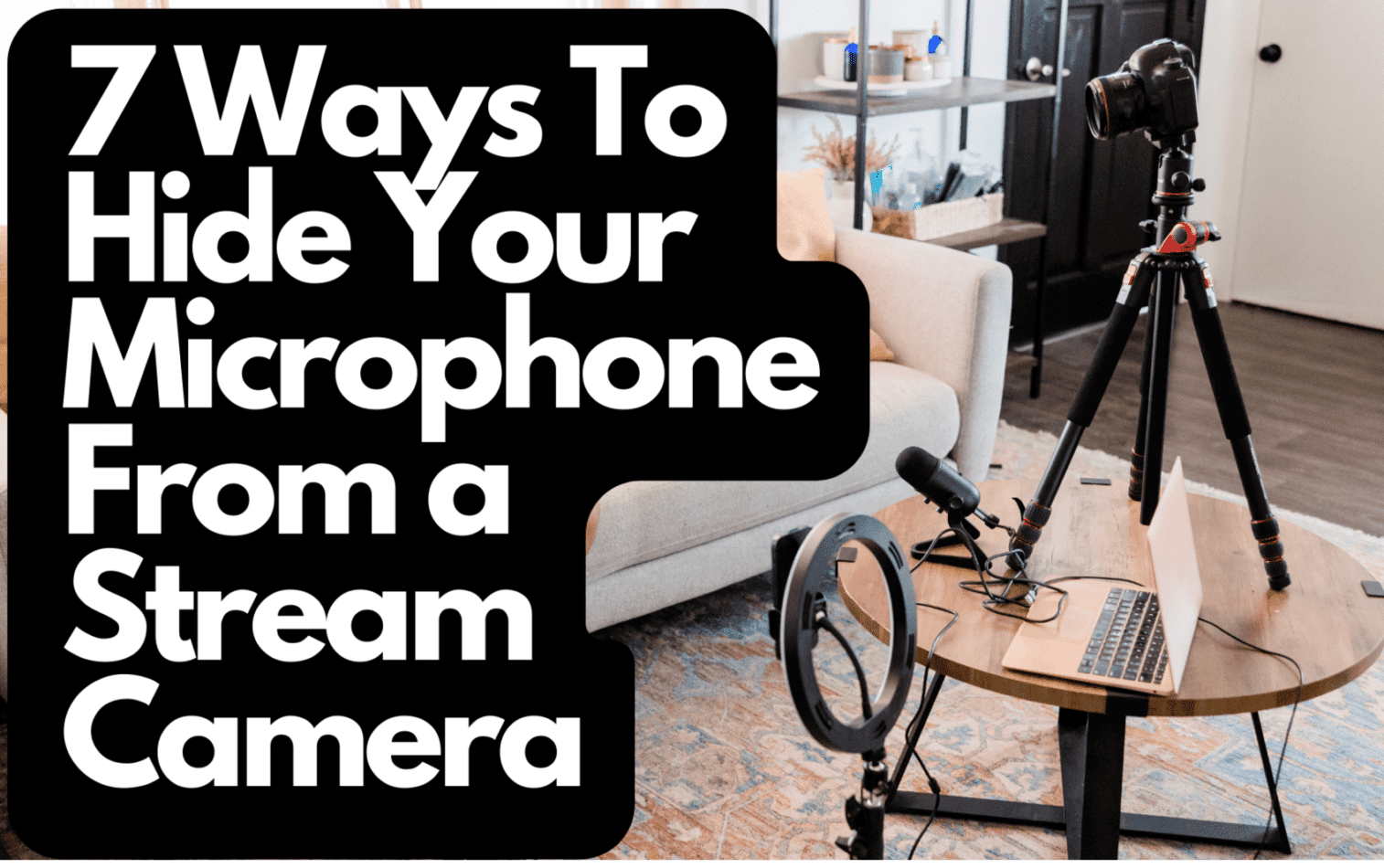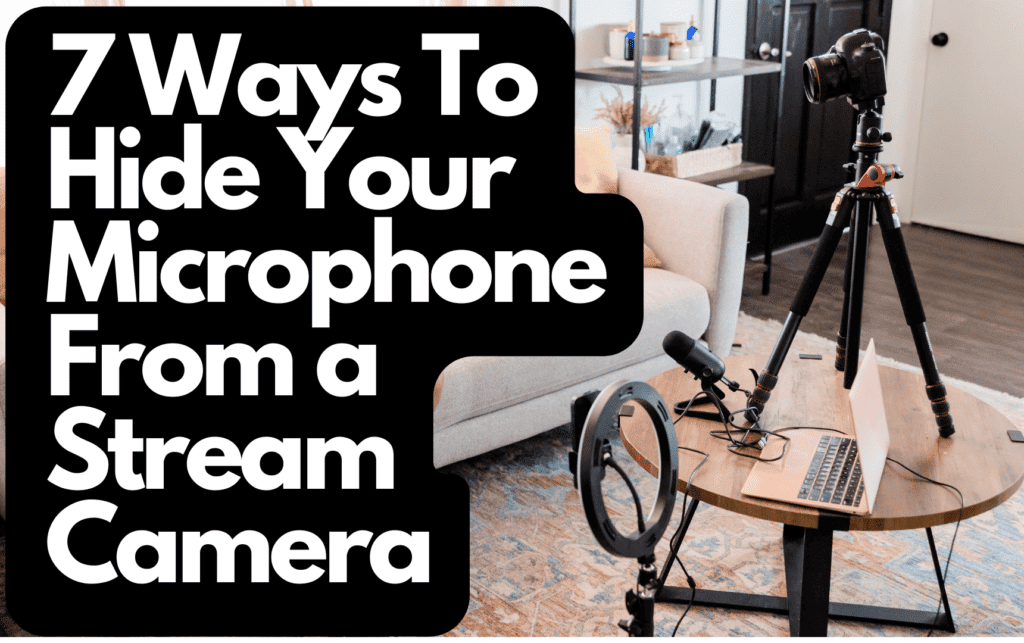 1. Zoom in To Exclude the Microphone From the Frame
If you're streaming in portrait mode, you can zoom into your face until the camera is no longer in the shot. Take some time to get the shot right before you go live.
Depending on the size of your microphone and the placement, you may not need to zoom in too closely.
A microphone on the table or one hanging to the side of the shot is the easiest to cut off by zooming. Don't forget to look at the final look of the zoomed-in shot before you go live.
2. Use a Lavalier Microphone
Lavalier microphones are one of the go-to options for people looking to record videos where it's impractical for the speaker to lug microphones around. The microphones are popular even for static shots (like you get with newscasters).
These tiny microphones typically go on your body. You can hide one of these while live streaming by wearing it underneath your clothes. However, there are a few things to keep in mind if you choose to go with this approach.
Jacket Interference
If you're wearing a thick jacket or multiple layers of clothing, the microphone won't pick up the right range of frequencies. This isn't much of an issue for recordings that will still undergo some post-production as the engineers can boost the sound a bit.
You don't get that opportunity when streaming, so you have to ensure the mic is positioned under the most porous layer of clothing while making sure it stays close to your mouth. You'll need a gaffer's tape here.
The MediTac Extra Heavy Moleskin

from Amazon.com also works well, especially if you intend to stick the mic directly onto your skin. The product will reduce friction and will remain secure in place for long periods.
Ever Ready First Aid Extra Heavy Moleskin - 2" x 5 Yards - 2 Count
COMFORTABLE & PROTECTIVE - Moleskin is used primarily to reduce friction and reduce pressure. The...
CONVENIENT ADHESIVE - One side of the roll is adhesive and can be used to quickly and conveniently...
HOURS OF PROTECTION - Once applied, the moleskin will remain secure and in place for several hours.
Last update on 2023-12-08 / Affiliate links / Images from Amazon Product Advertising API
Rustling Sounds
One downside to having your microphone under your clothing is that your clothes may rub on the mic to create a rustling sound.
You've probably heard these in some live streams. You can avoid it by making sure your microphone is positioned on a part of your body that's least likely to move during your streaming. So, if you move your neck around a lot while recording, it's best to have the mic away from your collar area.
Consider moving it down towards your mid-chest region.
When you've installed the mic, go through the typical movements you're likely to make while streaming and check for any rustling on your headphones. Adjust the mic if necessary.
Consider Wiring Your Hair
A microphone like the Rode Professional-Grade Wearable Microphone

from Amazon.com can fit snugly in your hair if you have a full head.
Sale
Rode Lavalier GO Professional Wearable Microphone,Black

A professional-grade wearable microphone designed to perform excellently in any broadcast...
The 3.5mm TRS connector pairs perfectly with the RODE Wireless GO and most recording devices with a...
Features a discreet 4. 5mm omnidirectional microphone that delivers crystal clear audio in all...
Last update on 2023-12-08 / Affiliate links / Images from Amazon Product Advertising API
It's lightweight, so you won't have to worry about discomfort. This approach works great because it eliminates the rustling sound problem, and hair won't inhibit frequencies as a typical dress shirt or t-shirt would.
This trick has long been used in theater, and if you can get the wiring right, it'll work for your streaming. However, be sure to check out how the mic area looks in your video shot. If it's sticking out, the purpose has been defeated.
3. Use an Overhead Boom Microphone
A boom microphone is a powerful unit that's very much loved in the movie industry. The microphone is always near the speaker(s) but just outside the shot frame as it's held in place by the boom.
The setup is portable and easy to reposition without undergoing a lengthy process. It's basically a shotgun microphone held in place with a long pole. It works because shotgun microphones are very directional.
However, before you splash the cash on this setup, there are a few things you should keep in mind. Firstly, you'll need a boom operator.
The hourly rates for hiring one will range between $20 and $100

. Can you afford to hire one for all your streaming sessions? If you hold streaming sessions 3-4 times a week and each one runs into a couple of hours or more, that's around $160-$800 or more per week.
Secondly, you may need a dedicated camera operator. Most boom operators have to work with the camera operator to ensure the microphone is out of the camera frame while positioned in the best place to capture voice.
You can set up your microphone and camera without dedicated operators if you have the right gear, but be prepared to put in a lot of time into thoroughly checking out everything before you go live.
4. Use Pressure Zone Microphones
Pressure zone microphones or boundary microphones seamlessly blend into your tabletop. They are designed to look like everyday items or inconspicuous objects.
For example, the Nady CBM-40X Condenser Boundary Microphone

on Amazon.com looks like a mouse pad, while the Audio-Technica PRO 44 Cardioid Condenser

, also on Amazon.com, looks like a mouse.
Nady CBM-40X Condenser Boundary Microphone Full Frequency Response For Recording Performances, Interviews, Courtroom Proceedings, Meetings, Conferences.

Ideal for a variety of applications such as recording choirs, orchestras, theatrical performances,...
Condenser boundary microphone with a cardioid pickup pattern and full frequency response 30Hz-20kHz...
Built with rugged a die-cast housing on rubber padding to minimize mechanical coupling and surface...
Last update on 2023-12-08 / Affiliate links / Images from Amazon Product Advertising API
Audio-Technica PRO 44 Cardioid Condenser Boundary Microphone

Low profile for minimum visibility
Wide-range condenser element with low-mass diaphragm for superior performance
Self-contained electronics eliminate need for external power modules
Last update on 2023-12-08 / Affiliate links / Images from Amazon Product Advertising API
Both products are designed with a broad pickup pattern, allowing them to deliver completely natural sounds, unlike what you'd get with handheld or lavalier mics.
Having one of these reduces the possibility of the camera picking them up, especially if the camera is mounted behind your table.
Be sure to put the microphone as close to you as possible (up to the position the camera won't reach) to ensure you won't need to increase the gain required to get an excellent recording.
The right position will also reduce the probability of picking up background noise and similar sounds.
If you have someone else on the stream with you, it's best to use two of these. You both won't speak at the same volume level—even if you position the microphone dead in the center of the seating arrangement. Having separate pressure zone microphones ensures you'll both speak at your natural voice levels without losing voice clarity.
5. Hide the Microphone in a Prop
Do you have any props on your streaming set? A fancy coffee mug or a pair of sunshades can hold a wireless microphone. None of these will look out of place in front of you while streaming, and the microphone will do its job with little interference.
If you put the microphone in a mug, tape the mic to the inside to hold it in place, and make sure you don't cover the mug. For a pair of sunglasses, you'll have to tape the mic to the inside of the glass and then make sure the camera can only capture the exterior part.
6. Position the Microphone Behind Other Gear
Depending on the position of your camera, you can hide your microphone behind other gear in your streaming setup. For example, if you have a lamp on the table, it could serve as the perfect hiding spot for a lavalier mic. You may also hide a mic behind a stack of books, etc.
The problem with this approach is that you have to position the tip of the mic so that it can still capture your voice without sounding hushed up or forcing you to speak louder than normal before the mic can pick up the sound. If you have a powerful microphone that can work well in this setup, you should explore it.
7. Go Live With a Smartphone
Today, mobile phone cameras are more powerful than they've ever been. The microphones on them are also very powerful, picking up sounds in a manner that rivals some high-end standalone microphones. Many Vloggers started their journey with just their smartphone on a stand.
You're technically not hiding any microphone, but the built-in camera will be out of sight, achieving the same goal.
The Samsung Galaxy Note 20 Ultra

and the Apple iPhone 12

(both from Amazon.com) are excellent devices that are now a year old but can deliver excellent video recording capabilities.
Sale
SAMSUNG Galaxy Note 20 Ultra 5G Cell Phone, Factory Unlocked Android Smartphone, 128GB, S Pen Included, Mobile Gaming, 6.9" Infinity-O Display Screen, Long Battery Life, US Version, Mystic Bronze

S PEN & SAMSUNG NOTES: Pen precision meets PC power with S Pen & Samsung Notes..Form_factor :...
INTELLIGENT BATTERY & SUPER FAST CHARGE: All-day intelligent battery learns how to optimize battery...
DISPLAY & GAMING: Breathtaking screen refresh rate, adaptive Dynamic AMOLED 2X display, Galaxy 5G...
Last update on 2023-12-08 / Affiliate links / Images from Amazon Product Advertising API
Sale
Apple iPhone 12, 64GB, Blue - Fully Unlocked (Renewed)

This phone is unlocked and compatible with any carrier of choice on GSM and CDMA networks (e.g....
Please check with your carrier to verify compatibility.
When you receive the phone, insert a SIM card from a compatible carrier. Then, turn it on, connect...
Last update on 2023-12-08 / Affiliate links / Images from Amazon Product Advertising API
Their built-in mics are so powerful that you'll not need an external option. If you're recording in a noisy environment and need an external mic, you can combine your smartphone with a Vlogging kit.
The Docleen Vlogging Kit

and the Movo Smartphone Video Kit

with Shotgun Mic (both from Amazon.com) are quality options you should consider here. They're both easy to use and come with all you need to generate excellent sound and video while streaming.
Last update on 2023-12-08 / Affiliate links / Images from Amazon Product Advertising API
Movo Smartphone Video Kit with Shotgun Mic Mobile, Phone Grip, Video Camera Tripod, LED Camera Light - Movo VXR10 Shotgun Microphone for iPhone, Android Cell Phones, DSLR Camera Accessories

CRYSTAL CLEAR AUDIO: VXR10 camera microphone captures crisp, directional audio for your videos
MOBILE PHOTOGRAPHY ACCESSORIES: An adjustable phone holder and lightweight tripod for camera give...
1-YEAR WARRANTY: We've got your back. Our products are designed to ease your technical woes, not...
Last update on 2023-12-08 / Affiliate links / Images from Amazon Product Advertising API
What's The Best Way To Hide A Microphone From A Stream Camera?
The best way to hide a microphone from a stream camera is one that removes the microphone from the spotlight without hampering the quality of the audio captured.
For most people, the best option is to use a powerful mic and angling the camera to exclude it from the shot. Others use a lavalier mic when such a camera setup isn't practical, while those who can afford it go with an overhead boom mic

setup.
Approaches like hiding the microphone in props or behind gear will likely deliver the lowest quality results.
Do You Need To Hide a Microphone From a Stream Camera?
You don't need to hide a microphone from a stream camera. If you don't have any reason for hiding the mic and the design isn't too intrusive, it can fit nicely in the video as you stream.
People choose to hide mics when they don't want to spend time fielding questions about the mic from the audience. In some cases, it's just about forcing a paid product placement. If you have millions of followers, you may generate extra income by hiding your microphone until you get sponsorship from a company.
Where none of these scenarios are applicable, and you don't mind discussing your mic setup, there's no special benefit to hiding your microphone. The most popular streamers on the web have their mics showing prominently in their videos.
Granted, some of them have already landed sponsorships, but if the audience is already used to seeing mics on live streams

, you don't need to worry about showing yours.
Top Streaming Tips To Keep in Mind
You need to do your best to give your audience the best possible experience with each streaming session. It's the only way to build a following. Here are top tips you can work with:
Maintain a simple setup. Stick to the basics. With every extra piece of equipment you add, you're making your setup more complex. If a piece fails, you could be grounded for a while. A simple setup will help you avoid technical problems.
Keep backup equipment on hand. Even after your best efforts, there's always the possibility that your equipment will fail at the worst possible time. Making sure you have backups for everything can save you time and energy. You need backups for mics, cables, encoders, monitors, etc.
Confirm your bandwidth. You need to test your upload speed and check your bandwidth allowance to ensure you can transmit your stream to your intended audience.
Test everything. Give yourself enough time before the live event to test everything. Your audio is the focus here, but you shouldn't ignore other elements like lighting. Take a look at a practice recording to be sure everything checks out. Tweak as necessary to ensure everything works well.
Don't fixate on perfection. There's no need to compare your streaming results to the output from a multi-million dollar establishment. As long as you can put out clean audio and video, your audience will enjoy the session.
Sources
Was this article helpful?
Recent Posts
link to How To Allow QuickTime To Access Microphone 🎙️  
QuickTime is a vital app for many Mac users, and if you've recently bought a new microphone, you might wonder how to use it optimally. QuickTime cannot record audio content if it doesn't have...
link to How Do I Test My Microphone? 🎙️
Every microphone leaves a unique signature on the quality of its output. If you're a podcaster trying to melt your way into your audience's hearts, a muddy, distorted recording won't cut it....