Guitars and Metal are practically synonymous with one another, and few bands are as synonymous with the genre as Metallica.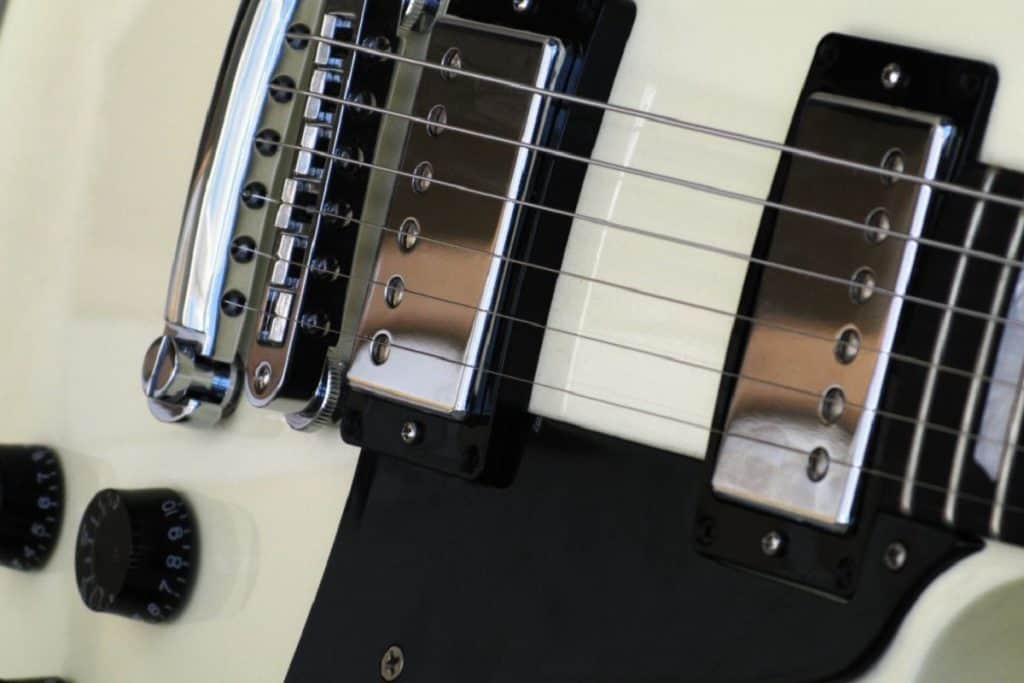 While heavy metal might outdate these iconic artists by quite a few years, Metallica was amongst the new vanguards of heavy metal that brought the genre kicking, screaming, and head-banging into the 1980s, and brought subgenres like thrash metal to a wider audience.
One of the figures who has been with the band since its founding, and one of the reasons they became so popular in the first place, is its lead guitarist, and probably one of the greatest guitarists in all heavy metal, singer frontman of the band, James Hetfield.
And with such an iconic style, both in rhythm and choice of instruments, you can bet good money on at least a few guitar makers and manufacturers taking notes.
Our case in point today: the ESP LTD Iron Cross.
But while many mass-produced instruments may attempt to replicate the iconic sound of the all-time greats, only to fall short of the real deal, you'll be surprised just how close this particular guitar comes to matching one of the greatest metal guitarist's sensibilities, especially in a model that is widely available to most people.
Don't believe us? Then follow us through this overview of this incredible piece of music-making gear, as we show you just some things this guitar is capable of.
Features
The guitar of choice that James Hetfield often takes on-stage with him for most of his professional career has been Gibson-style ESP guitars, albeit with a whole list of extra modifications that help give him one of the best-performing instruments a guitarist could ask for.
So you had better believe that any manufacturer is going to take at least a few extra notes from those specs, and that's exactly what the ESP/LTD Iron Cross does spectacularly.
This particular design is a humbucker solid-bodied electric guitar, meaning that it is designed to help the guitarist playing it avoid that pesky electrical hum that you can sometimes get in single-coiled guitar designs, perfect for getting the noise that the guitarist wants to get out of it, rather than having to compensate and deal with a frustrating sound.
This makes it the perfect guitar to play not just heavy metal, but also plenty of the genres that have inspired and influenced it and vice-versa, especially styles like hard rock.
ESP LTD Iron Cross James Hetfield Signature Electric Guitar with Case, Snow White
Designed for James Hetfield, frontman of Metallica and one of the most highly respected rhtyhm guitarists
Based on James' custom design, with set-neck construction for stability and smooth access to the highest frets
Features a mahogany body with maple cap, a 3 pc. mahogany neck with ebony fingerboard and 22 XJ frets with an Iron Cross inlay
Last update on 2022-10-05 / Affiliate links / Images from Amazon Product Advertising API
Build Quality
A guitarist only needs to take one glimpse at this fine piece of engineering to know that they're working with a piece of art, and not just the musical kind either.
Being made from a mahogany main body, and the cap being sculpted from maple, this is a guitar that doesn't just look great but is made from materials that are ideal for transmitting the harsher tones of genre music like rock and hard, and especially heavy metal (as you would hope).
Both the board and fret allow your hands to glide effortlessly across the instrument, making it the perfect combination of aesthetics from its rare materials and ergonomic design that is perfect for intense solos.
Plus, the little touches of detail that both add to the style of this guitar, as well as the nods to Hetfield himself, such as the inlay of an iron cross at the 12th fret, not a painted on detail mind you, a real, cut-from-metal iron cross, let you know exactly who this guitar is hearkening back to, as well as the kind of music that you can expect this guitar to play best.
Sound
The set-in neck construction of this particular guitar model doesn't just help create what looks like a seamless piece of crafting, but also helps improve the tonal transfer, with the vibrations of the ebony-sculpted fingerboard and 22 jumbo frets being able to transfer the sounds they make even better.
What helps give this electric guitar a sound that rivals its inspiration is the pickup system, an EMG James Hetfield that is inspired by the artist's signature combination of EMG81/60 that Hetfield himself has become known for.
This has a pretty noticeable effect once it is plugged into an amp, creating something that sounds pretty different from the models that James Hetfield drew inspiration from and modifications from in the first place.
Add that to the output of the neck pickup, as well as the burning-hot attack that you get from the bridge as well, and you have the perfect instrument for heavy metal.
Final Thoughts
In short, if you are a fan of heavy metal, and Metallica's Thrash metal specifically, and you have the cash to do so, you owe it to yourself to try and find one of these guitars.