One imperative tool you need when producing audio is a digital audio workstation alongside recording equipment, such as microphones and headphones. Otherwise known as DAW, this software gives you the ability to edit audio, apply sound effects, and add voice-overs. Reaper and Audacity are two of the commonly used free DAW software today, but which one is better?
Reaper is better than Audacity when it comes to free software. Reaper can be used universally across all operating systems and has all the audio features needed to create professional audio. Plus, it supports video editing for voice actors who sync their audio with clips.
This article will compare the DAWs Audacity and Reaper. I will highlight some of their most essential features and which would work better for voice-overs.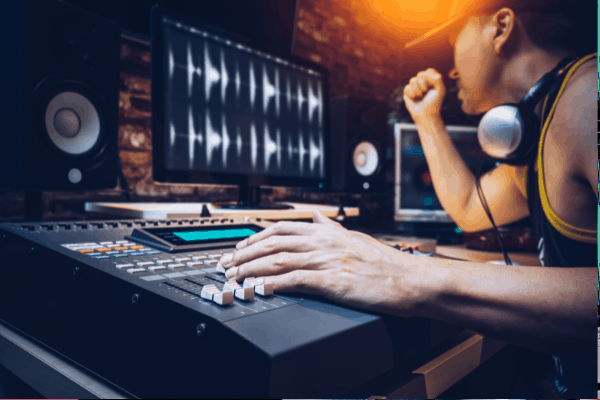 Reaper vs. Audacity for Voice-Over
Reaper and Audacity are two of the most popular voice-over software out of the thousands of high-quality ones on the market today. However, before comparing the two, there are a few things to think about while assessing voice-over software:
Upgrades. You should choose software that updates itself regularly to have access to the most modern audio editing tools.
Ease of use. Choose software that is simple to use because it will improve your experience, and your work will flow more smoothly.
Grade. Examine the benefits and downsides of each software choice before selecting one. Also, be sure the program you choose is compatible with your recording device and operating system.
Video playback support. If you want to have a long, diverse career that includes anything from business to animation, investing in a DAW that can record your voice alongside a video is worthwhile.
Both Audacity and Reaper are high-quality tools with built-in effects and plug-ins that can help you improve your recordings. However, you'll probably only use one of these for your regular recordings, so pick the best one for your needs.
Is Audacity Good for Voice-Overs?
Audacity is good for voice-overs because it is user-friendly and easy to use as it allows you to choose the appropriate microphone as an input and then hit the Record button easily.
Its toolbar works in the same way as a conventional cassette recorder. There are options to record, pause, stop, play, back skip, and forward skip.
You can also upload a previously recorded audio file for editing.
In your career, you'll use Audacity to cut your voice recordings, clip out silence, change volume, and much more.
It's also easy to eliminate background noise from your audio recording.
The program lets you create noise profiles that teach the software to distinguish between unwanted and desired sounds in your recordings. The program will then eliminate all of the annoying background buzzes.
Another valuable tool for voice-overs is the ability to enhance and equalize your sound in Audacity. You can even elevate certain sections while lowering others.
For more information, check out how to make your voice sound better in Audacity.
Is Reaper Good for Voice-Overs?
Like Audacity, Reaper is also good for voice-overs, with advanced features.
When you first launch Reaper, you'll be in the Track Control Panel of a new, empty project. To begin recording, you must first create and arm a track.
Once completed, the recording is simple. Simply pressing the R key will result in the click start that indicates that Reaper is recording.
Reaper's editing is non-destructive and done in real-time. You can listen to your voice recording while adjusting the EQ, noise gate, gain, and other parameters.
In the case of a voice acting job, there may be individual lines. Reaper allows you to display these different areas as separate files as needed.
Reaper may also help you save time. Instead of using keyboard shortcuts, the Auto Trim feature enables you to quickly divide one continuous audio file into many distinct audio pieces in a track for further editing.
And suppose you wind up with several voices on one track. In that case, Reaper enables you to color code various regions to differentiate them.
Which Is Better for Voice Overs?
Reaper is better for voiceovers since it allows you to quickly create your own macros and key commands to save time editing. It's also straightforward to set up batch exports, which also saves time and effort.
Reaper also allows video playback and editing to a limited degree. You may find this feature helpful as your career progresses.
Its customizability, extensive functionality, and low cost make it an excellent option for voice actors.
However, Reaper does require you to buy a license at some time, which may be inconvenient for some.
You should note that purchasing a DAW is unnecessary since just the most basic editing capabilities are needed for voiceovers. Audacity is one of the most straightforward audio editors available, and it is excellent as a completely free choice.
Audacity includes many of the tools required for a simple audio edit, such as:
EQ
Cutting tool
Fade ins and out
Volume automation
If you're on a strict budget and need to improve your recorded speech by removing breath sounds and other unwanted noises, Audacity is an excellent choice.
What Is Audacity?
Audacity is a freeware with a strong recording engine that allows you to capture audio and save it for further modification easily. You may save the track in MP3, AIFF, or WAV format.
This saves you the time it would take to convert the file to a suitable format.
The program is Windows, Linux, and Mac compatible. In addition, it is constantly updated to operate with the most recent versions of these operating systems.
What Are the Features?
The Live Recording function is a significant benefit of this DAW. While recording, you can interact with the audio using the DAW, and your modifications will be stored.
If you are dissatisfied with any of the changes, you may reverse them using Audacity's undo function.
Another feature of Audacity is multi-track recording and editing, which allows the user to work with several recordings simultaneously.
There are also more sophisticated features, such as:
Reversing audio
Bass and treble settings
EQ curves that have been pre-programmed
Audio may be recorded in either 16-bit or 24-bit resolution.
Auto-Duck tool that lets you add voice overs to an existing track.
Audacity does not have an official app in the App Store or Google Play, but you can download it from their website on any device.
One of the most significant drawbacks of Audacity is the lack of a visualizer, which would have been nice for those who prefer using them.
What Is Reaper?
Reaper is a 15-year-old digital audio workstation. The software enables the recording of live audio and virtual instruments and the use of a complete mixing console and real-time notation editing. Additionally, it has video scoring.
Unlike many rival DAWs, Reaper allows you to customize the menus, toolbars, and macros, as well as the interface's appearance and color palette.
Regrettably, Reaper's interface is complicated and requires study, making it the polar opposite of Audacity. However, there are many online tutorials available to make the learning process smoother.
After a 60-day free trial period, the software costs $60 for a reduced license and $225 for a commercial license.
Why Should You Choose Reaper?
You should choose Reaper because it is lightweight, it starts and runs quicker than other DAWs, and it has fewer problems and crashes. Reaper is capable of exporting in multiple formats such as:
You also can export WAV at 64 bit FP bit depth which is not available in many DAWs.
Reaper allows users to synthesize, compose, sample, arrange, and master any audio project.
Users can record multiple takes and loop audio. You can also disarm tracks without stopping playback.
Reaper offers effect chaining, MIDI controller, and remote editing within another computer.
While it does combine with many plug-ins, combining them with Reaper can sometimes be helpful and result in better audio.
Which Is Better Overall?
Overall, Reaper is better than Audacity. While Audacity is excellent, particularly given that it is entirely free, it is worthwhile to pay for a professional DAW that works well with all leading operating systems and has several time-saving features, such as Reaper.
Furthermore, Audacity does not allow video playback, which may be an issue depending on your professional ambitions.
In addition to creating your themes, you can customize the Reaper UI to meet your specific requirements. There are no restrictions on how programmable Reaper is.
Furthermore, unlike Audacity, Reaper is renowned for its helpful community that gives timely guidance.
Final Thoughts
Although the DAWs mentioned above are oriented toward music creation, they all offer rudimentary audio editing capabilities for voiceovers. Reaper may be somewhat superior for audio recording, but it comes at a cost.
There are options in Audacity that can help you get a user experience comparable to what Reaper can offer. Serge M has a video with setup recommendations for better Audacity voiceovers:
Otherwise, you should strongly consider trying out Reaper and, if satisfied, upgrading to the licensed version.
Sources