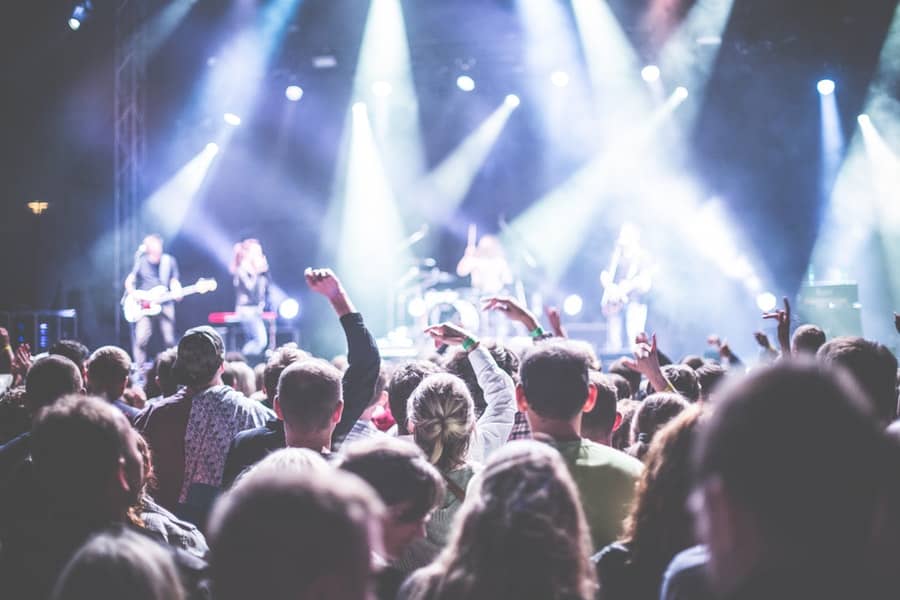 Recording songs or music on a smartphone is the most convenient way today; almost everyone will do it with their smartphone if they want to record something.
We all have a Smartphone right in our hands all the time, plus it's easier and quicker to use it to record something.
The recorded track won't be a good quality track. You can expect something that would come out of a phone recorder.
Yes, we can make things better, and we are going to talk about it. Still, it won't be that of high quality. And remember, the built-in microphones are not meant for recording quality tracks.
The microphones on your Smartphone won't be able to take in high bass, frequencies, etc., which are common things at a concert. We need to do something about that too.
But recording good quality concert audio on an iOS device (such as iPhone or iPad) or Android device is possible.
There are several ways that you can record concert audio using your Smartphone. It can be on any device.
You can record clear and good quality sound by making minor changes to how you do it.
Best Ways to Record Concert Audio
1. Using only your Smartphone
In this method, you are going to use only your Smartphone to record the concert audio. If you want to record high-quality vocals only then, it's is pretty straightforward with a voice recorder app.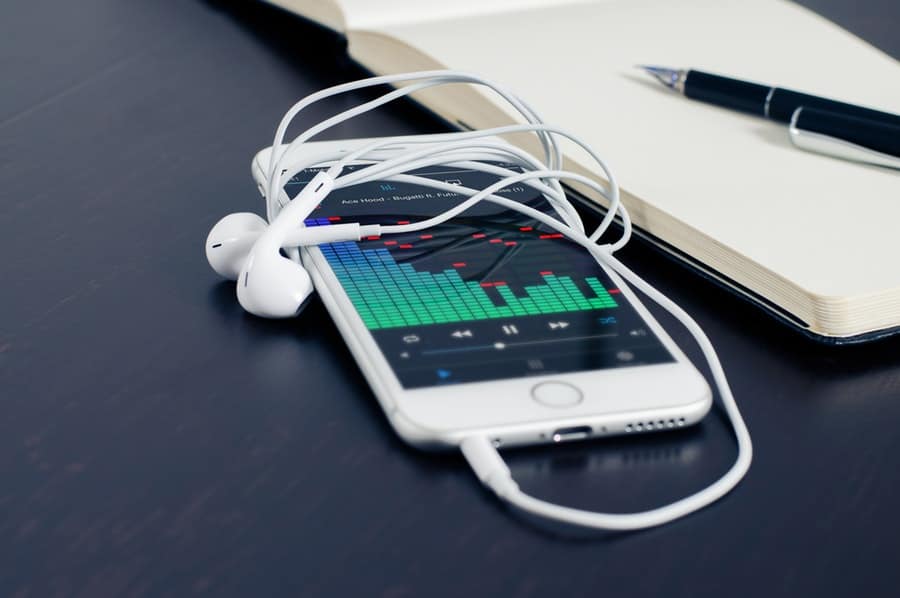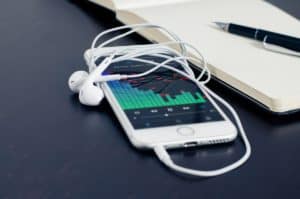 But in this case, it's a bit tricky and difficult to get the best out of it.
The quality of the track will depend mainly on the device you are using to record with. If you have a high-end device, then it's definitely going to be better than low-end ones.
Having a high-end device will give you a bit of an advantage here. I highly suggest a smart phone such as Google Pixel 5 or Samsung S21. With these Android devices, you can easily download an audio recording app from the Google Play store. As I have mentioned earlier, the built-in microphones are not meant for recording high basses and frequencies.
Google Pixel 5 - 5G Android Phone - Water Resistant - Unlocked Smartphone with Night Sight and Ultrawide Lens - Just Black

New, unlocked Android phone gives you the flexibility to change carriers and choose your own data...
5G capable [2] smartphone gives you an extra boost of speed so you can download a movie in seconds,...
Charge your cell phone wirelessly [6] or use it to wirelessly charge other Qi-certified devices [7]
Last update on 2023-05-30 / Affiliate links / Images from Amazon Product Advertising API
Samsung Galaxy S21 5G | Factory Unlocked Android Cell Phone | US Version 5G Smartphone | Pro-Grade Camera, 8K Video, 64MP High Res | 128GB, Phantom Violet (SM-G991UZVAXAA)

Pro Grade Camera: Zoom in close, take photos and videos like a pro, and capture incredible...
Sharp 8K Video: Capture your life's best moments in head-turning, super-smooth 8K video that gives...
Multiple Ways to Record: Create share-ready videos and GIFs on the spot with multi-cam recording and...
Last update on 2023-05-30 / Affiliate links / Images from Amazon Product Advertising API
Therefore, when you record the concert audio, all those loud sounds will get distorted. Now, to prevent this from happening, all you have to do is cover up the microphone(s) on your phone.
You can use your fingers to cover it, or tape will do the job fine. I think using a ticker-tape will reduce the distortion better than thin tape. Figure out the best thickness yourself.
As the sounds from the concert will be high enough to be recorded by the mic even if it is covered with the tape while reducing the distortions. If you leave this out, then it will be a complete mess.
Another thing that will annoy your records will be the noise of the crowd. It will completely ruin your recording if it overpowers the sound of the concert.
You are using only your Smartphone to record, and the only thing you can do is go early and take the best suitable place for recording.
When I say the best possible place, I mean where you can record or hear the concert sound louder than the crowd's noise.
Note: Before you do anything, check if you can record the concert or not. There are times where recording concerts are banned. Don't worry; you can just hit the record button and keep it in your pocket.
2. Using an external Microphone
You can add an external microphone to your setup and use it. Recording the concert audio this way will give you the best quality track possible.
It can be a Bluetooth Microphone or a USB microphone that you can connect to your Smartphone. They are readily available at online stores, plus they are not expensive at all. You may need to purchase an additional USB adapter with a USB microphone to connect your microphone to your mobile phone.
Anker USB C Adapter (2 Pack), USB C to USB Adapter High-Speed Data Transfer, USB-C to USB 3.0 Female Adapter for MacBook Pro 2020, iPad Pro 2020, Samsung Notebook 9, Dell XPS and More Type C Devices

Anker Advantage: Join the 55 million+ powered by our leading technology.
Space for Two: The ultra-slim form factor ensures there's space to plug two adaptors side by side...
Strong and Stylish: Finished in Space Gray and constructed from premium scratch-resistant aluminum,...
Last update on 2023-05-30 / Affiliate links / Images from Amazon Product Advertising API
Apple Lightning to USB Camera Adapter

With the Lightning to USB Camera Adapter, it's easy to download photos and videos from your digital...
After you connect the Lightning to USB Camera Adapter, your iPad or iPhone automatically opens the...
When you sync iPad or iPhone to your PC or Mac, the photos and videos on your iPad or iPhone are...
Last update on 2023-05-30 / Affiliate links / Images from Amazon Product Advertising API
SmartEra USB Female to 3.5mm Jack Male Audio Converter Adapter (Black)

High Fidelity. Anti-interference. Good Signal.
USB 2.0 female connect the Flash Disk, can read the mp3 form Flash Disk.
3.5mm male plug in the car AUX port.
Last update on 2023-05-30 / Affiliate links / Images from Amazon Product Advertising API
A condenser microphone or shotgun microphone would provide better sound quality but would potentially be impractical.
Just get one that you can connect with your Smartphone and use it. I can bet you that the recordings will be much better than the above.
But, before you buy the microphone – remember you are going to use it inside the concert. You will need a small microphone and can take in high basses, frequencies, loud sounds, etc., without distortions.
You can use something like Lavalier microphones for this as they are small, and you can hide them in your collars, pockets, or other parts.
There are unidirectional, omnidirectional microphones, and you should use a unidirectional one to record the concert audio.
As unidirectional microphones will pick up more sound from one direction and you can make it face in the concert sound direction.
This will pick up the concert sound louder than the noise from the crowd.
And for the info, there are different types of microphones

for different purposes. Such as – you need different microphones for recording vocals and drums separately.
I highly suggest you look up the different types of microphones

before you get one for yourself to get a better understanding of it.
3. Using Stereo Microphones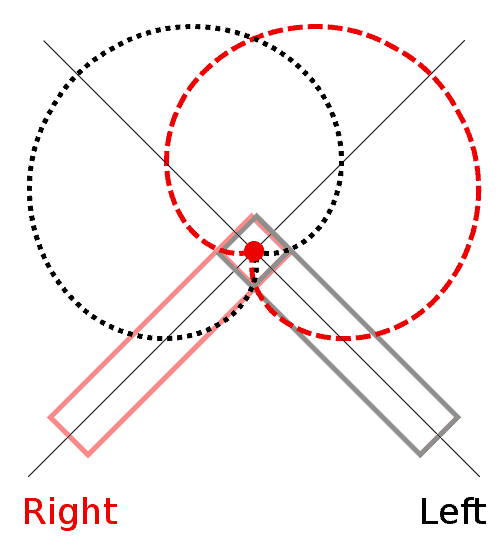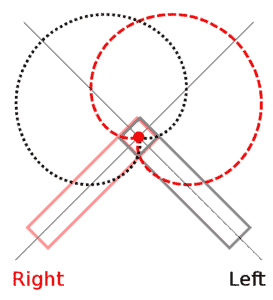 You might want to step up the game a bit and try to record the concert in stereo. Doing this is not that hard, and you could do it in two ways.
The first is using two microphones and setting them up to record stereo sound. And the other is to record using dedicated stereo microphones that can be connected to your Smartphone.
In the first one, you have to use two microphones and set it up using the Coincident Mic Technique

; this setup will help you achieve the stereo nature.
You will probably need a microphone with a cardioid pick-up pattern, as you will record loud sounds.
And for the latter, you will use a dedicated stereo microphone while recording, and it is way better than the first one.
You can find various types of stereo microphones at the market, and all you have to do is get a good one that will work with your device.
One of the most common and popular stereo devices for Apple IOS products is the iM2 Stereo Microphone from TASCAM.
It is a well-built and compact stereo microphone that you can just plugin on your device to start recording. The best part is that it is small, and the gain level can be adjusted too.
You can find other variants with slightly different prices. However, this device is not available for Android devices, and you have to opt for something like the Olympus Stereo Mic.
Sale
Olympus ME-51S Stereo Microphone

LCD display during recording
Fantastic quality stereo recording
Voice Recorders
Last update on 2023-05-30 / Affiliate links / Images from Amazon Product Advertising API
For more information, check out this article on whether you can record vocals with a iPhone.

Was this article helpful?
Recent Posts
link to How To Allow QuickTime To Access Microphone 🎙️  
QuickTime is a vital app for many Mac users, and if you've recently bought a new microphone, you might wonder how to use it optimally. QuickTime cannot record audio content if it doesn't have...
link to How Do I Test My Microphone? 🎙️
Every microphone leaves a unique signature on the quality of its output. If you're a podcaster trying to melt your way into your audience's hearts, a muddy, distorted recording won't cut it....