If you're a musician and ready to start recording your music, a complete recording studio might be a bit daunting. Maybe even the thought of buying a good computer and microphone is out of your budget right now, but are there cheaper ways to record your music? Can you do it on your phone?
You can record music on your phone, no matter what kind of smartphone you own. iPhone and Android phones have built-in audio recorders, and there are many apps available (i.e., Easy Voice Recorder & GarageBand) for recording and editing. With the right apps and mics, you can record professionally.
In the rest of this article, we'll tell you how to record music on your smartphone and make it sound more professional. We'll also reveal the best free audio recording and editing apps and which microphones and gadgets will work to make your music sound great on a smartphone.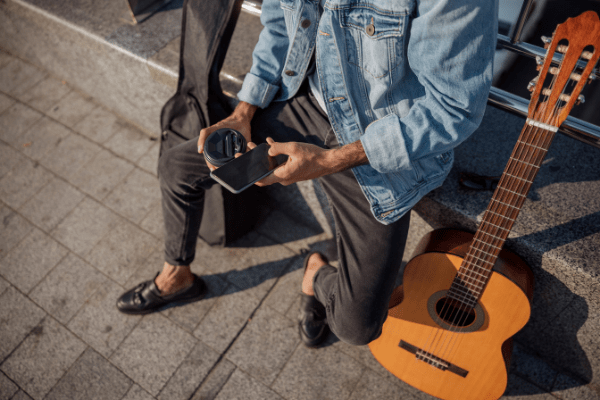 Can You Record Music on a Smartphone?
It's relatively easy to record basic audio on a smartphone. Most phones come with a built-in voice memo or recording app, and it's simple to hit record, play, and sing your music, and share your recording to your computer or another app. It's the quickest way to record a demo.
If you want a more professional recording sound, of course, the voice memos app isn't the most effective way to do it. You can still record high-quality audio on your smartphone and not spend too much money on equipment – you just have to know which apps to use and how to use them properly!
However, the best way to make your smartphone recordings sound fantastic is to create a tiny in-home studio. Using a combination of editing and recording apps, a high-quality smartphone mic, and your instruments, you can make your music sound just like it was recorded in a studio.
How To Record Music on Your Phone
If you have a smartphone, you can record music on your phone. Since most smartphones are Apple or Android devices, we'll stick with those two types for this article. However, if you have a different smartphone brand, you can still record music without equipment.! The built-in app and system might be a little different, but the basics are the same!
How To Record Music on an iPhone
Apple's iPhone comes with a built-in voice recorder. Called "Voice Memos," it's part of the app suite automatically downloaded to the phone. If you've deleted it or don't have it, it's also free on the app store. This app is the most basic way to record music on an iPhone – it's best for simple vocals, ideas, or song demos.
To use Voice Memos on your iPhone, follow the steps below:
Open the app, hit the red "record" button, and play your music. You won't add more tracks or record over your previous recording, but the app will automatically save anything you make.
You can then send the memos to other devices or open them in other apps to edit.
Make sure your phone's microphone is facing toward you, and record in an area with no background noise for the best results.
How To Record Music on an Android
The built-in voice recording app on most Android phones (some of the older models don't have it pre-installed, but you can still download it) is called "Voice Recorder." It's easy to find and use for basic voice and instrument recording. Again, don't expect this to be studio-quality – use it for demos and simple recordings.
To use the Voice Recorder app on an Android phone, follow the steps below:
Open the voice recorder app and tap the red circle to start your recording.
Hit the gray button to finish, name, and save your recording.
You can save your recording to a list or send it to another app. Always be sure that you're in a quiet room and away from any breezes to minimize background noise!
12 Best Apps To Record Music
The best apps to record music on your phone are:
BandLab
Dolby On
Easy Voice Recorder
FL Studio Mobile
Hi-Q MP3 Voice Recorder
Music Maker Jam
Smart Recorder
Voice Recorder
Walk Band
Samsung Voice Recorder
RecForce II
ASR Voice Recorder
BandLab
BandLab is a music creation and collaboration platform that enables users to write, record, mix and share their music with others around the world. It is free to use for anyone with an internet connection, and there are no restrictions on the type or length of music that can be created.
Dolby On
Dolby On easily helps you record live things like music, voice, videos, and podcasts. It comes with a selection of automatic studio effects with the audio recorder. You can use the audio editor to improve and develop the singles with Dolby technology.
Easy Voice Recorder
Easy Voice Recorder is a simple alternative that you can use to record your music tracks on your phone. It is ideal for rehearsals and capturing melodies. You can quickly hear the results and make amendments in this app.
FL Studio Mobile
FL Studio Mobile is made by a more well-known brand in the industry. This app also provides in-app purchases as well as included content too. With this app, you can record, sequence, edit, mix, and render complete tracks.
Hi-Q MP3 Voice Recorder
Hi-Q MP3 Voice Recorder is a free app that provides customization options and high fidelity 44kHz audio sampling, which a lot of other free apps will not have.
Music Maker Jam
This is a good free app designed for music producers, DJs, and artists. You can create or remix tracks using loops from different genres.
Smart Recorder
This is a free basic audio recorder for Android that is super easy to use. It was specially created for high-quality and long recordings. The user interface is very minimalistic and easy to navigate too.
Voice Recorder
Voice Recorder is a good alternative to Smart Recorder. You can easily voice record with high quality, send and share your recording, and use a live audio spectrum analyzer.
Walk Band
Walk Band is a free music studio app that provides a collection of virtual music instruments to produce music. You can upload tracks to the cloud and share midi music recordings.
Samsung Voice Recorder
With a recognizable brand, this is a very reliable voice recorder that provides playback and editing capabilities.
RecForge II is a highly customizable audio recorder that you can easily edit, convert, record, and share your tracks in different audio codecs.
ASR Voice Recorder is a good app that allows you to record your tracks in different formats. There is also a Pro version where you can integrate it for cloud uploading to places such as Google Drive, DropBox, OneDrive and more.
Best Free Apps for Music Recording
These pre-installed apps for recording work well if you want to register a riff or a demo but don't care as much about sound quality. For a more professional sound, you're going to need some (mostly free!) recording and editing software for your phone. These apps will make your life easier when recording music.
These are only three of the many, many apps available for recording music.
For a beginner, these are perfect because they're free, easy to use, and produce higher quality recordings

. Once you get used to these, you might want to upgrade to paid versions or fancier voice recording apps. Those will cost you money but might be worth it if you get into recording your music on your smartphone.
Any Smartphone: Easy Voice Recorder
Easy Voice Recorder lives up to its name – it's pretty easy to use and records voices particularly well. This app is compatible with Android and iOS and is free (although you might have to upgrade to the paid version to get unlimited recording time). It's perfect for beginners because it's not too complicated but does have several modes and export settings.
Apple: GarageBand
A bonus for iPhones is Garageband. Although it's not part of their basic suite, GarageBand has recording and audio editing tools for free with any iPhone. GarageBand will provide you with excellent beginning tools for recording and editing. You can also record more than one track in GarageBand if you have more instruments and want a cleaner sound.
Android: RecForge II
One of the best free apps available on GooglePlay is RecForge II, a lifesaver for musicians with Androids. It allows for sound recording, editing, and multiple effects. You can set volume sensitivity, edit the file itself, and ensure no background noise with noise reduction. RecForge is an excellent app for beginning to record music on a smartphone. 
External Microphones for Music Recording
If you've installed all the apps and still aren't satisfied with the sound of your music, it could be the quality of the microphone in your smartphone. The phone manufacturers didn't create these mics to record studio-quality music. However, there are some relatively inexpensive options for external microphones that connect directly to your phone.
External microphones work exceptionally well if you have multiple tracks to record, want to record a quieter instrument, or don't have a great recording situation. Some of these microphones automatically cancel the background noise. These are only three options, but they're the best quality for the price and definitely up your smartphone recording game.
Any Smartphone: MOVO PM10
The Movo PM10 Microphone

is a lapel mic, technically created for podcasters or interviewers. However, it has excellent sound quality, can be clipped near your voice or instrument, and connects directly to a headphone jack. This microphone is compatible with any smartphone (although you might need a converter for a newer iPhone) and is one of the cheapest quality microphones out there.
Movo PM10 Lavalier Microphone and Lapel Microphone for iPhone, iPad, Android, and Other Smartphones - Easy Clip on Microphone Perfect for Recording a Podcast, Vlog, Interview, YouTube

CRYSTAL CLEAR AUDIO: The Movo lapel lav mic for iphone (lightning dongle not included) upgrades your...
PLUG AND PLAY: No batteries required. Simply plug the included 3.5 MM TRRS compatible jack into your...
1-YEAR WARRANTY: We've got your back. Our products are designed to ease your technical woes, not...
Last update on 2023-09-25 / Affiliate links / Images from Amazon Product Advertising API
Apple: Boya DM 200
The Boya DM 200 Microphone

is one of the few portable microphones with a lightning port connector, making it easier to connect with a newer iPhone model. It can be hard to record things through lighting port adaptors, so if you have an iPhone without a headphone jack, this mic works well. It also cancels background noise and focuses on the primary audio source.
Last update on 2023-09-24 / Affiliate links / Images from Amazon Product Advertising API
Android: Saramonic Mini Smart Mic
This microphone packs a lot of power for being so small. It's inexpensive but goes a long way toward canceling background noise and increasing overall audio quality. This mic can also be compatible with certain iPhones because it fits into the headphone jack. If you're starting to look into external phone mics for audio and music recording, the Saramonic Mini Microphone

might be just the thing for you! 
Saramonic SmartMic Mini Condenser Flexible Microphone for Smartphones,Vlogging Microphone for iPhone and YouTube Video, Mic for iOS Apple iPhone iPad and Android Phone

The Saramonic SmartMic Condenser Microphone is small and lightweight, making it super-portable and...
The Saramonic SmartMic uses a TRRS condenser microphone to pick up and record a wide range of sounds...
A multi-directional head allows you to angle the microphone for flexible recording options that are...
Last update on 2023-09-25 / Affiliate links / Images from Amazon Product Advertising API
Final Thoughts
No matter your level of music recording experience, you can still record high-quality music on your smartphone. All you need are the right apps, a recording setup, and maybe some equipment. With the resources of your smartphone, you'll never need to rent a recording studio again, and you read my easy guide about recording a music video on your phone here – you have all you need right at your fingertips! 
Sources
Was this article helpful?
Recent Posts
link to How To Allow QuickTime To Access Microphone 🎙️  
QuickTime is a vital app for many Mac users, and if you've recently bought a new microphone, you might wonder how to use it optimally. QuickTime cannot record audio content if it doesn't have...
link to How Do I Test My Microphone? 🎙️
Every microphone leaves a unique signature on the quality of its output. If you're a podcaster trying to melt your way into your audience's hearts, a muddy, distorted recording won't cut it....