Music recording equipment is expensive, and the same is true for going to the studio and having your music recorded. If you're thinking of recording a song at home without musical instruments or special recording equipment, good news first; it's possible.
Here are 7 steps on how you can record music at home without equipment:
Gather the items you'll need.
Set up a noise-free location for your recording.
Install a DAW on your computer.
Connect the audio interface.
Connect the microphone.
Check for levels.
Start recording.
Read on to get more details on how to record music at home. You'll also learn more about other recording alternatives and how to set up a good environment for recording audio. Let's go.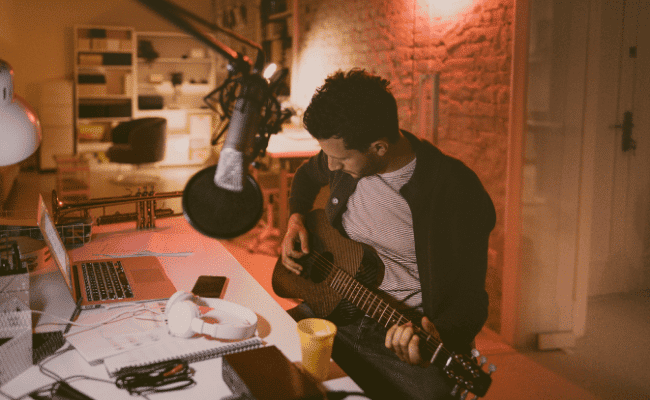 1. Gather the Items You'll Need
To record music at home, you don't have to have expensive and complex equipment. However, you'll still need certain items to get the job done. Fortunately, these items are easy to get (you probably already own most of them), and some can be sourced for free.
The items you'll need include:
Computer
Audio interface
Microphone
DAW (Digital Recording Workstation)
2. Set Up a Noise-Free Location for Your Recording
After getting all the equipment you need for recording music at home, look for a good location to record your music. One of the greatest interferences is usually noise. You have to develop ways to ensure there's as little noise as possible in your recording environment.
The most common types of noise during recording include:
Background Noise
Background noise is produced by things or people in the environment. Some sources of background noise include a dog barking, phone ringing, other people talking, and traffic.
To prevent background noise from interrupting your music, move to a quiet room or record when there are no people around or when the surrounding is less noisy, for example, at night.
Handling Noise
Handling noise is simply noise produced by you during the recording process. These include tapping the mic, breathing, and blowing. Try as much as you can to avoid handling noise as it can significantly interfere with the recording.
For example, when using a mic, don't hold it too close to your mouth as it'll record your breath. Avoid holding it too far as well as the sound will be unclear.
Voice Echo
Echoes will happen when you record in an empty room or one that doesn't have a lot of furniture, resulting in bad sounds. The solution to the echoes is to dampen the room. You can do this by adding soft furniture to the room, curtains, carpets, and rugs. These items will help improve the room's acoustics.
White Noise
White noise may not be identified when you're recording but will be heard like a hissing sound when you listen to the record. It's usually caused by fans, wind, and the AC.
To eliminate this noise, turn off the devices that produce it and close the windows to block the wind when recording.
3. Install a DAW on Your Computer
A DAW is a kind of software used for recording, editing, and mixing audio. If you have an Apple-supported computer, things will be easier for you since it comes with its own pre-installed DAW known as GarageBand.
This software is free, it functions very well, and isn't too complex to use. Even if you're not using a Macbook, you can still download a DAW with much ease. They're available in several types; some are free, while some are paid for.
Here are some of the DAWs you can try out:
Audacity
Audacity is a very popular DAW

and is free. It's compatible with OSX, Windows, and Linux operating systems, making it accessible to many people. Audacity allows you to record, import, and edit audio.

Additionally, it comes with lots of built-in digital effects you can use to manipulate your audio recording further.
Cubase LE
Cubase LE

provides all the basic tools needed to record and mix audio. This DAW has 23 audio VST effect processors and more than 5 GB of loops and sounds. It's free, but you can also upgrade to the Paid version, which has more and better features.
Cubase LE will work perfectly for entry-level music producers. However, you might want to go for the paid version for professional recording.
Check out which is better: Cubase vs. Logic Pro.

Pro Tools First
Pro Tools first

allows you to record four tracks simultaneously, 16 audio tracks, and 16 virtual instruments tracks. Pro Tools

also includes lots of samples, sounds, and loops. Additionally, it contains several effects which you can use to fine-tune your audio when editing.
Check out my other articles about Pro Tools:
4. Connect the Audio Interface
You'll most likely only need a USB cable and an AC (wall plug) to get the audio interface running. Your computer may recognize the interface immediately or take some time, depending on its type and the interface.
You may also require to install drives usually loaded on a CD player with your hardware. These drives are available on the manufacturer's website.
5. Connect the Microphone
Connect a microphone to the audio interface using the XLR cable.
Several microphones are available in the market; one of the best is the Audio-Technica AT2020 Cardioid Condenser Studio XLR Microphone

from Amazon.com. This microphone is especially ideal for home recordings. In addition, its transit response is superior and is highly versatile.
Audio-Technica AT2020 Cardioid Condenser Studio XLR Microphone, Ideal for Project/Home Studio Applications,Black

The price/performance standard in side address studio condenser microphone technology
Ideal for project/home studio applications; The noise level is 20 dB SPL
High SPL handling and wide dynamic range provide unmatched versatility
Last update on 2023-12-08 / Affiliate links / Images from Amazon Product Advertising API
However, if you're on a budget, check out the DSCHLZY USB Condenser Podcast Recording Microphone

, also available on Amazon.com. It's not costly but is still great for recording.
USB Condenser Microphone Bundle Kit,192KHZ/24BIT Professional Cardioid Computer Mic with Adjustable Scissor Arm Stand Shock Mount and Gain Knob for Recording, for Podcasting, Gaming, YouTube (Black)

Excellent Sound Quality: This USB condenser microphone was designed with the professional sound...
USB Output: Enables simple setup. USB Microphone Kit provide a direct convenient plug-and-play...
MIC GAIN KNOB: Adjust mic gain with the easy-to-reach knob, Make the mic to reach a perfect voice,...
Last update on 2023-12-08 / Affiliate links / Images from Amazon Product Advertising API
6. Check for Levels
If the hardware and software you're using cooperate, you have connected everything correctly.
You can now go ahead and check for the levels on the mic. This is possible in different ways, depending on which software you're using. If you aren't sure where to adjust the levels, check out your software tutorial for guidance.
7. Start Recording
It's now time to record, but you need to consider the song's structure before starting. However, you don't have to know exactly how the full song you want to record will sound like; begin with the foundation of the song you have in mind.
For example, think of the main drum beat and record that first. Afterward, record other tracks to flesh out the song. Thanks to digital recording, you can add on any tracks you wish, whether guitar beats, piano beats, etc.
Next, record the song's vocals along with the tracks. Continue experimenting until you feel satisfied with how the song sounds, then edit the whole song, and you're all done.
Alternative Ways of Recording Music at Home
If you feel like doing the above is too much hassle, try other alternatives for recording music at home. Here are some of them:
Sing With a Karaoke App
If you're new to music recording, you'll probably attempt to do covers for some of your favorite songs. If that's the case, a karaoke app will come in handy. There are several apps you can try out for this. These include Sing by Smule, Karaoke Anywhere, Ising, and Singsnap Karaoke II.
Use a Smartphone
If you feel like setting up a DIY music studio is an uphill task or very expensive, using a smartphone will be ideal. Almost everyone owns a smartphone, and if you don't, you can get one easily since they're readily available and relatively inexpensive.
You can record music on your phone, whether it's an android or iPhone. Smartphones usually have built-in recorders, and there are also several apps you can download for the task.
The built-in voice recorders found in smartphones are basic. If you need more professional audio, there are various apps you can check out.
Recording Music Using an iPhone
iPhones usually have a built-in voice recorder known as voice memos. If your iPhone doesn't have it, you probably deleted it, but you can download it from the Appstore for free.
Here's the procedure on how to use the memo to record your music at home:
Open the app, hit the record button then start playing your music. Ensure the microphone is facing you and move to an area that doesn't have background noise. Also, ensure your hands don't cover the microphone to avoid interfering with the sound quality.
Send the memo to another device or use other apps to edit it.
Tap the stop button to stop recording.
To name the recording, tap the 'new recording' label.
Save the audio. You can also tap on 'play' to listen to the recording before saving.
Recording Music Using an Android Phone
Android phones also have built-in recorders. Some older versions don't come installed with it, but you can download them from the Play store. It's usually known as a voice recorder.
It might not match the software used by professional music producers, just like the iPhone's voice memo, but it's good for non-professional recordings. Here's how to use it:
Open the voice recorder and tap the red button to start recording. Avoid background noise to ensure quality results.
Tap the grey button to stop recording.
Name and then save your recording.
Send the recording to another device or send it to another app for editing.
Smartphone Apps for Music Recording at Home
BandLab
BandLab

is partly a DAW and a social network since you can use it to share your music once you are done recording. It allows you to record your song on your android phone while tuning it using the Auto pitch.
This app also has beats and loops, which you can use to enhance the quality of your composition. What's more? It's free and easily accessible.
Garageband
Garageband

comes preloaded on iPhones, iPads, and Macs. This free app performs like a music recording studio providing lessons and sounds such as vocals, percussions, and rhythm.
One of the most impressive things about this app is its welcoming layout. Even if you're a beginner, you won't have problems using it as it's very user-friendly. It also has a quick help button in case you can't figure out something.
Check out which is better: Ableton Live vs. Garageband.

Easy Voice Recorder
The Easy Voice Recorder

has a lot of options for fine-tuning recorded saves. The app is available for Android users, and it allows the sharing of recording through other apps and even email. A pro version is also available for supported devices, and it has more and better features.
How To Enhance the Quality of Your Audio
Add a Microphone
You can enhance the quality of your recording when using a smartphone by adding a microphone. For example, you can use the Rode VideoMicro Compact On-Camera Microphone

from Amazon.com, which isn't expensive and greatly improves sound quality.
Sale
Rode VideoMicro Compact On-Camera Microphone with Rycote Lyre Shock Mount, Auxiliary, Black

Compact microphone designed to improve the audio quality of your videos - only 80 millimeter (3")...
No battery required (powered by camera plug-in power - min 3V)
Includes Rycote lyre shock mount and deluxe furry windshield
Last update on 2023-12-08 / Affiliate links / Images from Amazon Product Advertising API
A lavalier microphone is also a good option, and they are more affordable compared to regular microphones. One of the best lavaliers available is the PoP voice 16 Feet Single Head Lavalier

, also on Amazon.com. It's lightweight and compact.
Last update on 2023-12-08 / Affiliate links / Images from Amazon Product Advertising API
Or, check out the PowerDeWise Professional Grade Lavalier Lapel Microphone

from Amazon.com. It has universal compatibility, meaning you can use it on smartphones and other devices like laptops and tablets.
Sale
PowerDeWise Professional Grade Lavalier Clip On Microphone - Lav Mic for Camera Phone iPhone GoPro Video Recording ASMR - Small Noise Cancelling 3.5mm Tiny Shirt Microphone with Easy Clip On System

100% WIRED. Always ready to use. Stable communication without radio interference in any place. Never...
UPGRADED 2022. Professional Grade Lavalier Microphone has new fully shielded cord that makes your...
UNIVERSAL COMPATIBILITY. For Android, GoPro, Cameras, Camcorders, Audio Recorders, Tablets, Laptops...
Last update on 2023-12-07 / Affiliate links / Images from Amazon Product Advertising API
Use Headphones or Earphones
If you have a few more bucks to use, you can buy headphones to enhance the quality of your music. However, if you're on a budget, it's not necessary to buy them.
Below are some of the headphones you can check out and choose the most suitable (All recommendations are found on Amazon.com):
The Sony MDR7506 Professional Large Diaphragm Headphones have a closed-ear design, making them very comfortable even when used for long hours.
The greatest thing about these headphones is their sound quality, given that they're not very expensive. Another impressive thing about these headphones is their lightweight nature, as they're made of mostly plastic.
However, these Sony MDR7506 Professional Headphones have a long and heavy cable and are only suitable for use when at home or office. You can still use them if you travel a lot, but the cable might be a nuisance.
These headphones have 40 millimeters (1.57 in), drivers, for quality and detailed sound.
Sony MDR7506 Professional Large Diaphragm Headphone

Neodymium magnets and 40 millimeter drivers for powerful, detailed sound.Specific uses for product :...
Closed ear design provides comfort and outstanding reduction of external noises
9.8 foot cord ends in gold plated plug and it is not detachable; 1/4 inch adapter included
Last update on 2023-12-08 / Affiliate links / Images from Amazon Product Advertising API
The Audio-Technica ATH-M50X Professional Studio Monitor Headphones are beautifully designed and available in various color options such a black, tan leather, and dark blue. It's made of plastic, making it lightweight.
The headband and ear band materials are professional-grade, which makes it so comfortable. They feature circumaural design contours surrounding the ears, which ensure sound isolation whenever you're recording in loud environments.
However, be warned, these headphones come with a pretty high price tag.
Audio-Technica ATH-M50X Professional Studio Monitor Headphones, Black, Professional Grade, Critically Acclaimed, with Detachable Cable

Critically acclaimed sonic performance praised by top audio engineers and pro audio reviewers
Proprietary 45 millimeter large aperture drivers with rare earth magnets and copper clad aluminum...
Exceptional clarity throughout an extended frequency range with deep accurate bass response
Last update on 2023-12-08 / Affiliate links / Images from Amazon Product Advertising API
The Shure SRH1540 Premium Closed-Back Over-Ear Headphones have super soft pads on the ear cups, making them very comfortable. They also have 40 millimeters (1.57 in) drivers, which ensure high-quality sound.
What's more, these headphones are flexible and stretchable, meaning they'll fit your head comfortably. They're also lightweight and easy on the head and ears.
Shure SRH1540 Premium Closed-Back Headphones with 40mm Neodymium Drivers for Clear Highs and Extended Bass, Built for Professional Audio/Sound Engineers, Musicians and Audiophiles (SRH1540)

40 mm neodymium drivers deliver superior acoustic performance for an expansive soundstage with...
Closed-back, circumaural design rests comfortably over the ears and reduces background noise....
Lightweight construction featuring aircraft-grade aluminum alloy yoke and carbon fiber cap for...
Last update on 2023-12-08 / Affiliate links / Images from Amazon Product Advertising API
Conclusion
There you have it. As you can see, you don't need to go to the studio to record a song, especially if you're just starting on music production. You can record music at home using easily available hardware and software.
Recording at home is cheaper, and it also allows you to practice and improve your music recording skills. Good luck!
Sources
Was this article helpful?
Recent Posts
link to How To Allow QuickTime To Access Microphone 🎙️  
QuickTime is a vital app for many Mac users, and if you've recently bought a new microphone, you might wonder how to use it optimally. QuickTime cannot record audio content if it doesn't have...
link to How Do I Test My Microphone? 🎙️
Every microphone leaves a unique signature on the quality of its output. If you're a podcaster trying to melt your way into your audience's hearts, a muddy, distorted recording won't cut it....