It takes substantially less equipment to make a music video than it used to. All you need is to upload a video from your phone online, and you have a chance of being discovered. However, the question is, how do you make a music video with your phone, and is it as simple as it sounds?
Here are a few things you need to know before making a music video on your phone:
Plan your video and research examples.
Keep in mind equipment, camera features, and functions.
Learn how to record audio for your music video.
Know different video recording apps.
There's a lot to go over, so this article will be a long one. I will discuss what it takes to make a music video on your phone and the different steps and equipment required to do it right. By the time you're done reading this, you'll see just how simple recording a video is.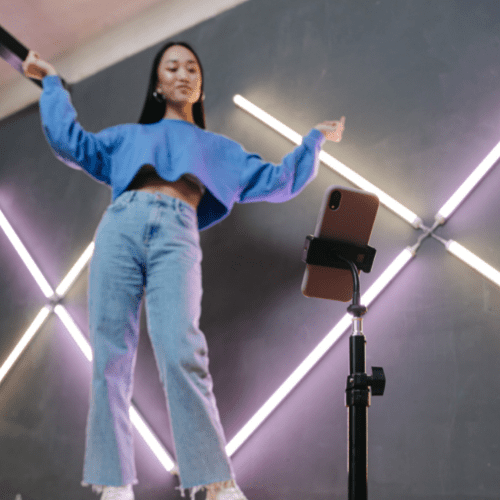 1. Plan Your Video and Research Examples
Making a music video takes quite a bit more than taking your phone and recording. Typically, the more you plan, the more you know what you're doing. Or at least you'll have an easier time organizing your thoughts, and the process will be a little quicker. 
Below are a few steps to make your pre-production easier:
Come Up With an Idea
You should have some idea of what your video centers around. Consider what the message of your song is and what kind of visuals you want to associate with it. Take the time to kick around a few ideas. Also, don't try to do more than you're capable. 
Know your limitations and have a thorough understanding of the tools at your disposal when coming up with your ideas. 
Make Your Plan
After you've got your music video idea mapped out, develop a plan to get it done. Catalog whatever you'll need and work out an appropriate length of time you feel (within reason) it'll take to accomplish your project.
Remember to account for your ability to gather supplies and your daily schedule. 
Get to Storyboarding
A storyboard, for those unfamiliar, is a series of pictures or drawings that chronologically sequences the events in a video. Cartoons, anime, movies, and music videos all utilize storyboarding. Having a storyboard allows you to keep track of what happens at what time during your video. 
It's crucial you remember to add notes for your shot size during each scene while storyboarding. Shot size refers to how much of your recorded surroundings end up in any specific frame of an animation, picture, or video. You can make alterations during post-production, but you need to have an idea of the finished product. 
Gather Materials for the Video
Getting things together for the shoot may be the easiest step. You should already have your idea and storyboarding done, so you should know everything you'll need. Gather or buy props, costumes, backdrops, and make-up so it'll be easily accessible and ready for filming. 
Study Other Videos
YouTube and TikTok are your friends. These platforms may help you get discovered and can offer plenty of tips for you to work by. Study homemade videos so you'll have an idea of what to and not to do. Odds are, if these videos have a lot of traction, they must be doing something right. 
2. Keep in Mind Equipment, Camera Features, and Functions
This section could very well be called "Tips for shooting music videos with your phone." Here is where I discuss the best ways to record your video and the extra equipment you may need to accomplish this.
I'll talk about phone features and filming equipment that'll make your video polished and professional: 
If your phone can film in 4K, then you should opt for that. But if the highest quality you've got is HD 1080p, that will work just fine. Anyone reading this with an 8K recording phone should know that high quality isn't necessary. There are not too many things that play 8K.
Auto-zoom isn't a feature that will help your video. You may have an instance where you can't avoid using auto-zoom, but typically it makes video blurry. If you film in high quality, you can crop and make zooms during editing. 
Try your exposure settings if you're video calls for filming in low lighting. The exposure can compensate for any adverse effects the low lights may have on your filming.
While on the subject of lighting, make sure you've got the proper lights for the right situation. If you're filming solo, then a ring light will do. If you've got a bigger setup filming multiple things, then consider LEDs. Honestly, you can go as subtle or crazy as you want as long as it's filmable. 
If you've got usable equipment, then use it. For example, a selfie stick will help keep your phone steady (unless you want shaky cam), and a drone can achieve broad, far-off, epic-looking shots. 
Continuing with (possibly) required equipment, you may want to get hold of a shotgun microphone or a second phone. These will help you record audio for your music video. 
Don't keep recordings on your phone if you've got limited space. Filming a music video can take a lot of space, so invest in an SD card. 
Horizontal videos tend to look more professional. It's best if you film in landscape mode so that you come off as having some credibility. Vertical or portrait videos, however, still go viral if made well. 
Consider Using Prerecorded Material
You can have someone else handle all the post-production aspects of your video, but it's going to be expensive. There are plenty of apps (which I'll talk about in a bit) that can help you with editing. Some of these apps cost money, but it'll be much less expensive than what you'd pay a professional company to edit your footage.
There are a few tricks available to you once you've decided to begin filming. Your old footage can be edited and overlaid with better sound and music.; this is a good technique if your video has no lyrical song or making a video for a band. 
Reusing previously recorded footage can save you time and money. Once you've done all the edits, add your title and credits for an added professional flair. 
3. Learn How To Record Audio for Your Music Video
If you're making a music video, you may have decided on recording the audio while filming.
However, if you're going to dub any sound or music after filming, I've got a step-by-step guide to get the job done. Keep reading if you want to learn more about recording audio for your video.
Switch On Airplane Mode
Most people get a notification from Facebook, Instagram, or a text every hour or so; a message will pop up on your phone at some point in your day. Put your phone on airplane mode, so you don't get an alert, alarm, or call that could ruin your recorded audio. 
Keep Away From Noisy Rooms
Houses are a lot noisier than you may think. Refrigerators hum, heaters, and air conditioners are surprisingly loud, and some people have their TVs up way too loud. Find a quiet place to do your recording, and you should receive a clear sound. 
Have a Recording of Room Noise
Record about 10 to 30 seconds of a bit of "room noise." Room noise or room tone is the natural sound from the surrounding environment where you're recording. Your microphone can still pick up noises like cars, humming lights, and vent noises. 
There shouldn't be any talking in your room tone sample – the sound should be free of any talking, whispering, or loud breathing. Your room noise recording is a guide by which you'll edit the final audio recording for your music video. The sample will help isolate and identify any sounds that shouldn't be in your audio and allow you to remove them. 
Use a Shotgun Mic
If your phone has an omnidirectional microphone and you want to record a straightforward music video, fine. Your mic will pick up noise from anywhere in the room you're shooting in. Recording speech, though, may require a shotgun microphone. 
The unilateral directionality of shotgun mics makes them a good fit for capturing the spoken word. They only record in one direction and block out all other noise from every other area. 
The Audio-Technica AT897 is an affordable shotgun mic that allows you to record across long distances and is short enough (11 inches or about 28 cm) to easily keep out of your shots. The Audio-Technica runs off of battery or phantom power – energy that runs through microphone cables containing electrical components.
Record Audio With a Second Phone
You can use another phone to record with if you want. You can set the phone down flat, just out of the shot and close to yourself or the speaker, or pin a lavalier microphone to the one talking.
Lavalier mics (also called lav and lapel mics) are small, clip onto the body or clothes, and are typically used for television or testimonial recordings.
As aforementioned, you'd clip the mic to your clothes, and it's able to pick up whatever you have to say. To test the microphone, clap into it to ensure it's working correctly. Regardless of which recording method you use, you can capture audio with a simple voice memo app. 
4. Know Different Video Recording Apps
The kind of phone you have isn't that big a deal when recording video. An iPhone will come with advanced video editing software, whereas an android device might not. Android phones do come with video editors, but they're rudimentary compared to what you'd get with an iPhone. 
I will note that you could probably do better than what an iPhone offers as well. A lackluster video editor app can be easily compensated for, though. There are plenty of third-party applications for Android and iOS that make up for programs your phone can't do. 
Here are a few apps that you might be interested in trying out:
KineMaster
KineMaster is available for Android and iOS. You can export your video directly to YouTube, and there you've got a lot of audio – like volume envelopes, and EQ presets – and visual features to explore. There are eight blending modes you can play with that enables you to overlay video and imagery. 
For more information, check out which is better: KineMaster vs. PowerDirector.
Adobe Premiere Rush
Adobe Premiere Rush is available for Android, iOS, and Windows. You can use this editing app for free, but there's a paid option also. Premiere rush lets you export to websites such as Facebook, TicToc, and Instagram, to name a few. You can import sound with audio ducking or perform voiceovers if you prefer. 
For more information, check out some of my other articles about Premiere Rush:
ProCam 7
ProCam 7 is only available for iOS, this editing app does require payment, and there are also in-app purchases. ProCam gives your iPhone DSLR (digital single-lens reflex) camera capabilities. Built-in features include 4K, manual exposure control, and an enormous number of image modes. 
VidTrim
VidTrim is only available for Android; there is a paid version, but the free version has plenty of features. You can trim, frame grab, convert audio to MP3, and share with friends directly through the app. Dealing with ads might not be so bad if you get all these features for free. 
Conclusion
Recording a professional-looking music video on your phone is possible, but it takes a lot of work. The first thing you need to do is plan your video and gather the supplies it'll take to make it. A few of the planning stage requirements are coming up with ideas, dedicating time to recording, storyboarding, and readying the set. 
Studying other people's DIY videos can be very helpful also. You should always opt for filming horizontally and in 4K or 1080p quality. Lighting depends on if you're recording yourself or an entire set, as well as any personal preferences you have.
Sources