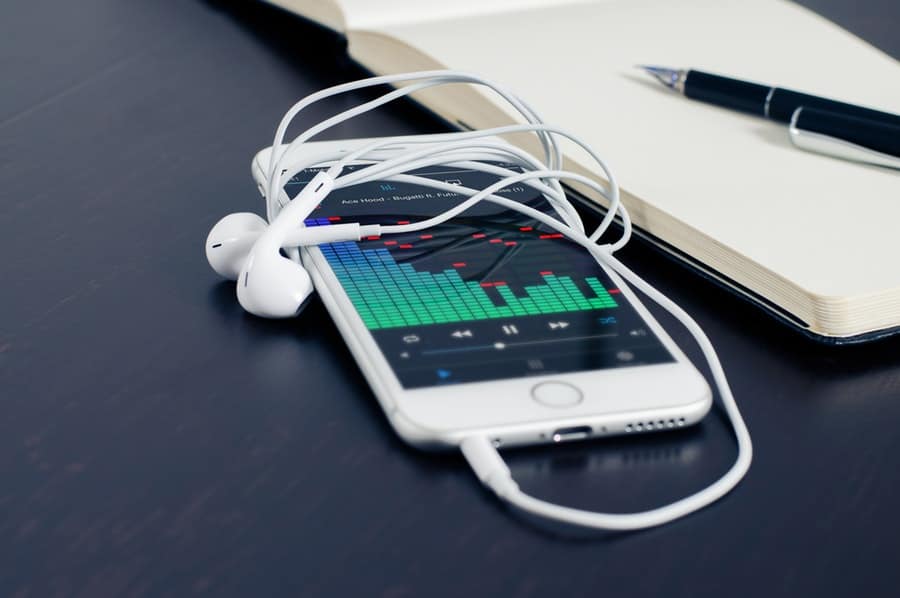 Recording with your Smartphone is a pretty easy and simple thing to do. But make we can make things better and sound more professional.
Using a Smartphone to record is the way to go nowadays as we all have a Smartphone in our hands. However, keep in mind that smartphones are not meant to record high-quality audio.
The microphone inside a Smartphone is not meant for professional recording. It can handle only a small range of frequencies.
Yeah!! We can record high-quality audio on Android or iPhone using their high-end devices. Still, it won't be that good compared even to a setup using only a dedicated microphone.
Moreover, we can reach or even surpass the high-end devices' quality by making some minor changes in how we do it.
On the other hand, having a high-end device will give you a little edge here. The reason is that it supports newer versions of software, gives you more options while recording, and better hardware.
But Hey!! You can still manage with a decent Smartphone. And I know that almost every one of you reading this will have one.
There are small but significant factors that can affect your recordings, and you need to take care of these things first.
Check out how to connect an external microphone to an iPhone here!

Recording High-Quality audio
Things You Need To Look into First
1.Surroundings – This is the first thing that you need to look into before you record anything. You can check by doing a test record if anything is annoying.
Like if there is any background noise, any humming or buzzing sound persisting on your record. You will surely miss out on small disturbances of this type very easily.
Our naked ears can't pick up low-frequency sound waves, while the mic present at the smartphone will easily pick up the low-frequency waves.
What seemed a quiet environment might not be that quiet after you have recorded it. Today we live in a noisy environment, and so it is easier to make this mistake.
If there is anything that will ruin the recording, find it and try to fix it before the real recording starts.
Do a test record and you will know what I am talking about.
2. What are you going to record? You really need to know that the setup will be very different for different situations if you want the best recordings with your smartphone.
There are mainly two categories that you are going to record using your smartphones. The first one – recording the voice only for something like YouTube, podcast, or maybe for anything.
The second situation – recording music, a concert, a live band, or a loud environment. Now, these two situations are quite different.
The first one will usually be a quiet environment, while the latter will be noisy and loud. So, recording in these two systems will be different from each other.
Try looking from different angles for the two systems. I will be covering the best possible way to record in the two situations later.
3. Try to remove any disturbances – You should cut any disturbance that will come from your phones. Close all the apps that are running in the background.
I would keep my device on airplane mode if I were to record something good. I suggest you do the same. This will help you a lot from the annoying notifications ruining the recording.
Your Facebook notification, Whatsapp group messages, etc., will for sure disturb you while you are doing your work.
I can guarantee you that this will save you time from recording the same thing all over again.
How to record the audio?
First thing you are going to need –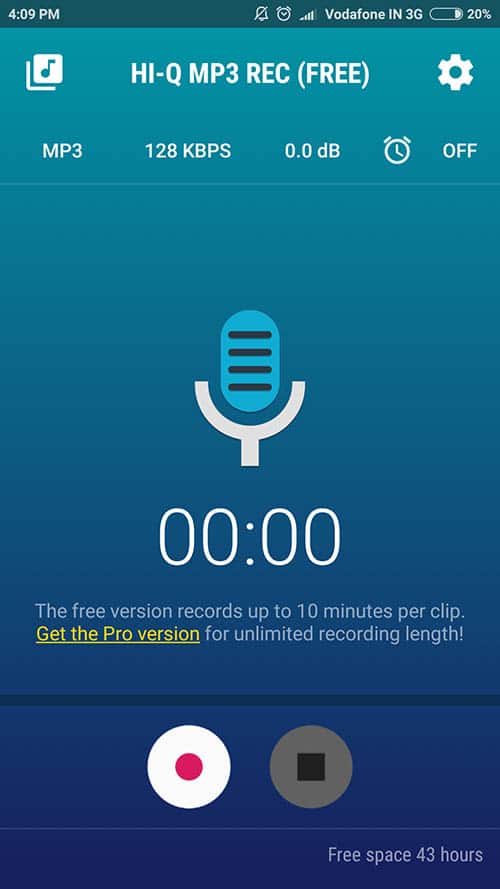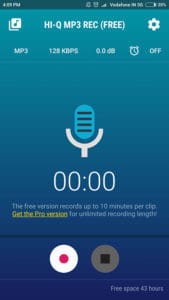 You need an App for recording. Get a good recording app from the Appstore, where you can change the quality, file format, etc.
You need an App that gives you more options than you can play with while recording. There are many Recording Apps out there, and you need to choose something that you like.
There are free and paid ones, but I think you can manage very well with a free one. If you want the paid ones, then you can still get them from the Appstore and it's only about 2$ or 3$ on average.
It won't break your bank balance.
The app I use is Hi-Q MP3 Voice Recorder

– one of the best voice recorder apps for android, and I think this app is not available for iPhone users. For iPhone users, you can use something like Multi-Track DAW.
Multi-Track Daw is like a small Digital Audio Workstation for iPhone users. You can do a lot of things with it.
By the way, don't limit yourself with these apps. You can always opt for something you think that's better or even premium ones. Remember premium apps will always be better than the free ones.
Here are some screenshots of my recording app –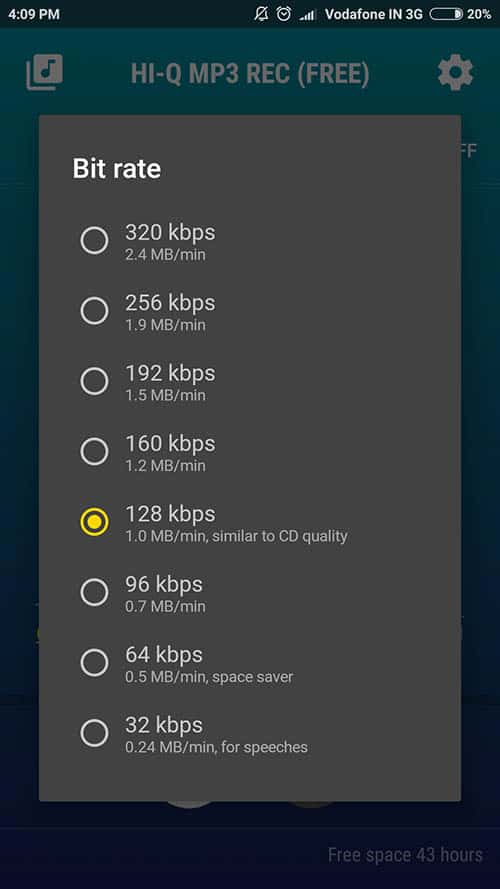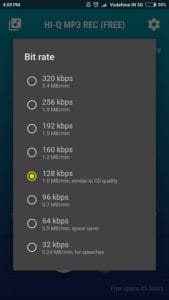 As you can see I can change the bit rate here and it goes all the way up to 320 kbps from 32 kbps. I can also change the format of the file to WAV, M4A, OGG, and FLAC.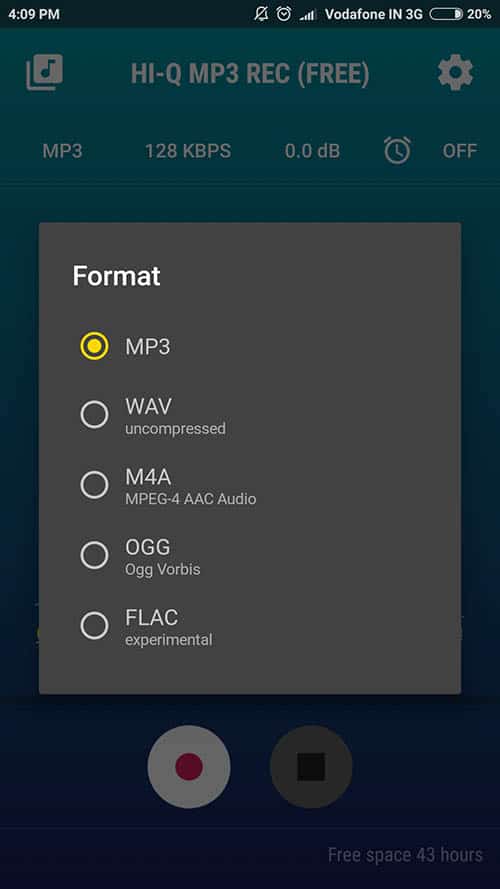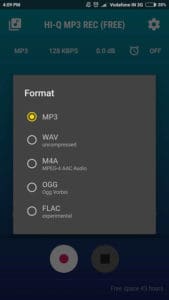 You can also increase or decrease the input gain level for your recording. This is what I am talking about when I said about having Options.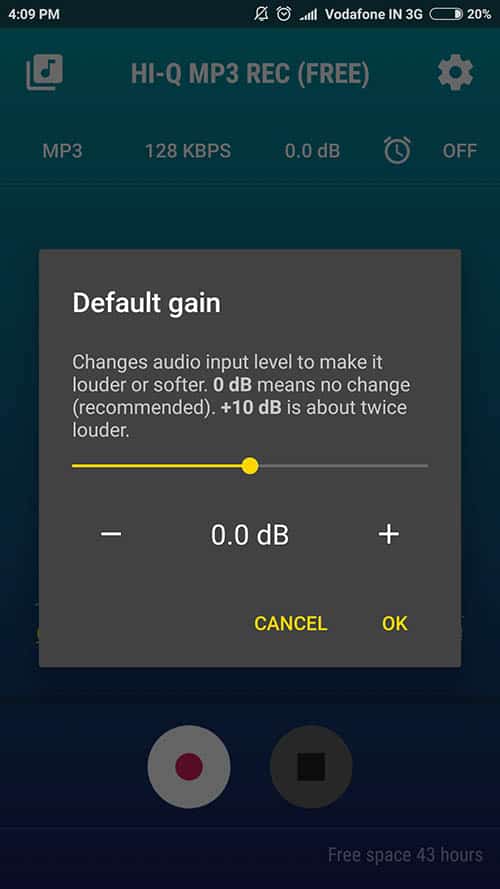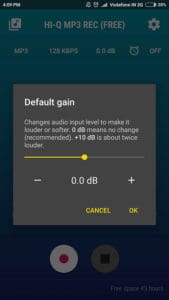 When choosing an app, check if they have some of these basic options, as they will help you improve the recording quality.
Recording process
It's time to start recording, and you need to prepare for the kind of environment you will record.
Let's say you are recording only vocals in a quiet environment and you have taken care of the three things mentioned above; then you don't need to worry about anything.
Your Smartphone will handle it very well, producing high quality plus clear audio track.
On the other hand, let's say you are trying to record a concert, a live band, or something with high bass, frequency, etc., then you should change the setup a bit.
The built-in microphone won't be able to handle these types of sound waves, and you are going to need an external microphone for your Smartphone.
If you record a live concert, you probably need a microphone to handle all the bass without distortion.
It should be a unidirectional one, too, if you want to lower the voice coming from the crowd. The same goes for recording a live band.
But you can exclude the directional feature if you are in a room or somewhere there is no crowd.
There are many external microphones out there that you can use with your Smartphone and don't cost that much. You can plug it in and start recording. Simple as that, no technical stuff needed.
We recommend the Rode VideoMic Me:
Sale
Rode VideoMic Me Compact TRRS Cardioid Mini-Shotgun Microphone for Smartphones

Compact Trrs Cardioid Microphone Designed For Ios Devices And Smartphones; Frequency Range 100Hz -...
High-Quality Directional Microphone That Connects Directly To The Iphone Trrs Microphone/Headphone...
3.5Mm Headphone Output. Weight: 34Gm; Dimensions: 38Mmh X 21Mmw X 80Mmd
Last update on 2023-12-08 / Affiliate links / Images from Amazon Product Advertising API
Adding an external microphone for your recording will greatly improve the quality of the audio you are producing. Therefore, I suggest you get one if you want the best from your Smartphone.
Want to know more about recording songs !! Have a look at the post on how to Record a song easily.

Was this article helpful?
Recent Posts
link to How To Allow QuickTime To Access Microphone 🎙️  
QuickTime is a vital app for many Mac users, and if you've recently bought a new microphone, you might wonder how to use it optimally. QuickTime cannot record audio content if it doesn't have...
link to How Do I Test My Microphone? 🎙️
Every microphone leaves a unique signature on the quality of its output. If you're a podcaster trying to melt your way into your audience's hearts, a muddy, distorted recording won't cut it....