So you're considering starting a podcast, adding your voice to the 1.5 million others that publish episodes every day. The equipment that you use is vital for the success of your show.
Condenser mics are good for podcasts. These microphones are particularly good at picking up small sounds with subtle changes in tone. Many voice recording studios use condenser mics as their standard because of their ability to capture clear vocal work.
We all know that microphones work to capture and amplify noise, but some gadgets are better suited for specific sounds. In the following article, we'll look at the difference between condenser and dynamics microphones and why condenser mics are great for podcasting.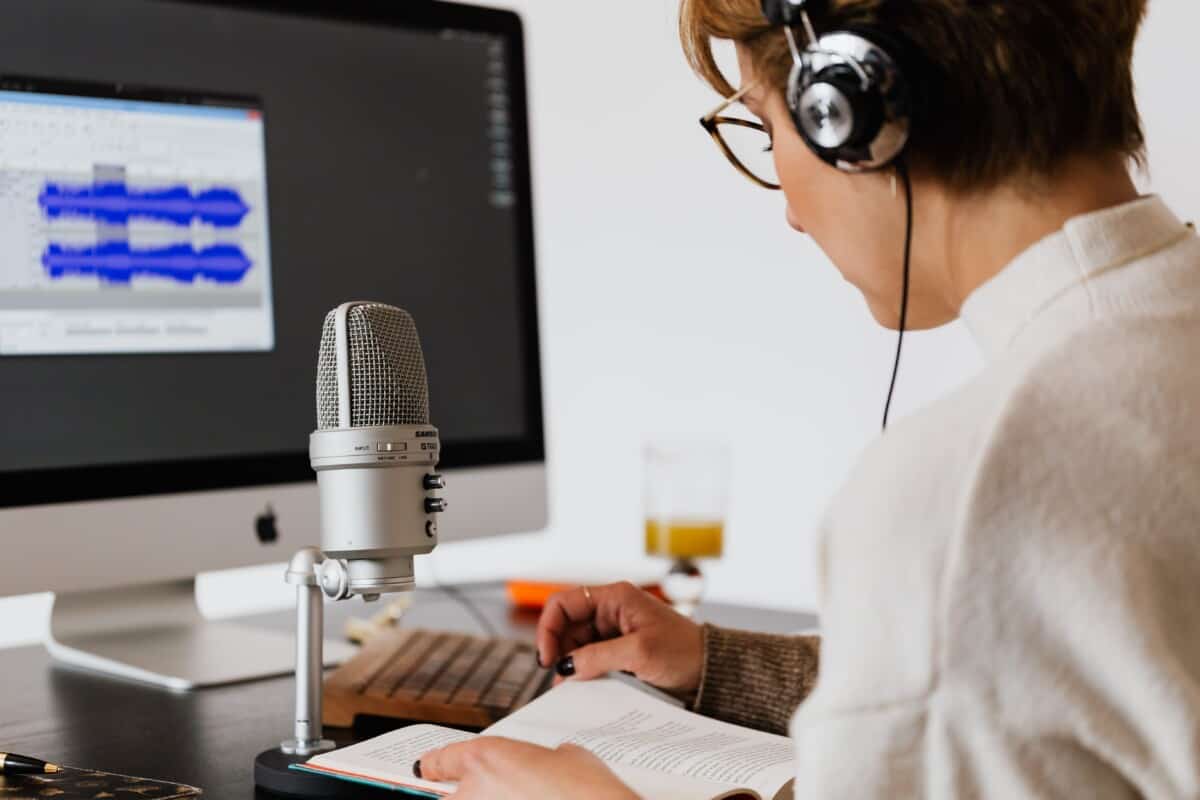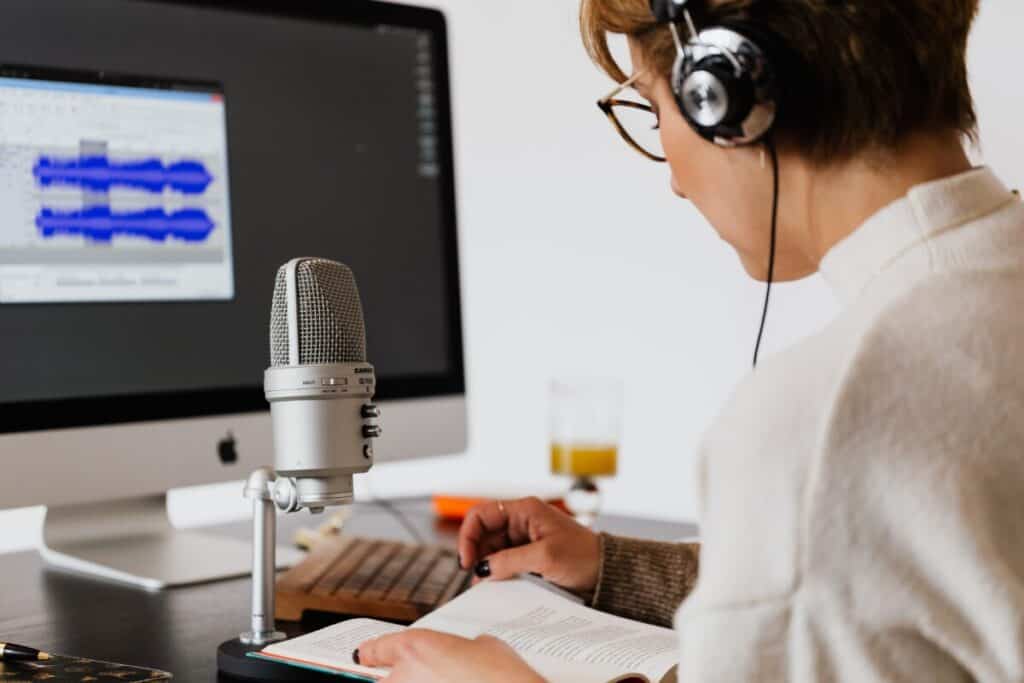 Introduction to Microphones
Microphones work by converting audio sounds into electrical currents. All sounds travel in the form of waves, creating slight vibrations in the air.
When these waves hit an object, they can be absorbed by it, bounce off of it, or move the object if the sound is loud enough or the object is light enough. The louder the sound, the more powerful the wave, and the bigger the wave's physical effect on the environment.
Different types of microphones

work in different ways to convert and capture these electrical currents.
The Difference Between Condenser and Dynamic Mics
Condenser and dynamic mics capture auditory sounds (aka acoustic energy) in different ways

.
Dynamic mics have a coil of wire suspended inside of a magnetic field. Sound waves bounce against a diaphragm positioned on the outer end of the magnetic field. As the diaphragm moves, the coil vibrates in the magnetic field, converting the sound into an electrical current captured by a computer or amplified through an electric speaker.
Condenser microphones act similarly, with a diaphragm that vibrates in response to acoustic energy. This diaphragm vibrates against an electrically charged backplate in a condenser mic that captures and converts the energy. The space between the diaphragm and the backplate condenses as the mic picks up sounds, giving the tool its name.
What Makes Condenser Mics So Good for Podcasting
The diaphragm-backplate setup of a condenser microphone makes it capable of picking up very sharp sounds and subtle changes in volume and pitch. This sensitivity also means the condenser mic is more prone to distortion of loud sounds.
Condenser mics are extremely low mass, so the light parts can react faster to sounds. A dynamic mic's parts are denser, so it doesn't capture nuanced pitch as well. Dynamic mics hold up better to loud sounds like a drum performance or live singing, while condenser mics pick up the tiny changes in every host and guests' voice in the studio.
The ability to capture and deliver your voice's nuance is what makes condenser mics ideal for podcasting. The content of your show is what will win over some of the 88 million Americans

that listen to podcasts, but the quality of your show is what will keep them coming back.
If you invest in your podcast, putting the time and effort into delivering a polished product constructed with the proper equipment, you'll likely find success to help fuel the passion for your podcast.
Can You Use Dynamic Mics for Podcasting?
While condenser mics might be better suited for podcasting, you can use a dynamic mic and get amazing results. Ultimately, it will come down to the quality of the microphone. A high-quality dynamic mic will serve you better than a low-quality condenser one.
With that being said, condenser mics are so sensitive that they tend to pick up a lot of ambient noise. If you have a fully-treated podcast studio with foam

-proof walls, it will be hard to beat the sound you'll get out of a condenser mic. However, if you're recording at your kitchen table and having kids in another room, you might get less background audio from a dynamic mic.
Ideally, you'll have a designated podcasting studio with enough sound-blocking that you can use a condenser mic to its full potential. This isn't necessarily realistic for those who are new to podcasting. You'll still be able to use a condenser mic without a studio, and the makers of these types of microphones

are well-versed in the shortcomings of the gadgets and have come up with ways to diminish the background noise.
Directional Condenser Mics
A directional microphone

is a mic that is focused on picking up sound from a specific direction. By nature, a microphone will pick up sounds all around it, but the different shape and construction of the devices help narrow the area of focus.
Shotgun mics are a long thin cylinder with the diaphragm at the very end. This opening (like the barrel of a shotgun) focuses the intake of sound to whatever the mic is pointed directly at. These mics are often used on film sets, with a boom operator holding the mic's long mount and turning it between the actors as they speak.
Some table-top mics for podcasting have a side angled directional intake so that the mic can sit in front of you instead of facing straight at you. This helps to save space as you can fit multiple mics on one table; however, these mics tend to pick up more noise from the rest of the room.
If you're shopping for a condenser mic, you should consider the direction of the microphone. As condenser mics pick up more background noise anyway, you may benefit from a directionally focused unit.
For more information, check out my picks for the Best Laptop for Podcasting

and Best Headphones for Podcasting.

Some of the Best Affordable Condenser Mics for Podcasting
Let's take a look at some of the best condenser mics you can buy to get your podcast started without using your life's savings.
Audio-Technica AT875R Line/Gradient Shotgun Condenser Microphone 9.5 x 5 x 2.75 inches

Designed for video production and broadcast (ENG/EFP) audio acquisition
Extremely short length (under 7 inch ) ideal for use with compact digital cameras
Provides the narrow acceptance angle desirable for long distance sound pickup
Last update on 2023-09-25 / Affiliate links / Images from Amazon Product Advertising API
This classic "shotgun" mic is fantastic for podcasters who plan to make any video content. While this is a condenser mic, the device's shotgun shape helps to minimize the pick up of background noise. The mic is also less than 7″ (18 cm) in length, making it perfect for small-space podcasting and handheld video content.
Audio-Technica ATR2500-USB Cardioid Condenser USB Microphone

Side address condenser microphone with USB output for easy connection to your computer
Ideal for podcasting, home studio recording, field recording, and voice over use
Built in headphone jack allows you to directly monitor your microphone output without audible delay
Last update on 2023-09-25 / Affiliate links / Images from Amazon Product Advertising API
This mic has a side-angle pick up that is perfectly catered to a table-top podcast set up. Equipped with the signature low-mass diaphragm that reacts to every vocal sound, you will get a great recording quality at an even better price.
XLR Condenser Microphone, TONOR Professional Cardioid Studio Mic Kit with T20 Boom Arm, Shock Mount, Pop Filter for Recording, Podcasting, Voice Over, Streaming, Home Studio, YouTube (TC20)

External Power Source Required: Note: Condenser microphones have active electronics that need an...
Professional Sound: The upgraded mic capsule with low-noise FET preamplifier, high SPL handling, and...
Cardioid Pattern: TC20 adopts a cardioid polar pattern with excellent off-axis sound suppression...
Last update on 2023-09-25 / Affiliate links / Images from Amazon Product Advertising API
If you want a one-stop-shop for your home-podcast setup, the Tonor Cardioid studio kit is the answer. This kit includes:
An upgraded condenser mic
A T20 suspension stands
A metal shock mount that reduces mic friction
A mic cover
A pop filter
Four cable ties
A 2-meter XLR cable
A user manual
Last update on 2023-09-25 / Affiliate links / Images from Amazon Product Advertising API
If you're on a real budget but still want a step-up from your laptop mic, then the Zingyou bundle is a great start. Test the podcasting waters with this setup and find out if you like podcasting before spending a fortune on it. Under $50US and receive a condenser mic, metal shock mount, adjustable scissor mount, and double-layer pop filter for a cleaner sound.
Summary
Condenser mics are especially good for podcasting as they are engineered to capture all of the subtle changes in the human voice. They are often used as directional mics on film sets, capturing every emotion of the actors. These highly-sensitive gadgets are also standard for voice over studios where the padded walls allow the condenser microphone to pick up every lilt in the speaker's voice.
Check out my article about whether boom mics are good enough for podcasting

.
Sources
Was this article helpful?
Recent Posts
link to How To Allow QuickTime To Access Microphone 🎙️  
QuickTime is a vital app for many Mac users, and if you've recently bought a new microphone, you might wonder how to use it optimally. QuickTime cannot record audio content if it doesn't have...
link to How Do I Test My Microphone? 🎙️
Every microphone leaves a unique signature on the quality of its output. If you're a podcaster trying to melt your way into your audience's hearts, a muddy, distorted recording won't cut it....