Rode Microphones is an Australian company that specializes in high-quality audio recording equipment. They have an excellent reputation for making mics, but are they any good for podcasting?
Rode mics are good for podcasts. They offer a variety of podcast-specific models like the Rode Podcaster and the Rode Procaster. Rode microphones are so well-built because of their in-house manufacturing, which allows them to ensure quality control.
The Rode name is one that has long been positively associated with microphones. Why are their microphones so good, and what makes them perfect for podcasting? Read on to find out.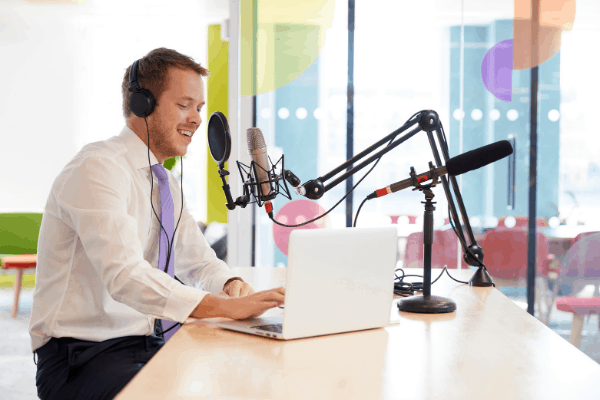 A Brief History of Rode
Peter Freedman started RØDE

after his father had imported a microphone from China to test the Australian market. Peter created an infrastructure in Australia where they could design and produce microphones in their factory. Since this inception in 1990, Rode Microphones has grown to be a globally successful audio brand manufacturing high-end equipment at fair prices.
Why Rode Mics Are So Good
There are a few different reasons why the Rode mics are so good. Let's dive in a little deeper to understand where your money will be going with a Rode.
Excellent Design and Factory Tools
The 2000s saw Rode invest heavily in their manufacturing equipment. While other contenders were turning toward cheaper alternatives, Rode leaned into the most modern technologies and equipment. Rode proudly crafts their mics with in-house precision metal machining.
30 Years of Experience
Having started in 1990, when garage bands were booming and hip-hop was gaining mainstream traction, Rode entered the microphone scene at a pivotal time in recording history. They focussed on creating world-class technology and delivering it at reachable prices, something they continued to do for the next 30 years.
In-House Manufacturing
Because Rode maintains its in-house design and manufacturing process, they can offer various benefits to the consumer.
Quality Control
Having your manufacturing process in-house allows for a much greater extent of quality control. You can easily fine-tune your machines to get the result you want without having to compromise. Out-of-house factories usually take on multiple brands to maximize their earning potential, meaning that multiple companies' products will be catered to one another's specifics, or all products will end up being similar.
Faster Troubleshooting
Having control over the factory also means that you can pinpoint any production issues that may arise. Tracking down a product flaw can be very challenging when you don't own your factories. It's much easier to troubleshoot a manufacturing issue when you have sole control of the process.
This expedited solving allows Rode to find any issues that may arise in production faster than out-of-house competitors. By solving these problems faster, Rode saves money on flawed product costs and can pass those savings along to you. In-house production can also be much cheaper, allowing Rode to offer high-quality products at affordable prices.
For more information, check out my picks for the Best Laptop for Podcasting

and Best Headphones for Podcasting.

What to Look for in a Podcast Microphone
There are a few different criteria to consider

when shopping for a podcast mic; let's look at how Rode mics fulfill these needs.
Direction of Microphone
Every microphone is geared toward picking up sound in a certain direction

. Shotgun mics pick up sound straight ahead of the barrel of the mic; basic newscaster interview microphones are omnidirectional so that they can pick up the sound of the caster and the environment all at once.
For podcasting, you'll want a microphone that is specialized in picking up sound from the front. This could be a shotgun mic, or it could be a cardioid mic, which is not as narrowly focussed as the shotgun. It picks up sound in a heart-shaped pattern, hence the name. It would be best to avoid omnidirectional mics, as they will pick up a lot of background noise, causing a messy finished product.
Rode's Podcaster and Procaster mics are both cardioid directionals.
Dynamic or Condenser
Another thing to consider when buying a podcast mic is whether the device is a dynamic or a condenser

. Dynamic mics are generally better for loud, live performances, while condenser mics are better for studio voice recordings. 
Condenser mics deliver a deeper, crisper audio. However, they pick up much more background noise, thus being better suited for a studio setup. As a podcaster, you might not have a soundproof studio, and as such, would benefit from the more forgiving dynamic mic, which won't pick up as much background noise but will still deliver quality sound.
You'll find the Podcaster and Procaster from Rode are both high-quality dynamic mics, perfect for home-recordings.
Price
With any purchase comes the matter of price. Rode mics are not the cheapest on the market; however, their superb quality is not out of reach. The Rode NT-USB-Mini USB Microphone

is a fantastic first-podcast mic at just under $100US. This simple USB mic offers studio-quality that will easily last for your first year or two of podcasting.
Quality
As discussed, Rode mics are of excellent quality. Rode stands behind their products, offering a 1-year manufacturer warranty

on all items. You can also opt for the Rode Extended Warranty

, which will protect your purchase for another 5 or 10 years, depending on the capped lifetime of that specific product.
Ease of Use
Whether or not you're starting in podcasting, having to fiddle with your equipment all the time gets annoying quickly. Your equipment should be a combination of efficient, effective, and easy to use. Rode mics strike an excellent balance between these three things.
Mobility and Size
Something else that should be considered is the size and mobility of the mic. If you're a home podcaster, you likely won't have a huge amount of room to get set up in, so having a compact microphone will come in handy. If you plan to travel anywhere for podcasting, then mobility will be important as well.
As mentioned, the Podcaster and Procaster mics are dynamic, which means they don't require an external power source. This diminishes the need for surplus equipment that can weigh you down in your travels.
Find out whether an omnidirectional or cardioid mic is better for a studio here!
Best Budget Rode Mics for Podcasts
RØDE NT-USB Mini Versatile Studio-quality Condenser USB Microphone with Free Software for Podcasting, Streaming, Gaming, Music Production, Vocal and Instrument Recording,Black

The NT-USB Mini brings the pristine sound quality of RØDE's world-class studio mics to a compact,...
Features a sound signature tailored specifically to deliver warmth and presence in your recordings...
The studio-grade headphone amplifier and high-quality 3.5mm headphone output, complete with...
Last update on 2023-12-02 / Affiliate links / Images from Amazon Product Advertising API
This mini microphone is an excellent choice for the newscaster. At an affordable price, you'll receive an easy-to-use tabletop mic that comes with a removable magnetic stand. You'll be able to travel easily with this mic, and the built-in pop filter and headphone amplifier make this a user-friendly all-in-one podcasting solution.
Sale
Rode Podcaster, White

Large-diaphragm Dynamic USB Mic
English (Publication Language)
Last update on 2023-12-02 / Affiliate links / Images from Amazon Product Advertising API
The next step up from the NT-USB Microphone above is the Podcaster from Rode. This microphone produces high-quality vocals with minimal background noise, thanks to the omnidirectional input and the 28mm dynamic capsule. A zero-latency headphone output sits directly on the microphone body so that you can monitor the quality of the recording in live time.
Rode Procaster Broadcast Dynamic Vocal Microphone, Black

Package Weight : 1.5 Lbs
Product Type : Sound And Recording Equipment
High Output Dynamic Capsule And Balanced Low Impedance Output Make It An Ideal Broadcast And Voice...
Last update on 2023-12-02 / Affiliate links / Images from Amazon Product Advertising API
If the Podcaster doesn't satisfy your needs, then the Procaster surely will. It is a little pricier because this microphone is built for the semi-professional Podcaster. The Procaster tightens up its omnidirectional pattern, offering a cleaner "vocal-only" recording. It has an all-metal construction that secures the microphone's durability, and when you register the device, you can receive Rode's industry-leading 10-year warranty.
Summary
Rode microphones are excellent for podcasting. They strike a balance between quality and affordability, and they carry 30 years of quality manufacturing experience. Whether you decide to go with one of the podcast-specific microphones in their line up or a simple tabletop recorder, a Rode mic will serve you well in your podcasting journey.
Sources
Was this article helpful?
Recent Posts
link to How To Allow QuickTime To Access Microphone 🎙️  
QuickTime is a vital app for many Mac users, and if you've recently bought a new microphone, you might wonder how to use it optimally. QuickTime cannot record audio content if it doesn't have...
link to How Do I Test My Microphone? 🎙️
Every microphone leaves a unique signature on the quality of its output. If you're a podcaster trying to melt your way into your audience's hearts, a muddy, distorted recording won't cut it....