Buying audio recording equipment for a music studio, you'll come across different brands, including Focusrite, which has been praised countless times by reviewers. But are Focusrite preamps any good?
Focusrite preamps are a good and worthwhile addition to your recording equipment. They feature built-in DAWs for adding incredible audio effects and LED lights that display the connection status. Plus, they're lightweight, portable, easy to use, and capture high frequencies well.
Focusrite offers some of the best preamps for beginners and experts alike. Read on for a comparison of Focusrite and its competition and some detailed insights into the features that make this brand's preamps producers' favorites.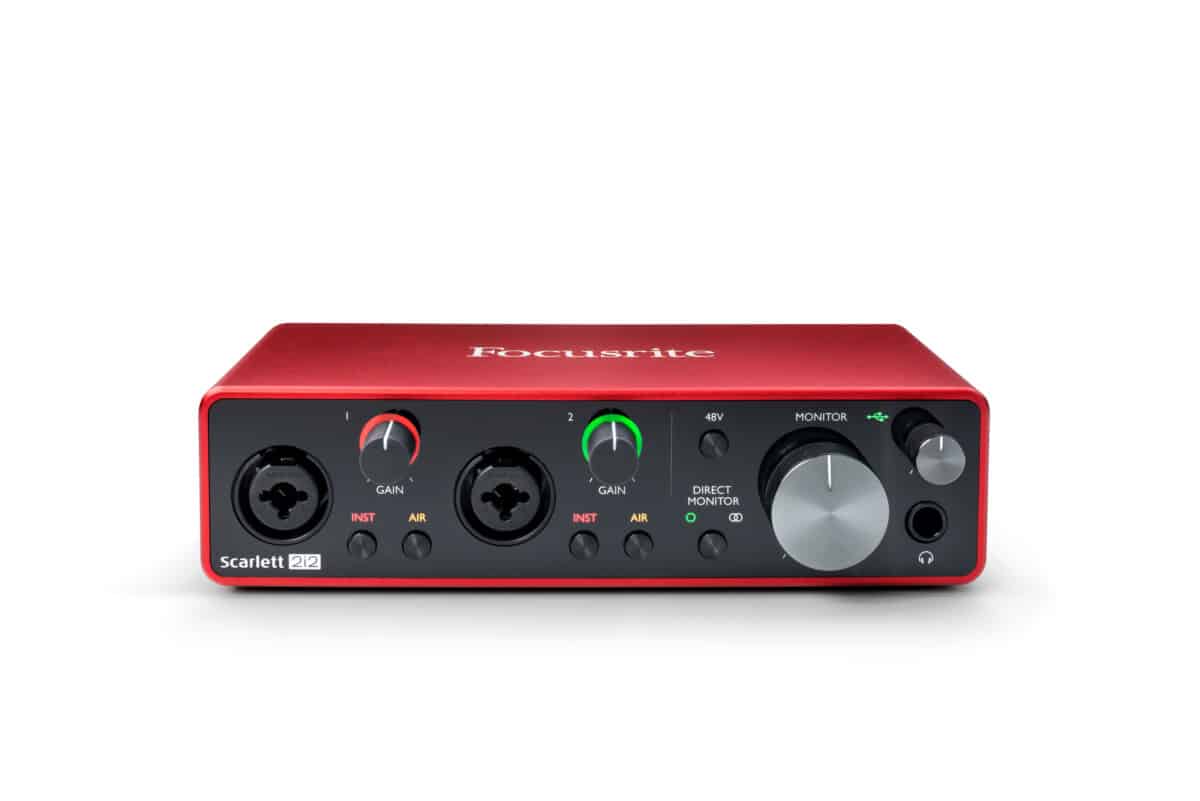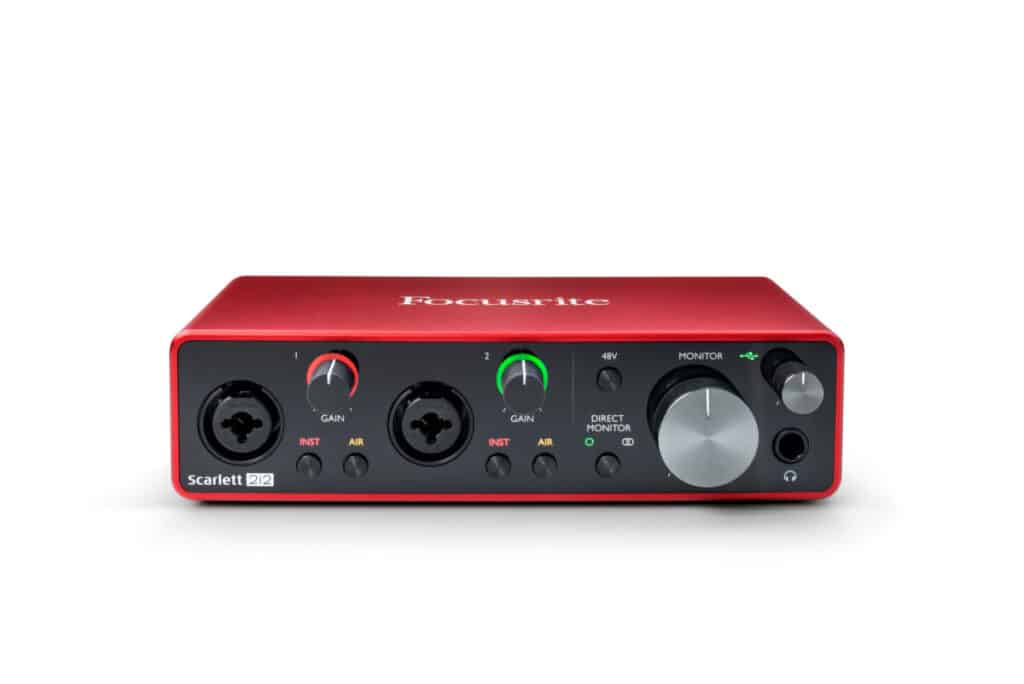 Is The Focusrite Scarlett A Preamp?
The Focusrite Scarlett is a preamp that is high in gain and low in noise. They are currently on their 3rd generation and Focusrite have been making preamps for 30 years.
Focusrite vs. the Competition
To determine if Focusrite preamps

are any good, let's see how they stack up against two of the brand's fiercest competitors – Tascam

and PreSonus

.
Like Focusrite, Tascam and PreSonus are well-known and produce an impressive range of intermediate and high-quality audio equipment. Many believe both create some of the finest audio equipment on the market today.
Focusrite vs. Tascam
The Scarlett Solo is beginner friendly and an excellent option for multi-instrumentalists.
As its name suggests, the Scarlett Solo comes with a single microphone preamp. This plug-n-play interface features a single direct channel and a mic jack. The device is outfitted with the proprietary Avid Pro Tools, which features countless instrument banks, loops, and incredible sound effects.
Recording with the Scarlet Solo is fun and easy, making it the ideal entry-level choice. However, it performs poorly in recording vocals. Nonetheless, it's oriented towards modeling and shaping sound, and it's still an excellent device.
Sale
Focusrite Scarlett Solo (2nd Gen) USB Audio Interface with Pro Tools | First

One natural-sounding Scarlett mic preamp with plenty of even gain; one instrument input, Stereo line...
Class-leading conversion and sample rates up to 192kHz / 24 bit; super-low latency for using your...
LIMITED TIME OFFER: FREE Venomode DeeQ, Maximal 2, and Pivot, plug-ins upon registration and...
Last update on 2023-05-30 / Affiliate links / Images from Amazon Product Advertising API
The Tascam US 1×2 is a pro-grade preamp that offers versatility, as it's capable of supporting different operating systems, though it's also beginner-friendly. It also has zero latency, making the recording of audio enjoyable, and features a sturdy full-metal casing to help extend its service life. Additionally, the Tascam US 1×2 is slightly angled, reducing the storage space it needs.
The Tascam 1×2 is the ideal choice if you need performance, noise-free recording. As an Ultra-HDDA preamp, it's more robust and far superior to the Scarlet Solo in terms of performance. It's also quieter and better sounding, overall. Plus, it offers a remarkable gain range, making the Tascam as easy to use as the Solo.
But that's not all! The US 1×2 features Cubase LE software to rival Focusrite's Avid Pro Tools. The Cubase LE offers the same quality as Pro Tools (though not as popular).
Tascam US-1x2 USB Audio/MIDI Interface with Microphone Preamps and iOS Compatibility

Features a high-quality Ultra-HDDA microphone preamp as well as a 1/4" line input--switchable to...
Both stereo line inputs and outputs are found on the rear panel for fast an easy connection of all...
The unique design of the bio-cell side panels angles the US-1x2 up from the desktop for easier...
Last update on 2023-05-30 / Affiliate links / Images from Amazon Product Advertising API
Focusrite vs. PreSonus
Music producers love the Focusrite 2i2, thanks to its top-of-the-class features and quality sound. This preamp is designed with sleek, eye-catching curves and comes with a metal case for extended durability.
The Focusrite 2i2 is lightweight and easily portable. Additionally, it features LED lights around the knobs, making it easier to operate in the dark. The LED lights also act as indicators and glow red or green while recording to tell you whether you're clipping or not.
The interface is pretty straightforward – it isn't packed with buttons, making it beginner-friendly. The 2i2 features twin TRS and XLR combo jacks, each side with an impressive gain knob that increases up to 46dB.
And those are just the aesthetics! In terms of sound quality, the Focusrite 2i2 captures high-frequencies exceptionally well – it has a bit rate of 24 bits and a depth of up to 192 kHz. Because of that, it's the perfect choice for recording acoustic instruments.
The preamp also features Pro Tools and is compatible with different DAWs, including Logic and Studio One.
The cons? This preamp

isn't good for recording multiple instruments simultaneously.
Focusrite Scarlett 2i2 3rd Gen USB Audio Interface for Recording, Songwriting, Streaming and Podcasting — High-Fidelity, Studio Quality Recording, and All the Software You Need to Record

Pro performance with the finest pre-amps - Achieve a brighter and a more open recording thanks to...
Get the perfect guitar and vocal take - There's no need to sacrifice your tone with two...
Low-noise for crystal clear listening - Two low-noise balanced outputs provide clean audio playback....
Last update on 2023-05-30 / Affiliate links / Images from Amazon Product Advertising API
The following video reviews the 2i2 in more detail:
The AudioBox comes with impressive specs and capabilities. It features two input TRS and XLRs combo jacks for connecting your musical instruments and microphones. Plus, it's equipped with two well-made and rigidly attached knobs, each giving a channel gain of up to 50 Db.
There's also an LED display for signal strength and connectivity, and the back of the AudioBox features a ¼ inch Main Out phone port that accommodates headphones, a MIDI In/Out port, and a USB port for connecting to your PC.
The PreSonus AudioBox is also compact and requires little storage space. Its metal construction offers durability, and it's light enough to use on the go.
In terms of audio quality, this interface can record a 24-bit file at sampling rates ranging between 44.1 kHz and 96 kHz. It's also capable of lowering the signal-to-noise ratio for crisp audio. This makes it the best pick for recording vocals, acoustic, and electronic music.
The AudioBox also features Studio One Artist, one of the most popular DAW software today. Though if you prefer other DAWs, the Presonus AudioBox is multi-compatible. It also works on both Windows and Mac platforms; although Windows users will need to download the box's drivers from the Presonus website to use it.
The only downside is that the AudioBox design is a bit dated. Notwithstanding, it remains a worthwhile option if you need clean sound reproduction.
PreSonus, 2 Audio Interface, Blue, PC/Mac-2 Mic Pres (AUDIOBOX USB 96)

Value-packed 2-channel USB 2.0 interface for personal and portable recording.
2 high-quality Class-A mic preamps make it easy to get a great sound.
2 high-headroom instrument inputs to record guitar, bass, and your favorite line-level devices, plus...
Last update on 2023-05-30 / Affiliate links / Images from Amazon Product Advertising API
Reasons To Get a Focusrite Preamp
Besides having aesthetically pleasing designs suitable for all types of studio environments, there are some standard features of Focusrite preamps that many find considerably impressive and may sway your decision to buy this brand over another.
Dynamic Range
If you need to bring out the best of musical instruments like drums during recording, then a Focusrite preamp would come in handy. For example, the Scarlett range offers a dynamic range to the tune of 110 dB, making it an excellent choice if you work with vocals, guitars, drum machines, and synths.
Notably, options like the Clarett come with a 118 dB dynamic range, offering decent headroom.
Expandability
Focusrite preamps are designed for scalability. Their interfaces can accommodate more channels, thanks to their Focusrite Octopre expansion, S/PDIF, and optical connections. This means you can modify their interface and add more connected devices, depending on your needs.
"Air" Time
Focusrite preamps, including the Scarlett and Claret product ranges, feature unique "Air" switches that allow you to modify the sounds of musical instruments, thus improving their audio quality. This exclusive function allows you to brighten audio recordings by adding detail or accentuating subtle nuances.
Focusrite's also come with "Anti-thump" tech to protect headphones and studio monitors from spikes and pops when powering up or shutting down.
If your studio monitors tend to produce an explosive popping sound when booting or going to sleep, using either a Scarlett or Clarett preamp alleviates the problem, protecting your speakers from damage.
Portability
Most Focusrite preamps are incredibly portable. Users have rated the 2i2 as the most portable Focusrite preamp, and the Clarett and Scarlett ranges are lightweight and rugged, and also reviewed well for this feature. Having an easily portable preamp
For more information, check out which is better: Behringer UMC 1820 versus Focusrite 18i20

Conclusion
Focusrite preamps are comparable to brands like Tascam and PreSonus and just as good, if not better, in some situations. Ultimately, whether one is better than another really depends on your needs. But should you choose a Focusrite preamp, regardless, you're making a good choice.
To recap, some of the reasons to buy a Focusrite preamp include:
Impressive dynamic ranges for recording different instruments and vocals.
They're lightweight and portable.
Expandable interfaces.
"Air" switches that let you add effects or bring out the subtle details in recorded audio.
An "Anti-thump" feature that prevents speaker damage by pops and spikes.
Sources
Was this article helpful?
Recent Posts
link to How To Allow QuickTime To Access Microphone 🎙️  
QuickTime is a vital app for many Mac users, and if you've recently bought a new microphone, you might wonder how to use it optimally. QuickTime cannot record audio content if it doesn't have...
link to How Do I Test My Microphone? 🎙️
Every microphone leaves a unique signature on the quality of its output. If you're a podcaster trying to melt your way into your audience's hearts, a muddy, distorted recording won't cut it....