When it comes to studio sound production, while a delay is one of the most common and simple studio effects, they are actually incredibly important, providing a wide array of extra options to tune a sound.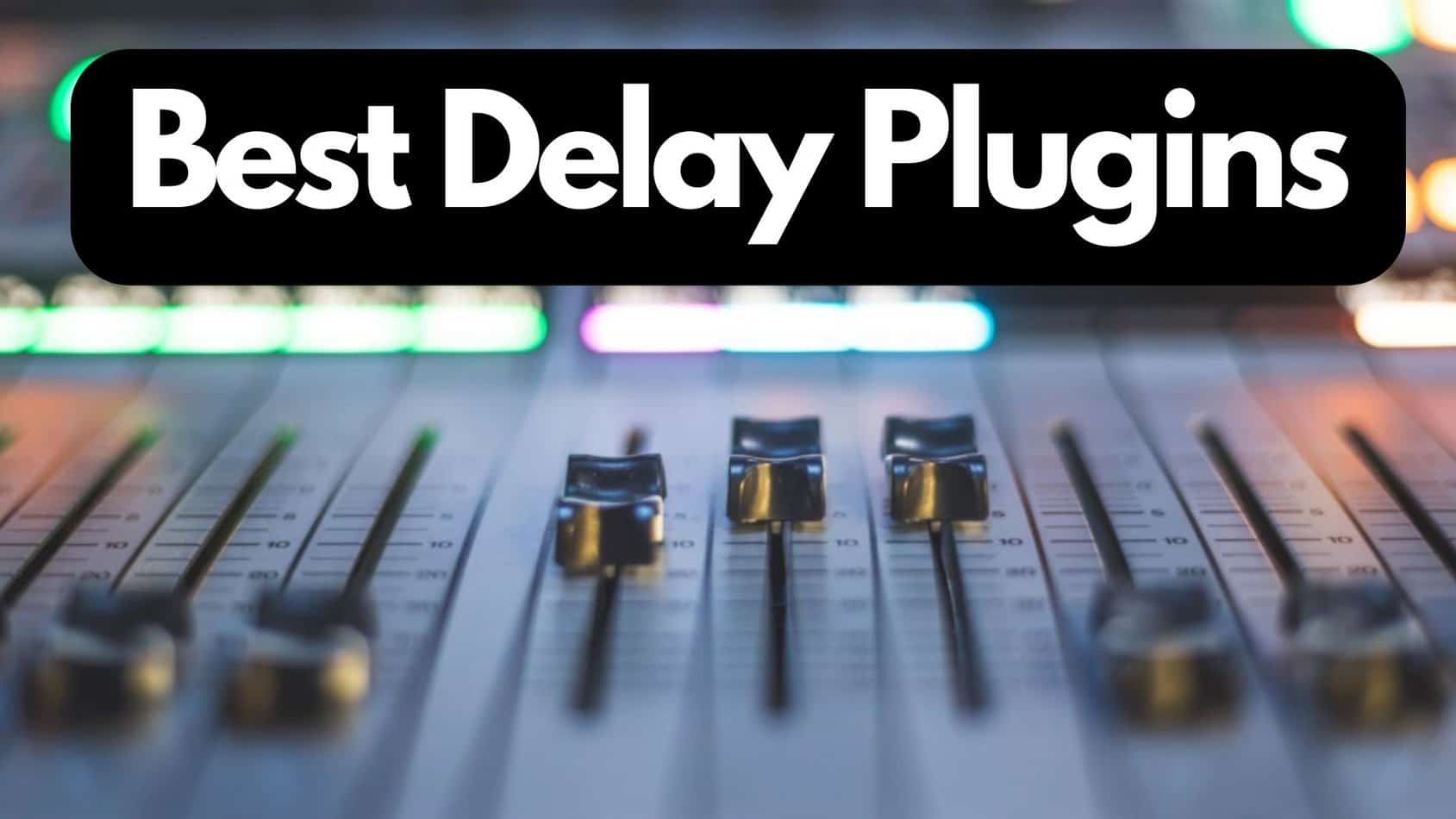 There are actually a lot of different ways you can use a delay plugin, some can be more obvious while others can be a bit more unconventional or just simply creative.
Delays are an alternative to reverb that gives your audio an echoing effect and once you apply it to your own personal project, you can really start to see the potential of this feature right away.
A common reason many people will use a delay effect is to also make a sound repeat over time to improve the movement in the sound to keep it from becoming monotonous.
Different delay plugins can work far differently however in terms of how easy they are to use, how compatible they actually are with certain sounds and how many additional features they come with.
These can make all the difference to your sound so to make this choice easier, we have compiled below some of the best delay plugins available on the market right now.
A great affordable delay plugin with an incredibly simple design, this system provides a classic aesthetical design with some great features.
This product comes with four different modes of Analog delay along with a distinctive 'LoFi' switch to the left which works to make the delays extra crunchy and smooth.
This warm and crunchy sound is also complimented by the fact that this is a Analog delay, giving off a classical sound palette that sounds like it's straight out of the 1970s.
The actual delay system is also incredibly efficient with up to 3500ms delay time along with variable pitches.
There is also infinite feedback support which is particularly great for ping pong delays especially for stabby synth sounds and percussion.
For an easy to use retro device that has four different modes of Analog delay and a great additional LoFi feature for those crunchier sounds, this is the delay plugin for you.
Pros
4 Analog delay modes
Great LoFi feature for unique sounds
3500ms delay time
1970's retro aesthetic
Easy to use with clear symbols
Cons
Lack of additional menus or dropdown
An industry standard when it comes to delays and for good reason, the SoundToys Echoboy plugin is incredibly versatile and known for taking decades of echo device history and wrapping it into one.
First and foremost it is designed specifically for musicians and producers being able to get a perfectly timed delay with just the dial of a music note locked into the song's tempo with the flip of a switch.
This is far easier to apply than more vintage hardware which often requires more buttons and accuracy to get the delay exactly where you want it.
It is also incredibly easy to use thanks to the multiple features and toggles which can almost make the plugin do all the work for you including the Single Echo Mode, Dual Echo and Ping Pong modes for some powerful stereo echo effects.
There are multiple other state of the art features which makes this one of the most versatile plugins out there including the Rhythm mode where you can get started with a built in pattern, a Shape dial to alter the volume, reverse and fade on the sounds and a whole host of deep customisation options with the Style Editor which gives you access to the low, middle and high equalizers so you can alter them as you wish.
For the widest range of delay effects that have been compiled over decades of research, the Soundtoys Echoboy is one of the very best options available right now.
Pros
Easy to insert accurate delays
Multiple echo modes: Single, Dual and Ping Pong
Rhythm feature makes for easy starting patterns
Style editor allow for great customisation of equalizers
Built in rhythm editor to monitor sounds
Cons
The latest edition of the FabFilter's vintage tape delay plug in series, this plugin has a great range of sound qualities and variations from washed out more lo-fi pulses to a more smoother and lush vintage style echo.
Alongside having deep feedback editing features, the FabFilter also has a great interface being easy to understand and simple to use.
The lower portion of the UI is split vertically monitoring the sounds while the upper portion includes all the controls and settings including delay time, feedback, effects and mixing making for a neat and tidy interface.
With these settings, the FabFilter is capable of creating a whole range of different sounds from lush vintage style tape echoes to clean digital delays all the way to warped modulations.
Surrounding the delay knob are options for a delay freeze, ping pong, temp sync and Read mode which is used to toggle between a tape-style pitch which changes along with the delay time, and a digital stretch mode where the pitch remains constant.
One of the biggest draws to the FabFilter and what makes it stand out so much from other designs is the modulation section where you can set up as many as 50 modulators with the sources including LFO, slider and XY controls which can be manually wired to their destination.
Pros
Great modulation section for unique echoes
Read mode feature makes monitoring pitch extremely easy
Easy to use interface with a deep and varied toolset
Range of different sounds ranging from vintage to warped
Easy to get out and use, will not slow down production time
Cons
Quite expensive
Can be hard to become accustomed to added features at first
Alongside looking like a classic digital delay unit, for any classic and standard delays this plugin is a great pick.
While it can look quite intimidating at first, with a little practice the Slate Repeater is actually incredibly user friendly with 23 emulations of classic delay machines covering a wide variety within the tape, analog and digital worlds.
This grants a good variety of sounds to choose from including bolder echoes, subtle wide spaces or even a more classic tape slapback, you get the choice with this plugin so you can have the right delay for the right situation.
The on board EQ and pan controls are also a great added feature allowing you to easily shape the color and sterol image of the delay itself so you can customize it how you like.
One of the best added compartments of the Slate Repeater is the Spread feature where you can easily create a wide stereo delay with just the touch of a button.
All you need to do is choose your ms value or delay note and Spread will automatically deviate the delay lines by either 10ms or 20ms while also panning the delays left and right which is an excellent feature for helping to utilize delay tones to make more complex soundscapes.
For a plugin more centered towards hardware emulation rather than creating the deepest and most creative sound design possible, the Slate Repeater is a great choice especially for its more generous price point.
Pros
23 emulations built in grants access to several unique sounds
Spread feature creates and monitors steer delays easily
EQ and pan controls help to shape steer color and image of delay
Tape, analogue and digital all in one
Cons
More suited to hardware emulation than more modern sound designs
Interface can be confusing at first
The Valhalla Delay is known for taking the sound and character of more classical delays, and infusing them with newer and more modern sound design possibilities to make for some incredibly unique effects.
The Valhalla Delay does not just simply mimic one particular type of classical delay unit however, in fact it has 7 different modes including some that don't even have a counterpart in the vintage world.
The first 4 delays are loosely inspired by vintage hardware, Tape and HiFi are largely similar with a slightly classical sound but mixed with the full bandwidth sound you would normally get from using a studio quarter-inch machine.
BBD on the other hand replicates the kind of dirtier sound of a bucket-brigade chip for those darker sounds in the delay while Digital captures a slightly crunchier tone harkening back to old-school digital delays.
The Pitch and RevPitch options work to mix in some lo-fi pitching into the delay to add some darker sounds with the RevPitch option also adding a granular reverse algorithm which can allow for some 'backwards' delay.
The final mode is 'Ghost'

which works by hitting the frequency rather than hitting the pitch to make for a noisy or slightly clattery kind of effect that is extremely unique.
With all these modes that offer an array of different styles and pitches, they also come featured with a Diffusion section that can grant even more customisation letting you soften the repeats or even generate full-on reverbs.
You also of course get the standard Width and Feedback controls with each mode as well as Age and Drive dials to change the tonality of the repeats to your own degree.
For a product that creates some unique sounds by mixing more traditional delays with modernized electronic sound designs, it's hard to find a more suited plugin option than the Valhalla Delay.
Pros
7 unique modes including Tape, HiFi, BBD and Ghost
Incredibly unique delay sounds with mixture of old and new hardware
Extremely easy to use interface
Very cheap price point
Cons
Not great just for purely classical analog and tape sounds
Range of added features is fairly limited
The easiest plugin to use on this list and one that is a great choice for beginners, or if you want to just use some regular slap back delays on guitars, synths or even vocals without having a whole range of other compartments cluttering the interface, the NI Replika is a plugin certainly not to be ignored.
There are three main sections to the Replika, the Mode Selection, Time and Modulation.
While these three features are mostly included with nearly every delay plug in, they work incredibly well for the NI Replika with the Modulation toggle having a high-class resonant filter which can be used to add subtle to drastic motions that can be synced to the beat for an incredibly intense sound design.
The plugin also provides three distinct algorithms; Modern is a digital based delay that delivers crystal clear repeats of high end units.
Vintage delivers that more classical and charismatic grittiness of early studio delays, and Diffusion delivers an entirely fresh sound that is somewhere in between a delay and reverb.
This great digital delay algorithm makes this the go to plugin for regular slap back delays for guitars and vocals, but also great to use for some of the longer delay times to create some cool and washy song effects within the delay.
Pros
Fantastic algorithm selection makes for great sound variety
perfect for unique slap back delays
Incredibly easy layout and interface
Good price
High class resonant filter on Modulation for different effects
Cons
Not ideal for deeper sound design on delays
Not too many added features
Described by some as the 'Swiss army knife' of the delay world, the Audio Sandman Pro comes with the features you would come to expect on a delay plugin, but also so much more.
While the interface can seem a little daunting at first with just how many features are dotted across the programme, it luckily comes with a trusty user's manual that will inform on each component and area so that you can pick up how to use the plugin in no time.
Not only does the Sandman Pro come with a total of 6 delay modes, it also comes equipped with a powerful modulation system, sample rate control, two filters and even a sleep buffer waveform display.
To use the sleep buffer all you have to do is hit the sleep button and the Sandman's Pro delay buffer will be frozen and looped, granting you much more free time to get familiar with the plugin's other parameters and controls.
When it's not in sleep mode, the Sleep Buffer feature will display the input signal however when it is sleeping, it continues visualizing the left and right channel buffer contents along with the 'playhead' position so modeling the wave times will therefore cause the waveforms to compress and stretch.
This is just one of the dozen or so features in this plugin, there is also the superb modulation setting simply requiring you to click the Modulation button and out will pop up to 6 modulation sources which can be loaded.
Alongside its delay modes and freeform modulation system, the Sandman Pro variant also adds in a waveform display, high pass filter and Echoes section makes for some incredible versatility and customisation when making delays.
Pros
Huge range of additional customisation features
Great Sleep Buffer option grants more freedom to use other controls
Incredible modulation setting with 6 delay modes to choose
Very modernized and high tech colorful interface
Two separate filters
Cons
Interface is quite messy when in full use
Cannot zoom waveform displays
If it's pure vintage you are looking for and want a delay plugin that looks like it's come straight out of the 70's or even before, the Tape Echo is an incredible choice with its great retro design.
The Tape Echo is actually a faithful recreation of the Echoplex EP3 tape delay which was extremely popular back when it was first released in 1969 with musicians and guitar players soon seeing it as the industry standard when it comes to delay effects.
This authenticity definitely shines through in the sleek retro design and interface, however this is not to say it can't work well with delays.
With its natural and organic delay trails giving a nice echoey 3D blend, it is very commonly used on vocals where the added bonus of the BPM synced delayed times can create some incredibly smooth echoes which will immediately be familiar to fans of older delay sounds.
It is also commonly used on guitars where its very recognisable 'slap' delay can elevate an ordinary guitar track or sound into something with a bit more space and atmosphere upon listening.
Pros
Excellent retro design and interface
Natural and organic delay trails
Very good for smooth echoes on vocals and guitars
Great as a vintage gift
Cons
Not suitable for deeper delay sounds
Not too much room for extensive experimentation with sounds
Summary
A delay plug in is one of the most important tools for the studio that can make your tracks sound unique with the range of sounds they can create, so it is always worth picking one up that you know will serve you well in the long term.
Was this article helpful?
Recent Posts
link to How To Allow QuickTime To Access Microphone 🎙️  
QuickTime is a vital app for many Mac users, and if you've recently bought a new microphone, you might wonder how to use it optimally. QuickTime cannot record audio content if it doesn't have...
link to How Do I Test My Microphone? 🎙️
Every microphone leaves a unique signature on the quality of its output. If you're a podcaster trying to melt your way into your audience's hearts, a muddy, distorted recording won't cut it....