If you're a guitarist trying to make your own original music, then you will already know how difficult it can be to craft a specific sound on your instrument.
Whether you play folk music or heavy metal, the guitar is an incredibly versatile instrument and can be used to make a wide variety of tones for almost any genre.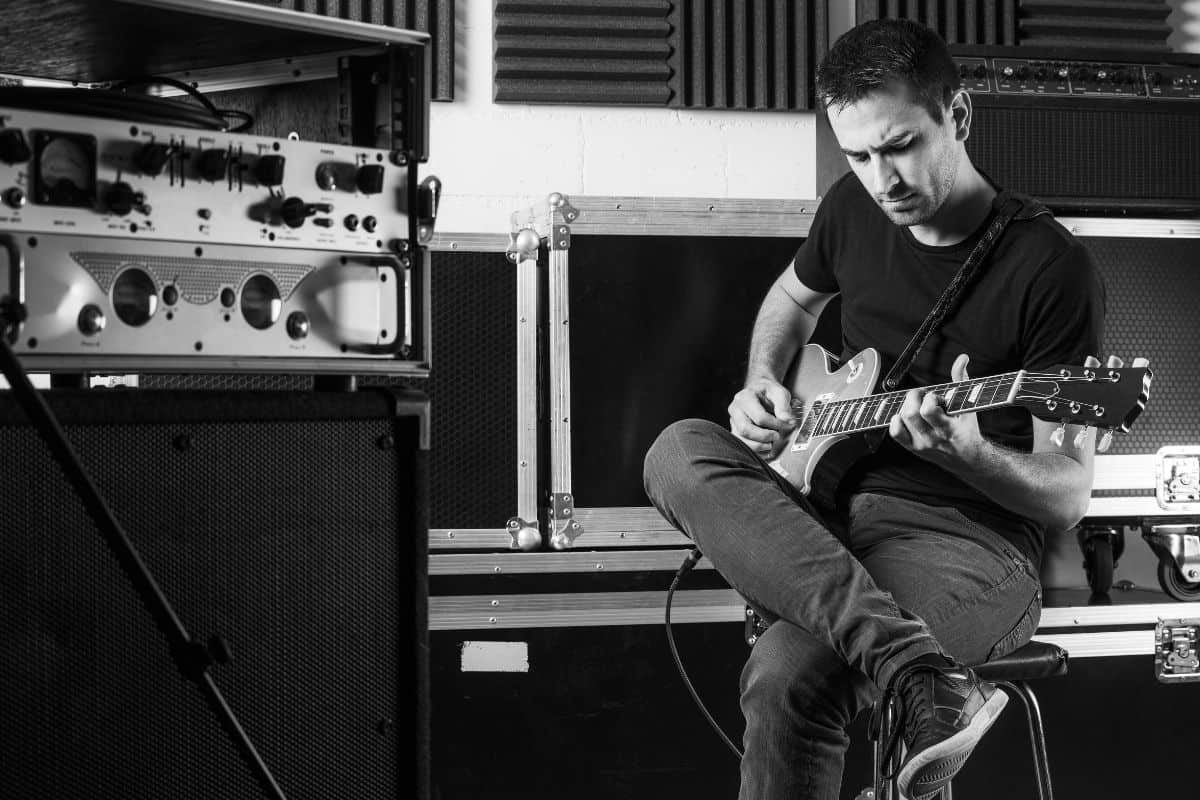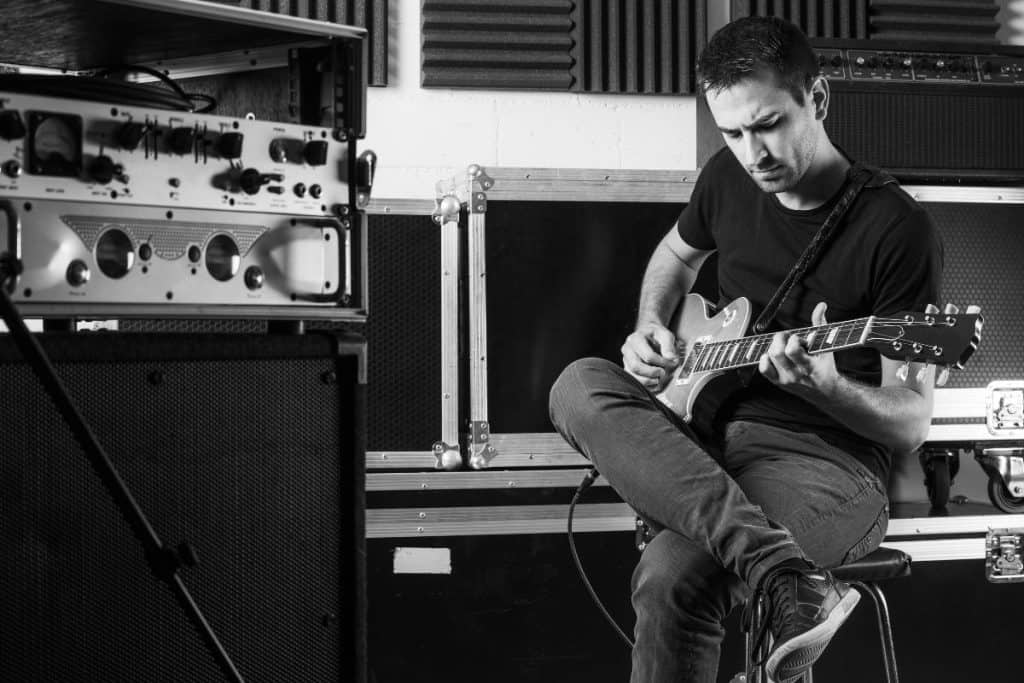 Even if you are able to create a specific sound on your practice amp, recording it into a Digital Audio Workstation (DAW) brings many of its own challenges.
Even if you own an expensive amp

and have tweaked it perfectly to get the exact tone you want, you then have to capture a clean recording of this sound.
This can often involve hanging a dynamic microphone in front of your cab to capture your riffs and chords.
However, this is an imprecise science at best, and many factors from the acoustics of your room to how far the mic is from the cab will affect the sound of your recording.
This is why Neural DSP plugins are a valuable tool for guitarists that want to easily record their instrument without spending loads on recording equipment.
Neural DSP plugins are programs that you can load into your DAW to create a complete virtual rig for your guitar. The DSP in the name stands for Digital Signal Processing, and that is exactly what they do; take a signal from your guitar and process it to sound like it is coming from a specific arrangement of equipment.
These plugins make it easy to get very specific sounds from your instrument without going to the trouble of micing up an amp or hiring a proper studio space.
In this article, we will cover some of the best plugins that Neural DSP offers to help aspiring guitarists get the exact tone they are looking for.
The Omega Ampworks Granophyre is a plugin that is so good it inspired Mike Stringer and Misha Mansoor to buy the amp it is emulating.
It consists of an amp, cab and equalizer as well as a digital copy of the Plumes pedal made by Earthquaker devices. With these awesome pieces of gear, you can create awesome thrashing chords and crunchy blues licks.
The amp that comes with this program is a good choice for metal artists, with some great inbuilt distortion features. On its cleanest setting, it will still produce a reasonably thick tone, with more delicate highs and lows.
As such, if you are looking for a clean amp, it may not be the best choice, but for anyone producing rock, metal or blues music, the Granophyre is a great tool to have at your disposal.
Thanks to the equalizer unit, it is very easy to change the tonal characteristics of your amp and cab. The Cab comes with 12 IRs which will give you even great control over the tone and overall sound of your guitar.
If you are looking to create heavy metal music, then this plugin will give you some powerful virtual gear for getting the classic sounds associated with this genre.
Pros:
Powerful virtual metal amp with great high gain distortion effects.
Comes with a booster pedal for even more overdrive when you need it.
The equalizer unit is very easy to use and understand.
Cons:
If you want an amp that can still provide a bit of crunchy overdrive when you want it, but also create clean tones as well, then this rig is a good choice for you.
Neural DSP's archetype series aims to recreate the equipment used by famous musicians, and this one aims to recreate the rig used by Polyphia's guitarist Tim Henson.
This plugin offers three different amps as well as several effects pedals, equalizers and cabs for producing sparkling cleans tones and gnarly distortion.
The cab for this virtual rig comes with up to 6 microphones that can be placed as you desire around the speaker.
This will allow you to recreate certain effects that can only be achieved by recording a live rig with dynamic mics

placed at precise distances and angles. Combined with a 9-band equalizer, it is very easy to tweak your tone to get the exact sound you want.
You can use the acoustic amp to create beautiful clean tones, while the lead amp will produce dynamic, rumbling chords.
As well as these amps you will also get access to 3 pre-effects pedals including boost, compression and overdrive. There are also three post-effects pedals that offer delay, stereo chorus and reverb effects.
With the multivoicer algorithm, you can overlay pitch-shifted 'voices' over your playing to create a wide range of soundscapes.
Pros:
Great value for money.
Offers a selection of amps and effects pedals for creating any sound you can imagine.
Cab comes with virtual microphones, so you have ultimate control over your recording.
Cons:
The multivoicer may be a bit complicated for some amateur musicians.
The Parallax plugin is built for bassists and offers a lot of great tools for creating rumbling bass lines. This plugin has a selection of awesome presets that will allow you to start making tracks right away.
With these presets you can instantly recreate awesome tones used by famous musicians such as Dave Otero, and Nolly GetGood.
Just like the last plugin we looked at, you can control the placement of virtual microphones around your cab to offer total control over your sound.
The IRs for this cab are specially programmed to deal with high-gain distortion effects. This will help you to prevent excess clipping or overly sharp highs to get a clear yet crunchy sound.
From the main GUI you can access a 6-band equalizer, compressor as well as several over features such as high and low pass filters.
You can also choose which specific frequency band that you want to apply your distortion to. This is a plugin that offers awesome value for money and complete control over the sound of your bass guitar.
Pros:
Easy to use interface.
Offers over a 100+ preset tones.
Built in compressor, distortion effects and equalizer.
Cons:
Many of the presets will only work for bass guitar.
This plugin was designed to replicate the classic sounds of Tosin Abasi, the lead guitarist of the heavy metal band, Animals as Leaders. It offers a great collection of three powerful amps that will allow you to rock out on your guitar with brutal high gain effects as well as vibrant clean tones as well.
This plugin can be difficult to master, but once you do, it can be used to create lots of versatile sounds. From blues to rock, funk to soul, there is something here to suit all types of music.
One of the things that makes this plugin a bit more difficult to use than some of the others we have looked at is the fact that each amp is modeled after Abasi's whole Morgan amp rig.
As such, it comes with several different components, each of which will require a bit of tweaking to make them work together effectively. As well as three amps for covering, clean, rhythm and lead guitar tones, you will also receive 4 effects pedals, and a 9-band equalizer.
The compressor pedal that comes with this plugin is called the Logos, and it produces incredible punchy lows that will sound great when used for heavy metal music.
There are also multidimensional reverb and delay effects that will allow you to add a bit of space-age flare to your tracks. Overall, the Abasi Archetype plugin is one of the most versatile plugins that Neural DSP has to offer.
Pros:
Offers three amps for clean, rhythm and lead guitar tones.
Awesome pedal selection that offers punchy compression and multidimensional reverb.
Multi-microphone positioning for the cab.
Cons:
With so much versatility, this plugin can take a while to learn all of its different features.
If it is high gain distortion you are looking for, then the Archetype: Gojira plugin is exactly what you need. With a huge range of settings, from subtle to extreme, this plugin will give you everything you need to produce an epic sounding track.
With three amps and a great selection of pedals, this is the ultimate plugin for any musician who plays rock or heavy metal music.
The first thing you will notice about this plugin is how easy it is to use. The interface is very intuitive and allows you to quickly change the characteristics of your guitar tone.
Thanks to the 9-band equalizer, you can tailor your tone to get it just right, and the 6 pedals will give you even more control over the tone of your guitar.
This plugin comes with two pitch effects that will allow you to create screeching solos or rumbling bass lines. You also get both a distortion and an overdrive pedal for all the crunch you could possibly want, as well as chorus and phaser effects.
If you are a fan of Gojira, and their music, then this plugin has everything you could possibly want to create a sound similar to the French Metal band.
Pros:
6 awesome pedals including a phaser, overdrive and two pitch-shifters.
Perfect plugin for creating rock and heavy metal tones.
Intuitive and easy to use interface.
Cons:
Not the best for clean tones.
So far, our list has covered several plugins for heavy metal or rock artists, but this one is perfect for anyone who wants to use clean tones.
The Cory Wong plugin includes lots of great features for creating sparkling clean tones that are suitable for a variety of genres from funk, to jazz to blues.
It comes with three different virtual amps, including a recreation of one of the rarest amplifiers in history, the amp snob.
With these three machines you can create a great collection of sounds. The D.I Funk Console has some great controls for adding high and low pass filters, as well as adding a bubbly effect to your playing that is perfect for funk.
The Clean Machine on the other hand does what it says on the tin by providing a crystal clear tone that will bring out the subtlety in your playing.
You also get access to 8 different pedals, which offers a lot of choice for musicians looking to get a great bang for their buck. There is a Wah pedal for adding to the funky aesthetic of this plugin, as well as a compressor, booster and overdrive pre-effect pedals as well.
You can also enjoy the post effect pedals, which consist of a 80s chorus effect and a multidimensional delay effect.
Pros:
Versatile package with three amps and 8 different pedals.
Great for music that requires clean guitar tones, such as jazz and funk.
Midi-controlled wah pedal is a lot of fun to use.
Cons:
Not great for music that requires high gain.
Buyers Guide
Neural DSP is a great company that offers a wide range of premium plugins. Which one you buy will come down to the kind of music you want to create and how much experience you have working with plugins.
In this section, we will tell you a few of the most important things to look out for when buying a Neural DSP plugin.
Available Amps
Some Neural DSP plugins will aim to recreate the sound and functionality of one particular amp, while others will offer up to three amps for increased versatility.
It helps to do a bit of research on what each amp sounds like, and what it can do, before deciding on a plugin.
Most of the time you will have a separate amp for acoustic, rhythm and lead guitar. However, some clean amps will sound much better than others, depending on the exact tone you want to recreate.
Some amps will have built-in distortion effects and controls for altering the bass, middle and treble frequencies.
Pedals
As well as considering the amp, each plugin will likely come with a few pedals for adding extra effects to your music. The most common pedals you will get are often compression and distortion units for adding a bit of punch to your tracks.
However, there are also many other awesome pedals that you can get as part of your virtual equipment bubble. Time effects such as delay and reverb can be used to thicken your sound and make it more layered.
Other effects such as phasers, flangers and chorus pedals will all help you to create unique sounds, some of which are very weird and wacky.
Having a good selection of pedals to go with your app will increase the amount of versatility you get from your plugin.
Presets
Some of Neural DSP's plugins will come with presets that will allow you to choose from a list of settings for instant access to certain sounds.
These plugins can save a lot of time tweaking knobs and adjusting your settings to capture the perfect tone.
As such, they are a very useful function for complete beginners to Neural DSP plugins. Instead of having to learn the function of all the various features, all you need to do is choose a sound from the drop-down list, and you are ready to go.
Equalizers
Each plugin will come with an equalizer that can be used to adjust the volume of specific frequencies. This is an essential tool in music production for preventing feedback and clipping.
They are also vital for getting a smooth sound without any unwanted saturation or harsh tones. Often you will have the choice between a 6-band or 9-band equalizer. The 9-band variety will offer more control and allow you to adjust more frequencies.
However, they may be more difficult to use for beginners to music production, who might prefer the simpler 6-band equalizers instead.
Other Functions
As well as all of the above, you should also look out for other features that may be useful for your music. These include the options to add high or low-pass filters, which can be used to cut out specific frequencies for a more focused tone.
Some plugins will also come with additional pieces of kit, such as the multivoicer that comes with the Archetype Tim Henson plugin. This tool can be used to overlay a sample over your backing tracks and pitch shift them to create some weird and wonderful sounds.
Frequently Asked Questions
What Are Neural DSP Plugins?
Neural DSP plugins are software programs created by Neural DSP for professional music makers and home-studio artists alike.
They aim to recreate the rigs of famous guitarists, giving their customers access to expensive, professional amps, cabs and pedals all from their home studio's computer.
These virtual rigs are very accurate and sound exactly like the real thing. They are made up of amps, cabs equalizers and often an assortment of pedals.
Neural DSP makes general packages such as their Parallax plugin, which aim to offer a range of different sounds and functions. They also make their Archetype line which aims to recreate the equipment used by specific artists from Tim Henson to Nolly Getgood.
What Is A Cab IR?
IR stands for impulse response, and most virtual cabs will come with multiple IRs to represent the settings and recording environment of the cab.
These IRs help the cab to sound realistically like the piece of equipment it is trying to emulate. As such, different IRs can be used to capture different sounds or represent different recording spaces.
Do I Need A DAW To Use Neural DSP Plugins?
No, all Neural DSP plugins can be loaded into a DAW for recording purposes, but if you just want to play around with them then you can also use their standalone versions.
This allows you to access all the plugin's features without using, or even owning, a DAW.
Sources
Was this article helpful?
Recent Posts
link to How To Allow QuickTime To Access Microphone 🎙️  
QuickTime is a vital app for many Mac users, and if you've recently bought a new microphone, you might wonder how to use it optimally. QuickTime cannot record audio content if it doesn't have...
link to How Do I Test My Microphone? 🎙️
Every microphone leaves a unique signature on the quality of its output. If you're a podcaster trying to melt your way into your audience's hearts, a muddy, distorted recording won't cut it....