Ring lights have surged in popularity due to their usefulness in photography and video sharing platforms like TikTok and YouTube. But they have been around since the 1950s. Despite their functionality, one major concern is that ring lights can overheat.
A ring light overheats due to several factors, such as inadequate heat absorption in the structure, excess light-emitting power, faulty design, improper use, incorrect installation, end-user ignorance, and temperature fluctuations.
Read on to find out some facts about ring lights, details on the causes of overheating, and safety pointers to prevent it from happening.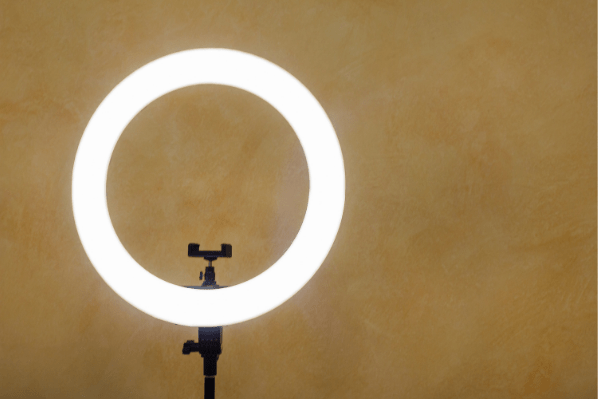 What Is a Ring Light?
A ring light (aka beauty or glamor light) is a must-have tool for every photographer or videographer production kit as it dramatically improves their lighting and image capturing capabilities.
Cole's Classroom

defines a ring light as a flash mounted in a large circle.
Studio Binder

describes it as a circular light designed to fit around a camera's lens. It comes in either one fluorescent circle or a ring comprising several small LED (light-emitting diode) bulbs.
Lester A. Dine developed the ring light in 1952 as a dental lighting tool used to illuminate the inside of a patient's mouth. Because of its ability to cast an even light on a subject, its use expanded to fashion photography. Photographers discovered that it minimizes shadows and blemishes while brightening the eyes.
Today, it is also used in the makeup industry, portraiture, macro photography, and videography, especially vlogging.
The modern ring light comes in several sizes: the smallest is for medical and macro-capture purposes, and the 9, 12, 18, and 20-inch (22.86, 30.48, 45.72, and 50.8-cm) variants are used in photography and videography.
For more information, check out to see if ring lights work well outdoors

.
Do Ring Lights Overheat?
One major drawback to contemporary devices is overheating, which may damage equipment and cause a fire. Ring lights are no exception.
Hykolity

confirms that, even though they generate minimal heat or ultraviolet rays, LED lights do overheat. High-powered LED lights can operate at high temperatures, but their heat-handling capacity has a limit. That's why they require adequate heat sinking to prevent them from overheating.
Heat sinks are devices or substances that absorb excess heat.
Even so, LED lights don't produce nearly as much heat as incandescent ones. Though LEDs produce some heat when they are electrified, it is much less than what incandescents give off. The heat LEDs give off passes through a heat sink, which distributes it evenly throughout the bulb, which is why LEDs are much cooler than their incandescent equivalents.
Lamp HQ

explains that one of the most significant benefits of LED lighting is energy efficiency, as LEDs create and waste very little heat. They use 75% less energy than incandescents (which release 90% of their energy as heat) and fluorescents (80%).
For other safety considerations, check out my article about if ring lights are harmful for your eyes

.
Do Ring Lights Burn Out?
If by "burn out," we mean "die," "be out of commission completely," or "stop working altogether," then yes, ring lights made of LEDs or fluorescents burn out. Although it may be more accurate to say they "wear out."
The experts at Green Energy Efficient Homes

back this up.
The lifetime of an LED bulb is measured in hours of use, which have much longer longevity than incandescent (800 to 1,000 hours) or fluorescent (8,000 hours) lights.
An individual LED house light may last 100,000 hours, but it only takes one failed diode for an entire bulb not to work properly. Spectrum Aurora

ring lights have an approximate life span of 80,000 hours.
The above light types deteriorate differently: incandescents peter out, fluorescents flicker, and LEDs slowly dim over time. This is because, as LED components get older, they operate less efficiently and thus stop emitting light—but gradually.
For more information, check out my article about if ring lights use lots of electricity.

What Causes Ring Light Overheating?
According to Forge

, these factors cause ring lights to overheat:
Inadequate heat sinking
Excess LED power
Installation in an environment for which the ring light was not designed
Improper use
Bad design
End-user ignorance
Temperature fluctuation
The last one affects a ring light's lifespan significantly. If the temperature surrounding a ring light gets too hot and it does not have an adequate heat sink, the LEDs in the ring will overheat.
What Kind of Damage Does Overheating Cause?
Overheating LED ring lights will disintegrate faster through:
Light output, aka "lumen maintenance"
Changes in color throughout their lifetime
Spikes in current and high voltage may cause physical damage to the LEDs, plastic lenses, wires, connectors, circuit boards, and drive electronics.
Safety Tips on Lighting
Media College

recommends these pointers:
Keep pets, children, and bystanders away from ring lights mounted on stands, walls, and tripods.
Always be mindful of the heat ring lights generate. Wait until they cool down before touching or moving them.
Never handle bulbs with your fingers. Use a piece of non-slippery fabric or wear gloves even if the bulbs aren't hot.
Only use the material for gels especially designed for lighting. Never use plastic, paper, tracing paper, or baking sheets.
Never attach anything to a ring light for which it isn't designed.
Never cover ring lights. They should have adequate ventilation at all times.
Ensure the stability of stands and tripods.
Secure wall-mounted ring lights before using.
Tape loose cables to the floor/ground.
Don't overload the sockets where your ring lights are plugged in.
Don't plug more than two kilowatts of lighting into a powerpoint.
Safety Tips on Electricals
These tips are from Ring Electric

, Ottawa's rewiring experts. Follow these steps to identify, assess, and address potential electrical hazards at home:
Extension Cord, Plug, and Outlet Safety
Don't run extension cords under carpets, cardboard, or heavy furniture.
Use approved power bars.
Replace any broken or missing light switch covers immediately.
Discard mangled, frayed, and flattened cords or those that heat up quickly when used.
Keep extension cords away from sources of water and heat.
Use appropriate cords for ring lights. Use different ones for indoors and outdoors.
Use extension cords temporarily, but if you need power from a permanent spot for your ring lights, hire a licensed electrical contractor to install a proper wiring solution.
Never overload electrical outlets by plugging in too many appliances where ring lights are connected.
Product Safety
Check the ring light for standard marks of approval (e.g., quality control) to ensure it meets electrical safety requirements.
Make sure the ring light's electrical cords aren't loose or damaged.
Don't operate ring lights for a purpose they weren't meant to do because misusing them can cause a fire.
Preventive Measures
Carefully read all labels before buying ring lights to ensure they are appropriate for your intended application.
Test products before you purchase them.
Strictly follow assembly, installation, and mounting instructions.
Pay attention to the mounting of the ring light. There should be no obstruction or paraphernalia nearby that may fall on it or knock it off its mount, which ensures proper dispersal of the heat it generates.
To minimize overheating, choose low-temperature lights, which last longer and cost less than traditional light sources.
Ring Lights That Don't Overheat
If you want to find ring lights that don't overheat, try some of the options below, which are all found on Amazon.com.
Yesker is an 18-inch (48.72-cm) light from a top professional-grade brand. It has a cooling feature that keeps it from overheating and contributes to a longer-lasting life span.
Qiaya is one of the best-LED ring lights for makeup application. It does not overheat, so you can easily touch it and pick it up without fear of being scorched.
Ring Light 18 Inch LED Ringlight Kit with 73 inch Tripod Stand with Phone Holder Adjustable 3200-6000k Color Temperature Circle MUA Lighting for Camera for Vlog, Makeup,Youtobe, Video Shooting, Selfie

【INTELLIGENT AND QUICK COLOR CHANGE】: Yesker Ring Lights are controlled via the knob on the...
【STURDY SUPPORT STAND】: Adjustable height ranges from 31.5 inches to 73 inches; Equipped with...
【360° ROTABLE PHONE HOLDER】: A hot shoe adapter for most DSLR camera, a adjustable phone holder...
Last update on 2023-12-08 / Affiliate links / Images from Amazon Product Advertising API
QIAYA Selfie Light Ring Lights LED Circle Light Cell Phone Laptop Camera Photography Video Lighting Clip On Rechargeable

Rechargeable battery with USB cord (included) saves your money and time to buy and replace the...
Brightness Adjustable. Three-level light settings for various uses -- make-up, selfie photos, dark...
Compact and Light Weight. Pocket sized and extremely compact, it will not take much space in your...
Last update on 2023-12-08 / Affiliate links / Images from Amazon Product Advertising API
This 19-inch (48.26-cm) light with remote control comes in a mega-thin ring that makes it lighter than its contemporaries. Its smart LCD displays color temperature and brightness levels accurately. The Ivisii has an all-around heat dissipation feature that prevents overheating and prolongs its life.
IVISII 19 inch Ring Light with Remote Controller and Stand ipad Holder,60W Bi-Color with 4 Color Soft Filters for Live Stream/Makeup/YouTube Video/TikTok/Zoom/Photography

【Package included】1x 19"Ring Light, 1x 74.8 inches/188cm Light Stand, 1x Carrying Bag, 1x...
【Colorful filters & Adjustable brightness】The LED light with 4 different color filters(...
【Fashion design】Smart LCD display shows the brightness & color temperature accurately; Ultrathin...
Last update on 2023-12-08 / Affiliate links / Images from Amazon Product Advertising API
This 10.2-inch (25.91-cm) ring light is one of the leading brands in mobile photography highly rated for its excellent after-sales customer service. The Hqoon comes with a cold LED technology that allows prolonged use without overheating.
You can customize the lighting settings by adjusting the ten brightness levels and three lighting modes.
The ES240 is an 18-inch (45.72-cm) ring light with 249 LEDs. Its kit includes a stand, phone clamp, and tripod head.
The durable Diva Super Nova comes with two types of daylight-type fluorescent lights and has an integrated dimmer that lets users adjust the light from 20 to 100%. It generates very little heat, so you can operate it for a long time without it overheating.
Last update on 2023-12-08 / Affiliate links / Images from Amazon Product Advertising API
Check out if ring lights are ideal for Zoom conference calls

.
Conclusion
Modern ring lights for smartphones and digital cameras are more affordable than their predecessors. Still, buying a high-quality model is a significant investment to protect your precious acquisition from overheating.
Observing safety procedures before, during, and after operating your ring lights will pay off in the long run with the outstanding images and video productions your equipment will generate for your projects or social media following.
You'll also prolong their life and durability.
Sources
Was this article helpful?
Recent Posts
link to How To Allow QuickTime To Access Microphone 🎙️  
QuickTime is a vital app for many Mac users, and if you've recently bought a new microphone, you might wonder how to use it optimally. QuickTime cannot record audio content if it doesn't have...
link to How Do I Test My Microphone? 🎙️
Every microphone leaves a unique signature on the quality of its output. If you're a podcaster trying to melt your way into your audience's hearts, a muddy, distorted recording won't cut it....