Conversations make podcasts more interesting. Of course, if it's something that you're an expert on, you can probably do the podcast on your own. But there are instances when you really need to bring in the experts on some topics, and you might need more than one microphone.
You can record a podcast with one microphone, but there might be tradeoffs in sound quality, and it would depend on the kind of microphone you'd use. It's still recommended to have each participant have their own microphones.
Why is this? And if you're forced to use only one microphone, what should you do? Read on and learn all you need to know when you're recording a podcast with one microphone.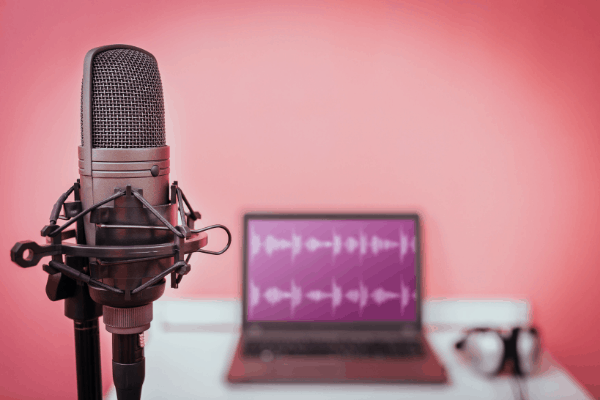 Using One Microphone To Record Your Podcast
Having one microphone should be no problem if you're doing a podcast alone, discussing everything that you want to talk about, and having a microphone trained on you. However, if you're podcasting a discussion with two or more people, then it becomes a problem.
Most podcasters use a unidirectional or cardioid microphone, which only picks up the sound right in front of it. If you're forced to use one microphone for a podcast with two or more speakers, you will need a microphone with the correct pickup patterns

.
While microphones with a cardioid pickup pattern are best for podcasts with only one speaker, it's not a good idea to use a single mic setup with two speakers. This is because the polar pattern is most sensitive in picking up sound when the source is right in front of the microphone.
When recording a podcast using only one microphone, there are two types of microphones that you can use:
Figure-8 or bidirectional microphones
Omnidirectional microphones
Figure-8
Figure-8 is most sensitive to picking up sound coming from both the front and back of the microphone. It basically doesn't capture sound coming from the side.
Microphones with this pickup pattern, such as the Shure BETA 181/BI Microphone

(available on Amazon.com), will be an excellent choice for those doing a face to face interview. This is particularly true when the host sits across from the guest. 
Shure BETA 181/BI Ultra-Compact Small-Diaphragm Side-Address Versatile Condenser Microphone for Instruments with Interchangeable Polar Pattern Capsule Options, 3-pin XLR Connector - Bidirectional

Interchangeable polar pattern capsules attach to a compact Preamplifier with integrated XLR...
Precision-engineered, compact side-address design features innovative locking ring to provide secure...
Frequency response tailored for wide dynamic range applications for use in high SPL environments
Last update on 2023-09-26 / Affiliate links / Images from Amazon Product Advertising API
Omnidirectional Microphones
Omnidirectional microphones pick up sound from all around. So if you're having a roundtable discussion for your podcast or having multiple guests, a product like the Shure VP64A Omnidirectional Handheld Microphone

might be the best choice for you.
Sale
Shure VP64A Omnidirectional Handheld Microphone

Neodymium magnet for increased output and maximized signal-to-noise ratio
Tailored frequency response with mid-range presence rise for optimum speech clarity
Omnidirectional polar pattern eliminates need for critical microphone positioning
Last update on 2023-09-26 / Affiliate links / Images from Amazon Product Advertising API
The problem is that microphones that can pick up sound from every direction will also pick up a lot of background noise. So if you're going to use an omnidirectional microphone for your podcast, you should take steps to ensure that noise around the room is minimized.
You might want to use your home studio for the podcast recording or a quiet room.
For more information, check out my picks for the Best Laptop for Podcasters

Using One Microphone Is Possible But Not Ideal
The bottom line is that you can record a podcast with a co-host or guest using only one microphone, but it's simply not recommended. For one, it will be difficult to control and mix if you do post-production work on your podcasts.
You will end up with a lot more editing work than you'd have to do when you have one microphone for every speaker. The flow and format of your podcast are also more effortless and more free-flowing.
A podcast is where sound quality is essential. And having two or more microphones will practically deliver better sound quality for your recording.
When you're using only one microphone, you might be holding the microphone in your hand rather than having it mounted. This way, participants can just pass the microphone to the next speaker.
While holding the microphone will help you ensure that each voice is audible and the audio quality is better than having the microphone pick up the voice of somebody that's not near it. There will be bumping, banging, and popping noises as the microphone is being passed around.
When you have a microphone for each guest, there would be fewer of these noises. It may also be useful to have enough headphones

for each guest in your podcast too.
Stereo Recordings
Another benefit

of using two or more microphones when recording your podcast is that you have the option to balance out the voices when necessary. If a participant's voice becomes a bit hard to hear, you can just make it louder without making everything else louder.
You can also pan two voices either to the left or the right, making it louder in one ear. Doing so will help your listeners have an easier time following the conversation.
Of course, recording your podcast in stereo does have some drawbacks. For one, if you publish your podcast as a downloadable file, then stereo podcasts are larger.
The Equipment You Need
As mentioned above, a cardioid microphone is the best choice for podcasts. These microphones pick up sound coming from the front, so your voice is clearer while background noise is ignored.
Some of the best cardioid microphones you can get include TONOR Computer Condenser PC Gaming Mic

and Shure SM7B Cardioid Dynamic Microphone

. Both available on Amazon.com, they are two of the most popular and highly rated options you have.
Last update on 2023-09-27 / Affiliate links / Images from Amazon Product Advertising API
Shure SM7B Vocal Dynamic Microphone for Broadcast, Podcast & Recording, XLR Studio Mic for Music & Speech, Wide-Range Frequency, Warm & Smooth Sound, Rugged Construction, Detachable Windscreen - Black
ONE MICROPHONE FOR EVERYTHING - Studio Recording, Home Recording, Podcasting and Streaming. The SM7B...
STUDIO VOCAL RECORDING - The SM7B's Dynamic Cartridge With Smooth, Flat, Wide-range Frequency...
PODCAST and BROADCAST - Found In The Top Podcasting Studios Around The World, The SM7B Air...
Last update on 2023-09-27 / Affiliate links / Images from Amazon Product Advertising API
Whether they have an XLR or a USB connection, these microphones deliver crystal clear voice recordings with low noise. These are just perfect for your podcast recordings.
According to this site

, you will want to make sure that you have an audio interface or mixer with the appropriate number of channels to accommodate the number of microphones you will need. Two hosts mean you'd need a two-channel interface. Work with four hosts, and you'd need four XLR inputs on that mixer.
You don't need to go into debt or spend a lot on these devices. Products like the Alesis MultiMix 8

(available on Amazon.com) allow you to use four microphones and mix the audio, add sound effects and musical instruments, and play with the gain.
Last update on 2023-09-27 / Affiliate links / Images from Amazon Product Advertising API
Or, if you regularly have multiple guests, such as a band or a team, you can rely on the Depensheng DX12 DJ Sound Controller Interface

(available on Amazon.com). This interface allows for 12 microphones. You can mix everything all in one device.
Sale
Depensheng DX12 DJ Sound Controller Interface w/USB Drive for Computer Recording 12-Channel Studio Audio Mixer - XLR Microphone Jack, 48V Power, RCA Input/Output for Professional and Beginners

Multi Devices Compatibility:This portable 12-channel DJ mixer has Bluetooth for wireless streaming...
RECORD AND CONNECT TO PC: This personal mixer has a USB soundcard and audio interface to record and...
12-CHANNEL DJ Mixer: The mixer is great for multiple devices connectivity because it has 12...
Last update on 2023-09-27 / Affiliate links / Images from Amazon Product Advertising API
Using Microphones with Multiple Pickup Patterns
If you want to be ready for all kinds of setups when you're podcasting, invest in a microphone that allows you to switch to the pickup pattern that you need. Some of the microphones from Amazon.com that you should be looking at include:
Last update on 2023-09-27 / Affiliate links / Images from Amazon Product Advertising API
This microphone allows you to choose from three pickup patterns. You can use cardioid if you're going solo on your podcast, or you can switch to a bidirectional or omnidirectional polar pattern when you have guests.
It records crisp and clean audio without coloration. What's more, it comes in a package with everything you need, including a spider shock mount, cables, and an attenuation pad.
Sale
Blue Yeti USB Microphone for PC, Mac, Gaming, Recording, Streaming, Podcasting, Studio and Computer Condenser Mic with Blue VO!CE effects, 4 Pickup Patterns, Plug and Play – Blackout

Custom three-capsule array: This professional USB mic produces clear, powerful, broadcast-quality...
Blue VOICE software: Elevate your streamings and recordings with clear broadcast vocal sound and...
Four pickup patterns: Flexible cardioid, omni, bidirectional, and stereo pickup patterns allow you...
Last update on 2023-09-26 / Affiliate links / Images from Amazon Product Advertising API
The Blue Yeti USB Mic allows you to choose from four pickup patterns, including Omni, bidirectional, and cardioid. But having multiple microphones also will enable you to record in stereo even when you're just using one microphone.
This microphone includes onboard controls, including pattern selection, instant mute, and gain. And if you do video podcasts, you have five color options for this microphone, including satin red, midnight blue, and slate.
Sale
Aston Microphones Spirit Large Diaphragm Multi-Pattern Condenser Microphone

Designed and built in the UK
Multi pattern Microphone
Built in Pop filter Built in Pop filter using the latest stainless steel mesh knit technology
Last update on 2023-09-27 / Affiliate links / Images from Amazon Product Advertising API
The Aston Microphones Spirit Multi-Pattern Condenser Microphone has three polar patterns you can choose from: cardioid, omnidirectional, and figure-8. This microphone features a built-in pop filter, a wave-form mesh head, and a custom finish for that beautiful look.
The microphone records natural and accurate audio without sounding too harsh. It's not only for recording podcasts but also for instruments such as acoustic guitars. So if you have music-related podcasts where you have musical guests playing in the studio, this is a great option.
Conclusion
You can get away using just one microphone when you're recording a podcast with more than one participant. Still, it's going to be inconvenient, noisy, and the audio quality might be compromised. The best way to ensure the best sound quality is to have one microphone for each guest. Fortunately, unidirectional microphones are now very affordable.
Sources
Was this article helpful?
Recent Posts
link to How To Allow QuickTime To Access Microphone 🎙️  
QuickTime is a vital app for many Mac users, and if you've recently bought a new microphone, you might wonder how to use it optimally. QuickTime cannot record audio content if it doesn't have...
link to How Do I Test My Microphone? 🎙️
Every microphone leaves a unique signature on the quality of its output. If you're a podcaster trying to melt your way into your audience's hearts, a muddy, distorted recording won't cut it....