Blue Yeti microphones are great for podcasting, Twitch streaming, voice-overs, and music recording. Still, like any other technology, the microphones don't always work as perfectly as you'd like. Therefore, before any important recording session, it's essential to check whether the device is working and will let you carry on as usual.
The best way to test if a Blue Yeti

is working is to check the microphone gain, set the mic to the cardioid setting, use an online microphone test, and adjust the microphone's position to get the best audio results.
In the rest of this article, I'll take you through a detailed guide on how to check if your Blue Yeti microphone is working. I'll also give you some of my top recommendations for improving your overall sound quality when you're recording with a Blue Yeti. Let's get to it!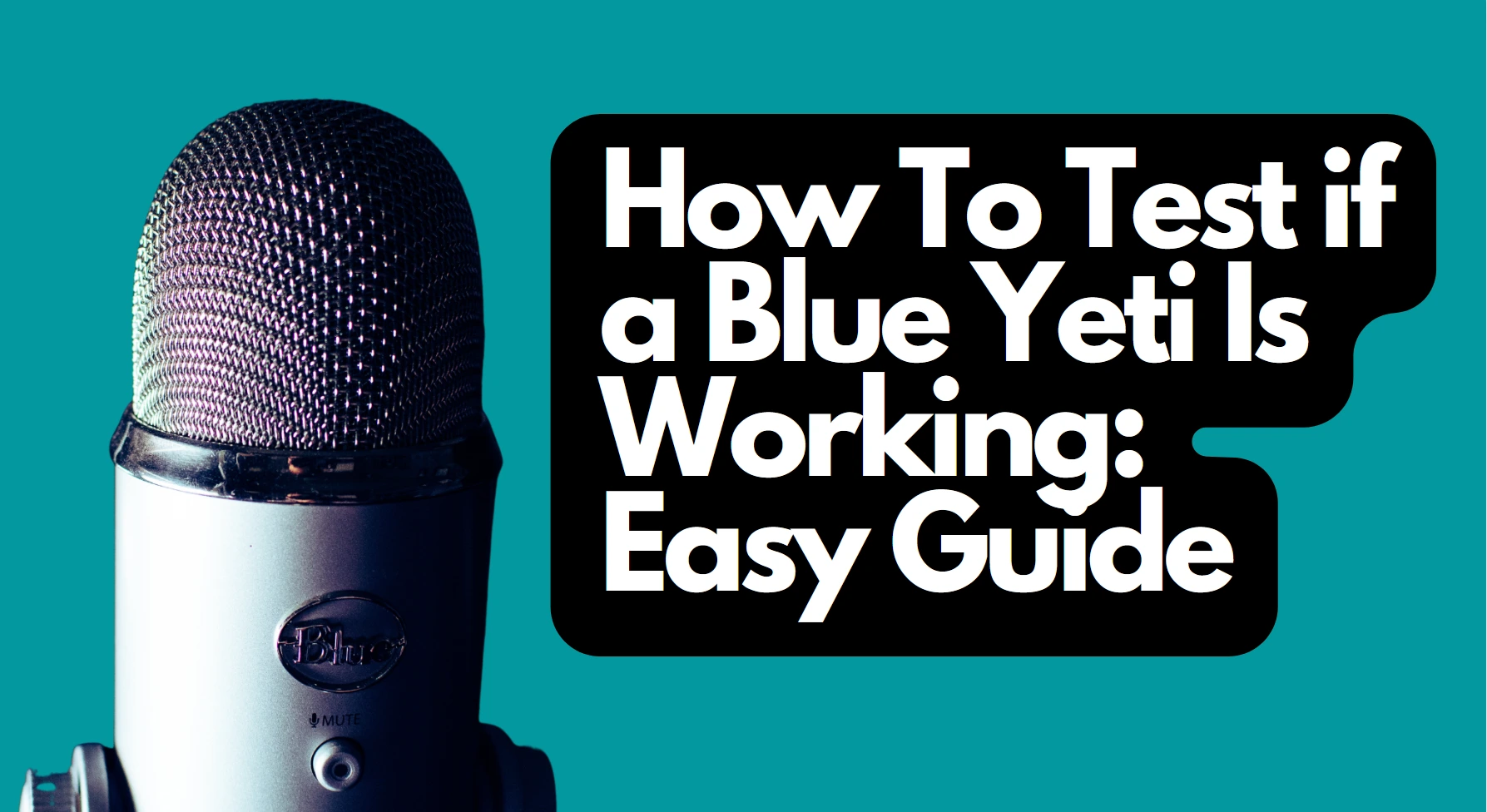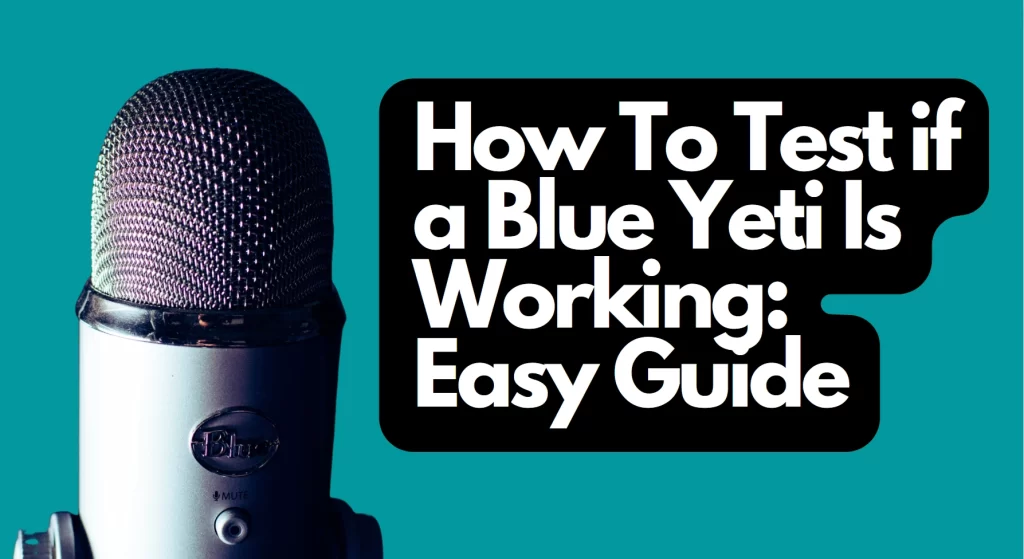 1. Check the Microphone Gain
Finding the right gain level is one of the biggest challenges with using a microphone and getting the desired audio quality. The gain level

controls the volume audio signal before it enters the computer, and if it isn't set at the right level, the mic won't pick up enough sound, which will make it seem like it isn't working.
One way to test if a Blue Yeti is working is to adjust the gain and see how that influences the sound you can pick up and hear. Increasing the gain increases the amount of audio signal going into the amplifier.
The gain dial on a Blue Yeti is located on the back of the microphone. To test your microphone, start with the gain dial turned to the left (all the way down), and then make adjustments as you speak into the microphone. This way, you can test if the microphone is working while also finding your preferred gain level.
More gain produces richer sound, but if you push the setting too much, you risk problems such as audio peaking and oversensitivity. If you're recording in a soundproof studio, you might get away with higher gain, but if your recording space is in a shared area or near noise, you'll have more success keeping the gain low.
Many people get confused about the difference between gain and volume. Volume increases the loudness of sound, but it doesn't impact tone. Gain alters the signal strength before it is even processed, changing the signal and influencing the tone. Therefore, finding the right gain level is just as important as finding the right volume.
2. Set the Microphone to Cardioid
One reason your Blue Yeti might not work the way you want it to is that it isn't set to cardioid. Most people prefer cardioid microphones because they are better at rejecting rear sounds

and are more sensitive to on-axis sounds, which is ideal for recording one person speaking at a time, such as a podcast or a Twitch stream.
Underneath the gain dial, there's a mode dial. Test your microphone by turning the dial until it is set to the cardioid setting. A small, heart-shaped icon, similar to a plump Pacman, marks this setting.
The cardioid setting helps the microphone pick up sound directly in front of it, such as a person singing and speaking directly into the device. The desired result is achieved through the cardioid polar pattern

, which is sensitive on-axis at zero degrees, where the microphone points.
The cardioid pattern also means that the microphone is half as sensitive to the sides, at 90 degrees and 270 degrees, and it has almost no sensitivity opposite to the direction the microphone is pointing, at 180 degrees.
So, if your Blue Yeti microphone doesn't seem to be working, ensure that you have it set to the cardioid pattern. Benefits of this setting include the following:
Cardioid patterns are sensitive to sound in the direction the mic is facing and insensitive to sound in the opposite direction.
Microphones in this setting are easy to position.
The acceptance angle is wide.
The polar pattern is based on pressure gradience.
3. Use an Online Microphone Test
Once you have the gain and cardioid set, you can perform an online microphone test to see what the audio sounds like. You'll be able to find many websites that offer free microphone testing if you simply google "online mic test." Popular websites include onlinemictest.com and mictests.com.
Once you've selected a website, follow these steps:
Click on the play button on the website.
Select "allow" on any popup that appears, which allows the microphone to connect to the site.
Speak into the microphone.
Take note of the waveforms on the screen. If you see the waveforms, you're good to go. If you don't see any waveforms, continue to the next step.
Check the connection of your microphone to your computer.
Adjust the volume of the microphone.
Ensure that you're not muted.
4. Position the Microphone Correctly
A large part of ensuring that a microphone is working correctly is positioning it in a way that allows you to achieve the clearest sound.
A Blue Yeti is a side-address microphone. This means that if you don't speak into it as you would with most hand-held microphones, with the end pointing at your mouth. Instead, position it so you're speaking into the side of the microphone, where the headphone level knob is.
I recommend having the microphone approximately seven inches (18 cm) away from your mouth. If the microphone is too far away, it won't be able to pick up your voice completely, and it'll sound like it isn't working.
I also suggest raising the microphone off of your desk or table. This will help the mic pick up more of your voice and improve sound quality. To do this, many people use boom stands.
I recommend this IXTECH Boom Arm

from Amazon.com because it is flexible and rotatable, which allows you to get the perfect microphone placement. It also comes with a cable holder, which helps your desk or table look cleaner and more organized. The arm stand has sturdy suspension springs, so your microphone will be steady in any position.
IXTECH Boom Arm - Adjustable 360° Rotatable Microphone Sturdy Stainless Steel Mic Desk, Table Stand Foldable Scissor Stable Mount Arms for Radio Studio, Podcast, Gaming

🎙️ 𝗙𝗹𝗲𝘅𝗶𝗯𝗹𝗲 𝗠𝗶𝗰𝗿𝗼𝗽𝗵𝗼𝗻𝗲...
🎙️ 𝗦𝗽𝗮𝗰𝗲-𝗦𝗮𝘃𝗶𝗻𝗴 𝗖𝗹𝗶𝗽-𝗢𝗻 𝗖𝗮𝗯𝗹𝗲...
🎙️ 𝗗𝘂𝗮𝗹 𝗦𝘂𝘀𝗽𝗲𝗻𝘀𝗶𝗼𝗻 𝗦𝗽𝗿𝗶𝗻𝗴𝘀...
Last update on 2023-09-26 / Affiliate links / Images from Amazon Product Advertising API
Another option is to use a shock mount. I like this Boseen Store Microphone Shock Holder

from Amazon because it isolates the microphone from most physical vibration and excess noise and is applicable for many microphone types, including Blue Yeti. The mount is made with heavy-duty solid metal, so it's durable and long-lasting.
Boseen Microphone Shock Mount Mic Holder - Anti Vibration Spider Shockmount Compatible with Many Condenser Mics Like AT2020 MXL 770 MXL 990 Samson G Track Pro Rode Procaster NT1-A Neumann U87 etc.

◮Anti vibration and noise - This shock mount mic holder can isolate condenser mics from most...
◮Applicable for many mic types - One shock mount is equipped with 4 different bottom screws, which...
◮Durable and Adjustable-The shock mount was totally made of Heavy-duty solid metal, except the...
Last update on 2023-09-26 / Affiliate links / Images from Amazon Product Advertising API
Getting the microphone off the desk or table helps you get it closer to your mouth and isolates the sound more effectively, greatly increasing overall sound quality.
If you've followed all of the above tips and your microphone still isn't working, the microphone itself is likely broken, or there's a larger issue at hand. In this case, you might have to enlist the help of a professional or replace the device altogether.
Check out: How to Check if a Microphone Works
How To Improve Blue Yeti Sound Quality
Now that you know how to test if your Blue Yeti is working, it's time to focus on improving sound quality so you can get the best audio possible from the mic. Here are some top recommendations for getting the Blue Yeti to sound its absolute best.
Use a Pop Filter or a Windscreen
When you speak, you produce certain pops and blasts that can make a recording harsh or unpleasant to listen to. This problem isn't your fault—it's unavoidable. When we produce certain consonants, like Ps, Bs, and Ts, strong airflow escapes our mouths.
The cardioid setting is great on many levels, but, unfortunately, it tends to pick up more of these harsher sounds than you'd like for a recording.
To alleviate this issue, I recommend using a pop filter, windscreen, or both. I like this LILALIWA Microphone Pop Filter

from Amazon.com because it has double layers of nylon mesh, effectively reducing plosives and saliva spray.
Microphone Pop Filter for Blue Yeti and Other Mic, LILALIWA 6 Inch Dual Layered Pop Wind Screen with Enhanced Flexible 360° Gooseneck Clip Stabilizing Arm for Vocal Recording and Live Broadcasting

【Double Layer Pop Filter】- LILALIWA pop filter for microphones features double layers of nylon...
【Clearer Sound】- Banish the dreaded hissing and lisping sounds that come along with pronouncing...
【Adjustable Gooseneck】- The pop mesh shield has a flexible 360° gooseneck clip stabilizing arm...
Last update on 2023-09-26 / Affiliate links / Images from Amazon Product Advertising API
This pop filter reduces the hissing and lisping sounds that can be harsh for listeners to hear, especially if they're listening with headphones or earbuds. I also like that it has a flexible gooseneck clip, which supports the weight of the filter and can hold a microphone stand.
If you don't want to buy a pop filter, you can fashion your own using wire and pantyhose. All you need to do is bend a wire coat hanger into a circular shape, pull a pair of pantyhose over the circle as flat as you can, and then tape the pantyhose into place.
I suggest using a windscreen, like this SUNMON Windscreen Muff and Foam for Blue Yeti

from Amazon. The windscreen helps reduce surrounding sounds, which ensures that your listeners can hear everything you want them to hear instead of the excess noise around you.
Sale
SUNMON Windscreen Muff and Foam for Blue Yeti, Blue Yeti Pro USB Condenser Microphone, Indoor Outdoor Microphone Windshield 2 Pack

A pack of foam and furry wind screen is used for Blue Yeti, Blue Yeti Pro USB Condenser Microphone...
The Blue Yeti, Blue Yeti Pro microphone foam helps to reduce surrounding sounds, ensuring that your...
The Yeti furry dead cat wind cover cuts off the windy noise. It does a good job when recording and...
Last update on 2023-09-26 / Affiliate links / Images from Amazon Product Advertising API
A windscreen is especially important if you plan on recording outside, and the furry wind cover included in this package is ideal for windy outdoor conditions.
Monitor Your Sound Using Headphones
During recordings, listen to the audio through a pair of headphones. This way, you'll know if the volume is right, if there's excess noise interfering with what you're saying, or if something is going wrong.
I like these Beyerdynamic Store DT 770 PRO 80 Ohm Over-Ear Studio Headphones

, which are available on Amazon.com. These over-ear headphones are ideal for professional recording and monitoring and have pure, high-resolution sound. I also appreciate the soft velour ear pads, which ensure that the headphones are comfortable to wear for long periods of time.
beyerdynamic DT 770 PRO 80 Ohm Over-Ear Studio Headphones in Gray. Enclosed design, wired for professional recording and monitoring

Closed over-ear headphones, ideal for professional recording and monitoring
Perfect for studio and stage recordings thanks to their pure, high-resolution sound
The soft, circumaural and replaceable velour ear pads ensure high wearing comfort
Last update on 2023-09-26 / Affiliate links / Images from Amazon Product Advertising API
Record in a Small, Isolated Space
Blue Yeti microphones are great at isolating sound, but the more excess noise you can avoid while you're recording, the better. For this reason, I suggest recording in a smaller space, such as a closet, far away from the home's noisy parts, such as windows, the kitchen, or the laundry room.
The best rooms for recording audio are small to medium-sized and feature lots of soft items, such as beds or rugs. These soft items absorb sound, making isolating your voice easier.
Try Using Soundproofing Equipment
Soundproofing is a great addition to any home recording studio. There's always going to be outside noise that you don't want to pick up while you're recording, and the best way to combat this is to have soundproofing equipment.
Here are my suggestions for soundproofing a recording room:
Hang heavy drapery over windows to absorb excess noise, especially from traffic
Add rugs in your recording room to enhance sound masking
Add lots of thick blankets and pillows into your recording space
Hang acoustic panels
My favorite acoustic panels are these Sonic Acoustics Hexagon Acoustic Panels

from Amazon. The panels are made from high-density 100% polyester fiber and are flame retardant, odorless, non-toxic, non-slip, and corrosion-resistant. I also like that the hexagon shape is more stylish than alternative acoustic panels, so you don't have to sacrifice your recording studio's aesthetic appeal for soundproofing.
Last update on 2023-09-26 / Affiliate links / Images from Amazon Product Advertising API
Improve Your Postproduction Game
Postproduction is a difficult part of recording audio, but it can greatly improve your sound quality. Here are some of my top tips for having the most polished audio possible:
Use noise reduction on your editing software to reduce constant background noises, such as any buzzing or hissing
Get familiar with a digital audio workstation
Edit out long silences and pauses to keep listeners engaged
Mute the microphone when you're not speaking
Use equalization and compression
Use separate audio tracks for any guests or cohosts
Suppose you have solid postproduction and editing skills. In that case, you can improve the sound of your audio files even if the microphone wasn't working at its best at the time of the recording or if your recording situation wasn't ideal.
Final Thoughts
If audio recorded with a Blue Yeti microphone doesn't sound as high-quality as you think it should, you'll want to ensure that the microphone is working and that there isn't a larger mechanical issue you need to address.
The best ways to check if the mic is working are to adjust the gain, set the mic to cardioid, use an online mic test, and reposition the mic to get the best audio quality possible.
Sources
Was this article helpful?
Recent Posts
link to How To Allow QuickTime To Access Microphone 🎙️  
QuickTime is a vital app for many Mac users, and if you've recently bought a new microphone, you might wonder how to use it optimally. QuickTime cannot record audio content if it doesn't have...
link to How Do I Test My Microphone? 🎙️
Every microphone leaves a unique signature on the quality of its output. If you're a podcaster trying to melt your way into your audience's hearts, a muddy, distorted recording won't cut it....