Although Mac isn't as commonly used as PC, it's still a formidable competitor, mostly due to its powerful operating system and sleek, minimalist design. But despite its undoubted performance when it comes to security, stability, and usability, is the MacBook good for music production?
The MacBook is good for music production because it has a more stable OS, an intuitive UI that perfectly suits music production, and is crash-proof. Mac also comes with popular music software like Logic Pro. The CoreAudio drivers found in MacBooks help improve overall audio quality.
Are you thinking of getting a MacBook for your audio editing and production needs? If so, then you couldn't be in a better place. Read on as we discuss some of the pros and cons of the Mac OS and whether it's ideal for music production.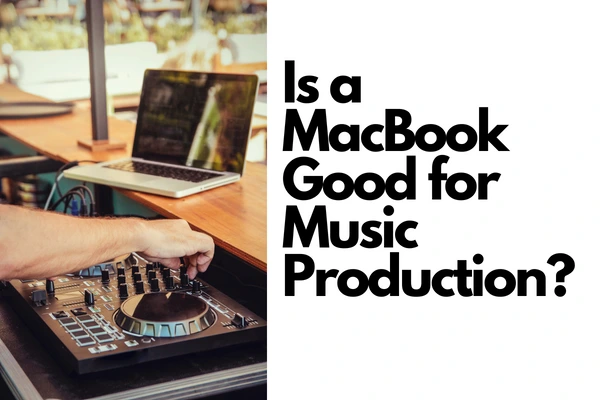 Advantages of Using Mac To Produce Music
It's no secret that Mac is commonly used by a large number of music producers and DJs. But despite the sleek, minimalist design that's synonymous with MacBooks, does Mac come with other features that make it great for music production?
Below are some of the reasons why MacBooks are great for music production.
MacBooks Have an Intuitive UI
Music production hinges a lot on the user interface, and Macs rarely disappoint in that regard. Compared to a Windows PC, a Mac has a minimalistic, easy to access, and simplistic user interface that makes music production a breeze.
The fluent and unified navigation system is designed to optimize workflow, making it easy for producers to multitask and work across multiple devices and apps. It's generally much easier to download, install, and run an app on Mac than on a PC.
MacBooks are also a lot easier to learn and use. While it might be hard for a Windows user to transition to the MacOS, MacBooks are still a lot easier for first-time users to understand. This means learning how to edit audio and produce tracks will be a lot easier once you get used to a MacBook's interface.
Check out our guide to which Mac is best for Logic Pro X.

MacBooks Have a More Stable Operating System
Almost all Mac aficionados will swear by MacBooks, arguing the Mac OS is superior to Windows. Unlike PCs, MacBook hard disks don't require defragmentation as the Mac OS is configured to automatically defragment

, translating to reduced risks of hardware failure in the long run.
And although backing up projects is important, working with a crash-proof system is a highly welcome proposition for serious music producers. The thought of working with a crash-resistant Operating System makes the MacBook a popular option for music producers and DJs alike.
Availability of Premium Music Production Software
One of the MacBook's greatest selling points is its rich availability of premium software. While PCs will give you access to a wide variety of music and video production software, nothing quite compares to Mac's dedicated music production software like Logic Pro

and Garageband

.
Garageband is usually included in every new Mac at no cost and allows new music producers to work with quality studio loops and sounds for free. Most producers start with Garageband before graduating to Logic Pro after gaining some knowledge in music production.
Other Digital Audio Workstations

(DAW) compatible with MacBook include the Ableton Live 10

and PreSonus Studio One

. These audio workstations allow you to create music and make the most of your MacBook's memory and processor capabilities.
Easy Hardware Management
When producing music, you'll probably need to connect to audio hardware at some point. And since hardware and software connection greatly relies on drivers, a music-producing device needs to come with functional drivers. Luckily, Mac uses CoreAudio drivers

, a set of centralized drivers that keep everything localized for easy configuration and inter-device switching.
Unfortunately, when using a PC, chances are you'll need to install drivers for every new hardware you try to set up with the device. This can end up taking a chunk of your precious time, especially with clients on standby. However, thanks to the Mac OS that does all the dirty work, Mac users rarely have to worry about installing drivers and synching new devices to digital workstations.
The Core Audio interface is an important MacBook feature that improves sound control within MacBooks. Therefore, through Core Audio, Mac users can integrate sounds and recordings from external devices without compromising overall audio quality. This feature gives Mac a significant edge over PC, especially when it comes to professional recording.
Sale
Apple 2020 MacBook Pro M1 Chip (13-inch, 8GB RAM, 256GB SSD Storage) - Space Gray

Apple-designed M1 chip for a giant leap in CPU, GPU, and machine learning performance
Get more done with up to 20 hours of battery life, the longest ever in a Mac
8-core CPU delivers up to 2.8x faster performance to fly through workflows quicker than ever
Last update on 2023-12-02 / Affiliate links / Images from Amazon Product Advertising API
Build Quality
MacBooks are known for their sleek minimalistic design that allows for ease of use, especially for professionals like creatives who are always on the move. One great advantage of using the MacBook is that Apple constantly improves its Mac OS annually and provides free upgrades for Mac users. This means producers can capitalize on improvements made in areas such as system reliability and memory management.
Compared to PC, Apple has a reputation for using quality components in the manufacture of its devices, which justifies the otherwise hefty costs associated with advanced MacBooks. The use of quality hardware and software means your MacBook is likely to last long despite consistently performing heavy music production tasks.
Moreover, most MacBooks' minimalist and compact design make them perfect for musicians, producers, and DJs alike. The reduced chances of crashing due to a superior OS means you can comfortably rely on your MacBook for heavy recording and editing tasks, provided it has a superior processor and large enough memory.
Sale
Last update on 2023-12-02 / Affiliate links / Images from Amazon Product Advertising API
Is a PC Better Than a MacBook in Music Production?
MacBooks and PCs have frequently been pitted against each other in the battle for music production supremacy. So what makes a PC a better option than MacBook when it comes to music production?
Availability of Various Software
Unlike Mac OS's relatively limited audio production software and apps, Windows boasts hundreds if not thousands of apps that music producers can use. The availability of a wide range of software and apps allows budding producers to practice their respective crafts before moving onto the premium software. Most Mac applications aren't free, meaning you must be prepared to spend on Mac OS apps.
Increased Compatibility
A PC generally gives you increased versatility as Windows is more popular than Mac OS in terms of usage. This means you can easily find compatible music production software when using a PC than when dealing with Macs. However, not all the software on Windows is ideal for music production compared to Mac-specific software like Logic Pro.
Affordability
You'll need to spend a considerable amount of money when looking to purchase a MacBook with music production capabilities. This is because production is a memory-hungry activity and usually requires devices with superior processors and large memories.
And to get a MacBook with a superior processor and memory, you'll almost certainly need to part with a large amount of cash. PCs are more affordable than Macs and often make great alternatives when operating on a budget.
Wrapping Up
A MacBook is a great device for music production, especially if you want to work on professional music projects. Known for their classy, minimalist design, MacBooks boast a stable OS that makes music production a breeze.
The Mac OS is generally suited to support the work of creatives without all the fuss that comes with understanding the OS and how it works. With a MacBook, you won't need to have tons of experience to perform your music production roles. The access to world-class software like Logic Pro makes Mac a formidable force for music production.
Check out to see if Cubase Elements is any good.

Sources
Was this article helpful?
Recent Posts
link to How To Allow QuickTime To Access Microphone 🎙️  
QuickTime is a vital app for many Mac users, and if you've recently bought a new microphone, you might wonder how to use it optimally. QuickTime cannot record audio content if it doesn't have...
link to How Do I Test My Microphone? 🎙️
Every microphone leaves a unique signature on the quality of its output. If you're a podcaster trying to melt your way into your audience's hearts, a muddy, distorted recording won't cut it....