Logic Pro is a much-loved favorite among music producers of all shapes and sizes. Its user-friendliness, as well as other benefits, make it a choice option. However, one of the essential features of Logic is that it is only available on Apple computers. When deciding on exactly which computer to invest in, those who have concluded unquestionably that Logic Pro is their preferred DAW of choice will find themselves at a crossroads. With the vast range of Apple computers available, which one would be best for Logic Pro?
So What Mac Should You Buy For Logic Pro X? The best Mac to buy for Logic Pro is the 24-inch iMac with the Apple M1 chip. The power of the M1 chip eclipses that of previous models at the same price. Furthermore, this range of Macs is equipped exclusively with SSD storage instead of the fusion drives offered in some previous models.
While it is true that this model is one of the best options for Logic Pro, there are a few reasons why you might not want to buy one just yet. There are rumors related to Apple's future plans that might make you want to hold off. Examples include disadvantages to the iMac for performing musicians and the potential scope for specific individuals to save hundreds of dollars by investing in a different system. All of this, and more, we will discuss in this article.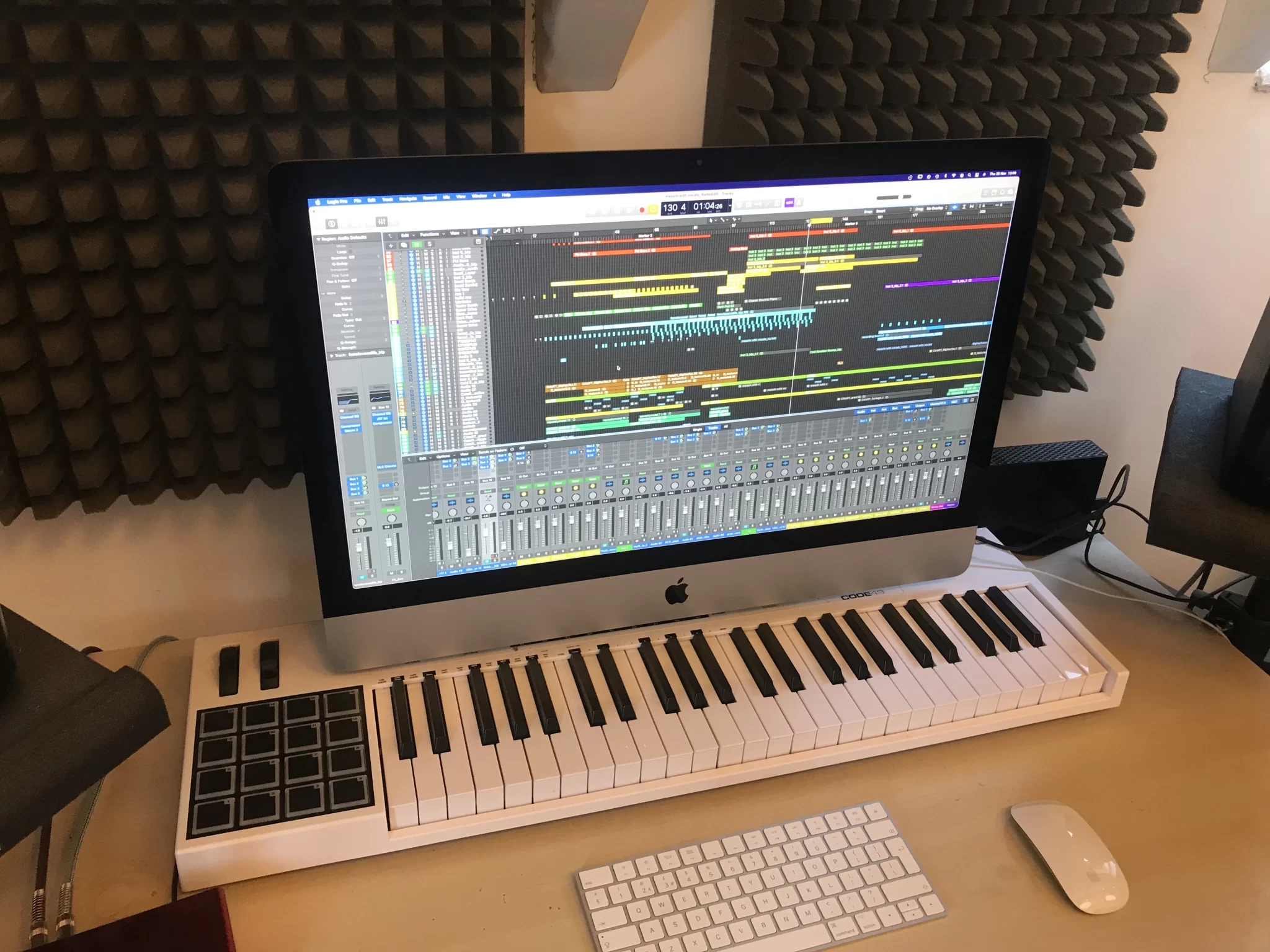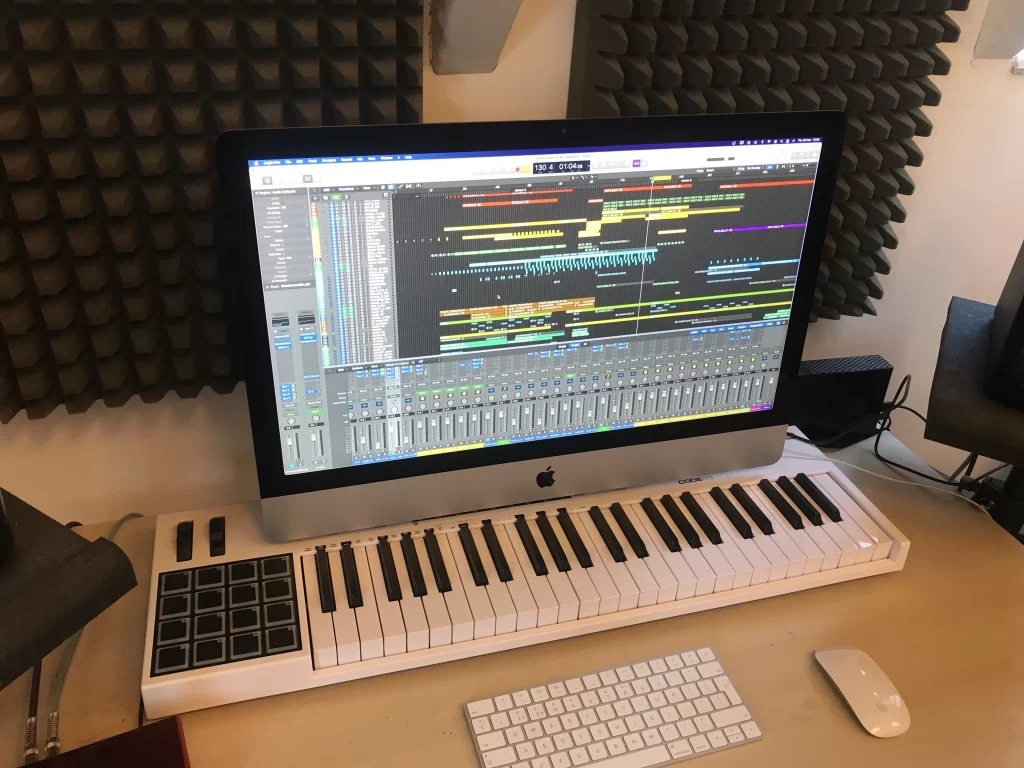 What You Need To Run Logic Pro X
There are 8 things you need to consider to figure out what Mac you should buy to run Logic Pro X; they are:
Operating System
RAM
Hard Drive
Processor
Price
Portability
GPU
Ports
1. Operating System
Since Apple is constantly making updates to its software, it is worth having a system that will have a long shelf life. If you invest in a much older model, you will soon find yourself at a brick wall in terms of an up-to-date operating system. With the release of the Apple M1 chip in November of 2020, the process of older model systems going out of date will likely be accelerated.
2. RAM
Since one of the first bottlenecks to arise in music production tends to occur within the RAM, it is essential to invest in a system equipped to accommodate your purposes. Apple Macs today are notorious for either being not customizable after purchase or making it very difficult to do so. Most models will only give you flexibility at the point of sale, so you must make sure to get sufficient RAM for your needs.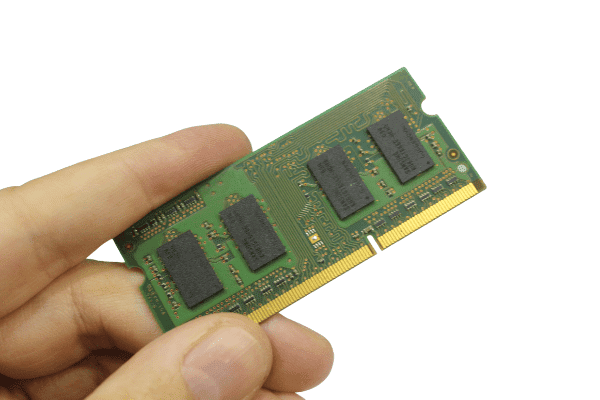 We recommend a 16GB minimum for most users, 8GB minimum for beginners on a budget. Most music projects will only take up units worth of GB when opened up. If you are in the mindset of wanting to future proof your Mac for potentially higher levels of multitasking and using other software alongside Logic Pro, then opt for 16GB or more. You may be able to get away with running very small projects with 4GB as a small project may take up 1 to 2GB of memory, but we would not recommend it at all.
3. Hard Drive
In earlier models of Mac, there were options for standard HDD storage, SSD storage, and fusion drive storage (HDD combined with SSD). With the new M1 chip models, Apple Macs are equipped exclusively with SSD storage. Since music projects can grow into considerable file sizes, it is essential that your machine can handle this with ease. To give an approximate range of what you should be looking for, 512GB is barely enough for music production, and 2TB will be enough for a very comfortable workflow. It is worth considering that since Macs require some space for operational resources, the size advertised is not accurate to the actual available space.
4. Processor
The processor your computer uses is another feature that will heavily influence your music production experience. You should get something powerful enough for your purposes, if not slightly more. In the past, Apple computers used Intel chips, which functioned very well for the time. However, the new model of custom Apple M1 chips has completely revolutionized the power capabilities of Macs. These models are far more powerful than the intel predecessor, and the power you get per dollar has dramatically increased. Native Apple software like Logic and the custom Apple M1 chip work together like a well-oiled machine.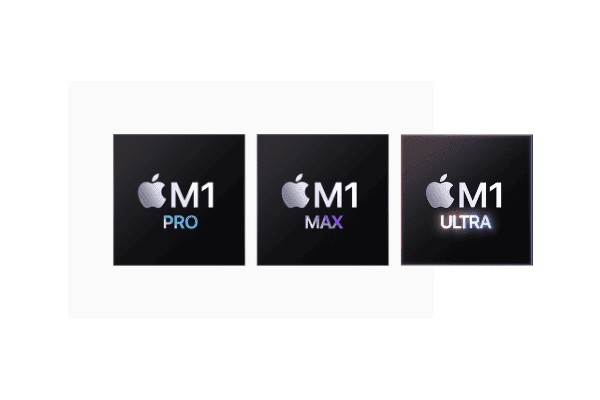 The only issue is that not all software has Apple M1 support yet, so you may find certain DAWs and plugins do not function on these newer systems. Most developers, however, will likely update their software to support Apple M1 chips (Waves has already done this for many of its products free of charge). If you know, you will only be using your Mac for native software Apple software like Logic, getting an Apple Mac with an M1 chip is a no-brainer. Be mindful, however, that some third-party plugins may not be functional on your system (at least for now).
Since March 2022, Apple has introduced their final M1 chip, which is the M1 Ultra. This adds to the current existing options of the M1, M1 Pro and M1 Max. Unfortunately, this is only available on the Mac Studio, which will require a heavy investment.
The M2 chip has been announced and will be available in Macs from the 24th of June 2022.
5. Price
Apple systems have, in the past, been known to tend towards a more premium price range. It is still the case that you can pay thousands for an Apple Mac, but there are many more options now for those looking to stay within a smaller budget. With the new M1 chip being Apple's bespoke processor, you can purchase a lot more processing power at a lower cost than before. 
Macs can cost you between $1000 to about $7000, where Mac Pros can start from $5999.
6. Portability
If you want to take your computer on the road, you should consider investing in a Mac that allows for some portability. Naturally, the iMac models are no good for this since they are desktop computers. If you require portability, you should look into getting a notebook computer for some description.
7. GPU
Generally, graphics processing is not a major concern for Logic Pro and music production. However, there are some cases where you do not want to leave it out of consideration. For example, some software may make use of the graphics processor for particular tasks. Also, if you plan on using multiple screens for one computer, be aware that this can put further strain on the GPU.
8. Ports
Your requirements for ports will depend on your setup. Many people utilize a fully in-the-box workflow, and so ports are not a significant concern. However, if you plan on using multiple external hard drives, lots of analog hardware, or other real-world equipment connected to the computer, you will want a system that can easily accommodate this.
Check out whether Logic Pro X is good for beginners.

Notebook vs. Desktop For Logic Pro X
The question of whether to purchase a notebook or a desktop computer is predominantly a question of portability. The price is an additional factor to consider. Apple currently sells a high specification supercharged MacBook Pro, which equals some of the desktops models in its power, and has more than enough capabilities to run complex Logic projects. However, the added benefit of this model is portable is reflected in the price. For the same price, you can get a desktop model with more powerful capabilities.
Who Should Buy A Notebook For Logic Pro X
Live performers
DJs
People who travel a lot
People who collaborate with people in different locations and need their setup with them
Who Should Buy A Desktop For Logic Pro X
Home producers
Mixing engineers
People who do not need to travel with their music production setup
MacBook Air For Logic Pro X
Since Macbook Air computers are not designed for performance, they are not the first choice for Logic users. However, if you want something lightweight and relatively affordable (compared to other notebooks) just to sketch simple production ideas, the MacBook Air can be an appealing option.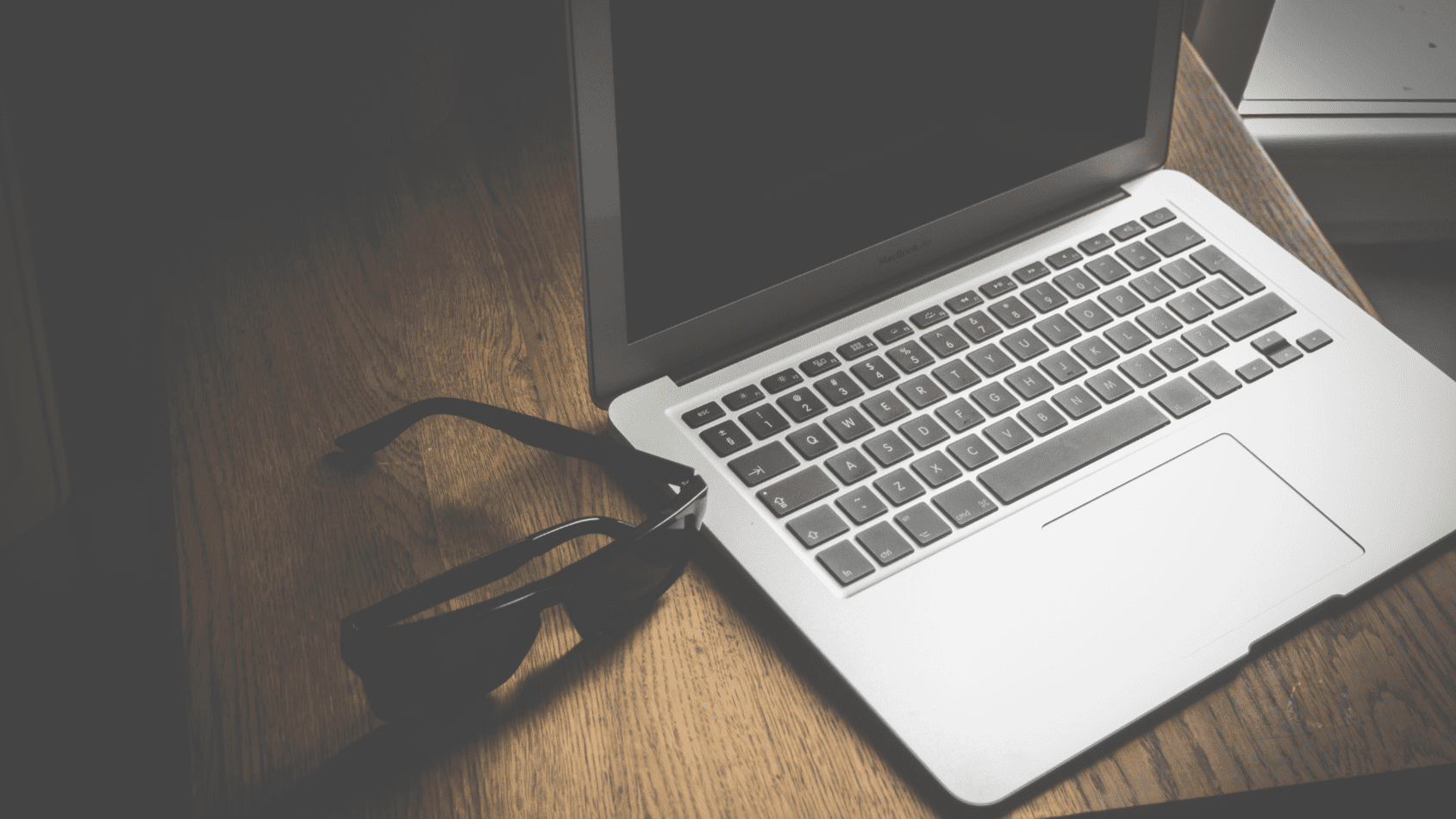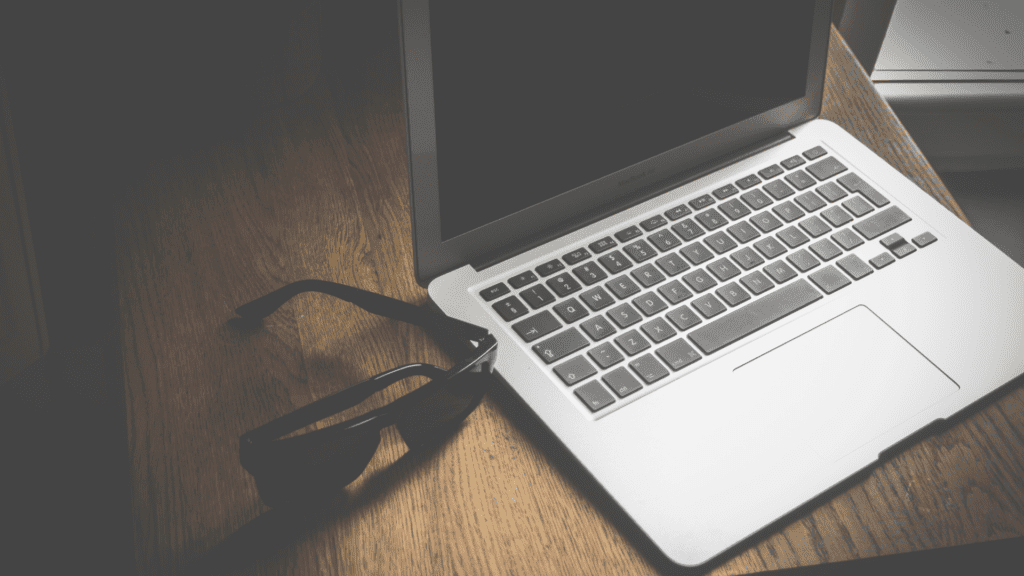 Pros
Lightweight
Affordable for a notebook
Sufficiently powerful for sketching ideas or small / medium Logic projects
No fan means it runs silently
Cons
Power capabilities are not as high as other models
Power per dollar is less due to added portability
Best Model
13-inch MacBook Air – Apple M1 Chip with 8-Core CPU and 7-Core GPU – 512GB Storage – This model will give you enough power for working on simple projects without making a massive dent in your funds. We recommend you do not use this model as your main production system. Therefore, it makes more sense to resist the temptation to max out the specifications instead of reserving your funds for your primary production system.
Apple 2020 MacBook Air Laptop M1 Chip, 13" Retina Display, 8-Core CPU, 7-Core GPU, 8GB RAM, 512GB SSD Storage, Backlit Keyboard, FaceTime HD Camera. Works with iPhone/iPad; Space Gray

MacBook Air 13.3" with Retina Display - 30W USB Type-C Power Adapter - USB Type-C Charge Cable (2m)...
Apple M1 chip with 8-core CPU and 7-core GPU
16-core Neural Engine
Last update on 2023-09-25 / Affiliate links / Images from Amazon Product Advertising API
MacBook Pro For Logic Pro X
When it comes to choosing a portable production system, many people agree that the MacBook Pro is one of the best options. It has the power to quickly match a large portion of the desktop models available with the added benefit of portability. The only downside is the additional cost you pay for portability (although this is a necessary factor to consider for many people).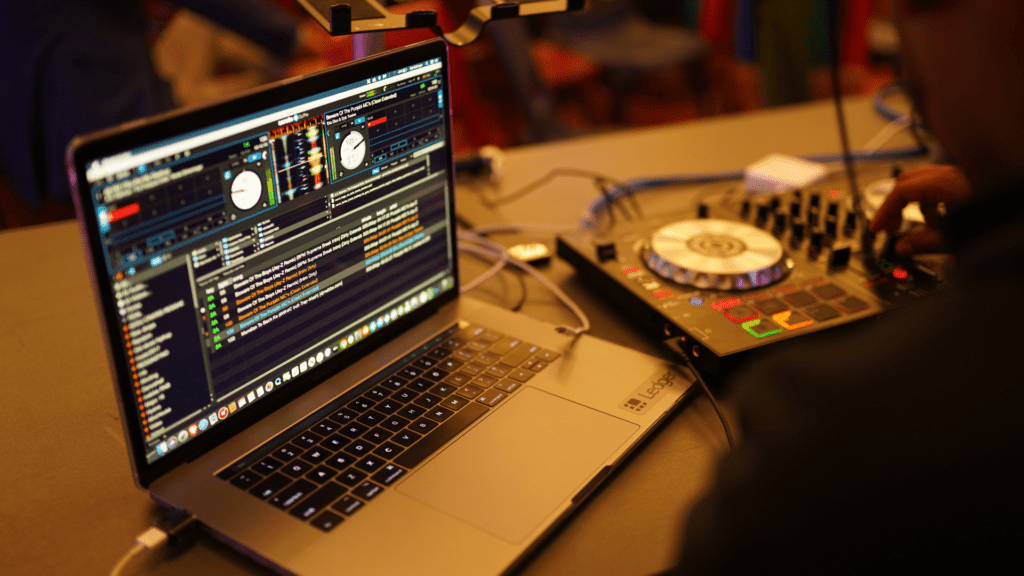 Pros
Powerful enough for larger musical projects
Fully portable
Extensive range of models from affordable to premium
Cons
Built-in fan could potentially be loud
Some models are more expensive
The power you get for the price is less due to added portability
Best Model
14-inch MacBook Pro – 8-Core CPU, 14-Core GPU, 16GB Unified Memory, 512GB SSD Storage – This model is one of the latest MacBook Pro additions that makes use of an "M1 Pro" or "M1 Max" chip.
You could choose a more affordable 13-inch MacBook with a regular M1 chip, but the power capabilities of this model are the same as that of a MacBook Air. You would pay an extra $250 for a 13-inch MacBook Pro, the only discernible difference being the Touch Bar. Furthermore, upgrading to 16GB RAM and 512GB storage in this model takes you to a slightly higher price. Therefore, it makes sense to pay extra for a far more powerful Mac and has a slightly bigger screen.
Apple 2021 MacBook Pro (14-inch, M1 Pro chip with 8‑core CPU and 14‑core GPU, 16GB RAM, 512GB SSD) - Silver

Apple M1 Pro or M1 Max chip for a massive leap in CPU, GPU, and machine learning performance
Up to 10-core CPU delivers up to 3.7x faster performance to fly through pro workflows quicker than...
Up to 32-core GPU with up to 13x faster performance for graphics-intensive apps and games
Last update on 2023-09-25 / Affiliate links / Images from Amazon Product Advertising API
iMac For Logic Pro X
An iMac is one of the best choices for Logic users who do not need the added factor of portability. Instead, the money you would be spending on portability in a notebook can be invested into a more powerful desktop machine.
Pros
Powerful system
Good power value for money compared to MacBook
24-inch 4.5K Retina display
Additional performance and efficiency cores
Additional ports (USB 3)
Cons
New iMac model expected at the end of 2021 / start of 2022
No portability
Best Model
24-inch iMac – 8-Core CPU, 8-Core GPU – With this, we recommend upgrading to 16GB of RAM and 1TB of SSD storage. This will take you to a total of $2099, $100 more than the MacBook Pro model we recommended. You can, of course, adjust the specifications to make the model more affordable.
As mentioned in the cons, it is worth considering that Apple is expected to announce the release of a new iMac at the end of 2021 or the beginning of 2022. Therefore, it could make sense to wait until this announcement before making a decision.
Apple 2021 iMac All in one Desktop Computer with M1 chip: 8-core CPU, 8-core GPU, 24-inch Retina Display, 8GB RAM, 256GB SSD Storage, Matching Accessories. Works with iPhone/iPad; Pink

SUPERCHARGED BY M1 — M1 delivers exceptional performance for all you do on your iMac desktop....
FITS PERFECTLY INTO YOUR LIFE — The all-in-one desktop design is strikingly thin and available in...
SIMPLY COMPATIBLE — All your go-to apps run lightning fast — including Microsoft 365, Adobe...
Last update on 2023-09-25 / Affiliate links / Images from Amazon Product Advertising API
Mac Pro For Logic Pro X
The Mac Pro models have not, as of yet, been updated to include Apple Silicon Processors. However, if you want to push the ceiling of power to the highest point Apple permits, the Mac Pro is your prescribed way of doing so. Although you will pay through the nose, for many people, the question of power is a factor that trumps all else.
Pros
Most powerful model Apple offers
Intel system means it will be able to run software not yet functional on M1 systems
Cons
Expensive
No display included
Does not include Apple Silicon / M1 chip
Not portable
Best Model
Mac Pro Tower – Unless you have a specific need for the rack model, the tower model is the same computer for $500 less. We recommend, at a minimum, upgrading the hard drive to 2TB or more and then customizing the other specifications to your preference. Since you are investing in a Mac Pro, the question of price is probably not a primary concern. Therefore, you should upgrade to your heart's content. It is better to over-shoot on your specifications as this will mean your system stays current in its power for longer.
Mac mini For Logic Pro X
The Mac mini is an excellent option for those that want an affordable desktop system. It allows people to use Apple's latest M1 chip without paying the premium prices of the MacBook Pro or the iMac.
Pros
Affordable desktop option
Lots of additional ports
Cons
Does not come with a screen
Not as many power capabilities as Macbook, iMac, or Mac Pro
Best Model
Apple M1 Chip with 8-Core CPU and 8-Core GPU, 512GB Storage – This alone will come in at a very reasonable price of $899. However, we recommend upgrading the RAM to 16GB which will be an extra $200. This is optional but will drastically improve the performance of programs such as Logic Pro. Furthermore, if your budget allows, upgrading to 1TB or more storage will give you a lot more breathing room than 512GB.
Apple 2020 Mac Mini M1 Chip (8GB RAM, 512GB SSD Storage)

Apple-designed M1 chip for a giant leap in CPU, GPU, and machine learning performance
8-core CPU packs up to 3x faster performance to fly through workflows quicker than ever*
8-core GPU with up to 6x faster graphics for graphics-intensive apps and games*
Last update on 2023-09-25 / Affiliate links / Images from Amazon Product Advertising API
Frequently Asked Questions
Is it worth buying an M1 chip?
Yes, it is worth buying one with the M1 chip if you are investing in a new system, you should prioritize getting your hands on an Apple Silicon system.
When investing the same amount of money in an Intel-based system and an Apple M1 system, the M1 system will yield far greater returns in power. These systems also have full SSD storage. Everything is heading down the Apple Silicon route so unless you want to be left behind, you should invest in an M1 chip system.
Can I Run Logic Pro X On MacBook Air?
Yes, you can run Logic Pro X on a MacBook air because even the minimum specification MacBook Air has 8GB RAM, 256GB storage, and is powerful enough to run the program.
However, the small hard drive size will likely fill up quickly, affording you many problems to fix in the future. For the same reasons, running complex projects on a MacBook Air will probably be a cumbersome, unpleasant experience. While it is recommended that you do not choose the lowest specification, or even consider purchasing a more powerful model, you definitely can run Logic Pro on a MacBook Air.
Check out which is better: Logic Pro vs. Cubase.

Can I Run Logic Pro X From An External Hard Drive?
Yes, you can run Logic Pro X from an external hard drive. However, there is very little reason why you would want to do so. The file itself does not take up much space (1.3GB). The operating system expects the Logic App file to be inside your applications folder. By moving the Logic App onto a different hard drive, you would be introducing potential complications for little / no benefit.
The biggest file sizes when it comes to Logic Pro come from the sound library content. This can grow to be many gigabytes in size (depending on how much additional content you download). Thankfully, a built-in function allows you to store these files on an external hard drive. You simply need to go to the menu bar and select "Logic Pro > Sound Library > Relocate Sound Library" to access this feature.
Do you need a good GPU for music production?
No, a high-powered GPU is not necessary for most forms of music production. Traditionally, music production is not considered to be a process that is particularly graphically intensive. There are, however, some exceptions. For example, certain plugins might use a very elaborate GUI and would need a powerful graphics card to handle the load. Another scenario when a powerful graphics card would be necessary is if you want to use multiple screens. Powering a single computer display is a computationally expensive task (especially with 5K displays). Powered another display with the same machine will start to take a toll on the GPU.
Can I Run Logic On Windows?
No, you cannot run Logic Pro on a Windows Machine. Logic Pro is native Apple software and has been made available exclusively to Apple users. There are ways you can hack a windows machine to run an Apple operating system, so in theory, you could install Logic like this. However, sources have suggested that this kind of approach would likely be very buggy and not a pleasant Logic Pro experience at all.
Check out whether you can produce music on a Chromebook.

Final Verdict
Ultimately, I think the best Mac you should buy for Logic Pro X is an iMac if you are going to be a home studio user and a 14-inch MacBook Pro for a portable system. As previously mentioned, however, keep in mind that there could be a new iMac being released at the beginning of 2022. I personally have been using an Intel-based iMac for the past few years now, and it has served me reasonably well.
Saying this, the bottlenecks are abundantly clear. I also recently purchased a MacBook Air Apple M1 Chip, and the performance is noticeably better. Even compared to my more expensive desktop iMac, I would argue that my MacBook Air actually feels in some ways more powerful. Logic Pro opens in an instant, and I can load all of the instruments very quickly as well. Even though my iMac is only about 2-3 years old, I feel sure that I will be selling and upgrading to an M1 system sometime in the next 2 years.
References
https://www.macworld.co.uk/feature/best-mac-music-production-3446650/

https://produceradvice.com/the-best-macs-for-music-production-in-2021/

https://www.quora.com/Can-you-run-Logic-Pro-from-an-external-hard-drive

https://discussions.apple.com/thread/7159055

https://www.reddit.com/r/Logic_Studio/comments/48k8ea/is_there_any_possible_way_to_get_logic_on_a/

https://www.quora.com/Is-Logic-Pro-X-also-available-for-Windows

Was this article helpful?
Recent Posts
link to How To Allow QuickTime To Access Microphone 🎙️  
QuickTime is a vital app for many Mac users, and if you've recently bought a new microphone, you might wonder how to use it optimally. QuickTime cannot record audio content if it doesn't have...
link to How Do I Test My Microphone? 🎙️
Every microphone leaves a unique signature on the quality of its output. If you're a podcaster trying to melt your way into your audience's hearts, a muddy, distorted recording won't cut it....