The Logic Pro 10.7 update is here, and along with it is a new era of audio production. Dolby Atmos' spatial audio mixing is now fully integrated into Logic Pro (as well as some other fantastic bonuses), so should you update Logic pro?
Yes, you should update Logic Pro X. Updating Logic Pro means you'll get access to:
Dolby Atmos spatial audio
8 new producer packs from top industry producers
Demo projects of Lil Nas X's 'Montero'
Important enhancements to Step Sequencer
A shiny new colorful interface
In this article, I'll go through the benefits of updating Logic Pro, why you may decide not to, plus how to update with the reassurance that all your projects will remain safe and sound. Let's dig right in.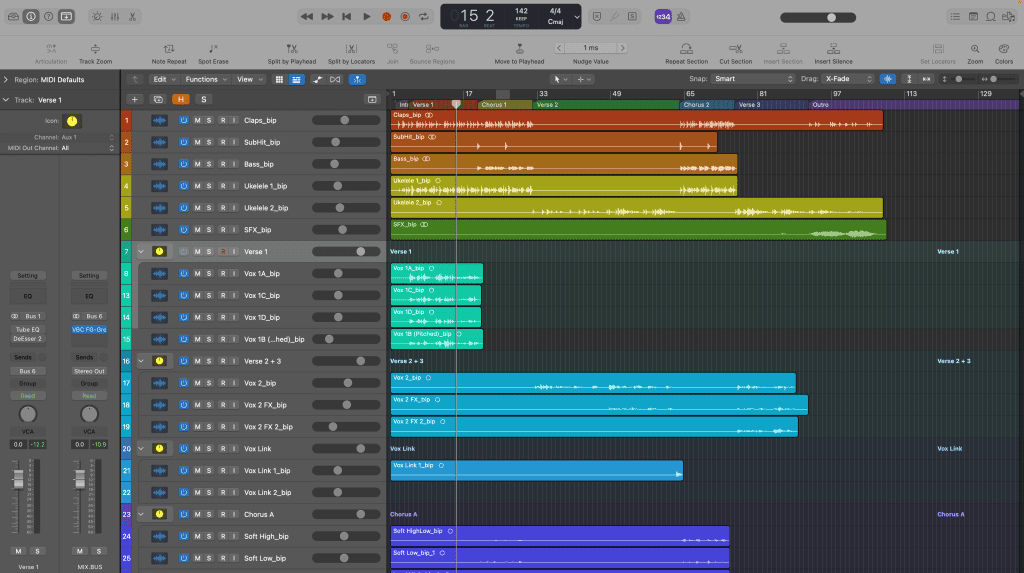 What's New in the Latest Logic Pro Update? (5 Reasons to Update)
1 – Dolby Atmos Spatial Audio
Of course, we have to start out with the biggest addition in this new update. When switched over to spatial audio, your project will be converted to a 7.1.2 surround sound format, meaning it will be optimized for a setup with a circle of speakers surrounding the listener. The Dolby Atmos renderer plugin allows you to hear spatial mixes without the physical speaker setup. It translates the spatial mix to a binaural headphone setup, so even with just your two headphone speakers sounds can appear to be positioned left, right, behind, and even above you.
So how can this be used in your mix? You now have the choice to pan your instruments with either surround panning or 3D object panning.
Surround panning moves the track left, right, front and behind – much like stereo panning, just with more directions. It also replicates how surround sound systems will bounce sound off the ceiling so it appears to be above you.
3D objects, however, ditch the speaker setup entirely. The audio signal is processed as an object placed in a 360-degree sphere around the listener rather than a signal sent through a group of speakers in varying amounts.
The 10.7.3 update of March this year added an important feature: the Apple renderer plugin. This is Apple's own take on the Dolby Atmos renderer, and it's what is used for spatial audio in Apple Music. Users of Apple Music may be familiar with their new 'head tracking' feature for the AirPods Pro and Max. This feature pins a spatial mix in front of you so you can move your head from side to side, but the sound will not move with you. Cool, huh?
If you want to get a taste of spatial audio mixing yourself and be able to upload spatial master files to Amazon Music, Tidal and Apple Music, the 10.7 update is the logical choice.
2 – 'Montero' Demo Project
Back in 2020, Logic gifted us with the 10.5 update which included a demo project of Billie Eilish's hit song 'Ocean Eyes'.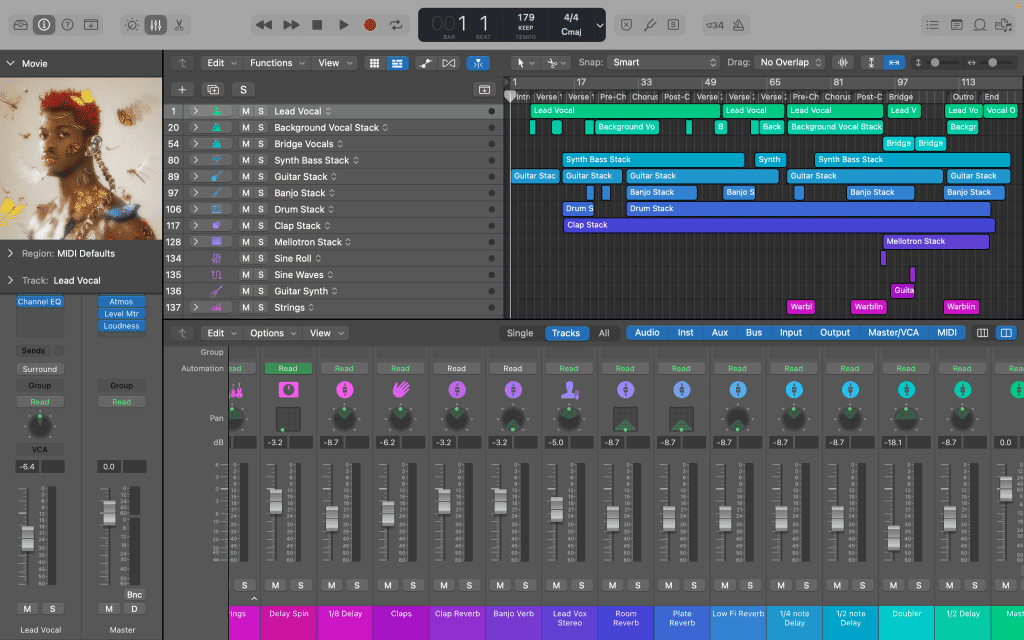 This time, they've given us two fully mixed and mastered Logic Pro remakes of Lil Nas' 'Montero', one of which uses spatial audio. Exploring this project yourself is a valuable learning experience with a lot to discover about modern pop and hip-hop production elements including beatmaking, sub basses, FX, vocal layering and transitions. The project is huge –  139 tracks complete with all their processing, so there is plenty to get your teeth into, plus a chance to see how a complete mix with spatial audio could sound.
3 – New Producer Packs
These producer packs originally debuted in GarageBand in July last year, but have now made their way into Logic. They include 2800 new royalty-free Apple Loops complete with live loop starter grids from the likes of Mark Lettieri, Oak Felder, Take a Daytrip and TRAKGIRL amongst others, plus 120 new instrument patches and 50 new drum machine kits designed by the producers themselves.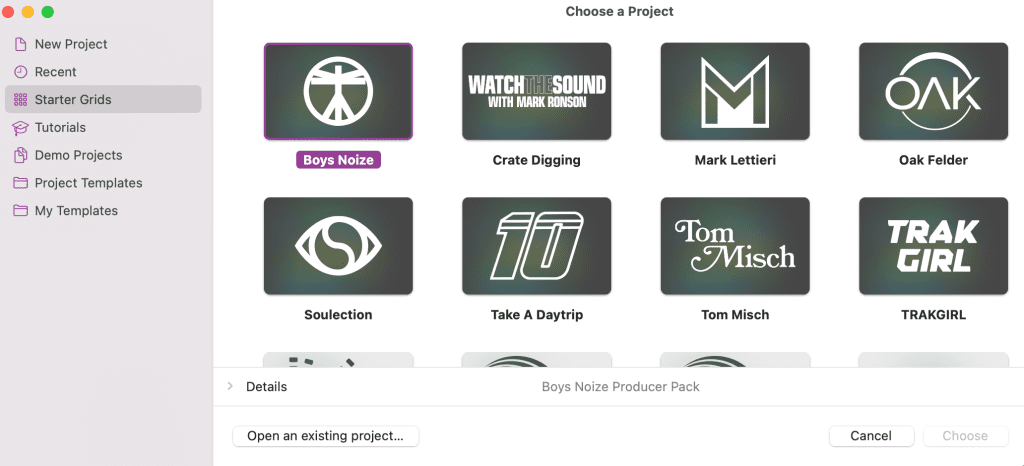 Additionally, the sound library now has a new search feature which allows you to filter instrument patches by the producer who created them.
4 – An Upgrade for Step Sequencer
The step sequencer was another fantastic addition in the 10.5 update. It brings a classic drum machine-style workflow straight into Logic with a colorful grid to plug in your drum beat.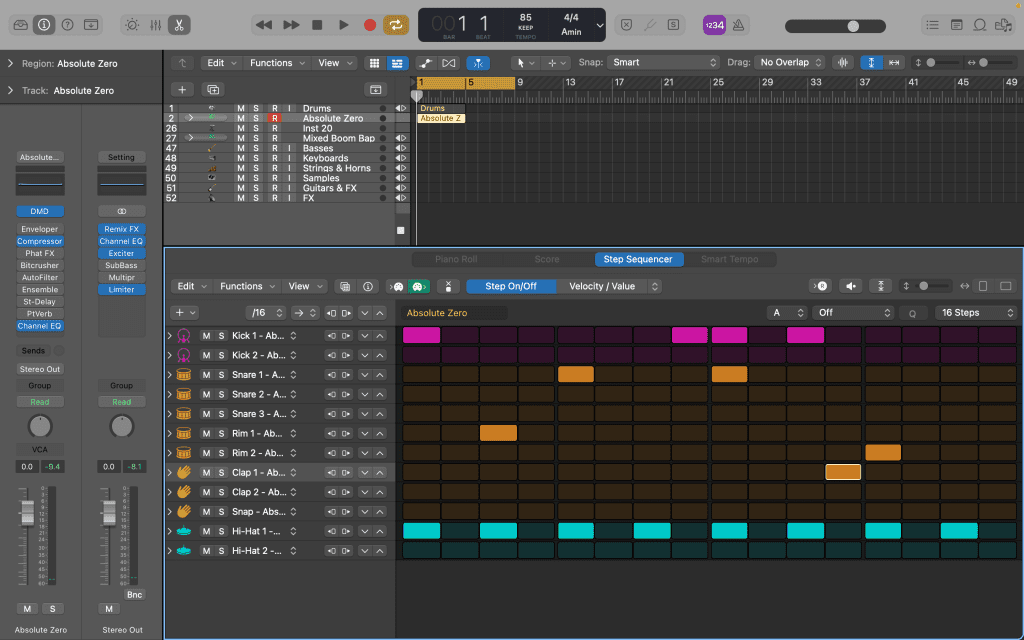 In the 10.7 update, step sequencer now comes with a live record mode. This allows you to perform right onto the step sequencer grid with a drum pad, keyboard, or even the musical typing function. There are live record options which you can toggle on and off to record velocity and note length from your performance, as well as automatic quantizing. Step sequencer can now even record automation in real time from your sampler instruments or plugins.
There are some other brilliant workflow-enhancers as well such as the ability to tune individual drums, quantize them to a variety of musical scales, a 'mono mode' to prevent note overlap, and the ability to convert between MIDI regions and step sequencer pattern regions.
5 – A Facelift for the Interface
Logic's interface has had a refresh for this update. Nothing major, but the overall look of buttons and controls seems smoother and more pleasant to the eye, even a little more colorful. Apple are already known for their aesthetically pleasing interfaces, and this update to Logic Pro is no different.
Those who are picky about light versus dark mode will love that they can now also choose which to use for system dialogs and other system-related windows like the preferences menu, either matching or separate to the Mac's system setting.
So those are the 5 top reasons to update to Logic Pro 10.7. If Dolby Atmos' spatial audio didn't already tempt you in, those new producer packs and enhancements to step sequencer certainly will.
For more information, check out some of these other Logic Pro articles:
But are there any risks to updating? Or reasons you might want to avoid it? We'll look at those below.
Why Might You Not Want to Update Logic Pro? (3 Reasons Not to Update)
1 – Mac OS requirements
As with any Logic Pro update, you'll need either one of the latest two operating systems from Apple: Big Sur (2020) or Monterey (2021) to install it. To be compatible with the most up-to-date operating system, your MacBook or iMac will need to be a 2015 version or younger (2013 in the case of Big Sur).
You can find out if your Mac is compatible with Monterey on the Apple website here: https://support.apple.com/en-us/HT212551.
If you're upgrading your OS, make sure you have a backup of all your important documents in case something goes wrong! You can use Time Machine to save a copy of everything on a hard drive, or alternatively back up specific files with a hard drive or cloud storage provider of your choice.
You'll also need a decent amount of storage space to upgrade, at least 26GB if moving to Monterey from Sierra or later.
2 – Insufficient Backups
When updating to a new version of Logic Pro, it's always a good idea to have a backup of your current copy.
Backing up Logic Pro is easy. First, you need to create a new folder under 'Applications' and name it after your current version, e.g. 'Logic Pro 10.6'. Next, select Logic Pro in Applications and choose File > Compress "Logic Pro". Once you have a compressed .zip file, move this into the folder you created. Finally, move the folder to your backup location of choice.
It's also a very good idea to have a backup of all your Logic projects (even if you think you don't need them, you might want to revisit them one day!). You'll need either an external hard drive or a cloud storage setup for this, so it's best to avoid updating until you have one.
3 – Plugin Compatibility
MacOS Mojave was the final version to support 32-bit apps and plugins, so if any of your favorite software doesn't have a 64-bit version, you may want to stick with the older OS and older versions of Logic.
It's also not a great idea to upgrade until all of your 3rd-party software and hardware devices are fully supported by their manufacturers. This includes software plugins and external hardware like audio interfaces and MIDI controllers. A lot of external devices require custom software drivers to run (for example the Focusrite Control software), so the software needs to be compatible with your new OS.
Quite a few manufacturers have confirmed they are now compatible with macOS Monterey (for example AVID, Ableton and PreSonus). You can check a full list of manufacturers on Sweetwater here: https://www.sweetwater.com/sweetcare/articles/macos-12-monterey-compatibility-guide/.
If you're thinking about getting one of the new silicon M1 Macs, you'll also need to double check that your software is compatible. Manufacturers are gradually catching up with this, for example Slate Digital announced in April that their plugins are now officially M1 compatible.
Should You Update Logic Pro?
Ultimately, it's looking like the benefits outweigh the risks of updating Logic Pro. As long as you have a reliable backup of all your projects and your current version of Logic, your files will remain safe and sound, and you'll be able to switch back if needed.
Most major plugin manufacturers are now compatible with the most recent OS update, and the others are quickly catching up, so you'll be able to use them problem-free in the latest version of Logic Pro.
What is the Latest Update?
The latest update was Logic Pro 10.7.3, which was released in March 2022. Before this, the last major update was 10.7 in October 2021. Major updates come once every year or so, so we may get to see 10.8 fairly soon.
How to Update Logic Pro
Updating Logic is very straightforward, and here is how:
You'll need to open the App Store application on your Mac
Navigate to 'Updates' and find Logic Pro in the list
Clicking the 'Update' button will install the latest version.
When Logic is up to date, it will only have the 'Open' button.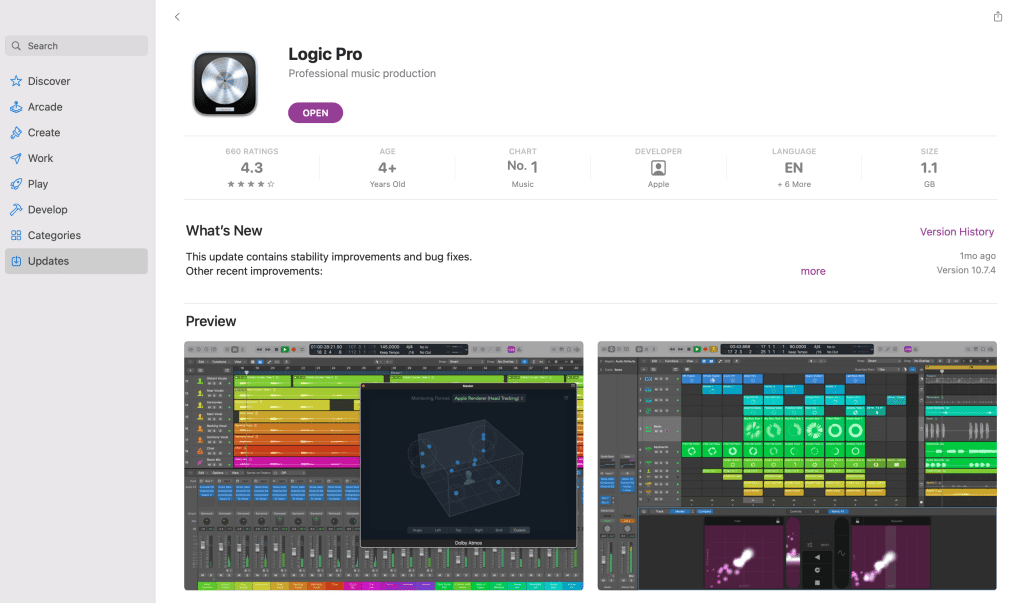 Don't forget to backup your current version of Logic first! (See 'Insufficient Backups' above).
To prevent Logic Pro from updating automatically, make sure that 'Keep my Mac up to date' is deselected in System Preferences > Software Update.
Waiting for the Next Update?
It's not clear what we can expect to see in the next update (10.8), but following past trends it will likely be out within the next year or so. Apple made the decision to remove the 'X' from 'Logic Pro X' in 2020, so it seems probable that we won't be getting a Logic Pro 11 anywhere in the near future and Apple will keep adding updates onto our current version.
Frequently Asked Questions
Does Logic Pro have lifetime updates?
Yes, updates to Logic Pro are available for life.
Does Logic Pro have free updates?
Yes, updates to Logic Pro are free in the App Store.
Does Logic Pro automatically update?
Logic Pro will automatically update if you have ticked 'Automatically keep my Mac up to date' under System Preferences > Software Update. Be sure to untick this if you don't want Logic to update automatically.
Does it cost to update Logic Pro?
Yes and no. If you own Logic Pro X then all updates to version X will be free. Updating from previous versions (e.g. Logic Pro 9) will require payment.
What is the latest version of Logic Pro (2022)?
The latest version is 10.7.3 which was released in March 2022. There is roughly one update per year, so we can expect to see 10.8 sometime later this year.
Is Logic Pro A One Time Purchase?
Yes, Logic Pro is a one-time purchase priced at $199.99 USD in the App Store.
Final Thoughts
With Dolby Atmos spatial audio, new producer packs and upgrades to step sequencer, this latest update from Logic Pro has been packed full of goodies. It'll be exciting to see what else they're going to add next! As with any update, just be sure to have a reliable backup of everything important, plus check that your favorite 3rd-party manufacturers support the latest OS update and you'll be ready to enjoy all the new features which Logic Pro has to offer.
References