So you have a long-awaited stage performance coming, or you have to deliver a speech on a podium, but you're having some pretty troublesome issue—your mic stand doesn't hold up and keeps falling over. Luckily, there are some tricks to keep this from happening.
Here are 11 ways to stop your mic stand from falling over:
Extend the tripod legs up to the designed angle.
Use the 1:2 ratio for the length of the boom arm.
Set your microphone above one of the legs.
Elevate the leg where the stand usually leans over.
Add some weights on the back legs of the mic stand.
Add some weight to the rear end of the boom arm.
Set the boom arm vertically.
Use a lightweight microphone.
Replace your mic stand.
Use a mic stand with a round base.
Insert a weight plate at the base of the steel shaft.
While some of the tricks here can save you from buying new stuff, there are cases when it might just be time you got new tools. Before you decide to do so, though, you may try the tips first. Keep reading to learn more.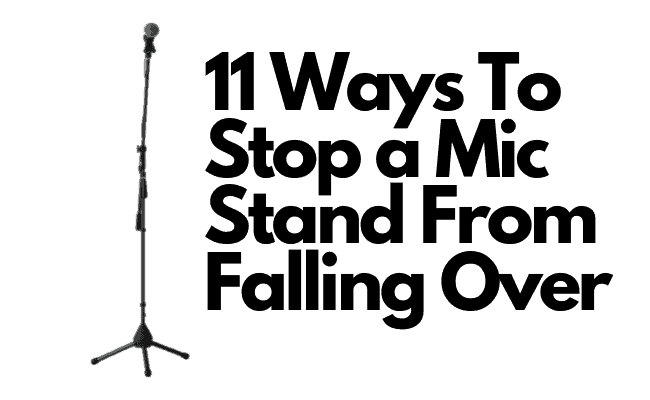 1. Extend the Tripod Legs Up to the Designed Angle
Sometimes, you'll be surprised that the only reason why your microphone stand keeps falling over is that the legs aren't extended to their maximum angle. It makes the stand flimsy, shaky, and prone to falling over.
Here's a YouTube video showing how to set up a tripod stand:
After extending the legs, grip the steel rod and shake it or give it a light push to see how steady it is. If the legs were set correctly, the mic stand should be firm and stable enough. Otherwise, it'll wobble even when you exert a light force on it.
Try to hold the shaft and push the legs downward with only enough force to ensure that the legs are well extended.
2. Use the 1:2 Ratio for the Length of the Boom Arm
The boom arm is an adjustable and detachable rod on a mic stand that holds the microphone. It can be positioned vertically, horizontally, or diagonally—however you prefer to set your mic.
Usually, people who perform with their instruments, such as a guitar, a piano, or even drums, need to draw the microphone far from the stand to have enough space for the instruments.
However, the farther forward the microphone is, the more likely it is for the stand to fall over since the mic's weight will pull the stand forward.
To keep the mic stand steady, adjust the boom arm so that a third of the length extends forward and holds the microphone while the other 2/3 extends behind the clip. This 1:2 setup often provides a good weight balance between the front and back ends.
When setting up the boom arm, ensure that you lock it in place through its lever or screw so that it doesn't slide forward or backward. It'll also ensure that your microphone is held firmly in place at your desired height.
In addition, boom arms are typically around 30 inches (76.2 cm) long, so with 10 inches (25.4 cm) in front, you can still get enough space to hold a guitar in front of you. You wouldn't even have to bend forward just so your mouth gets close enough to the microphone.
3. Set Your Microphone Above One of the Legs
Here's another common trick to help keep your mic stand steady. When your boom arm extends forward with a relatively heavy microphone, you can imagine your stand falling in the direction of the mic.
As such, you must position one of the legs of the tripod directly below the microphone. This position will allow the leg to support the weight of the mic. Most of the time, this method works perfectly, and you're good to go.
However, if the microphone is too heavy for the leg to support, this method may not work as well as it usually does.
In addition, this position will limit your leg movement in front of the microphone since you have to be careful not to hit the tripod leg between your feet.
4. Elevate the Leg Where the Stand Usually Leans Over
If you did the third trick, but it didn't work because the microphone is too heavy for the leg to support, then you can try this next tip.
Elevate the front leg by putting a book or a rock underneath it. Make sure that the surface of the object you put below the leg is skid-proof. Otherwise, the stand may fall in any direction and render the trick counterproductive.
If done correctly, the stand will lean backward, putting more weight on the two back legs. The microphone's weight in front should be enough to keep the stand from falling backward.
This tip sometimes works, but your mic stand will be in a pretty vulnerable position. It may also affect your performance since you might have to pay more attention to the stability of the mic stand.
5. Add Some Weights on the Back Legs of the Mic Stand
More often than not, the mic stand falls over in the direction of the microphone. If the front leg can't support the mic's weight, then it's time to put more weight on the back legs.
You can use some stuff you can find at home like a rock or some books. This tip works, but only if you're at home, though. If you have to perform in public, it would be weird if your mic stand had some books and rocks on the legs. Plus, it may divert the audience's attention away from you.
Also, if you put something too heavy on the tripod's legs, it might cause them to bend or break. Some people, however, place a 3-5-pound (1.36-2.27 kg) dumbbell or weight plate on one or two back legs, and the trick works just fine.
I recommend the SPRI

Dumbbell

(available on Amazon.com). Its hexagonal shape can keep it from sliding.
Last update on 2023-06-03 / Affiliate links / Images from Amazon Product Advertising API
6. Add Some Weight to the Rear End of the Boom Arm
Remember that on the second tip, you learned to use the 1:2 ratio. You can use that measurement for this next tip.
Measure the weight of your microphone. Get an object that weighs a third of its weight and attach it to the rear end of the boom arm.

For instance, if your microphone weighs 1.5 pounds (0.68 kg), find an object that weighs 0.5 pounds (0.23 kg) to stick to the opposite end of the boom arm.
You have to ensure that the arm is securely screwed on its clips to prevent it from sliding back. If done correctly, this trick should help provide the necessary counterweight to your microphone.
7. Set the Boom Arm Vertically
If it doesn't affect your performance negatively, it might be best to position the boom arm

vertically or parallel to the shaft. This trick is simple and focuses the microphone's weight in the middle where all three legs of the mic stand can support it.
In móst cases, this trick works well as performers don't have to worry much about the stability of the tripod stand anymore.
However, many performers with instruments can't benefit much from this positioning because the tripod's legs can get in the way as they try to move close to the microphone. In this case, it's best to reduce the angle of the boom arm.
Try to set the angle between the shaft and the rear end of the boom arm to 45 degrees. It'll move the microphone closer to the center while giving you enough space away from the stand.
8. Use a Lightweight Microphone
If you've gotten this far into the article, then you must have tried the tips above, but maybe none of them worked.
In that case, you may try to use other types of microphones

you have available around you and see if any of them is light enough.
If it still doesn't work, maybe it's about time you got yourself some new stuff—namely, a lightweight microphone. If the microphone is too heavy that your regular tripod stand can't handle its weight, chances are other mic stands won't be able to take it either.
Microphones may be pretty expensive, though, most especially the ones with the best quality. But investing in a high-quality and durable microphone isn't a bad idea.
The good news is that there are many low-cost but quality microphones available nowadays. Your priority, however, is that it has to be lightweight. It'll ensure that you wouldn't have to go through many tricks just to keep your mic stand steady.
If you want a lightweight microphone, check the Singing Machine Microphone

(available on Amazon.com). It weighs only 10.6 ounces (0.30 kg) and has a reasonable price.
Sale
Singing Machine SMM-205 Unidirectional Dynamic Karaoke Microphone with 10 Ft. Cord, Black, One Size

Make your next performance a duet with the Singing Machine Unidirectional Dynamic Microphone
Karaoke microphone with wide frequency response and high sensitivity
Stroll while you sing; features a 10.5-foot cord
Last update on 2023-06-03 / Affiliate links / Images from Amazon Product Advertising API
9. Replace Your Mic Stand
If you have exhausted all means possible yet your mic stand still keeps falling over, then the problem may not be about the microphone's weight after all.
You may feel attached to your mic stand, but if the problem doesn't lie with the microphone, maybe it's time to let go of your trusty stand. It may be costly, but as mentioned, it's always a good idea to invest in something functional and durable.
If you feel more comfortable using a tripod stand, plenty of new, sturdy ones are available in the market. Often, manufacturers reinforce the base of the stand by adding more weight or solid material to handle the weight of the attachments, such as the boom arm and the microphone.
Some tripod stands even have a center rod with steel plates attached to each leg for added support. Check out this Pyle Microphone Stand

(available on Amazon.com). Its legs have solid support to keep the body from tipping over.
Last update on 2023-06-03 / Affiliate links / Images from Amazon Product Advertising API
10. Use a Mic Stand With a Round Base
If a tripod stand's legs bother you because they take up too much space and limit your movement, you may try a mic stand with a round base.
This kind of mic stand usually has a weighted round base to handle the weight of the attachments. Sometimes, what the base lacks in weight, it makes up for in circumference—meaning, there are some stands with a lighter but wider round base.
Mic stands with a round base are also easier to carry and reposition. During active and highly energetic performances, you may have noticed that many singers use this kind of mic stand because it is easier to drag around the stage or tilt for effect. They can also put it back in an upright position without any problem.
Although tripod mic stands are pretty popular, mic stands with a round base seem to be less troublesome and more functional.
11. Insert a Weight Plate at the Base of the Steel Shaft
Mic stands with a round base are pretty sturdy because the base itself is already solid enough to support the weight of the steel rod and other attachments, such as the microphone.
However, it can still sometimes tip over if the microphone arm is extended too far forward. In this case, you may add more weight to the base of the steel shaft by using a weight plate. Weight plates usually have a hole in the middle whose diameter ranges anywhere between 1-5 inches (2.54-12.7 cm).
Detach the steel shaft from the round base and measure its diameter. Insert a suitable weight plate that weighs a pound more than the microphone, and securely fasten the shaft back into the base. That should be enough to keep your mic stand from falling over.
Another good thing about this trick is that the weight plate is hardly noticeable when placed over the round base, especially if they have the same diameter. You can add as many weights as needed to ensure your mic stand doesn't fall over.
It sure may be troublesome to carry extra weights, but if it resolves your problem with a flimsy mic stand, then it's worth it! If you're interested in making your mic stand at home, you can learn more in my complete guide here.
Sources
Was this article helpful?
Recent Posts
link to How To Allow QuickTime To Access Microphone 🎙️  
QuickTime is a vital app for many Mac users, and if you've recently bought a new microphone, you might wonder how to use it optimally. QuickTime cannot record audio content if it doesn't have...
link to How Do I Test My Microphone? 🎙️
Every microphone leaves a unique signature on the quality of its output. If you're a podcaster trying to melt your way into your audience's hearts, a muddy, distorted recording won't cut it....