Owning a heavy microphone can be a nightmare if your mic stand isn't up for it. It's annoying to have your mic fall over, especially if you're in the middle of recording. And, of course, you run the risk of damaging your equipment.
If your microphone is too heavy for your stand, try balancing the weight. You can place something heavy on one of the legs, like sandbags or books. You can also put it upright or use the boom as a counterweight. If the issue persists, consider buying a quality microphone stand.
There's more than one solution if your mic is too heavy for a stand, and each one works best in different scenarios. There are also situations where the best thing you can do is buy a new stand. This article will go over everything you need to know to make the best decision possible.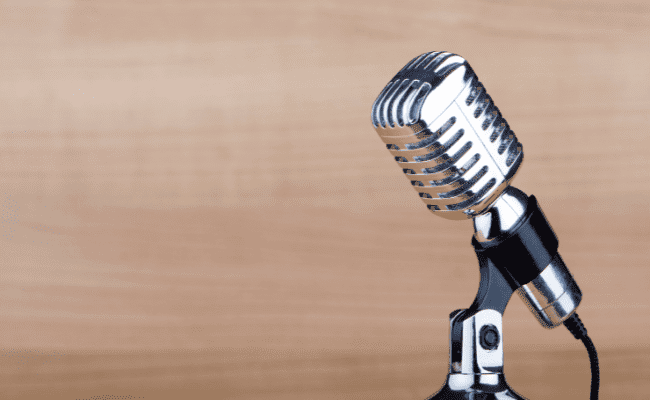 1. Put Something Heavy on the Mic Stand's Legs
A heavy microphone might make your stand lean to one side and fall to the floor. The most straightforward way of countering this issue is simply putting a weight on one of the legs.
This is one of the most common solutions in home recording, regardless of what you want to record. And it's easy to see why: you probably won't need to buy any extra equipment, it's easy, and it can take less than a minute.
All you need to do is find something heavy that you can place on top of one of the stand's legs. Be sure to place it on the leg opposite to the side the stand is leaning towards.
This counterweight should keep the stand in place even when dealing with heavy microphones. However, if the beam is what's falling on you, you should look at another solution from this list.
You can use pretty much anything as a weight. Look around what you have in your house and get creative. It should be something heavy that doesn't need to be carefully balanced and doesn't occupy too much space.
These are some of the most popular choices among home producers:
Sandbags
A few heavy books
Dumbbells
A large bag of cat litter
A large bag of rice
For many, sandbags are the golden standard. It'll wrap around the leg, so there's no risk of it falling out of place. You might have to buy one, but it's both cheap and very versatile.
Naturally, this solution has some drawbacks. For one, it makes moving the stand and changing the beam's orientation a bit more cumbersome. It also makes your stand much less portable unless you're willing to carry sandbags with you.
Overall, this solution is better suited for simple home studios than for professional settings.
2. Put the Mic Stand in a Vertical Position
This is the first thing you'll want to try when you're having issues with your stand in the middle of recording.
Chances are, this will eliminate all risks of your mic falling over. Stands have arms that can be extended for more practical recording, and they're necessary for miking many instruments. However, this also causes a weight imbalance.
When you reorient the arm and put it in an upright position (that is, parallel to the pole), you eliminate that imbalance. All the weight will fall straight into the middle of the legs, which should be able to hold out by themselves.
There are, however, a couple of caveats. Performing can be a little awkward this way, depending on your studio and the performer. Depending on the height adjustment that your stand allows, it might end up being too tall. Still, it's usually not too much of an issue for singing.
Recording certain instruments this way is sadly out of the question. Instruments like the piano require very specific recording techniques and positioning.
Needless to say, this won't work very well for desktop setups when positioned this way. This one is by no means a permanent solution, but it can get you out of a pinch without much effort.
3. Place One Leg in the Direction It's Leaning Towards
Mic stands can support themselves in two ways: with legs or with a base. A base is a solid and usually rectangular or circular piece, the way you place it won't make much of a difference.
However, if your stand has legs, then you could take advantage of this in the case of your mic dragging down the boom.
Rotate the stand until one of the legs is under the boom and in the direction it's leaning towards. This should give the stand a little more stability. However, if the boom is extended at its maximum, it might still not be enough.
This is an effective solution but only works if the mic is only slightly outweighing your stand.
4. Shorten the Boom To Create Counterweight
There's another reason for booms to be as long as they are, besides allowing you to record in specific angles. Even if you never use it, having that extra length allows you to use it as a counterweight to heavy microphones.
If you don't need to use the entire length, slide your boom backward to create a counterweight. If you can keep it close to the pole, then that'll be enough in most cases to balance the stand.
Naturally, this only works in situations where you don't need to extend the boom that much. It'll also depend on how long your stand's boom is.
5. Buy a Better Mic Stand
Stands are one of the most important pieces of gear in a recording studio. If yours keeps failing, then consider buying a new, better one. If you choose right, the investment will be more than worth it.
Admittedly, this might be the last resort solution since it requires you to spend the most money. However, if your mic keeps falling, this might be the push you need to finally buy a sturdy mic stand.
Besides, you don't need to spend that much. You can get a sturdy mic stand for $50-100. However, going for a more expensive option might save you money in the long run. A well-made mic stand could last you many years, in contrast to having to buy a cheap one every now and then.
Make sure you do some research and choose the type of stand that suits your needs the best. If you really like your mic stand and don't want to let it go by any means, you can always buy a new microphone. However, this will usually be much more expensive than buying a new stand.
If you're only going to replace one of the two, buy a new stand. If your microphone needs an upgrade, you can take the chance to replace both items.
Does Any Mic Fit All Stands?
Any microphone is compatible with all microphone stands. Microphones use one of two universal attachments: 3/8-16 in (0.95-40.64 cm) and 5/8-27 in (1.59-68.58 cm).They typically come with an adapter to switch attachments. Microphone stands are compatible with at least one of these attachments.
Both stands and microphones work with universal attachments. Thanks to this, any microphone can be attached to any stand, regardless of brand and size. Compatibility is the last thing you have to worry about when purchasing a stand.
There are two universal microphone attachments: 3/8-16 in (0.95-40.64 cm) and 5/8-27 in (1.59-68.58 cm). Typically, a microphone will work with only one of these. However, they usually come with an adapter that lets you switch to the other attachment.
Most of the time, mic stands will use a 5/8-27 in (1.59-68.58 cm) clip thread. But if yours has a smaller 3/8-16 in (0.95-40.64 cm) thread, you just have to plug the adapter into your microphone. If your microphone doesn't include an adapter or it broke, you can always purchase one.
You can use a screwdriver to pull off an adapter. It doesn't usually take long, but you can even use a coin if you're in a hurry.
Choosing the Best Mic Stand
You can find mic stands from $10 all the way up to $300. If you haven't owned a few stands already, you might be thinking that there isn't much that a cheap $30 stand can't give you. So, why bother spending the extra money?
Here's the thing: cheap stands don't last long. They'll almost certainly break at some point, usually whether it's in a month or after a year of use. The angle and length adjustments might start loosening up, or perhaps you'll nut a bolt trying to tighten them.
When the moment comes, you'll face the decision of repairing it or buying a new one. The thing is, if you break a piece, you'll struggle to find that specific piece of hardware. It might not be worth it to spend money on reparations on a stand that doesn't have much value, to begin with.
If you want to save money in the long term, go for a quality stand. You don't have to go all out and spend more than $200, but $100 is usually the sweet spot for durable full-sized mic stands.
With that out of the way, you should consider what exactly you're planning to record with your stand. The best stand for you will depend on the use you'll give it.
Here are some of the best microphone stands available on Amazon.com for several categories.
If you can buy only one stand for your studio, this is it. K&M is perhaps the most trusted brand when it comes to microphone stands, and it's the one you'll ding inside most professional companies.

For an affordable price, you're getting a stand that'll last you for many, many years. These stands are routinely beaten up in stage concerts, but they keep performing without issues.
If you want to buy a reliable piece of equipment and don't have any specific needs, you can't go wrong with K&M.
Sale
K&M König & Meyer 21090.500.55 Tripod Microphone Stand | Adjustable Telescoping 2-Piece Boom Arm | Professional Grade | Heavy Duty with Folding Leg Base | German Made Black
Innovative leader in stand technology; K&M stand with telescoping 2-piece boom arm is easy to assemble, adjust and is preferred among musicians. The stand offers maximum durability and stability so you can keep focused on your music
Calling all musicians; an adjustable height of 35"- 63" with a patented clamping lever lock T-bar boom arm (length 17"- 29") makes positioning real simple. This professional mic stand can be found in every music studio or concert stage
Trusted design; zinc die-cast tripod base with rubber feet provides your mic with a solid foundation (mic not included). Flexible folding legs make it easy to set up, break-down and transport. This will be your go-to stand with many years of service
Last update on 2022-11-26 / Affiliate links / Images from Amazon Product Advertising API
The Hercules Tripod is the go-to option for those who need speed and functionality first and foremost, all at an affordable price. It packs a lot of small but neat functionalities that let you make adjustments faster than almost any other mic stand.
The boom can be detached instantly, which might be handy for many performers. This stand also lets you adjust the angle and length of the boom simultaneously, which can save you some time.
Sale
HERCULES MS533B Hideaway Boom Stand, Black
Hideaway Boom with 2-in-1 Clamp converts from a straight stand to a boom stand in seconds
Quik-N-EZ Clutch for easy adjustments
Tripod Base made of durable die cast aluminum
Last update on 2022-11-26 / Affiliate links / Images from Amazon Product Advertising API
The RØDE microphone studio arm was built with podcasters in mind. It's a scissor arm with a desktop attachment that provides flexibility without being cumbersome. The cost is slightly higher than others in this list, but its specialized features make it well worth it.
It can swivel 360 degrees and has plenty of reach. And don't worry about noise: adjusting is both quick and silent. To top it off, it has velcro straps to tidy up your cables.
Last update on 2022-11-26 / Affiliate links / Images from Amazon Product Advertising API
Perhaps you don't need such a fancy setup for your podcast, or maybe you're a streamer and want something less intrusive. Whatever your case, the On-Stage microphone stand has a quick-release feature that'll give you a simple but extremely well-built stand for your desktop.
The On Stage is the cheapest on this list, but it's by no means unreliable. It has a compact, solid build quality that'll sit firmly on your desk, thanks to its non-slip rubber surface.
Last update on 2022-11-26 / Affiliate links / Images from Amazon Product Advertising API
For more information, check out my other articles:
Wrapping Up
Whether you're a musician or a podcaster, in a professional studio or a home setup, you need a reliable stand. It doesn't have to be fancy, but it should be sturdy enough to hold your mic without falling.
If your stand isn't up to the task, putting something heavy on one of its legs, like a sandbag or books, is usually the go-to option. You can also try to balance it by sliding the boom or rotating it.
However, the only definitive solution is to buy a quality microphone stand.
Sources