Adobe's After Effects is a motion graphics and visual effects tool. Blackmagic Design's DaVinci Resolve is an editing, color correction, visual effects, and audio post-production software. Both solutions are among the flagship products of the respective brands, but these two solutions aren't identical.
After Effects is a video compositing software, whereas DaVinci Resolve is a post-production solution. Generally, you would progress from an editing tool, such as Adobe Premiere Pro, to some video compositing software like After Effects in a studio. DaVinci Resolve rolls both and more into one. 
Ideally, you need Premiere Pro and After Effects in your post-production studio. In contrast, DaVinci Resolve is an all-in-one tool. However, both have their strengths and weaknesses. This guide offers a comprehensive comparison of these popular post-production tools for studios.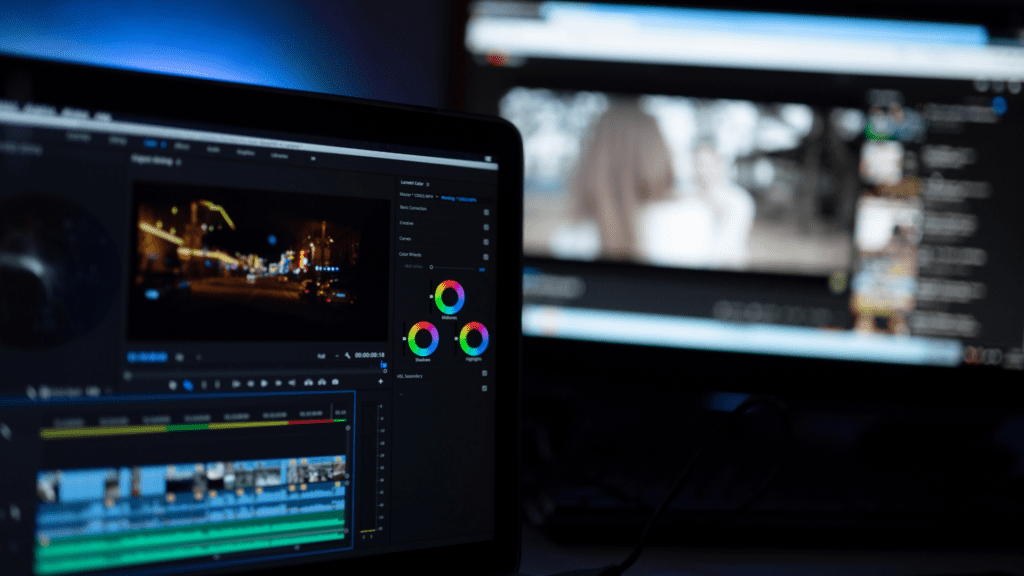 Head-to-Head Comparison of After Effects and DaVinci Resolve
DaVinci Resolve is a free version. The paid solution with all available features is called DaVinci Resolve Studio. The following comparison considers all the After Effects and DaVinci Resolve features, including the latter's paid version.
Similarities Between After Effects and DaVinci Resolve
Feature
After Effects
DaVinci Resolve
Color Correction
Yes
Yes
Animation
Yes
Yes
Motion Graphics
Yes
Yes, through Fusion
Visual Effects
Yes
Yes, through Fusion
3D Compatibility
Yes
Yes
VR Compatibility
Yes
Yes
Native Compatibility
All Adobe Software
All Blackmagic Design
Software and Hardware
3rd Party Plug-Ins
Plenty
Sufficient
Differences Between After Effects and DaVinci Resolve
| | | |
| --- | --- | --- |
| Feature | After Effects | DaVinci Resolve |
| Video Editing | Limited | Yes, through Edit |
| Audio Editing | Limited | Yes, through Fairlight |
| System Requirements | High | Moderate |
| Free Trial or Version | 7 Days Free Trial | Free Version Available |
| Pricing | Yearly Subscription | Lifetime License |
| Included In Price | 100 GB cloud storage, Adobe Portfolio, Fonts, and Spark | Neural Engine, Resolve FX filters, and Fairlight plug-ins  |
Pricing Differences
Adobe does not offer a lifetime license. However, you may opt for the monthly subscription to After Effects. An annual plan, when paid monthly, will cost a bit less than a pay-as-you-go subscription.
Adobe has monthly plans for a Creative Suite for teams, providing access to all its applications, including Premiere Pro.
DaVinci Resolve does not have a monthly or yearly subscription plan. You may download and use its free version, then upgrade to DaVinci Resolve Studio if you want all available features and future upgrades.
Feature Differences 
Adobe After Effects does not have any free version. The free trial is for 7 days only, but it provides access to all the features in the paid version.
DaVinci Resolve lacks quite a few valuable features available in the Studio version.
Noise cancellation, for instance, isn't available in DaVinci Resolve Fairlight if you don't upgrade. Many filters, plug-ins, and the Neural Engine are available exclusively in DaVinci Resolve Studio.
Minimum System Requirements for After Effects and DaVinci Resolve
Adobe After Effects is a more demanding software. It can stress the RAM and the GPU. DaVinci Resolve has its share of hiccups, too. The download takes time. Setting it up at the outset may be tedious for some users.
| | | |
| --- | --- | --- |
| Specification | After Effects | DaVinci Resolve |
| OS | Windows 10, macOS 10.13 | Windows 10, macOS, Linux |
| CPU | Multicore Intel Processor | Intel Core i7 |
| Storage | Minimum 15 GB available | 1 TB |
| RAM | Min: 16 GB, Optimum: 32 GB  | Minimum 16 GB |
| GPU | Minimum 2 GB with VRAM | 4 GB or more |
The HDD or SSD storage requirement for Adobe After Effects mentioned in the table is significantly less than what you'll need. However, this modest requisite is because Adobe offers 100 GB of cloud storage included in the subscription. You can use the space to store your work in progress.
Adobe endorses NVIDIA GPUs powered by VRAM. Regular GPUs without a powerful VRAM may not be able to support the demanding processes without glitches.
Blackmagic Design's DaVinci Resolve does not have any such requirement. However, if you wish to fully explore all the state-of-the-art features and tools of DaVinci Resolve Studio, you may need special consoles for Fusion and Fairlight or even Edit and Cut.
For more articles about video studios, check out some of our articles:
After Effects Pros
Adobe's After Effects is used in professional productions, from movies to shows and video games. However, it's not the ultimate motion graphics and visual effects software. After Effects is suitable for relatively simple but high-quality graphics, animations, and effects.
Enormous Library
Adobe has one of the largest libraries for everything you may need. Templates, filters, plug-ins, and all essential tools, then some more, you'll rarely find anything amiss among the resources for visual effects, special effects, 3D graphics, and even virtual reality interfaces.
Keep in mind, you'll need a compatible headset for virtual reality videos. After Effects is compatible with HTC Vive, Oculus Rift, and Windows Mixed Reality.
Adobe Support 
Adobe is among the leading brands in the niche. Naturally, its products come with a plethora of supportive resources. The fraternity of users is probably the largest in the world. The community support aside, Adobe offers all the assistance you need.
After Effects has extensive manuals, including video tutorials, innumerable user-generated guides, and you can always rely on Adobe's technical support. Also, Adobe has among the most diverse bouquet of 3rd party plug-ins and compatible tools.
Easier Due to Familiarity
Most users, especially those who are familiar with video editing, visual effects, motion graphics, or post-production, in general, happen to be acclimatized with Adobe software. The particular tool could be Photoshop, Illustrator, or Premiere Pro.
After Effects does not reinvent the wheel. The specifications, evolving features, various tools, and interfaces are easier to adapt to for those already familiar with Adobe products. However, the advanced features and complex processes can be daunting for beginners.
Subscription Model
After Effects does not require a lifetime license. You can try it for 7 days, stop using it, and switch to another software. You may use the solution for as long as you want, then stop paying the subscription fee when you no longer need the tool.
After Effects Cons
Both Adobe and Blackmagic Design are leading brands, but other players are also at the table, such as Apple and Autodesk. Like others, After Effects has some issues, too.
Intimidating for Beginners
After Effects has an unnerving interface. So much so, just the toolbar can intimidate most beginners. Many intermediates also struggle.
In addition, the learning curve with After Effects is challenging. Therefore, the 7 days trial may be insufficient to explore the entire software and assess everything you can potentially do with the tool.
Not a Complete Post-Production Tool
Since the comparison is between After Effects and DaVinci Resolve, the former's limited video and audio editing uses may be an issue for those looking for a more holistic solution.
The editing features are, at best, elementary. After Effects is certainly not designed to or meant for extensive audio mixing, designing, and engineering.
Demanding of Resources
Most Adobe applications are generally known for being quite taxing on resources. After Effects is no different. If you don't have a powerful GPU and requisite VRAM, you will likely encounter many glitches, including system freezes. Ensure minimum system requirements before you start paying.
Expensive Subscription
Adobe's After Effects isn't the most premium visual effects and motion graphics software. Yet, even if you opt for an annual plan, the recurring monthly subscription is significantly more expensive than the cost of DaVinci Resolve Studio.
Fourteen months' subscription to After Effects gets you a lifetime of DaVinci Resolve Studio. When you weigh the need for Premiere Pro, you'll effectively pay twice the money in a year than what you would spare for DaVinci Resolve Studio only once.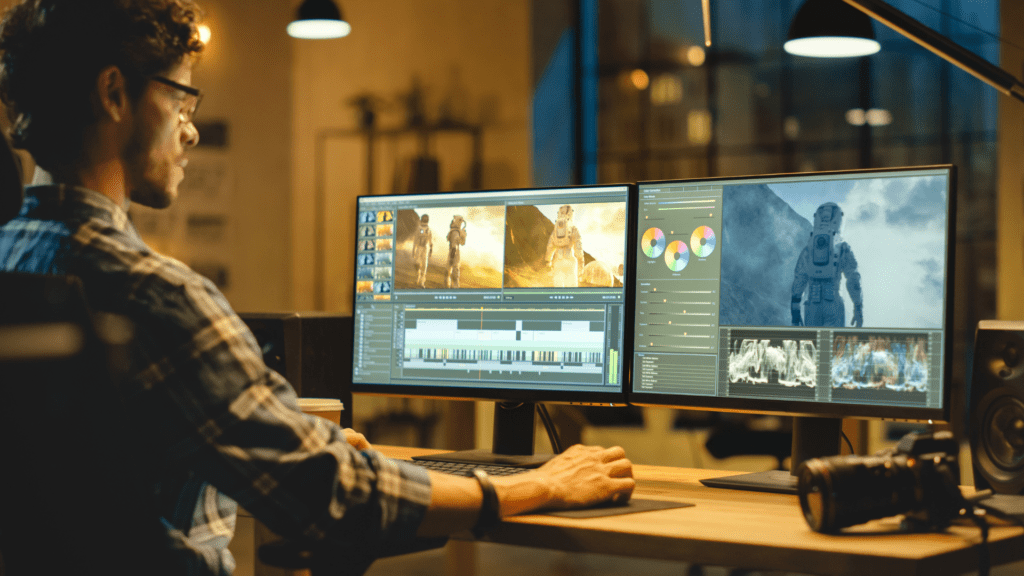 DaVinci Resolve Pros
Like After Effects, DaVinci Resolve is a reliable tool with many features. Blackmagic Design offers much more in its flagship product than two Adobe software combined.
All-in-One Solution
Beginners and intermediates may not need any other post-production tool, given the spectrum of features in DaVinci Resolve Studio.
Edit and Cut features serve video editing and post-production. Fusion takes care of visual or special effects, motion graphics, and animations. Fairlight attends to audio editing needs.
The all-in-one proposition stands in stark contrast when you consider the specialized utilities of Adobe's Photoshop or Lightroom, Illustrator, Premiere Pro, and After Effects.
After Effects had a significant advantage when it supported multi-camera options and VR effects, among other features. However, Blackmagic Design has included such Compatibility and evolving features in DaVinci Resolve Studio over the years.
Best-in-Class Color Correction/Grading
Blackmagic Design is credited as a leading brand among creators of color correction or grading software. DaVinci Resolve has been among the best in this niche for well over a decade now.
After Effects is no match when it comes to color correction or grading through the DaVinci Resolve Studio.
Easier Than Adobe for Some Users
DaVinci Resolve can be as intimidating as After Effects for those utterly new to its features. However, the interface isn't as complex as that of After Effects. The recent version of DaVinci 
Resolve Studio has plenty of easy-to-use drag & drop, click & slide, and shortcut functions.
A Lifetime of Upgrades
The one-time license fee is probably the most remarkable strength of DaVinci Resolve. Adobe offers a lifetime of upgrades, too. However, that's if you keep paying the subscription fee.
DaVinci Resolve costs you a few hundred dollars only once. After Effects costs you that much in just 14 months. You may also have to pay for Premiere Pro if you use After Effects, adding another couple hundred a year.
In effect, you'll pay almost $500 in 12 to 14 months for After Effects and Premiere Pro.
Choosing Adobe Creative Cloud for teams has monthly payments for all applications. However, that offers many more apps than a pair of video editing software and visual effects tools.  
DaVinci Resolve Cons
DaVinci Resolve or its paid Studio version has more benefits than shortcomings, primarily due to the price and the plethora of features. However, some functions are not of the standard or quality you may expect.
Unfamiliar Features or Functions
Video editing or visual effects and motion graphics have different approaches. Two standard methods use layers and nodes. After Effects uses layers, which many people are already familiar with, even those who have only used Photoshop. DaVinci Resolve uses nodes.
In reality, all visual effects and graphics software use nodes, but they don't reveal it to the user through the interface. After Effects continues to offer a layer-based workflow. Those unfamiliar with nodes and similar or different technical aspects may take a while to get accustomed to DaVinci Resolve.
Free Version Has Limited Features
No user expects all features, especially the advanced tools or resources, in the free version of any software. However, Blackmagic Design does not have a monthly subscription or a free trial of DaVinci Resolve Studio.
Hence, some interested users don't get to try the advanced or exclusive features before paying for a lifetime license. Users may or may not be content with some of these features available exclusively in the paid version.
Not Flawless for Video or Audio Editing
DaVinci Resolve Studio is designed as one solution for all essential post-production processes.
While it excels in color correction or grading, motion graphics, and visual effects, the software does not impress some users with its video editing, audio mixing, and other features.
Here is a video about some of the bugs in DaVinci Resolve: 
3rd Party Plug-In Interference
DaVinci Resolve Studio does not have a significant 3rd party plug-in compatibility issue.
However, users often encounter glitches while using such plug-ins and other resources. Adobe's After Effects offers much better Compatibility among native apps and for cross-platform integration.
Choosing Between After Effects and DaVinci Resolve
Editors, visual effects supervisors, motion graphics experts, and animation specialists have their favorites. You may prefer Adobe Premiere Pro or Final Cut Pro for editing and then use DaVinci Resolve for further post-production.
Some creators don't rely on anything but Autodesk. Familiarity, ease of use, project-specific demands, and individual preference will always be paramount when deciding on post-production software like After Effects and DaVinci Resolve.
You can use the free After Effects trial and test DaVinci Resolve before paying for the lifetime license. While this guide discusses many specific differences, a week or so with these two solutions may offer further and impeccable clarity.
Final Thoughts
Adobe's effortless Compatibility among native apps makes using Premiere Pro with After Effects a cakewalk, especially for users dependent on Creative Suite.
DaVinci Resolve is a relatively inexpensive all-in-one software for myriad processes. When paired with Blackmagic Design's hardware, such as edit keyboards and audio consoles, DaVinci Resolve is a superior solution to Adobe's After Effects.
Sources