Color psychology helps you choose the right color for your workspace. The right color sets the right mode for creativity. While music is a source of creativity, composing music requires creativity itself.
Yellow is a well-known color that inspires musical creativity. Yellow induces a sense of optimism, high energy, and creative space. Orange is another color that inspires enthusiasm and creativity. Green is also a good color that boosts creativity, a good choice for a brainstorming space, and promotes harmony.
So if you're wondering why yellow, orange, and green inspires musical creativity, you can read about it in this article. I'd also be suggesting some products that can help you simulate these colors. So let's get started.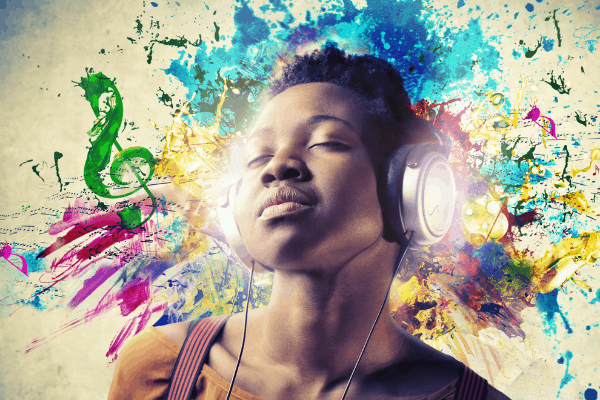 Colors that Inspire Musical Creativity
Colors that inspire musical creativity are based on personal preferences and live experiences. Nevertheless, there are colors known by many to inspire creativity. These colors include yellow, orange, and green. Here is how these colors inspire creativity.
Yellow is an emotional color. When we see a yellow color, it sends a message to the brain that causes the default network in the brain to activate, which is responsible for creativity. So when stimulating happiness, positivity, and creativity. Yellow represents friendliness, confidence, and optimism.
Another color you can use to spice up creativity is orange. Orange also activates the default network in the brain, which increases creativity. Orange blends red (a color known to increase physical exertion) with yellow (an emotional color) to create a sense of comfort.
Lastly, green is another color you can consider having in your music studio to inspire creativity. Green provides balance, and it represents nature, harmony, and restoration. When you spend long hours working in a music studio, green is a color that can aid creativity and at the same time provides a sense of balance. This is because green is the easiest color on the eyes.
For more information, check out whether music studios have windows and if they're bad for acoustics.
Why Do Those Colors Inspire Musical Creativity?
Now that you know having yellow, orange, or green in your music studio sets the right mood for creativity, let's see why these colors are inspiring. In this section, I'd be sharing with you the effects of these colors.
Yellow is one of the brightest hues in the color spectrum. As such, the psychology of the yellow is uplifting, happy, cheerful, and fun. All these feelings, bundled together in one color, make people more mentally analytical and self-critical.
Orange radiates warmth and happiness because it combines the physical stimulation and energy of red with the cheerfulness of yellow. Orange is the color of the uninhibited because it is extroverted and optimistic. Orange can also help you restore balance to your physical energies.
From a color psychology perspective, green is a great balancer of emotions and the heart, creating equilibrium between the heart and the head. Because of green's link with the heart, it urges nurturing. This is one of the reasons why green is one of the predominant colors on earth. Green is also a color that encourages us to want to own things, collect and possess.
How does Our Emotions Color Musical Creativity?
Irrespective of the genre of music you're listening to, our brains are wired to make music color connections. The melody, how the music feels all determine the color our brain associated with it. Humans tend to have a distinct emotional palette for colors and music. This appears to be cross-cultural barriers and intuitive.
People tend to pair fast-paced music with major keys associating it with lighter, more vivid colors. Whereas people pair slower-paced music with minor keys, associating it with darker, grey colors. We humans can say with certainty how sad or happy a color or the mode of the music is they are listening to with a 95% accuracy.
Best Colors for Musical Creativity
Now that you understand why you need the right colors to inspire creativity, the best way to go about it is with LED lights. There are several smart LED lights you can buy to set several colors for the right mood. Here are my top 5 picks:
The Govee Smart LED Light is an RGB strip light with various control modes. Govee designed these LED lights with Smart Wi-Fi. This makes this LED light compatible with Google Assistant, Alexa, or the Govee Home App. Pairing with Alexa or Google Assistant allows you effortlessly switch on/off and adjust the brightness.
The Govee Smart LED light is solid, and the multicolor option is phenomenal. And with the timer features, you can easily switch on/off a particular color at a specified time. There is also a built-in sensitive mic that lets the light dance to the music tempo.
Govee Smart LED Strip Lights, 16.4ft WiFi LED Light Strip Work with Alexa and Google Assistant, 16 Million Colors with App Control and Music Sync LED Lights for Bedroom, Kitchen, TV, Party, Christmas
Even and bright Light: As indoor Christmas decorations, Govee 16.4ft rgb led strip lights are equipped with 150 LED beads, making them bright enough to illuminate your bedroom, kitchen, Christmas tree, and gaming room. Note: these LED lights are not waterproof.
Wireless Smart App: The Govee Home app offers you advanced control over your Christmas led lights and access to incredible features like the customizable DIY mode and a convenient Timer function.
Music Sync: As thanksgiving decorations, a built-in mic allows the smart LED strip lights to sync to any music type. Use our Govee Home app and watch in glee as your led Christmas lights dance to your favorite songs.
Last update on 2022-11-25 / Affiliate links / Images from Amazon Product Advertising API
Another RGB strip light I'd like to recommend to you is the TBI Pro LED Strip Light. This light is super bright and features the 5050 super bright LED chip. You can cut this LED light as needed making it easy to install anywhere. This premium LED Strip light is a 40 keys IR remote controller, a power adapter, and connectors.
TBI Pro LED Strip light also supports a mobile app. This mobile app lets you customize the color you can set with this strip light. It is also compatible with Google Home, Amazon Echo letting you control lighting with a voice prompt. And with the sensitive mic feature in this strip light, you can set this light to beat to the music.
Upgraded 2019 LED Strip Lights Kit 32.8ft w/Extra Adhesive 3M Tape - 300 LEDs SMD 5050 RGB Light, 44 Key Remote Controller, Flexible Changing Multi-Color Lighting Strips for TV, Room
ALL-INCLUSIVE QUALITY LED STRIP LIGHT KIT – This premium LED room lights kit comes with (2) 16.4 feet RGB LED Strip Lights, (1) Roll of 3M Red Tape, (1) Remote Controller with 44 Keys, (1) IR Controller, (1) Power Adapter, and Connectors. No extra accessories are needed!
EXTRA STRONG 3M TAPE COMES INCLUDED – Are you tired of using RGB LED strips that won't stay in place? We solved that problem! Every order includes high-adhesion 3M tape. This mounting tape is designed to firmly adhere to high, medium, and lower surface energy plastic and paint, metal, and glass
PLUG & PLAY DESIGN FOR EASY INSTALLATION – We make installation a breeze. The color changing lights have cut marks, so you can easily cut them to size without damaging the rest of the strip. The "plug and play" design ensures you'll have your LED rope lights installed in minutes without the need for any special tools.
Last update on 2022-11-25 / Affiliate links / Images from Amazon Product Advertising API
Nexlux LED Strip light is a popular choice with incredible features. Price-wise, this strip light is very competitive. They are super bright and combine their native app with compatibility with Echo/Alexa. All these are connectable via a Wi-Fi connection. The 24 key IR remote control is a great inclusion, especially when you're having troubles with the app.
Nexlux LED Strip light can also sync with music thanks to its sensitive microphone. As such, when in this mode, the light beats the tempo of the music. Nexlux also featured a timer mode in this strip light. The timer mode lets you set a specified on/off time for your favorite color.
Nexlux WiFi LED Strip Lights, 32.8ft 300 LEDs Waterproof WiFi Smart Phone Controlled Light Strip LED Kit 5050 LED Lights,Working with Android and iOS System,Alexa, Google Assistant
WORK WITH ALEXA &GOOGLE ASSISTANT: Use simple conversation starters to turn your lights on and off, make them brighter and swap them to your favorite color, currently compatible with Echo ,Google Assistant ,IFTTT
WIFI WIRELESS CONTROLLER: Take complete control of your lighting with Magic home Pro APP; Create romance, relaxation, party ambiance with Music and Mic function; Remote control allows you turn on/off the led strip lights from anywhere; Timer function of the wifi controller make you wake up at your favorite color, keep you on Schedule
MULTI APPLICATIONS: Nexlux RGB LED light strip can be used for decorating your dining room, bed room, upstairs, kitchen, porch, desk, and living rooms, especially great for holidays and events like Christmas, Halloween,Parties, and more. It is a great gift for your family and friends
Last update on 2022-11-25 / Affiliate links / Images from Amazon Product Advertising API
Transform your space to any mode with the Philips Hue 800285 strip light which features millions of colors. This dimmable light features a Wi-Fi network which makes it compatible with Amazon Alexa, Apple HomeKit, and Google Assistant.
While expanding your hue with this strip light is effortless, it is also easy to install. The flexible cable with strong adhesive at the back lets it shape, bend, and attach to any surface. You can also cut it to size, making it perfect for several applications.
Sale
Last update on 2022-11-25 / Affiliate links / Images from Amazon Product Advertising API
Lastly, I'd like to recommend the Minger Strip light because the LED strip features up to 150 lights per roll. Moreover, the convenient 16 multicolored option lets you personalize light effects for RGB.
Minger strip designed this strip LED light with a 44 key IR remote to set the perfect mode with this light. There is also a sensitive microphone that lets this light dance with your music tempo. To install, there's a strong adhesive at the back that sticks to anything. And your ability to cut this strip makes it versatile.
MINGER LED Strip Lights 16.4ft, RGB Color Changing LED Lights for Home, Kitchen, Bedroom, Dorm Room, Bar, LED Lights for Christmas Decorations with IR Remote Control, 5050 LEDs, DIY Mode
Multicolor changing: the RGB LED strip lights kit has not only RGB(Red, Green, Blue), 16 multicolored options, but also DIY selection, which makes more vibrant for Christmas decorations.
Remote control: 44-key IR remote allows you to choose colors, adjustable brightness and multiple lighting modes to fit room mood. (remote range: 10m)
Bright LED Lights: it features 150 bright 5050 LEDs that easily light up a room, bedroom, dorm room, kitchen countertop. Suitable for birthday party, home gathering and Christmas decor.
Last update on 2022-11-25 / Affiliate links / Images from Amazon Product Advertising API
Conclusion
To sum things up, colors are more than just shades; they influence our perceptions of things. When used properly, they can be a tool for creativity or positivity. Whatever the case may be, make sure you have the right color in your space to set the right mode. If you don't want to go through the whole repairing hassle, buying a LED strip light is a straightforward and effortless way to change the color of your space.
Sources:
https://en.wikipedia.org/wiki/List_of_colors:_A%E2%80%93F
https://askinglot.com/what-colors-inspire-musical-creativity
https://www.jeffsanders.com/the-best-colors-for-productivity-and-creativity/