Audio interfaces are critical for recording audio in any studio because they convert analog sound into digital files that you can later manipulate. Only after conversion and uploading can your music (or other audio) be electronically controlled. Using an audio interface is not the way to upload music to your computer, but there are several alternatives to audio interfaces.
Here are five alternatives to audio interfaces:
USB mixer
Guitar Amp
Multi-Effect Pedals for Electric Instruments
Use Virtual Instruments
Plug Instruments Directly Into Computer
Depending on the type of investment you want to make, you may purchase an alternative or choose one of the many free online options. There are several differences between buying an external, dedicated audio interface and using audio interface alternatives.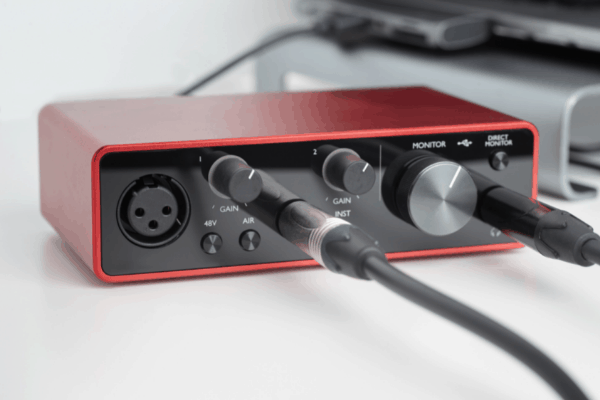 USB Mixer
USB mixers are an alternative for an audio interface designed to mix and record live sound. Universal Serial Bus mixers, also called USB mixers, combine multiple audio sources. Mixers are plugged directly into your personal computer, and they work similarly to an ADA audio interface.
Mixers are innovative devices that work as a medium to convert external noise into usable sound. Your USB mixer has numerous ports which you can use to plug in your microphone or instrument. Connect those to your personal computer using a USB cable and give it time to import.
USB mixers record and mix audio at the same time. Unless you have a separate program, you cannot mix the track after being imported. USB mixers have built-in interfaces, and because of this, it is not a dedicated device, unlike an analog mixer.
The best USB mixer brands include:
Behringer
Mackie
Focusrite
Yamaha
USB mixers are relatively inexpensive and are a good investment for any level musician. Whether you are a beginner looking to dip your toes in the water of the music industry or a veteran with a music contract, USB mixers are the key way to save money while still getting high-quality sound.
Unfortunately, some computers like the Apple Mac no longer have USB ports. Without a USB port, you will require a USB-C converter to use a USB mixer. Or, you can buy a mixer with a USB-C connector. These are common with many modern USB mixer brands.
If you are uninterested in paying extra for a USB-C connector, Mac users may want to try using virtual instruments as an alternative to audio interfaces. This guide will discuss virtual instruments later.
Check out my article on producing music with a Chromebook.
Guitar Amp
Guitar amps are a good alternative for audio interfaces. Amplifiers can act as an input and output device between your instrument and computer. As a medium between your device and computer, the guitar amp helps record and import your music.
Most guitar amplifiers have various ports (MIDI, HDMI, USB, etc.), so you can easily connect your amp to your computer. The ease of accessibility allows you to play your instrument and record it in real-time. The output capability of guitar amplifiers makes it possible for you to play along with your favorite songs.
By connecting your guitar amp to your computer, you make it possible to mix songs and record directly.
The best guitar amplifier brands include:
Guitar amplifiers are a great alternative to audio interfaces because they allow you to hear music as you record it in real-time. Most amplifiers have multiple ports, so picky musicians can choose the type of connector they want to use.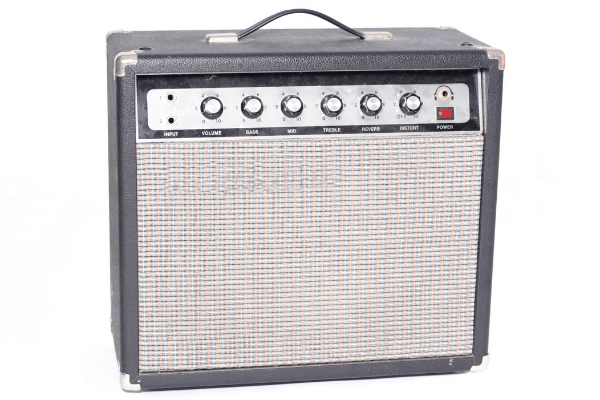 Multi-Effect Pedals for Electric Instruments
Multi-effect pedals are an excellent audio interface alternative for electric instruments. Electric instruments pair nicely with a multi-effect pedal. This alternative to the audio interface connects to a USB port, so all information goes directly to your computer.
The prices of multi-effect pedals can be high for beginners, so most people avoid this alternative. However, there are so many options with this audio interface alternative that it is worth it. Multi-effect pedals allow you to record and remix music in real-time.
You remix it in real-time using the many knobs and switches on your box as you record your music. Each multi-effect pedal has its settings and effects. Depending on the type of sound you are looking for, you can change the sound options.
The downfall of using a multi-effect pedal is that these devices are expensive. Multi-effect pedals can be confusing for beginners because of the extensive options.
The best multi-effect pedal brands include:
Multi-effect pedals are great investments for any musician looking to avoid purchasing an audio interface. Audio interfaces can be expensive and complicated to use, but they are worth the investment if you avoid using an interface.
Use Virtual Instruments
Virtual instruments are a straightforward alternative to using audio interfaces. Instead of playing instruments physically, you can play these instruments virtually. There is a range of virtual instruments available to play, including free, internet-accessible software. Many mobile carriers come with free, virtual instruments pre-installed.
All programs use real instruments to record all virtual instrument sounds. In most programs, you can adjust the pitch and volume of these instruments to create unique beats and rhythms. Many virtual instruments programs do not require you to record them to use. However, by recording your instruments, you can mix them to create full songs.
When choosing a virtual instruments program, decide what elements are the most important for you. Just because an instrument package is expensive does not mean that the included material will be high-quality. Search for a program that has high-quality recordings and additional content.
For instance, some programs may provide pre-recorded tracks to remix and record over. Bonus content, like pre-recorded tracks, is helpful when creating remixing tracks or experimenting with new styles. The expense for packages that include things like this can be high, but it is entirely worth it.
The best free virtual instruments brands:
Garageband for iPhone
Spitfire Labs
VCV Rack
Spitala Drums
Vember Audio Surge
The best virtual instrument brands you can buy:
Spectrasonics
Native Instruments
MODO Bass
Paid programs can be expensive, but these come with valuable content that can be helpful to music lovers. Still, there are dozens of free virtual instruments programs available for anyone who wants to try them.
Whether you are interested in simply playing around or recording music seriously, there are hundreds of different virtual instruments programs. Even expensive, paid programs offer free trials. Take the opportunity to download these trials before fully investing!
Plug Instruments Directly Into Computer
Plugging an instrument directly into your computer is one of the best alternatives to audio interfaces. Your instruments may require additional equipment to plug into your computer, or you may already have the equipment on hand.
A Musical Instrument Digital Interface (MIDI) is a port found on most computers used to connect things into computers. You can use MIDI ports to plug instruments directly into your computer and record music. MIDI ports use internal sound cards that can be played back on computers and then digitally manipulated.
You may also use a "line-in" port to connect a microphone to your computer. Purchase a HyperX or Shure microphone (Available on Amazon.com) which plugs in through a USB port. These microphone options are prime for singers who are trying to reach their full vocal potential. You can record yourself on the computer and then manipulate the song using a vocal program like Autotune.
Sale
HyperX QuadCast S – RGB USB Condenser Microphone for PC, PS4, PS5 and Mac, Anti-Vibration Shock Mount, 4 Polar Patterns, Pop Filter, Gain Control, Gaming, Streaming, Podcasts, Twitch, YouTube, Discord
Radiant RGB lighting with dynamic effects: Personalize stunning RGB lighting and dynamic effects for an eye-catching shot of customizable style.
Built-in anti-vibration shock mount: Isolate the mic and suppress the sound of unintentional rumbles and bumps with the elastic rope suspension.
Tap-to-mute sensor with LED status indicator: Use the convenient tap-to-mute functionality to prevent an audio accident along with the help of the LED mic status indicator. If the light is on, the mic is active, if the light is off, the mic is muted.
Last update on 2022-12-07 / Affiliate links / Images from Amazon Product Advertising API
Sale
Shure MV7 USB Microphone for Podcasting, Recording, Live Streaming & Gaming, Built-in Headphone Output, All Metal USB/XLR Dynamic Mic, Voice-Isolating Technology, TeamSpeak & Zoom Certified – Black
USB OR XLR CONNECTIONS: Dual USB;XLR output allows digital or analog recording
CLOSE MIC APPLICATIONS: Great for podcasting, recording, live streaming, and more
INTUITIVE TOUCH PANEL CONTROLS: Intuitive touch panel for control over gain, monitoring volume, headphone mix, and mic muting
Last update on 2022-12-07 / Affiliate links / Images from Amazon Product Advertising API
Explore different connectivity options to find what works best for you. As a musician, learning what sounds best is essential. MIDI is one of the most recommended connectors for transferring audio information from an instrument to your personal computer. However, every instrument and computer is different. Consider your musical and technological capabilities.
Check out my article on whether you can record music on your phone.
Sources